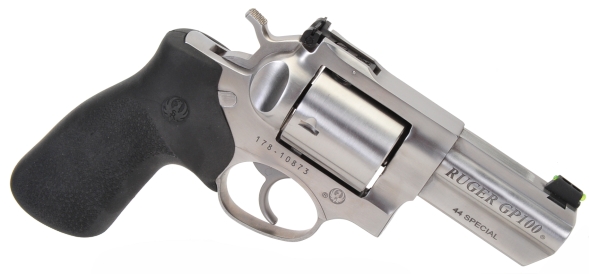 Ruger GP100 44 Special

Company

Sturm, Ruger & Co., Inc.

Point of Manufacturer

Newport, NH USA

Model #

1761

Type of Action

DA/SA

Caliber

44 Special

Capacity

5

Barrel Length

3″

Rifling Twist Rate

1:20″

Barrel, Frame & Cylinder

Stainless Steel

Finish

Satin

Grips

Hogue Monogrip

Front Sight

Fiber Optic Green

Rear Sight

Adjustable W&E

Weight of Firearm

36 Oz.

Trigger Pull DA – SA

9 Lbs 11 Oz – 5 Lbs 3 Oz

Overall Length

8.5″

Overall Height

5.8″

Cylinder Width

1.587″

CA & MA Approved

Pending

MSRP

$829.00
With considerable grip time logged, it has become obvious that a 44 Special version of the popular GP100 is an exceptionally good Ruger idea. The 44 Special handles heavier lead than the 357 Mag and the .44 caliber bullet makes a bigger hole, it generates softer recoil, and it is very flexible in application. Ammunition selection can serve recreational target shooting, self defense or loaded up as a hog stopper with conviction.
Who doesn't enjoy the dragon belch of a 454 Casull or 480 Ruger Super Redhawk Alaskan and its skyward pointing recoil? The 454 Casull Super Blackhawk is deer and bear ready, but both are a handful to shoot when not actively engaged in a hunt or defense against big and dangerous quarry. Alternatively, the mild mannered 44 Special can be loaded with 200+ grain hard cast or non-expanding jacketed bullets and either will blow through three feet of ballistic gel, or a good ways into a deer, or a black bear or any other medium to large thin skinned game. Excellent trail gun.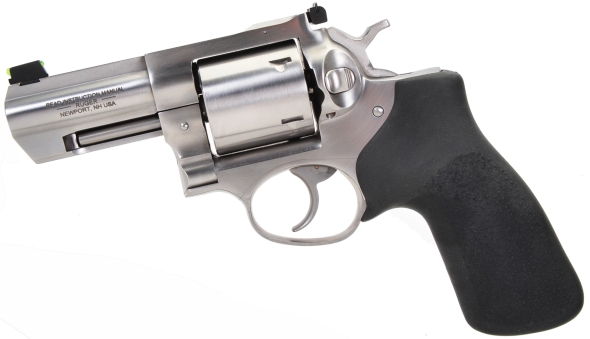 357 Magnum or 44 Special, built like a tank
The most significant differences between the 357 Magnum version and 44 Special version are in cylinder size and capacity. To maintain strength margins, the 44 Special version was changed from a six round cylinder to five and increased in diameter from the 357 Mag's 1.550″ to 1.586″ for the 44 Special and increasing 357 Mag cylinder length from 1.562″ to 1.625″. Both the 357 Mag and 44 Special cylinders have an outside chamber wall thickness of 0.086″, which says a lot for the 44 Special with only 15,500 psi operating pressure, compared to the 357 Mag at 35,000 psi.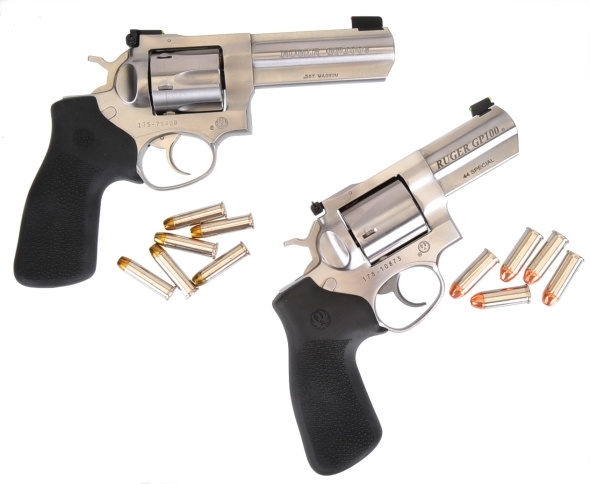 The frames are the same size, overbuilt for a medium frame revolver. My personal GP100 357 Mag has seen thousands of rounds of full tilt ammo and the cylinder still locks up tight and holds a cylinder gap of 0.006″. After 500 rounds, the 44 Special is performing in the same manner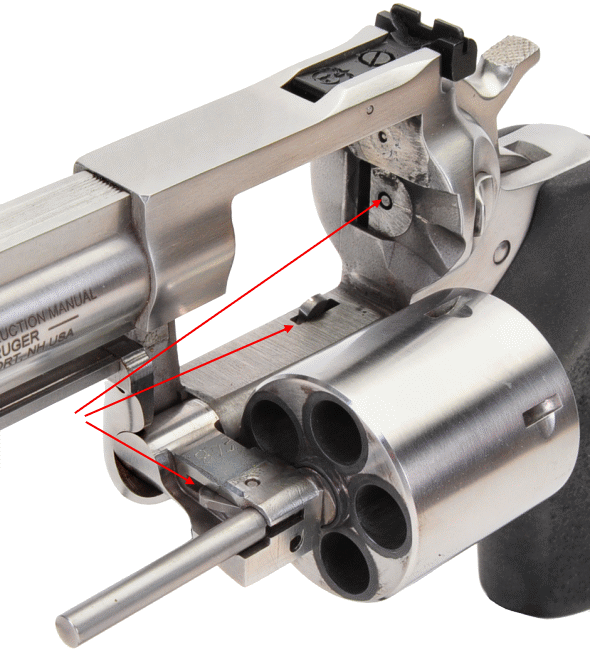 The cylinder is secured at three points assuring maximum longitudinal alignment: front latch up front, cylinder latch bottom and crane latch rear. Timing was right on and indexing was positive; a range rod dropped cleanly from muzzle to breech face.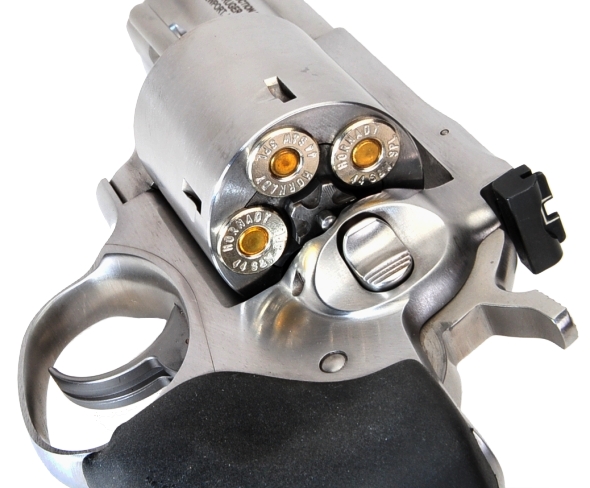 The GP100 44 Special had a very clean trigger as receiver. Virtually no creep, obligatory double action pull, with a clean let off. Single action was short and sweet, in addition to being very light. Hammer movement was smooth and very much wobble free so there is no trip to the gunsmith or package of trigger shims required. Rounds chamber and ejected easily and filled quickly with either speed loader, Speed Beez SWL69-05 or HKS speed loader CA-44.
The GP100, like the Super Redhawk AND the SP101 has a stub grip frame. The Hogue grip without finger grooves is set at an ideal angle and is of good form, as previously covered on Real Guns. While the grip is narrow, it is very comfortable. Additionally, there are many replacement grips and custom grip services available to meet the needs of customers with differing requirements.
And then we shot the GP100 44 Special… a lot
While we were able to run a good range of ammo through the GP100, there are favorite 44 Special loads I would have liked to have tried, but they just weren't available when needed. The first is Speer Gold Dot Personal Protection – 44 Special which penetrate to approx 14″ to 16″ in ballistic gel and expands to 3/4″ without shedding weight. Winchester Super X, 200 grain Silver Tip performs the same. Speer Gold Dot Bullets, 44 Caliber 200 Grain Bonded Jacketed Hollow Point, will deliver good expansion and weight retention at 44 Special short barrel velocity levels.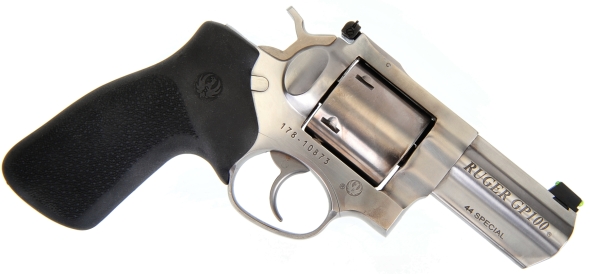 Ammunition

Bullet
Type
Bullet
Grains
Rated
FPS
Actual
FPS
Gel
Depth"

50 Ft
5 Shot
Groups"

Hornady Critical Duty

FTX

165

900

927

1

2
2.5

PMC Bronze

JHP

180

980

746

18 1/2

2.6

Hornady Custom

JHP

180

1000

780

24 1/2

2.1

Federal Champion

SWC HP

200

870

765

32+

2.2

Winchester Cowboy Action

Lead FN

240

750

646

32+

2.8
The question may well be, "What happened to the velocity?" Glad you asked, With the exception of Hornady Critical Duty which was rated with a 2.5″ vented barrel, the barrel length used to establish manufacturers' ratings is 7.5″ and vented. The Ruger GP100 44 Special barrel measures 3.080″ muzzle to cylinder face. Groups were shot two hand hold, sandbag rested.

The Ruger has a 4 1/2″ sight radius. The GP100 sights are quite good in adjustment, stability and visibility. The combination of green fiber optic front sight and two dot rear sight puts the Ruger GP100 44 Special quickly on target.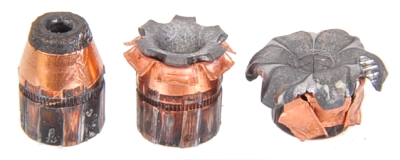 Three bullets were recovered from ballistic gel at the depth indicated on the table above. L-R Hornady Custom 100% weight retention and no expansion, PMC Bronze 100% weight retention and 0.568″ expanded diameter, Hornady Critical Duty 161 grains retained weight and expansion to a diameter of 0.714″. I did not recover Federal or Winchester lead. They left a pencil thin wound channel, penetrated two 6″x6″x16″ FBI blocks placed end to end and were nowhere obvious to be found in the dirt backstop. Recreational target shooting or pig poking seems appropriate applications. The jacketed bullets could work for self defense or hunting depending on the expectations and game.
What would one do with a GP100 44 Special?
Power wise, for the purposes of self defense, the 44 Special is probably a wiser choice than a 44 Mag. It takes only a little work to build proficiency and it is a much easier gun to shoot accurately. Loaded with hard cast, it is a terrific trail gun where even moderate velocity could put a bullet through just about anything.
The Ruger GP100 44 Special could easily work for concealed carry. Even with its big rounds, the GP100 is still barely over the one and one-half inch mark in width. There is also plenty of ammunition that suits the application.
Finally, this is a gun an owner will shoot. A terrific balance of power and recoil that won't leave a shooter with sore wrists or abused hearing. The GP100 is easy to take down for cleaning and other maintenance and it will keep on ticking after many years and many rounds of service. Nice revolver.