I am not sure why folks tend to wander around the hills with a rifle that is about a half-foot longer and two pounds heavier than necessary. The weight becomes noticeable as a long day wears on and the long barrel hangs out there to snag on every branch. Compounding the problem, the same rifles usually come with a rotator cuff stretching thirteen and one half pull that pushes the center of rifle mass out from the chest. Below, a comparison between compact and standard firearms.
Ruger Hawkeye Compact – Standard Rifle

Manufacturer

Ruger

Ruger

Point of Origin

Newport, NH

Newport, NH

Model

37140

37123

Caliber

7mm-08 Rem

7mm-08 Rem

Magazine Capacity

4

4

Barrel Length

16.50″

22″

Twist Rate

1:9.5″

1:9.5″

Weight

6.5 Lbs

7.0 Lbs

Overall Length

35.50

42″

Stock

American Walnut

American Walnut

Hardware

Blued – Stainless Bolt

Blued – Stainless Bolt

Pull

12.50″

13.50″

Drop at comb

1.40″

1.40″

Drop at heel

1.70″

1.70″

Sights

Ruger Mount System

Ruger Mount System

Trigger

Ruger LC6

Ruger LC6

Trigger Pull

4 Lbs 3 Oz.

4 Lbs 6 Oz.

Safety

3 Position Swing

3 Position Swing

MSRP

$979

$979

Nominal weights & dimensions
Increasing barrel length does not increase accuracy. The purpose of a long barrel rifle is to boost bullet velocity by extracting greater potential from a cartridge. The result is reduced time in flight, which flattens trajectory and higher retention of kinetic energy and momentum is carried to a more distant point where bullet selection will determine the degree of bullet expansion and penetration.
22″ Barrel 283 Yard Point Blank Range – 139 Grain
Range – Yards
0
100
200
300
400
500
Velocity – fps
2907
2679
2462
2256
2061
1876
Energy – ft.-lbs.
2608
2215
1870
1570
1310
1086
Momentum – lbs-sec
1.79
1.65
1.51
1.39
1.27
1.15
Path – in.
-1.5
2.6
1.9
-4.5
-17.8
-39.3
Time of flight – Sec.
0.0
0.1
0.2
0.4
0.5
0.6
16.5″ Barrel 266 Yard Point Blank Range – 139 Grain
Range – Yards
0
100
200
300
400
500
Velocity – fps
2716
2497
2289
2092
1906
1730
Energy – ft.-lbs.
2276
1924
1617
1351
1121
923
Momentum – lbs-sec
1.67
1.54
1.41
1.29
1.17
1.06
Path – in.
-1.5
2.8
1.4
-6.5
-22.5
-48.0
Time of Flight – Sec.
0.0
0.1
0.2
0.4
0.5
0.7
While the 22″ barrel rifle offers a slight edge, particularly as the distances stretch out, the 16.5″ barrel can certainly keep up. Where distances are kept within 100 yards to 200 yards, there is an overabundance of power offered by both. So the decision was made to give myself a break and to go with the short barrel version. Leave me alone. I am old and tired and I deserve a break. Besides, I am showing remarkable growth by not buying a 378 Weatherby Magnum with a 28″ barrel.
Some details that may prove meaningful…
The Ruger Hawkeye Compact is well proportioned and it has excellent stock geometry. Pull it up to the should and your eye falls into scope alignment with medium height rings. The stock is hand filling, but not bloated as has become the case with so many long guns. The checkering is clean, sharp and the panels are appropriately placed.
The three position safety takes the shooter from blocked firing pin and sear with the bolt locked un battery, to free to open bolt and safe to fire. All very positive positions and quiet in operation. All Ruger rifles have rings mounts integral to the receiver. The top groove accepts a tab on the ring and stops fore and aft movement while the side scalloped cuts accept ring clamping hardware. It is a very strong system that holds scopes tight.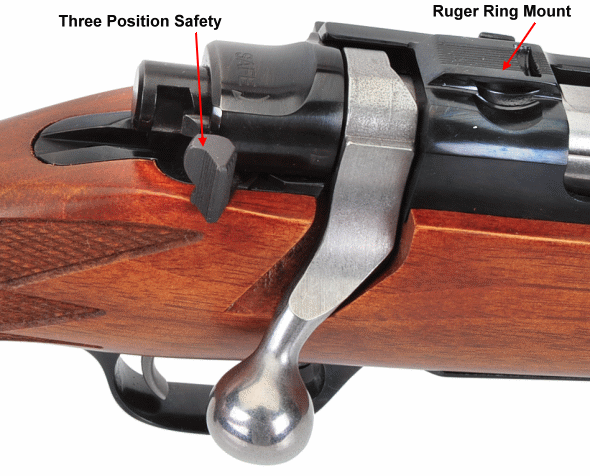 A set of medium height, blued rings are included with the Compact and may be swapped out with Ruger when new. At the time of this writing, Ruger's policy is "If the gun was recently purchased and was purchased brand new, we will exchange the new, unused rings that were provided with that firearm with a new set of different model rings more suited to the scope selection. Please note that altered or used scope rings will not be exchanged." Rings are available in blued steel or bare stainless, 1″ or 30mm and in low, medium or high heights and they also be purchased as accessory parts.
The Ruger Hawkeye ha a two lug bolt and 90° lift. As seen more clearly in this picture, the bolt handle is bent and cut to enhance scope eyepiece clearance. The bolt body and handle is stainless steel, the bolt shroud is blued alloy steel.
The Ruger is a controlled feed rifle. so as the bolt is closed to chamber a round, it is pushed up against the bolt face and slides under the full length, non-rotating claw extractor.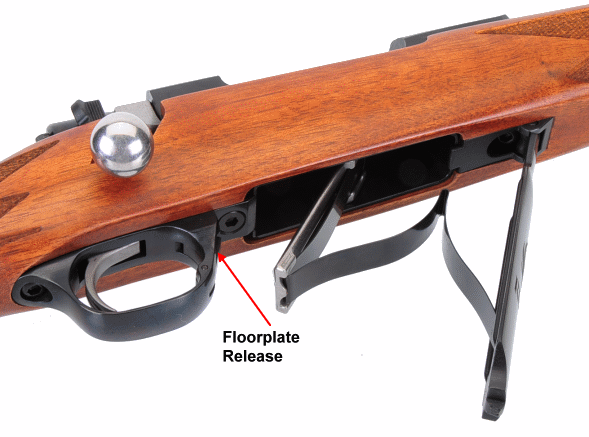 A hinged floorplate is a real convenience at the end of a shooting day at the range and in the event a hunters can put away his quarry without emptying a rifle. Yes, that really happens. The release latch is on the front of the trigger guard and away from gloved finger to avoid snow drift swallowing off loads. In the case of Ruger, all of the bottom pieces are steel; this is a very well made rifle.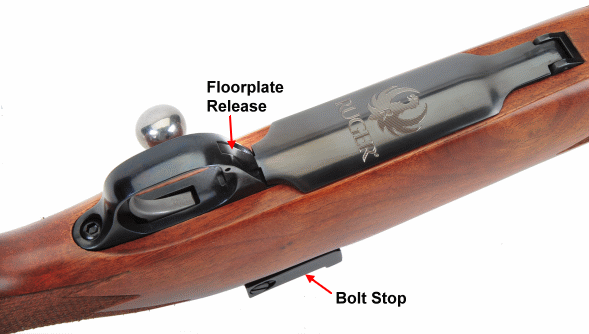 As above, the floorplate closed up is a pretty sleek surface that stays out of the way. The release is in easy reach, but it takes a deliberate pressure to open the floorplate. On the other side, the bolt stop is hinged and pulls away from the receiver to release the opened bolt.
Above, a little better view of the Ruger mount system and rings with the interlocking tab and clamping hardware. The Hawkeye is supplied with sling swivel studs. The recoil pad is smaller than many of the big pads hung on rifles today, but it is appropriate for the low recoil 7mm-08 Rem cartridge
Conclusioni…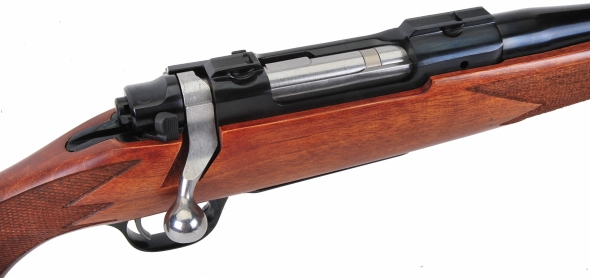 I believe I need to go dig up a scope and some ammo and poke some holes in a target to see if I can validate some of the blather I just put up. Until then…