Publishing on the Internet, in a literary sense of the word, is tough. Production is costly, praise is a limited commodity and criticism is an all day, all you can eat buffet. Still, I wander into work, look at the firearms and equipment in queue and pick what I believe would be most useful to readers. Sometimes an article will draw 500 readers per day, sometimes 25,000 readers per day. I like to think the former is the reaction to the product and the latter is the response to my writing.
Writing is an exciting process, if not a financially rewarding process. I may never have a new bass boat, or a retro muscle car, or a replacement for the broken wheel on my desk chair, but I can wear a t-shirt and shorts to work as I choose or choose to write about the Ruger SR45.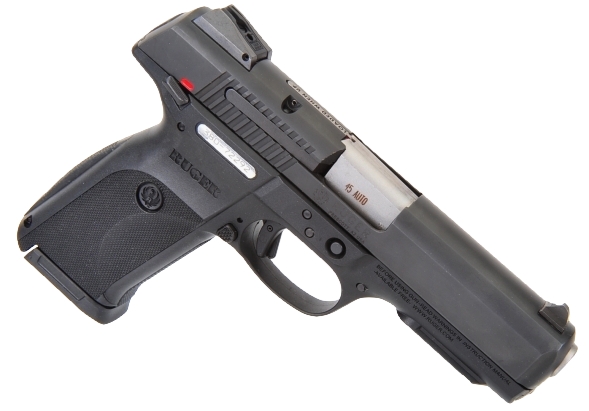 The Ruger SR45 is not often the subject of gun forum discourse. What would people say? It is not a new release, it can't be concealed in a Speedo, it does not hold 20 rounds of +P+P+ 45 Auto, it has numerous safety devices, and it functions with boring reliability. The SR45 has a large grip to support ALL fingers and it does not have a 2 pound trigger to promote accidental discharge. Its sights are adjustable for windage and elevation, which allows point of impact compensation without employing a file and hammer. What was Ruger thinking?
So if the Ruger SR45 is not a good subject for gun forum discussion, what purpose could it possibly serve? I'm just spit balling here, but it would seem to be an excellent choice for self defense in the home or for open carry circumstance for 60% of the adult U.S. population. The remaining 40% are Hillary Clinton supporters and are content being victims, both politically and criminally.
In the beginning…
The Ruger SR pistol product line was announced in October 2007 with the SR9, a full size striker. Touted features were its preset striker operation, 17+1 high capacity, a slender grip set at a 17° angle and a short trigger reach. The SR9 replaced the company's 1996 introduction, the P95, Ruger's first polymer frame pistol. The SR9 was joined by the SR40, 2010, the SR45 in 2013. Currently, all model, as well as several compact variations, are sold alongside Ruger's American Pistol line.
The SR pistol is a recoil operated. In battery, the barrel and slide are locked together. On discharge , both barrel and slide travel slightly reward, until bore pressure is depleted, the aft end of the barrel is cammed down and the slide is released eject the empty casing, go full travel and then return. On return the slide strips a fresh round from the pistol's magazine, partially cock the striker and return to a loaded chamber and closed and locked position. It is a long story, describing an event of short duration, typically less than 50 thousandths of a second.
A plethora of safety features…
Below, the loaded chamber indicator raises up when the slide is closed on a round. Not a failsafe check, but an indication.

The world around me is a strange place and fraught with peril. Get enough of the public behind a baseless, lemming like thought and you end up with people who hate the idea of firearm features that help them safe. So loaded chamber indicators that give visual and tactile cues are bad, cocked striker indicators are bad, trigger blocks that prevent a drop causing an accidental discharge are, magazine disconnectors that prevent discharge with a magazine removed from a pistol are bad, an manual thumb safeties are bad.
The arguments against safety devices point to added mechanical complexity, potential for failure, a firearm not ready when needed, and the no magazine but a pocket full of bullets shootout scenarios. When asked for a cite to substantiate this hysteria the response is always: Carl over on the "Rootin' Tootin' gun board said it happened to him", or "Trust me, I know guns" and, finally, "What are you, some kind of communist?". Should a gathering of lemmings determine what will be in your source of a defense when your life is on the line? I think perhaps not.
Other than the ambidextrous thumb safety which requires shooter intervention, the other safety systems and indicators are passive. Grasping a loaded pistol with the thumb safety off, requires only a trigger squeeze to fire, and then successive trigger squeezes to continue firing until the magazine is empty. At that point, the slide will lock open awaiting a loaded magazine, or manual release to close on an empty pistol.

Above, two points of actuation in the underside of the slide. The magazine disconnector inhibits striker travel until moved upward by a fully inserted magazine. The striker blocker is a little spring loaded plunger that also inhibits the magazine until a finger is placed in the trigger and depressed.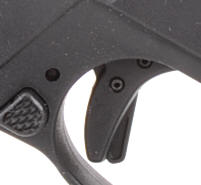 Left, the trigger safety hinged in the face of the trigger. Pushing on the trigger without depressing the trigger safety will not release the striker, as might happen if the pistol were dropped. A normal finger position on the trigger will discharge the pistol. An overtravel stop is integrated into the trigger assembly. There is a bit of creep, but the trigger stroke is short a strikers go.
Creep is actually a misnomer when it comes to preset strikers. The closing slide half cocks the striker, but the trigger pull finishes cocking the striker prior to its release. The resistance that feels like creep is actually the trigger compressing the striker spring.
The newer American Pistol is a pretensioned rather than preset striker like the SR45 and fully cocks the striker. The result is that the American pull is shorter, lighter and devoid of "creep" as the trigger play no role in cocking the striker.
Easy disassembly and clean…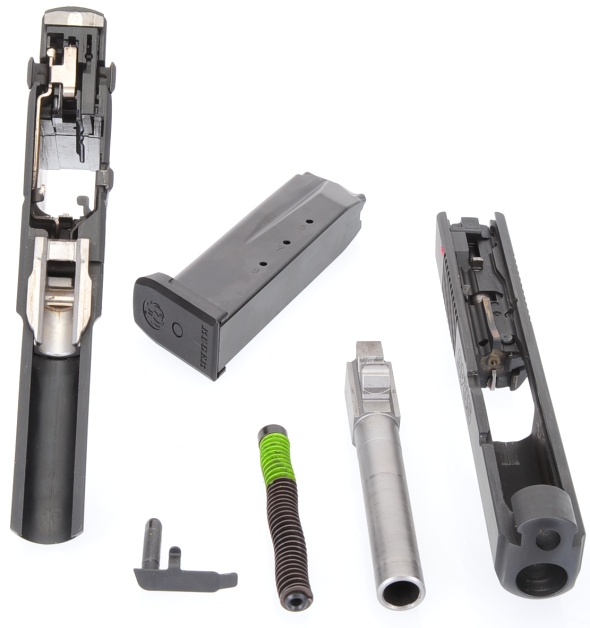 Take down for cleaning is simple; pull magazine, lock slide back, check for empty, press ejector down, push out the take down pin, release and ease slide forward off the frame. The captive recoil spring set lifts out, as does the barrel.
The stainless steel barrel is ramped to protect the poly frame from chambering cartridges to make sure the journey from magazine to chamber is reliable. The vertical notch in the barrel hood provides passage for the loaded chamber indicator, the slightly raised muzzle circumference makes for a close fit to the bushingless slide. At the bottom is the cam surface that pulls down on the rear of the barrel to being about an unlocked condition after discharge.
Interesting sight set
The rear sight is screw driver blade adjustable for elevation and drift adjustable for windage. The front sight is dovetail mounted also, the sight face is serrated to kill glare. Yes, I have a number of drift only adjustable pistols, but I favor adjustable. They allow me to easily change out ammo types and then zero to compensate for shifts in point of impact. Companies such as Trijicon, TruGlo and Williams offer aftermarket sets in fiber optic, Tritium and hybrid combination of both for the SR45.
Shooting personality

The SR45 backstrap is reversible to change from an arched grip to a flat back grip. Sort of like the flat back mainspring housing versus the 1911 arched back housing. For me, the arch back on the SR45 is comfortable and palm filling, while I actually prefer the flat housing on a 1911. That said, and again only from my personal perspective, the use of the arched backstrap tends to push the front sight up above the rear sight so sight leveling is not so
The grip is narrow, but long; which is how Ruger was able to get 10 rounds of fat 45 Autos into a single stack grip. I had a great theory that the long grip SR45 puts greater mechanical advantage in the shooter's hand to help control muzzle climb. A full size 1911 with a 5″ barrel is 8.67″ long and 5.45″ tall. The SR45 is only 8″ long, but 5.75″ high. So if we define a pivot or fulcrum where the grip and slide intersect; a handle with leverage. All good news, you choke up on the grip when you hold a pistol so the hand ends up in about the same place as it would on a 1911 and how much unsupported grip projects below the hand is irrelevant.
I've seen brief reference to slide design slowing the motion of the slide and allowing a lighter recoil spring which results in reduced recoil. I have seen reference to the cam block absorbing recoil impulse and reducing felt recoil. Maybe… I don't know. The problem with relative references is that they don't men much if there is no starting references and comparative final reference. All I know is that the Ruger SR45 is probably the softest shooting 45 Auto I've handled outside of a 6″ barrel match pistol.
Ammunition

Bullet
Weight
Grains
Rated
FPS
Actual
FPS
50′
3 Shot
Group"

Federal American Eagle

230

890

824

2.

3

Federal Personal Defense

185

950

930

2.0

Remington Golden Saber

230

875

757

2.

2

Remington Ultimate Defense

230

875

866

1.9

Ruger ARX

114

1307

1360

1.9
Performance was good. With a barrel length a half inch shorter than a full size 1911 and a quarter inch longer than a Commander length, velocity held up well to rated velocity with the exception of the now defunct Remington Golden load… But then it under performed in my other 45 Autos as well. Accuracy was also very good. The groups were shot hand held, but solidly rested on shot bags.
A little final detail
Ruger 45 Caliber Autos

Company
Sturm Ruger

Point of Manufacturer

Prescott, AZ U.S.A.

Model #

SR45 #3800

Type of Action

Striker

Caliber

45 Automatic

Capacity

10+1

Barrel Length

4.50″

Barrel Material

Stainless Steel

Rifling Twist Rate

1:16″

Slide Material

Alloy Steel

Slide Finish

Black Nitride

Frame

Material

Glass Filled Nylon

Frame Finish

Black Matte

Grips

Integral – Adjust Backstrap

Front Sight

Dovetail – Dot

Rear Sight

W/E Adjustable 2 Dot

Weight of Firearm

30.1 Oz

Trigger Pull

8 Lbs 0.0 Oz

Overall Length

8.00″

Overall Height

5.75″

Width

1.27″

Thumb Safety

Yes

Trigger Safety

Yes

Magazine Disconnect

Yes

Loaded Chamber Status

Yes Visual – Tactile

Key Lock

No

CA Approved

No

MA Approved

No

MSRP

$569
Checking out GunBroker, new SR45 are being sold well below MSRP and used guns are outright cheap to purchase. They are perfect for a house gun and they are perfect for a range day. For me they are a little too large for summer time concealed carry, but jacket weather would definitely make it work. I suspect they will be around in production or in used gun circulation for a long time.