My wife and I keep talking about retirement… You know, not working seven days a week and pursuing some leisure time activities. Maybe get a small boat so we can lake fish every now and then… maybe work on a little hotrod we can drive on the weekends or even bracket race. It would be great to take some day trips to see what lies more than twenty miles from our house. And we will, as soon as we figure out how to accomplish that and keep food on the table and a roof over our heads… If only we had a 401K program and not a 200½K program. Still, my family stands for the National Anthem. God bless America. We love this country and the life and freedom it has given us.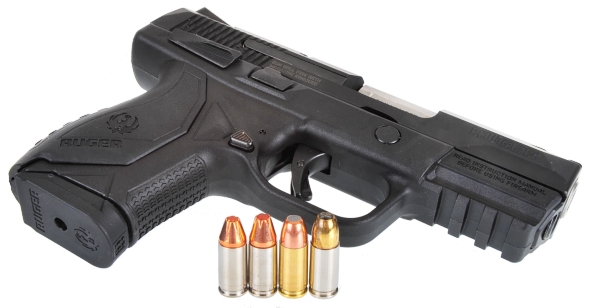 The Ruger American Pistol CMPT Manual Safety

Model

08639

Manufacturer

Sturm, Ruger & Co., Inc.

Point of Origin
Prescott, Arizona

Type

SA Pre-Tensioned Striker

Caliber

9mm Luger (+P)

Magazine Capacity

12 / 17

Barrel

3.55″
Rifling

1:10″

Overall Length
6.65″
Overall Height
4.48″

Overall Width

1.40″

Weight Oz.
28.75 Oz.
Sight Radius
5.75″

Trigger Pull – Actual

6 Lbs

6 Oz.

Sights
Novak LoMount Carry 3 Dot
Slide Material
Stainless Steel – Black Nitrided
Frame Material
Glass filled Nylon – Stainless Chassis

Grips

S,M,L Inserts Inc.

Thumb Safety

Ambidextrous

Key Lock

No

Chamber View Port

Yes

Magazine Disconnect

No
CA approved
No
MA Approved
No

MSRP

$

579

–
The introduction of the Ruger American Pistol platform represents a major advancement for the company's semi-auto pistol line up. The pistol's pre-tensioned striker system shortens trigger take up and overall pull, providing a clean breaking trigger. A modular grip system adapts the American's fit to virtually any hand. New barrel cam timing, the bore dropped closer to the pistol's frame and reduced slide mass combine to softened recoil for enhanced handling and function. Ruger's newest addition to the product line is a compact version in three configurations.
Other than the subject pistol defined by the table, there is Model 08635 Pro-CMPT – Same firearm except no manual safety and Model 08637 Pro-CMPT-10 – Same basic firearm only supplied with two ten round magazines where capacity restrictions exist.
All versions share the same external dimensions and form, all are packaged with the same accessories, all are supplied in a hard case, all share a common MSRP.
A pistol and a system
All Compact American Pistols include three easy to change wrap around grip modules that alter the pistol's backstrap contour and trigger reach. Each American Pistol is supplied with two magazines and comes with a plain and finger extension magazine base plate. High capacity models come with a magazine adapter that slips over a full size 9mm Luger 17 round American Pistol magazine and permits its use in the Compact version.
The ability to easily increase magazine capacity adds to the Compact's flexibility. Combined with standard capacity twelve round magazines, the customer can determine if they wish to trade compact form for increased capacity or leave the pistol in its compact form.

Novak LoMount Carry three-dot sights are ideal for a defensive pistol. The sights are stout, snag free, highly visible, and fast getting on target. The rear sight is drift adjustable, both are dovetail mounted for easy change out and the Ruger Store offers a wide selection of replacement sights in various apeture outlines as well as Trijicon night sights, lasers, and rail mounted flashlights.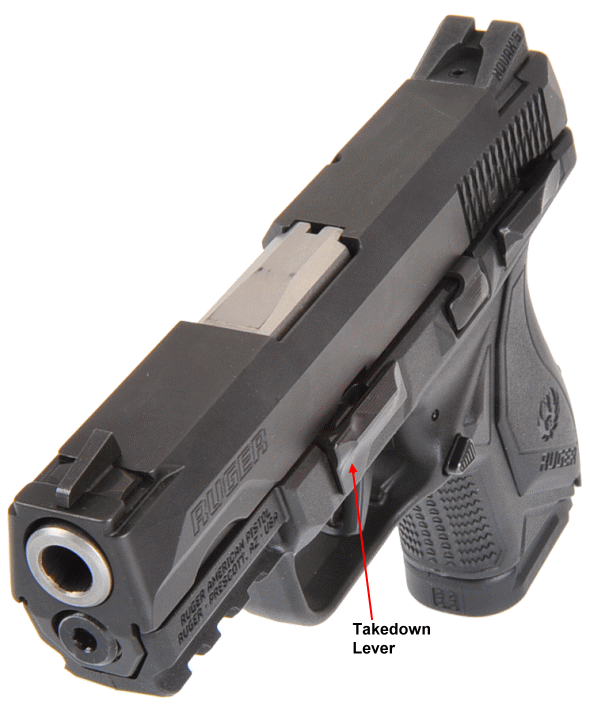 The magazine release is ambidextrous as is the safety. Takedown is easy and requires no tools; dump the magazine, check the chamber, lock the slide open, rotate the takedown lever, release the slide and move forward and off the frame.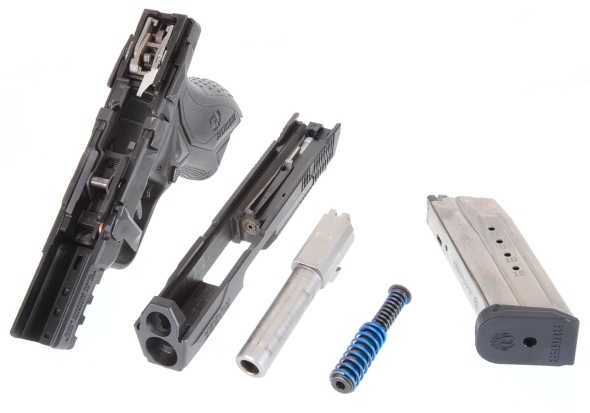 The glass filled nylon grip frame is home to a stainless steel chassis that contains all of the fire control pieces and frame rails. The slide is bushingless. Below, the guide rod assembly differs from the traditional guide rod / double spring used on the full size 9mm American Pistol. Here, a smaller, full length recoil spring surrounds the guide rod, then a flanged bushing retains a larger diameter outer spring. Compression comes in two stages with resistance building with compression. Short slides have lower mass and require heavier springing, but this approach reduces the effort required to manually open the slide when chambering a first round and it reduces felt recoil.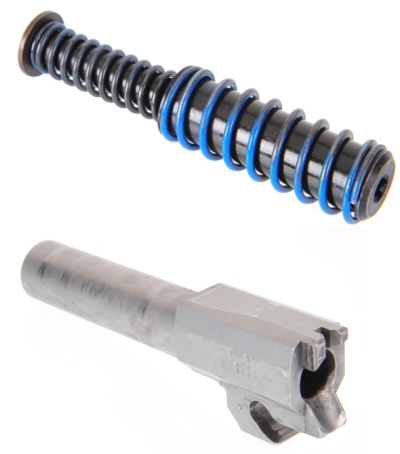 The stainless barrel's cam was retimed to slow slide movement. The barrel is ramped to take the hit from the chambering round and feed reliably, round nose or hollow point. The split in barrel hood forms a view port allows chamber checking when the pistol is in battery.
And then I found some ammo…
Ammo

Bullet
Type
Bullet
weight
Grains
Rated
FPS
Actual
FPS
50 Ft
3 Shot
Group"

Hornady Critical Defense

FTX
115
1140

1093

1.8

Remington UMC Leadless

FNEB

124

1100

1074

2.0
Remington Ultimate Defense
BJHP
124
1100
1035

1.2

Hornady Critical Duty +P

FlexLock

135

1110

1124

1.5
The Compact Ruger American Pistol is soft shooting for a compact 9mm, even with +P ammo, which made it easy to achieve decent repeatable accuracy. The 9mm Luger is no slouch so that is quite an accomplishment on the part of Ruger. Shooting a small nice usually leaves me with stinging trigger fingers and trying to find a place to hold on. The Compact is beefy enough to grab.
Conclusion? Sure. Why not?
I think, the Ruger Compact American Pistol is the type of defensive pistol a greater majority of people should carry. They conceal well, the 9mm Luger penetrates and expands effectively to look like the bullets pictured, right, even when fired from a 3 1/2″ barrel pistol. It also bodes well as a home defense firearm as easy to use and control.
Unfortunately, egos often demand larger caliber, or husbands and boyfriends think the "little lady" needs a 357 Mag snub nose and, at one time or another, everyone falls to the failures of conventional wisdom
I played with changing grip modules, I fiddled with ammo types, standard velocity and +P. I pulled the trigger a lot and shot at distances from seven yards to fifty yards. When not shooting from a controlling rest? At seven yards I could point and shoot at a decent clip and easily put five rounds in a fist size group. At twenty five yards I easily get hog hunting accuracy. At fifty yards… Well, I'm about 20 years past that result representing a firearm and not my eyesight, but it was still fun.
As for configuring grip modules, I ended up going with the one that was installed on the pistol when received and the twelve round magazine with extended base plate. The deep curve fit my palm and put my hand into a comfortable high hold. Finger reach was good and my trigger finger was not bent at a weird angle and my pinky wasn't left looking for a home. Manual safety? I am ambivalent and possibly flummoxed. Years of 1911 cocked and locked carry makes thumb safeties intuitive in use, but they do not serve the same purpose on a pretensioned striker. The thumb safety doesn't bother me. It is easy to flip on and off without disruption and it gives that millisecond pause for thought that does not give up a tactical advantage.
The Ruger Compact American Pistol is definitely a pistol to check out.