Ruger introduced the Ranch version of its American Rifle in September of 2014. The Ranch gave Ruger customers a truncated American Rifle that weighs only 5.9 lbs., has an overall length of just 36″ and was initially chambered for the moderate 5.56 NATO/223 Remington and 300 Blackout cartridges. Now a bigger boomer has been added in the form of the 450 Bushmaster, perhaps a heavier hitter than many think. But first the nifty little rifle…
Ruger American Ranch 450 Bushmaster

Company

Ruger

Model Designation

16938

Point of Manufacture

Newport, NH, USA

Type of Action

Bolt Action 3 Lug 70º Lift

Caliber

450 Bushmaster

Magazine Capacity

3

Magazine Type*

S

ingle Column Box Detachable

Barrel Length

16.12″

Rifling Twist Rate

1:16″ 6 Groove

Barrel Muzzle Threads
11/16″ – 24

Barreled Action

Alloy Steel – Blued

Stock Type

Flat Dark Earth Synthetic

Length of Pull

13.75″

Drop at comb

5/8″

Drop at heel

3/4″

Trigger Guard Material

Integral To Stock

Front Sight

N/A

Rear Sight

N/A

Scope Accommodation

Receiver Top Rail

Trigger Pull

3 To 5 Lbs

Weight of Firearm

5.5 Lbs

Overall Length

36″

Safety

Tang

MSRP

$529

Common to all short action cartridges
The case for the 450 Bushmaster, as suitable for the largest North American game, is best made by using a 460 S&W analogy… within the limits of my vocabulary and skills of articulation. The 460 S&W round is a handgun cartridge made specifically for hunting the largest North American Game. This is at least implicitly substantiated by Buffalo Bore, Grizzly, HSM, Jamison, and Winchester within their marketing of 460 S&W performance ammunition.
The 460 S&W and 450 Bushmaster have the same case capacity even if the 460 S&W a little longer, but a little smaller in case diameter. The 460 S&W operates at 65,000 psi, while the 450 Bushmaster operates at only 38,500 psi in deference to the AR platform where it is typically found. However, the 450 Bushmaster in like bullet weights holds a 200 to 300 fps edge over the 460 S&W, because it is launched from a rifle, rather than a revolver barrel. Therefore, if the 460 S&W is up to the task of taking the largest North American game, so is the 450 Bushmaster.
The SAAMI test barrel spec lengths are 24″ for the 450 Bushmaster and 10.0″ unvented for the 460 S&W, but ammunition manufacturers seem to opt for a more real world 20″ for the 450 Bushmaster and 8.375″ vented for the 460 S&W. In the end, it doesn't matter as the game on the receiving end gets a faster moving bullet from the 450 Bushmaster and game is not mindful of the length of the barrel that guided the bullet.
There is another similarity between the X Frame 460 S&W revolver and the Ruger American 450 Bushmaster; the 10″ barrel S&W revolver and the Ruger American rifle weigh pretty much the same. Considering the size, weight and typical hunting rigs required to carry the X Frame, it would seem to make a lot more sense to carry the rifle.
A little more rifle detail…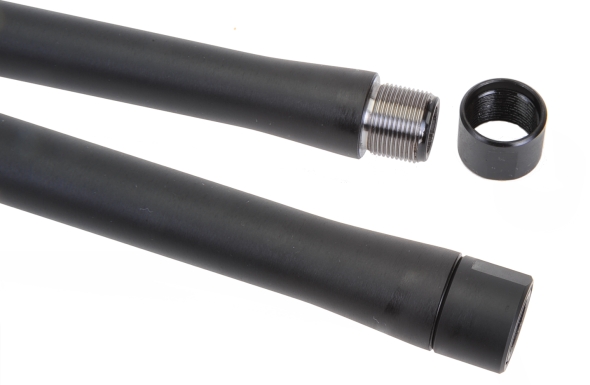 The threaded barrel takes on a unique appearance in the Ruger Hunter line up as the barrel tapers down to 0.700″, then flares to 0.825″ before transitioning into 11/16″-24 threads. The idea was to keep weight down with a standard taper, but also provide solid footing for a silencer or other type of muzzle device. The 450 Bushmaster has quite a bit of gas volume and pressure to deflect and contain.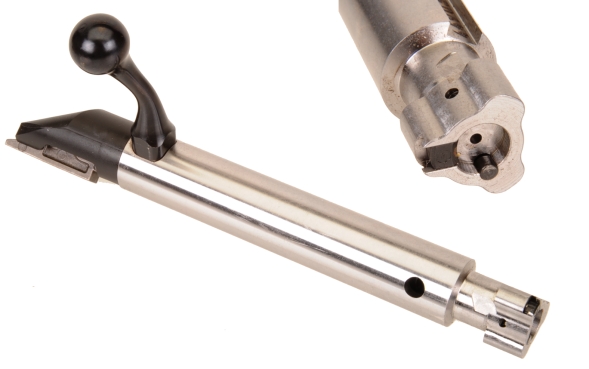 The Ruger full body bolt, the outside diameter of the body is the same as the circumference of the three locking lug, results in a smooth bolt stroke and increased strength. A plunger ejector is embedded in the bolt face, the extractor is a spring loaded slide type; both high reliability approaches. The three lug arrangement yields a 70

º bolt lift which facilitates low scope mounting.
Ruger American Rifles have dual cocking cams to reduce cocking effort through increased mechanical advantage.
The composite stock is heavily ribbed and reinforced, but the poly still tends to dampen recoil. Key to the Ruger American's accuracy is the Ruger Power Bedding

® system and steel bedding blocks embedded in the stock. The blocks locate the action securely at the four points indicated on the underside of the receiver, keeping it centered and preventing longitudinal movement between the stock and the barreled action. The barrel floats.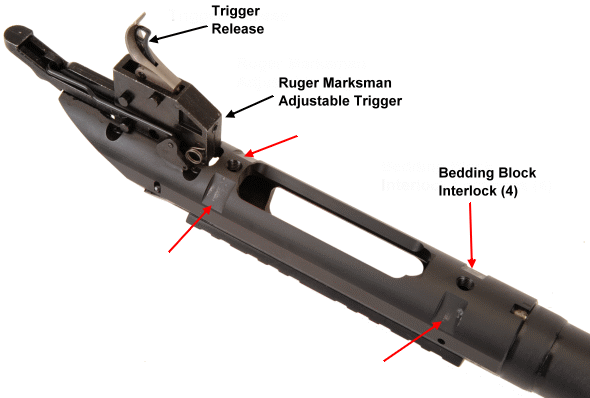 The Ruger Marksman Trigger is pull adjustable between 3 and 5 pounds and devoid of creep. Overtravel is virtually non-existent. The trigger release provides an additional margin of safety in the event the firearm is dropped or slammed around in a fall.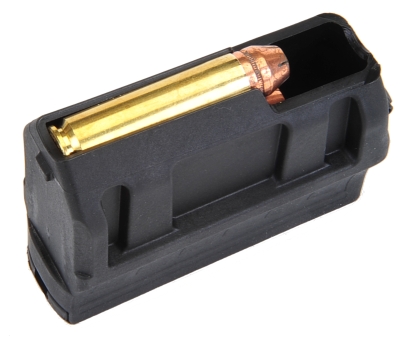 The magazine is a straight stack , self centering unit, made to accommodate all short action cartridges, 308 Win length, leaving lots of room for any possible or plausible overall cartridge length. The 450 Bushmaster headspaces on the case mouth using a taper crimp rather than a roll crimp, so the position of the unused cannelure is irrelevant in regard to crimping.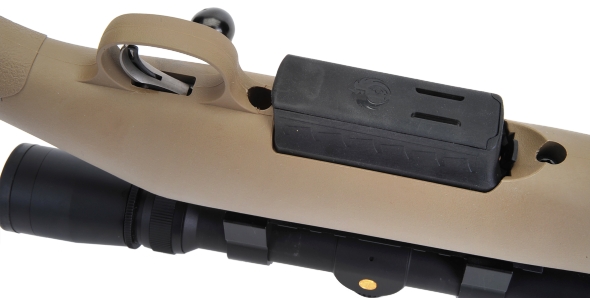 Most of the Ruger American line has a flush detachable magazine, but then no others have fat 45 caliber cartridges to contain. The magazine does not protrude much and doesn't get in the way when shooting and it does make it easier to empty the rifle at the end of a day hunting or at the range and it does make it easy to have secondary magazines prepped with more or different ammo.
The Chronograph is just another lie detector…
Factory ratings are an indicator, but shooting over a chronograph can take my theories, roll them up in a balls, throw them on the ground and stomp on them. I've had my handloader's heart broken many times by that stupid little box, with its tangled up cable and little screen that says "2700 Sucker" when it was supposed to say "3200 Big Boy". So I do look forward to subjecting manufacturers products to the same electronic scrutiny. In this case we've done a little of both.
Factory ammo selection is limited. Currently only Hornady and Remington are offering loaded ammunition; Hornady 250 grain SST bullet @ 2,200 fps and Remington with a 260 grain AccuTip bullet at 2,180 fps. I am not sure why the short supply as the 450 Bushmaster is a standard SAAMI cartridge and good for sub and supersonic applications. It does make an AR a valid big game rifle and it has lots of potential in a bolt gun application.
Bullet Type

Bullet
Weight
Muzzle
Velocity
FPS
Muzzle
Energy Ft/Lbs
Hornady Factory Ammo SST
250

2129

2517

Sierra SportsMaster
185

2555

2682

Hornady HP/XTP

250

2

298

2932

Speer JHP

260

2129

2617

Hornady XTP/MAG

300

1958

2554

Oregon Trail
300
1993

2647

Oregon Trail Cast FP

360

1744

2432
The handloads listed are not representative of an optimal bullet list for the 450 Bushmaster as that was not the objective of the handload/chronograph exercise. The intent was to verify a nominal velocity for a given bullet weight that tracks to SAAMI reference bullet weights and velocity to illustrate the handload potential for the combination.
The Ruger American Ranch rifle is accurate. The less than 0.6″ 100 yards group, below left, was made by the first three shots through the rifle, a fourth shot went over the chronograph at 2,129 fps. The ammunition used was Hornady 450 Bushmaster 250 grain SST. It is rated at 2,200 fps in concert with a 20″ test barrel length, so 71 fps less with a 4″ shorter barrel.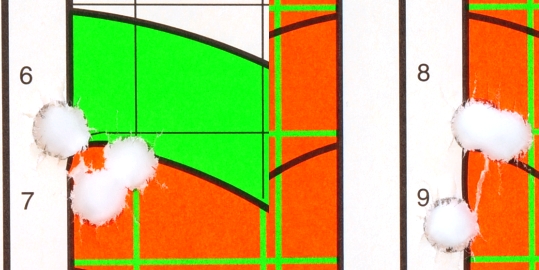 The second group, above right, measures 0.750″. It was made with the first three handloads attempted. Both groups were shot in a light drizzling rain with temperature bumping 34

°.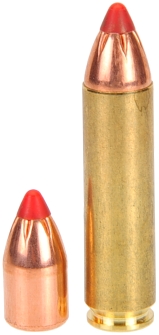 Prior to beginning a larger 450 Bushmaster handload development project, I set up the press with a four die Hornady set and assembled some ammo. The dies are like a pistol set; full length resize, expand, seat, and taper crimp to set headspace on the case mouth.
Cartridge Overall Length: 2.260″
Case: Hornady 1.690″
Powder: 39.0 Grains Winchester 296
Primer: CCI 400
Most 0.452″ bullets are stabilized with a 1:20″ to 1:24″ twist. Ruger 0.452″ firearms have a 1:16″ twist which is consistent with more modern twist rate assignment and it works well in support of the range potential of the 450 Bushmaster and optimal spire tipped bullets.0.451″ or 0.452″? Does not matter. The spec for the cartridge bullet is 0.452″ +0.000/-0.003″.
This is a cartridge and rifle that have a great deal of untapped potential… which is why we decided to tap some of it in Part 2. I wanted to separate the two subjects so that I don't make any manufacturers weep out loud and call a press conference to disavow any connection to my work.
The Ruger American 450 Bushmaster is an interesting bit of work. Pulling it to the shoulder, it feels like an AR carbine, or a lever action saddle carbine. It isn't muzzle heavy or muzzle light as the rifle is well balanced for upright shooting and there is no sense of trailing weight when tracking to a moving target. It is a wood's rifle, but it does have open hunting range out to 300 yards or so.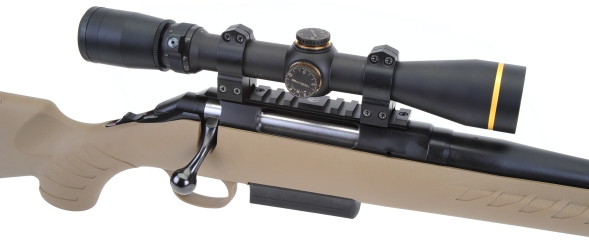 It is not recoil free, but is also not recoil heavy… something akin to that of a 30-30 WCF… OK, maybe a 35 Remington lever action rifle. Let's just say that if you didn't play with puppies and cry on campus after the last presidential election you should not have a problem. Keep in mind this is a substantial cartridge and a very light rifle. Report is stout and there is a bit of muzzle flash, but only enough to enjoy. The rifle is accurate enough, and ranging enough, to warrant a scope as an effective range of 300 yards is realistic. I do wish the American Ranch has a good set of metallic sights, but only because I live in Maine where the space between trees is about six feet.
The fit, finish and materials are of very good quality. I don't know if the Ruger American system is becoming more refined or if it is just growing on me, but it is looking good these days and the 450 Bushmaster Ranch is not an exception. We'll be back with Part 2 and several handload listings.