Ruger Model

SR1911 Target
Company
Ruger

Model #

6736
Manufacture
Prescott, AZ

Type Action

Single Action

Slide

Stainless Steel

Finish – Barrel/Side

Low Glare
Frame
Stainless Steel

Caliber

45 Auto

Capacity

8+1

Barrel Length

5.0

"

Twist

1:16″ RH

Weight – Empty

30

oz

Overall Length

8.67″

Overall Height

5.45″

Sights – Rear

Adj W/E Serrated Face

Sight – Front

Black – Drift Adjustable

Sight Radius

6.85

"

Trigger Pull

4 lbs 7 oz (Actual)

MSRP

$1019
Includes: Display box, 2 Magazines
gun lock, and manual
Ruger's introduction of an SR1911 with Bomar style adjustable rear sight is an smart addition to this Ruger product line. There is a need for fixed sight versions to serve the many that want that type of configuration and it is good that Ruger recognizes the many who see the advantages of adjustable sights.It is a little ironic that target shooters have the least need for adjustable sights, primarily because they shoot a consistent choice of ammunition, factory or handload. Subsequently, the shooter knows where a bullet will hit based on range, wind and even temperature. Where initial adjustments are made, a hammer, brass drift and/or small file can get a fixed sight pistol to shoot to an appropriate point of impact. In the extreme, while material can't be added, a taller front sight can be installed. Of course, when ammo changes, the process begins all over again.
Non-competing sport shooters and folks who carry for self defense often change ammunition; bullet type, bullet weight, powder type and charge. In the first case, there is the ever present search for improved accuracy. In the second case, the search is for the best ammunition that will assure accuracy, but also functional reliability and appropriate terminal ballistics. Virtually every time the ammo changes, point of impact also changes and most of the time, at least for the 45 Auto round, the change could be significant. At seven yards the difference may not matter, but moved out to twenty five yards or even fifty yards, that point of impact shift could be a 3″ to 6″.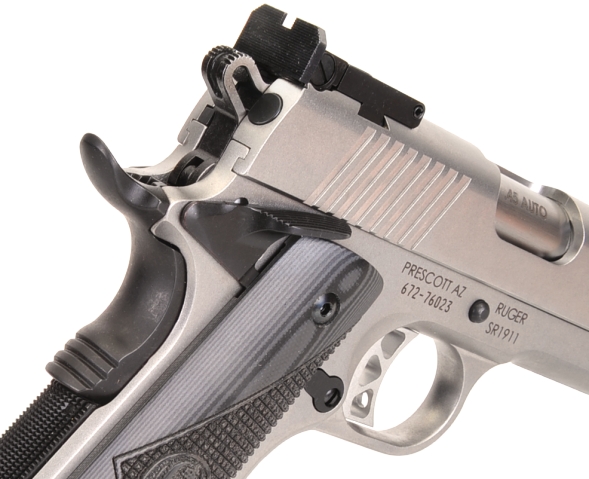 Target sights on the Ruger SR1911 Target useful to competitive shooters, but they also provide a great deal of utility to the recreational shooters. They can put away the hammer, drift, file and assortment of front sights and replace them with a small common screw driver. Additionally, the set back rear sight provides an extended 6.85″ sight radius for faster critical aiming.
The Ruger SR1911 is a clean, Series 70 type design. Usually, 1911s are supplied as generic Government Model clones or manufacturers gunk up the 1911 design. The Ruger does not have a trigger plunger safety, no finger grooves, no undercut trigger guard, no odd patches of griping surfaces, no protruding magazines, and no etched skull & cross bones or rebellious slogans.

The SR1911 Target slide and frame are CNC machined to a close, but slick fit. The barrel and bushing are machined from the same bar stock and machine for a precise fit. Trigger bounce is minimized with the use of a lightweight aluminum trigger with an overtravel adjustment and a lightweight hammer reduces lock time and stress on the pistol's sear.
The SR1911 utilizes a standard length guide rod. As a Series 70 type action, there is no trigger plunger or related linkage. The plunger tube for slide stop and thumb safety is part of the frame and not a staked on piece. The speed bump on the grip safety assures release.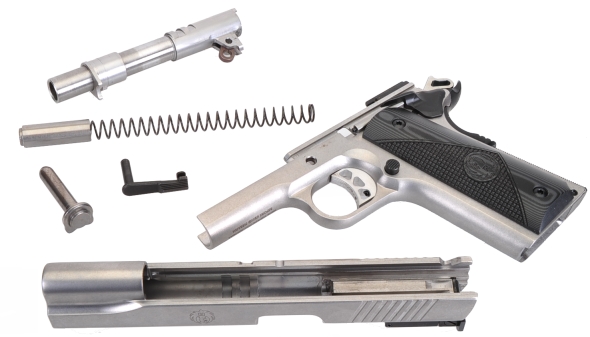 The ambidextrous thumb safety, slide stop and magazine release are extended to ease operation. The firing pin is made from Titanium. The ejection port is oversized and the two flat bottom magazines each hold eight rounds. The Ruger SR1911 Target accepts standard 1911 parts and accessories.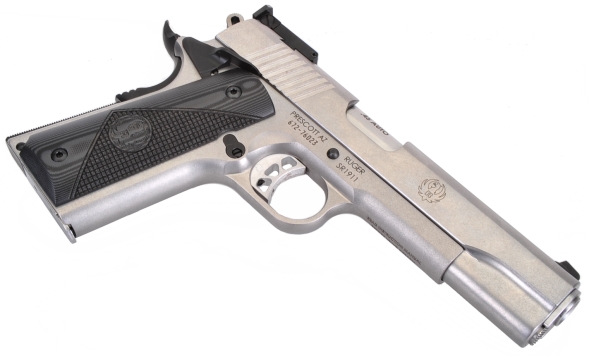 Initial impressions… I thought I'd start with Bob Dylan
I like the Ruger SR1911, not the least is that Ruger did not pander to California or Massachusetts for approval. More and more even the firearm dealers seem to be following their state's anti gun bent by stating California as a standard setter in firearms. In fact, the residents of California are denied firearms and purchase freedom and low cost found everywhere else.
The 1911 is an American tradition, as is the 45 Auto cartridge. Nothing new wave or gimmicky, the 1911 fills the shooter's hand, it is inherently accurate and Ruger is a genuine made in America company. Rather than rush through chronograph and target poking, I though I would take some time, shooting and thinking how I might tell the story of this firearm and its capabilities in a more meaningful way. So please take this as preliminary information. We'll be back with live fire results and Part II.