Just got back from three weeks in Texas and Maine is letting me know what I've missed. Where Round Rock, Texas was all family, holidays, fireworks, and a short side trip to Florida, Maine's homecoming was punctuated with a gusting cross wind landing on an icy runway, sub 20

ºF temps and a foreboding forecast of nearly daily snow storms.
For folks just tuning in,
Ruger's SR1911 Target Part 1 was mostly me extolling the virtues of Ruger's SR1911 product line, congratulating Ruger for going with the 70 Series rather than 80 Series design and a lot of my blah, blah, blah and photographs to covey the simple message, "The SR1911 Target is a precisely and faithfully executed 1911 derivative". Basically, that means enhanced function and accuracy without sacrificing 1911 part and accessory compatibility and interchangeability.
On the issue of boring predictability…
I like 1911 type pistols. They feel natural in my hand, they are easy to operate and the slab sided design makes them relatively compact for a firearm with a 5″ barrel. In the case of the SR1911 Target, magazines were easy to load, the safety, magazine release and slide stop were all right where the thumb expected to find them. I always use ambidextrous safeties, but only from the left side, but the right side remained politely out of the way.
The adjustable sight set is quite spiffy. Black on black, they somehow still present good contrast and a sharp image on target. Despite being affixed to a pounding slide, adjustments stayed put and neither front or rear sight moved about in their respective dovetail slots. The natural stainless finish held up well, wiped clean easily and the black pieces held their finish. There were no malfunctions or misfires during live fire.
Big theory, small difference…
My experience has been that 1911 types tend to shoot to different points of impact as bullet weights and velocity vary. This applies to pistols of Officer, Command and Government lengths. In Part 1 of the SR1911 Target coverage, I advanced the notion that the primary benefit of the adjustable sights, other than being the norm for certain types of competitive shooting, was to permit easy point of impact adjustment for different types of ammunition. To illustrate the degree of correction, at 50 feet, across four diverse types of ammo, elevation varied a maximum of one quarter inch and windage not to any measureable and repeatable degree. My point is that at 50 feet, just about any ammo, as a practical matter, will shoot to the same point of impact.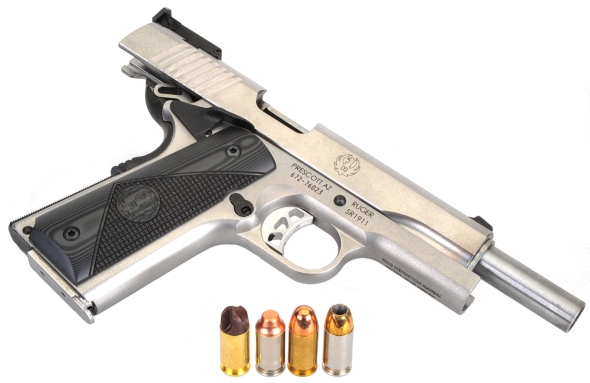 The groups indicated below were shot at 10 yards or 30 feet. The specific reason for this distance selection was a combination of deep snow drifts and short legs. For critical shooting, 30 feet is far enough. Shooting was done from a rest that substantially supported muzzle and grip.
Ammunition

Bullet
Type
Bullet
Grains
Rated
FPS
Actual
FPS
10 Yards
3 Shot
Groups"
Ruger ARX
Composite

114

1350

1352

1/2″

Bullseye Handload
SWC

185

–

830

1/2″

American Eagle
FMJ
230

850

833

7/8″

Remington Ultimate Defense

BJHP

230

875

868

3/8″
Conclusions
The simple truth is that Ruger's SR1911 is a terrific contribution to the 1911 type pool. Not cheap, price or construction, but also not a ridiculously priced ego brand. What would I like to see? Steel mainspring housing, all stainless or all black frame, slide and bits and pieces. The SR1911 is a buy and shoot firearm with an easy path to finesse slicking up for those who want perfection.