I don't know where the time goes, but some suggest it passes faster as we get older because the number of milestone events diminish as years pass and they leave less of an impression. So when we look back on life, each early year feels as though it lasted much longer.
I thought the Ruger American Rifle was introduce a couple of years ago and the Predator version six months ago. In fact, the American Rifle was introduced on January 2, 2012 and the Predator on May 15, 2014. I'd guess it has been a great run for Ruger and its customers as there are currently thirteen models within the product line to fit many applications and new models are added frequently.
Ruger American Predator

Company

Ruger

Model Designation

16948

Point of Manufacture

Newport, NH, USA

Type of Action

Bolt Action 3 Lug 70º Lift

Caliber

6mm Creedmoor

Magazine Capacity

4

Magazine Type*

S

ingle Column Box Detachable

Barrel Length

22″

Rifling Twist Rate

1:7.7″ 5 Groove RH

Barrel Muzzle Threads
5/8″ – 24

Barreled Action

Alloy Steel – Blued

Stock Type

Moss Green Synthetic

Length of Pull

13.75″

Drop at comb

5/8″

Drop at heel

3/4″

Trigger Guard Material

Integral To Stock

Front Sight

N/A

Rear Sight

N/A

Scope Accommodation

Receiver Top Rail

Trigger Pull

3 To 5 Lbs

Weight of Firearm

6.6 Lbs

Overall Length

42″

Safety

Tang

MSRP

$529

Common to all short action cartridges
The Ruger American Predator has all of the features that have made the core American Rifle so popular with the differentiation of a moss green stock, a heavier tapered, threaded barrel and a factory installed one-piece aluminum scope rail.
The stock geometry is excellent, the feel is comfortable and the recoil pad, not of great concern for this particular cartridge, is excellent. The choice of moss green makes for a good aesthetic. The heavier barrel makes for more consistent, longer string groups, the threaded muzzle accommodates a multitude of muzzle accessories. One being the ability to suppress report.
Times change and suppressing has entered the mainstream of hunting and recreational target shooting. There are currently thirty three states that permit hunting with a sound suppressor in place and many more states that permit their use while target shooting. I'd guess our love of hearing and neighbors, and a desire to not hike miles after missing a shot overcame paranoid left rhetoric.
The 6mm Creedmoor was added as a chamber to the Predator model in December, 2016 following Hornady's October announcement that the 6mm Creedmoor was adding to its match ammo line up. Like the 6.5mm Creedmoor, the 6mm version allows the use of heavy for bore bullets in a short action rifle without the need for deep seating bullets for clearance.
But a few of the American's salient features…

The Ruger American Predator has a closed top, angular profile receiver with ejection port, which makes for a rigid assembly. The tang safety is in easy reach and positive in actuation. The Picatinny rail is low profile and will handle any scope, offering a good deal of flexibility in scope placement.
The Ruger American Predator Rifle's hammer forged barrel tapers to 0.735″ compared to the standard Ruger American Rifle with a nominal muzzle diameter of 0.575″. The increase of a bit over 0.160″ to the barrel's profile doesn't add noticeable weight, but its placement stiffens the barrel substantially. A thread protector is provided for times when a muzzle device is not attached.

The 1:7.7″ twist can stabilize 6mm VLD and other forms of long slopping ogive match and hunting bullets, while still accommodating light weight. The American rifle utilizes a low profile barrel nut. That always leaves me with the hope that some day… some day, I'll be able to break out a torque wrench of sorts to change barrels on my Ruger rifles rather than the traditional lathe, ball-peen hammer and TIG welder. Yes, sarcasm. Until then, the method is an excellent was for Ruger to assure exacting headspace right off the production line.

The composite stock is heavily ribbed and reinforced, but the poly still tends to dampen recoil. Key to the Ruger American Predator's accuracy is the Ruger Power Bedding® system and bedding blocks (arrows). The block locate the action securely at four points keeping it centered and preventing longitudinal movement between the stock and the barreled action. The barrel floats.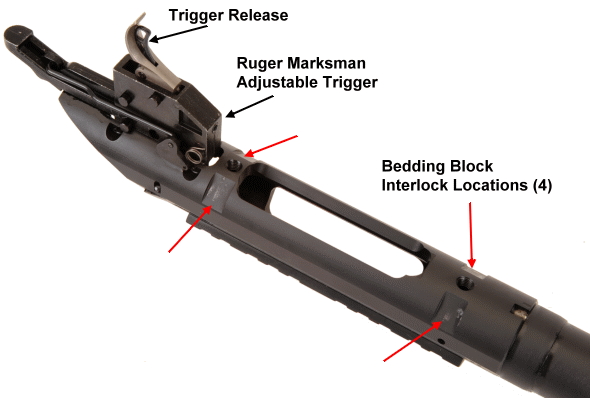 The Ruger Marksman Trigger is pull adjustable between 3 and 5 pounds. Throughout the live fire sessions it remained creep-free and crisp on release. Overtravel was virtually non-existent. The trigger release provides an additional margin of safety in the event the firearm is dropped or slammed around in a fall… Like when you are out hunting and hurrying down a hill and you slip and roll a quarter mile to the bottom….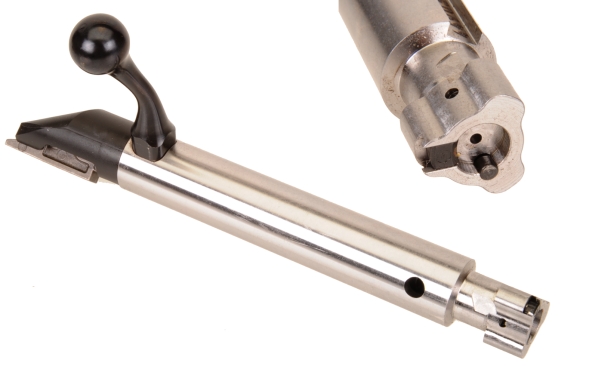 The bolt is a full body type where the outside diameter of the body is approximately the same as the circumference of the three locking lugs. The result is a smooth bolt stroke and increased strength. A plunger ejector is embedded in the bolt face, the extractor is a spring loaded slide type, both high reliability approaches.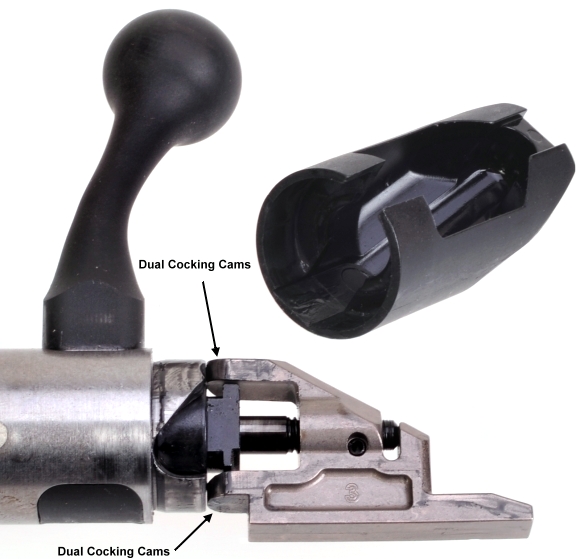 Bolt lift is 70º which keeps the handle low for scope clearance. Ruger American Rifles have dual cocking cams to reduce cocking effort through increased mechanical advantage.
Growing up hunting with sporterized Mausers and later commercial rifles with hinged floor plates caused me to discount rifles with detachable magazines. As a practical matter, however, the ability to quickly empty and load a rifle and to conveniently carry additional ammo won me over. I still don't care for steel magazines for rifles as they tend to wear out faster and feed unreliably. The Ruger rotary magazines are made of fiber-filled poly and they are very durable.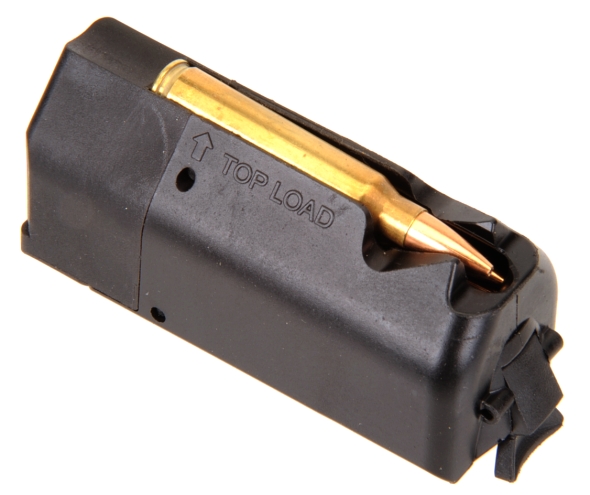 The Ruger Rotary magazine is not as big as pictured and, in fact, it is compact enough to fit flush with the Predator's underside while still providing 5 round capacity. Cartridges are centered for reliable feed and the magazine can be top loaded. Spare magazines are available for folks who like to carry additional or various types of ammunition.
The magazine release is located at the front of the magazine, recessed in a relief in the stock. It is out of the way of hands under normal use, but accessible even with gloved hands when desired.
Safety considerations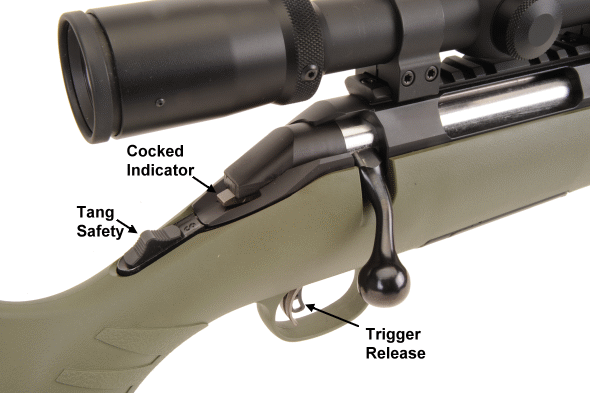 Three significant safety features; a two position tang safety, a visual or tactile cocked indicator and a trigger release that blocks rearward trigger movement unless the release is depressed.
The Creedmoor Cartridge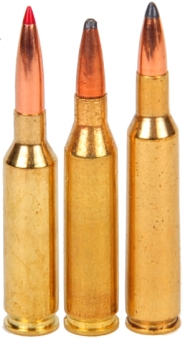 Left, left to right, the 6mm Creedmoor and 6.5mm Creedmoor. Right, left to right, the 308 Winchester derivatives 6mm Creedmoor and 243 Winchester, and 7x57mm Mauser derivative 6mm Remington. The first two require only a short action, the 6mm Remington requires a 30-06 Springfield length action.
Right, left to right – Raw powder capacities in grains are 53, 54 and 55 respectively. Max pressures are, 63kpsi, 60kpsi, 62kpsi respectively. The Creedmoor might sacrifice a grain or two of gross case capacity to case shortening, but less deep seating of long VLD type hunting and match bullets gives it slightly higher net capacity.
The 6mm Creedmoor is pending SAAMI approval so there will not be a certified cartridge drawing until sometime in June even though, as typical, factory rifles and ammunition are already available. The drawing below is predicated on draft dimensions with a sanity check against factory ammunition. The dimensions are the result of reducing a 6.5 Creedmoor neck outside diameter from 0.295″ to 0.275″ with a 30º shoulder, a 1.490″ body length and 1.920″ case length. The shoulder terminates slightly higher than the 6.5mm version to meet the 6mm's reduced neck diameter.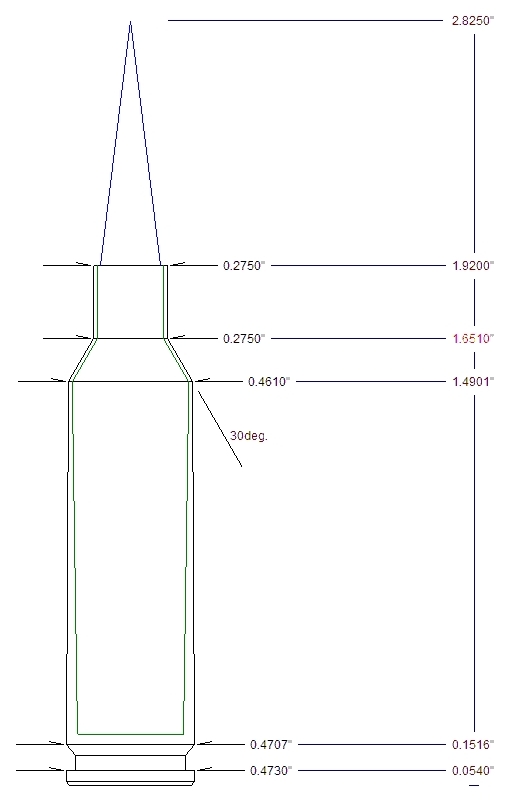 Primum taxationem…
With reloading components and die set on the bench, I'm going to make some ammo, work up some handloads and see how the Ruger and 6mm Creedmoor work as a team. Looking at preliminary load data for their 108 grain ELD Match, this appears to be a very flexible cartridge. Because we are working with the 22″ barrel Predator and not the Ruger Precision with 24″ barrel and competition bent, I'd like to get some variety of bullets, weight and type, through the rifle. Be back shortly.