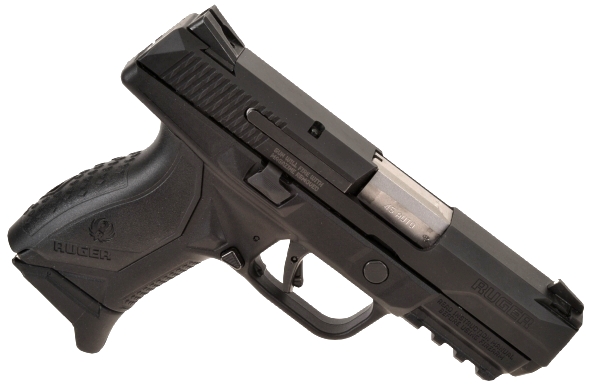 Ruger American Pistol Compact Pro

Model #
8645

Manufacturer

Ruger
Point of Origin
Prescott, AZ

Type

Pre-tensioned Striker

Caliber

45 Automatic

Magazine Capacity

7 and 10 Included

Barrel

3.75″ Stainless

Rifling

1:16″ RH 6 Groove

Overall Length
7.25″
Overall Height
4.65″

Overall Width

1.05″

Weight
28.6 Oz.
Sight Radius
6.0″

Trigger Pull – Actual

6 Lbs. 1 Oz.

Sights
Novak® LoMount Three Dot
Slide Material

Stainless Steel

Slide Finish

Black Nitride
Frame Material
Glass Filled Nylon

Grip

Interchangeable Contour

Safety

Internal Sear Block & Trigger

Magazine Disconnect

No

Loaded Chamber Indicator

Yes, Slide Top

MSRP

$579

Supplied with two magazines, Grip Insert and hard case
The Ruger's American Pistol was introduced in December 2015. A Compact version chambered in 9mm Luger was introduced in September 2016, the subject 45 caliber version was introduced in December 2016. While models within the product line differ in form, full size or compact, the presence of a manual safety and color, black or brown, they all share a common set of features that define the product line.
The term "pre-tensioned" means the striker is fully cocked by the movement of the slide, rendering the trigger independent of the process. As a result, the trigger has none of the spongy, heavy pull tendencies common with most strikers. The Ruger American Pistol trigger has short take up, positive reset and pull is crisp.
Compared to most competing handguns, the Ruger American Pistol generates less felt recoil. This is accomplished with reduced slide mass, lowered bore axis a retimed barrel cam. This is a nice feature, particularly for compact models chambered for the 45 Automatic.
The Ruger American Pistol controls, with the exception of the left side take down lever, are ambidextrous; magazine latch and slide stop. Strategically located "speed bump" next to these controls and positive actuation prevent casual contact from dropping a magazine or closing a slide.
Below and forward on the frame is a MIL-STD-1913 Picatinny rail. The rail serves as a mounting point for lights, lasers and infra-red illuminators and any other type of rail attached accessory someone will eventually dream up.
The Ruger American Pistol requires no tools for takedown; remove magazine, lock slide open and check for empty, rotate takedown lever down, pull back on slide to release slide stop, ease slide forward and off.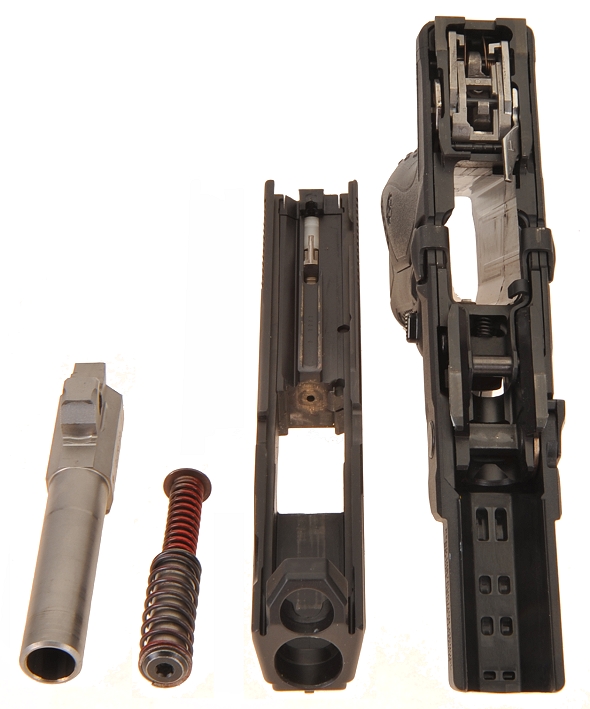 The double recoil spring is a modularized assembly. There is a stainless steel chassis within the nylon frame that precisely locates and precisely aligns slide rails and all fire control pieces. The stainless steel barrel is ramped for reliable feed assurance.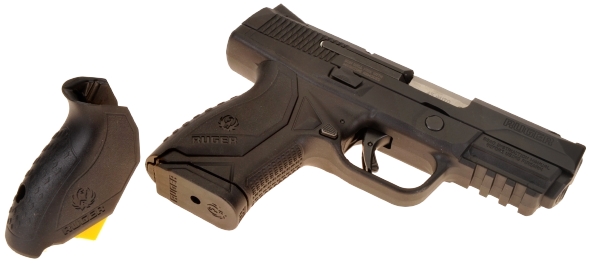 The Ruger American Pistol has a modular grip system allows for a variety of contours that adjust palm swell and trigger reach. Two are supplied with the subject pistol. Grips are retained with a #10 Torx fastener, a wrench is included with the pistol. It is not necessary to remove the grip for field stripping.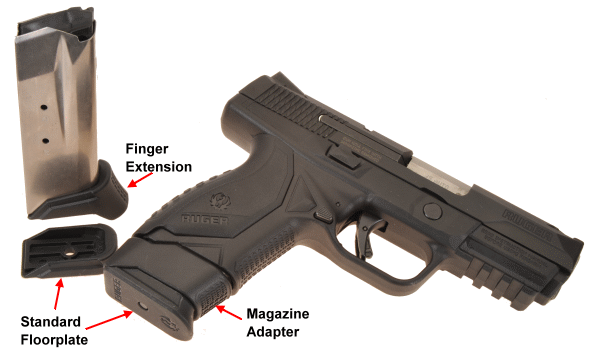 The Ruger American Pistol Compact Pro 45 Auto is supplied with two nickel-Teflon plated magazines, 7 and 10 round, an extended floorplate to support larger hands and a space that slips over the extended magazine to make one contiguous grip surface from frame to floorplate.
Shooting personality…
Other than for range work or hunting I do not own or carry any full size handguns. There just never seemed to be a logical basis for carrying a 5″ 45 Auto concealed or in the field as an open carry defensive/backup handgun. Distant down range ballistics are unimportant when defense occurs inside a 10 yard radius and penetration greater than 12″ can pose a hazard to others. If I felt a need to have greater penetration in a trail gun setting, I'd just load up with hard cast that could blow through 32″ of legitimate ballistic gel.

My carry 45 autoloader pistols have been a 4.25″ barrel Commander length and Officer's 3.50″ barrel length. The former 36.4 Oz, the latter 34.0 Oz. The appeal of the Ruger American Pistol Compact Pro is" 0.250″ longer barrel than the Officer's Model, half a pound less weight than the Commander, smaller form for easier carry. Additionally, the internal and trigger safeties of the American make it a safer pistol under rough handling conditions and it is promoted as being strong enough for sustained use of +P ammunition.
Ammunition

Bullet
Type
Bullet
Weight
Grains
Rated
FPS
5″ BBL
Actual
FPS
3.75″ BBL
50 FT
3 Shot
Group "

Ruger ARX

Composite

114

1350

1316

2.3

Federal Guard Dog

Composite

165

1140

1011

2.7

Speer Gold Dot

JHP

185

1050

958

2.2

Hornady TAP/FTP +P

JHP

200

1055

985

2.8

Remington Ultimate Defense

JHP

230

875

781

2.1
Ball ammunition was skipped… because I never use it outside of recreational range days. Five types of ammunition were selected that I carry with some frequency, including several type often highlighted as not easily fed through a 45 Auto. All functioned without a hitch through the American, no failure to feed, no failure to fire, no failure to eject. All were easy shooting. While my personal preference is to use the floorplate with finger extension, all shooting was done with 7 round magazine in place and flat bottom floor plate.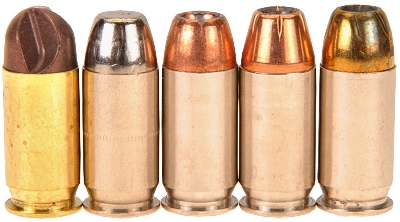 Recoil was easy to manage, control was always in place and muzzle rise was minimal for a 45 Auto. The grip insert was comfortable, no tread imprints in my palm. Accuracy was fine for my purposes. The gripping area pattern provided excellent traction, which made manual slide actuation appear light. I did shoot with the high capacity magazine and spacer in place, handling was improved, follow up shots were faster, but configured as such, the grip seemed too large for the short barrel pistol intended to be concealed and out of the way.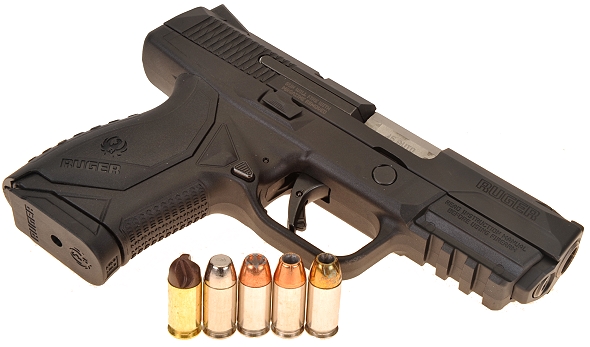 The Ruger American Pistol Compact Pro is easy to like, in this case as a 45 Auto. Subsequently, some additional time is being allocated to gather further shooting experience and to see how it performs with some favorite handloads.