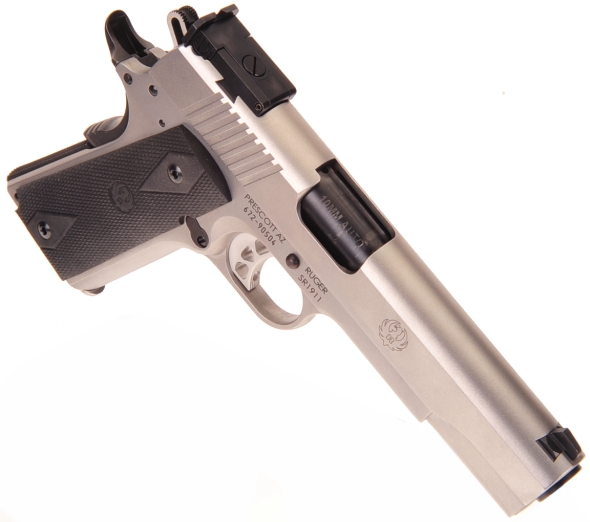 The 1911 design has enjoyed remarkable longevity, primarily because good examples are powerful, reliable and accurate. The Ruger SR1911 is an exceptionally good example. Extensive personal experience with full size and Commander length SR1911 pistols, both steel and alloy frame models, has been universally positive. The 10mm Auto version is a welcome addition to the product line. While the 10mm Auto is an effective round for self defense, the cartridge's performance makes it also suitable for black bear, hog and deer hunting and a heck of a general purpose trail gun.
Overview
Ruger Model

SR1911 Target

Manufacturer
Ruger
Model #
6739
Manufactured
Prescott, AZ
Type Action
Series 70 Type – Single Action
Slide
Stainless Steel
Frame
Stainless Steel
Finish
Low Glare
Barrel
Bull Contour – Black Nitrided SS
Caliber
10mm Auto
Capacity
8+1
Barrel Length
5.0″
Twist
1:16″ RH
Weight – Empty
40 Oz
Overall Length
8.67″
Overall Height
5.45″
Sights – Rear
Bomar Style – Adjustable
Sight – Front
Black – Dovetail Mount
Sight Radius
6.85″
Trigger Pull
4 lbs 3 oz (Actual)
MSRP
$1019

Includes: display box

, 2 magazines
disassembly tools, gun lock, and manual
The slide to frame fit is tight, but not so tight as to drag or bind. The barrel hood to breech face fit is tight side to side and at the breech face. A small loaded chamber check port is located at the end of the barrel tang. The barrel link length is right without binding or perceptible barrel squat. Locking lug engagement, barrel to slide, is full and uniform. The stainless steel barrel's nitride treatment prevents galling where contacting the slide.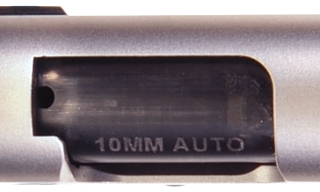 Ruger opted for a stainless steel, bushingless bull barrel to put a little steadying and recoil dampening weight at the pistol's muzzle. The absence of a barrel bushing dictates the use of a reverse recoil spring plug which is matched with a one piece full length guide rod. Two small wire clips packaged with the SR1911 contains the recoil spring on facilitate disassembly and reassembly.
No bushing, reverse plug and wire tools…
The heavy bull barrel does lots to reduce muzzle jump and provide consistent shot to shot lock up. However, the diameter of the barrel flare preludes use of a conventional 1911 bushing. The absence of a bushing dictates another approach be taken to secure the recoil spring and plug.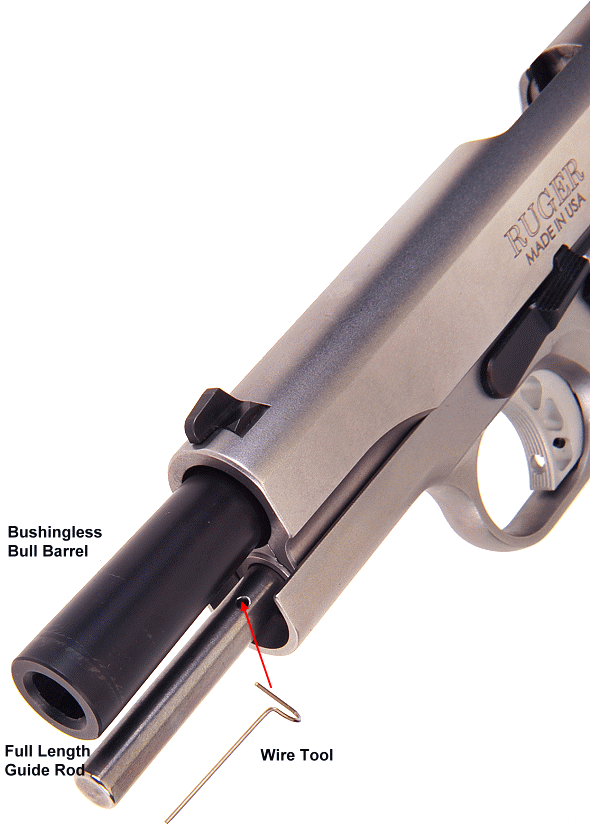 The solution is to flip the recoil spring plug around to it is installed and secured from inside the slide and to use a full length guide rod. Ruger provides a wire tool to facilitate disassembly and while avoiding playing "Slinky" with the recoil spring. With the slide back on an empty gun, the wire tool is inserted in the hole in the guide rod. This captures the tension of the recoil spring and plug. The slide is then moved forward to remove the slide stop and then the slide is moved forward and off the frame. With the slide removed, the guide rod and recoil spring are removed as a single assembly with the 18 lb recoil spring captive. At that point the recoil spring, plug and guide rod canalso  be disassembled.
Above, a little better illustration of the ramped bull barrel profile and the guide rod, compressed recoil spring and spring plug with the wire tool in place. There is no additional effort required to disassemble / assemble in comparison to a conventional guide rod set up. I use a similar set up on some of my substantially modified 1911 types and it is reliable in function and convenient when performing routine maintenance. What if the exotic wire tool gets lost? Get another from Ruger or, as I have done with my own firearms where the original tools have been lost to the quagmire of a tool box drawer, use a trimmed and formed piece of paper clip.
Slab sided pistols are comfortable to carry…

Concealed or openly carried, the narrow Ruger SR1911 feels light and stays out of the way in a holster, even with its 5″ barrel. This target model does not have the low profile fixed sights that are installed on other SR1911 models, but target sights provide micro elevation and windage adjustment and an excellent sight picture. All more appropriate for the pistol's intended applications.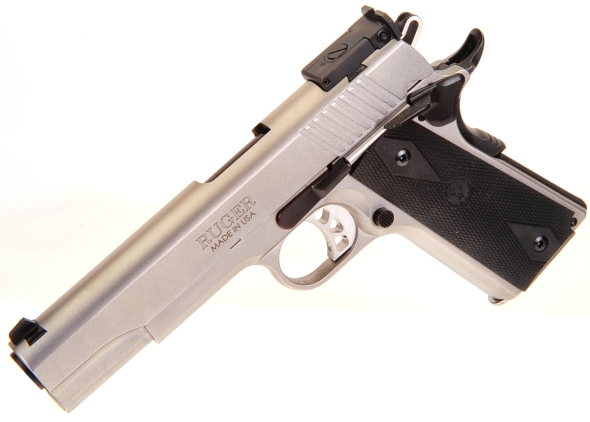 Both slide stop, magazine catch and thumb safety are extended to minimize thumb stretching of the gripping hand. The thumb safety is a narrow profile piece so it only protrudes enough for positive actuation. The skeletonized, lightweight trigger has an adjustable overtravel stop and quick reset. The SR1911 is compatible with all 1911 spec parts so folks who like to finesse to personal tastes with aftermarket parts can do so.
Hey, I know you…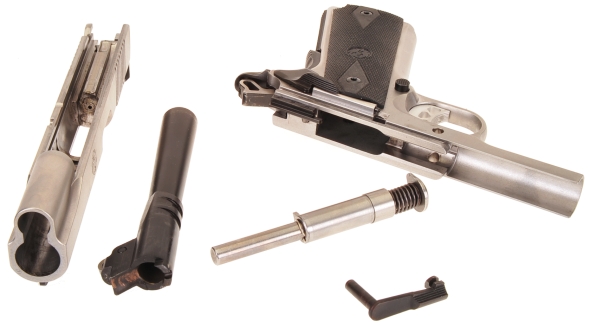 Apart, the Ruger SR1911 is very much like other 1911 pistol, including the 70 Series lack of a trigger plunger and associated linkage. That is bullet jacket copper and not rust on the barrel feed ramp.

The 10mm Auto round… Context is everything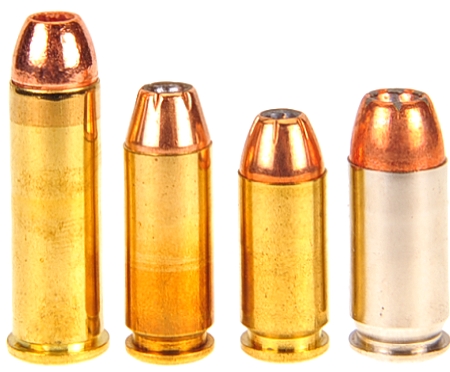 Cartridge

Case
Grains
Capacity
MAP
PSI
Bullet
Weight
Grains
SAAMI
Standard
Max FPS
SAAMI
Test BBL
Length "
41 Remington Magnum
35.0
36000
210
1585
10.1
10mm Auto
24.0
37500
200
1150
5.0
40 S&W
20.4
35000
180
985
4.0
45 Auto
25.0
21000
185
995
5.0
Tables are for reference as they rarely take into consideration real world factors. Some folks will explain the 10mm Auto as a near equivalent of the 41 Remington Magnum. Not really, as the 41 Mag holds about 50% more powder and operates at similar pressures. That said, shooting a 41 Mag revolver with a barrel length similar to the 10mm Auto will lob nearly 300 fps off of the 210 grain bullet standard. If the 10mm Auto doesn't seem that much more than the 40 S&W, that is only because of the bullet weight disparity. As an example, the 175 grain 10mm velocity standard is 1275 fps and most "performance" 180 grain factory ammo is loaded to 1350 fps.
There are substantial differences in approach with manufactures that combine to produce the approximately forty two factory loads that are available for the 10mm Auto. Some load near the maximum SAAMI pressure levels and some load significantly softer. As the soft loading tends to occur with budget expanding and FMJ target ammo, it would appear this is done to soften recoil where volume shooting in non-critical circumstances is intended. Some manufacturers load premium performance ammunition that runs closer to the maximum pressure as intended by cartridge design.

Four types of factory ammo were shoot to baseline ammunition and the SR1911's performance. They represent budget target, budget expanding, premium hunting, and performance hunting categories.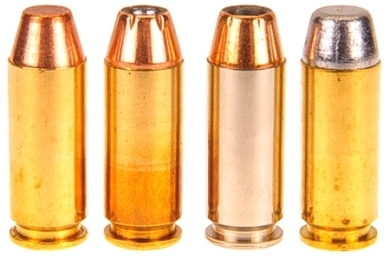 Appearing on the table below, top to bottom, as they appear in the picture above left to right. Notice how the highest velocity came from the ammo with the heaviest bullet.
Ammunition

Bullet
Type
Bullet
Weight
Grains
Rated
FPS
5″ BBL
Actual
FPS
4.25″ BBL
25 Yard
3 Shot
Group "
PPU
FMJ
170
1115
1017
2.0
PMC Bronze
JHP
170
1200
1086
1.9
Federal Premium
JHP
180
1030
1015
1.5
Buffalo Bore Premium
Hard Cast
220
1200
1183
1.8
The groups were shot from a rest so that my dubious and somewhat controversial forward lunging two hand hold did not speak for the pistol's mechanical accuracy. Could they have been better? Probably? Still, this is better than my Witness or Remington R1 Hunter can deliver. The plan is to reshoot with some carefully assembled hunting level handloads.
How did this one shoot?
The Ruger SR1911 10mm Auto is a surprisingly soft shooting pistol. It would be easy to chalk that up to the heft of the bull barrel, but my other 10mm pistols weight 2 ounces to 4 ounces more and they have significantly more muzzle rise and felt recoil. Maybe its because the weight is mostly at the muzzle end of the barrel? I do know that the soft shooting contributed directly to the my ability to shoot the pistol accurately.
In addition to being a good performer, the SR1911 is also well made. Parts are cleanly finished, inside and out and the selection of materials are consistent with a pistol that will see use for a very long time. I am glad to see Ruger putting this configuration out there for customers. It will help fill out the Ruger SR1911 product line in a meaningful way. Part 2 up next.