Ruger introduced the Ranch version of its American Rifle in September of 2014. The Ranch gave Ruger customers a truncated rifle with an overall length of just 36″ that weighs just 5.5 pounds. By comparison, a typical lever action carbine is 2″ longer and weighs a pound more. Initially chambered for the 5.56 NATO/223 Remington and 300 Blackout cartridges, the more recent 450 Bushmaster version certainly qualifies as a bigger boomer.
Ruger American Ranch 450 Bushmaster

Company

Ruger

Model Designation

16950

Point of Manufacture

Newport, NH, USA

Type of Action

Bolt Action 3 Lug 70º Lift

Caliber

450 Bushmaster

Magazine Capacity

3

Magazine Type*

S

ingle Column Box Detachable

Barrel Length

16.12″

Rifling Twist Rate

1:16″ 6 Groove

Barrel Muzzle Threads
11/16″ – 24

Barreled Action

Alloy Steel – Blued

Stock Type

Flat Dark Earth Synthetic

Length of Pull

13.75″

Drop at comb

5/8″

Drop at heel

3/4″

Trigger Guard Material

Integral To Stock

Front Sight

N/A

Rear Sight

N/A

Scope Accommodation

Receiver Top Rail

Trigger Pull

3 To 5 Lbs

Weight of Firearm

5.5 Lbs

Overall Length

36″

Safety

Tang

MSRP

$599

–
The 450 Bushmaster's suitability for hunting the largest North American game can be made by examining the 460 S&W. The 460 S&W is a ferocious handgun cartridge, intended for use on the largest North American game as implicitly confirmed by Buffalo Bore, Grizzly, HSM, Jamison, and Winchester within the product positioning statements of 460 S&W performance ammunition they respectively manufacture.The 460 S&W and 450 Bushmaster have the same case H2O spill over full case capacity, but the 460 S&W operates at 65,000 psi, while the 450 Bushmaster operates at just 38,500 psi in deference to its AR platform origination. So why does the 450 Bushmaster typically hold a 200 to 300 fps edge over the 460 S&W?
The SAAMI test barrel spec lengths are 24″ for the 450 Bushmaster and 10.0″ unvented for the 460 S&W, but ammunition manufacturers seem to opt for a more real world 20″ for the 450 Bushmaster and 8.375″ vented for the 460 S&W. The additional 450 Bushmaster barrel length makes its exterior ballistic performance on par or in excess of 460 S&W performance. If the 460 S&W is appropriate for use on the largest North American game, certainly the same would apply to the 450 Bushmaster.
There is another similarity between the X Frame 460 S&W revolver and the Ruger American 450 Bushmaster; a S&W X Frame revolver with hunting length barrel and the Ruger American rifle weigh pretty much the same. Considering the size, weight and typical hunting rigs required to carry the X Frame, it would seem to make a lot more sense to carry the rifle, especially since the Ruger rifle has far fewer state hunting restrictions and prohibitions.
I'm not lazy, I'm just trying to be efficient…
The Ruger American is loaded with features, it is highly accurate and durable, but it is a budget priced firearm. This result was attained through innovative design rather than attempting to cost reduce a more costly product like the Ruger M77 Hawkeye. As an example, rather than attempting a full, close stock to barreled action fit to achieve a stable assembly, Ruger opted to design a V block based Power Bedding® system that delivers a high degree of accuracy without hand fitting and finishing. The action is anchored to the stock at four locations and the barrel is free floating.
The Ruger full body bolt, the outside diameter of the body is the same as the circumference of the three locking lug, results in a smooth bolt stroke and increased strength. A plunger ejector is embedded in the bolt face, the extractor is a spring loaded slide type; both high reliability approaches. The three lug arrangement yields a 70º bolt lift which facilitates low scope mounting.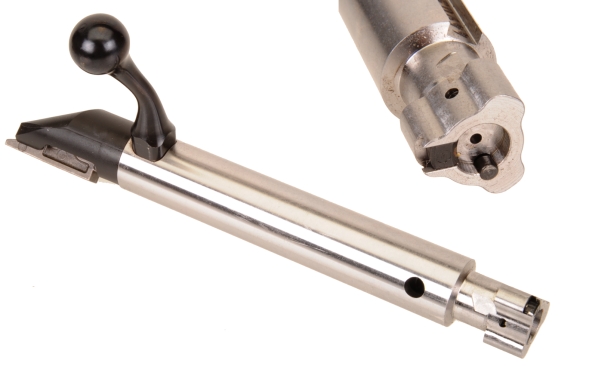 The American has two cocking cams which reduces effort through increased bearing surface area, greater mechanical advantage and balanced loading on adjacent contact surfaces. No, I have no idea what that means either, but the use of the term "adjacent contact surfaces" sounds pretty exciting. Between the full diameter bolt body and twin cams, the action cycles smoothly and with light effort.
Nothing is for show, it all serves a purpose…
The Ruger Bushmaster Muzzle Brake is a unique design and welcome on a little, light rifle that generates a decent amount of recoil and muzzle blast. The bulk of recoil is generated by jet effect of high velocity, high pressure gases, not inertial effects of a bullet in motion. The Ruger brake is ported and indexed to quickly disperse and slow gases, cutting recoil by approximately 58% and reducing noise to the sides of the shooter. A jam nut makes indexing and removal easy.

The Ruger American Ranch rifle has a barrel flare that increases diameter of the barrel from 0.695″ to 0.825″ to provide stable support for the rifle's muzzle break. Yes, devices other than a brake can be installed as subsonic Trail Boss powder loads lend themselves to suppression.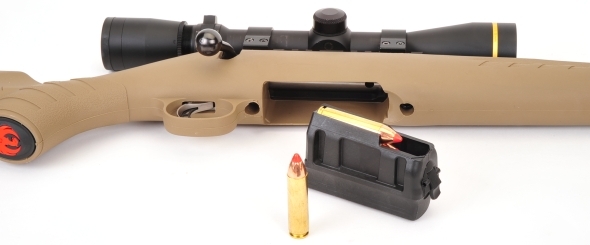 The detachable, self-centering poly magazine holds three rounds. With one in the chamber, that's four shots to hit a deer size animal in a vital area and you won't look like Johnny Rico fighting off giant insects in Starship Troopers.
The post muzzle side of things…
Some of the reasons I wanted to check out the Ruger American Rifle Ranch on 450 Bushmaster for a second time were the addition of the brake, a Barnes component bullet specified for the 450 Bushmaster and a new Hornady ammunition release. The first time around Hornady offered only their  450 Bushmaster and I was limited to using 0.452″ sabot bullets intended for muzzle loader applications for handloads. The sabot bullets worked great, but definitely the long way around.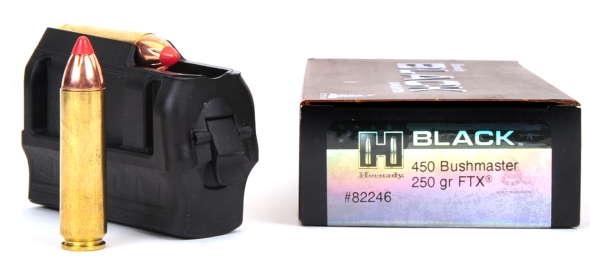 I am a little puzzled by the existence of Hornady 450 Bushmaster 250 grain FTX ammunition and Hornady 450 Bushmaster 250 grain FTX Black ammunition. They share common exterior ballistics, they utilize common components including bullet type and weight, only one is packaged in a black box. Video gamers edition? In any event, rated at 2,200 fps, the Hornady Black shot 2187 fps, 10 feet from the muzzle and over the chronograph, for 2,656 ft/lbs of kinetic energy.
Hornady Black 450 Bushmaster Point Blank +3″ Ordinate 199 Yards

Yards

0

50

100

150

200

250

300

Velocity – fps

2187

2001

1825

1659

1507

1370

1252

Energy – ft.-lbs.

2655

2222

1849

1527

1260

1042

869

Momentum – lbs-sec

2.42

2.21

2.02

1.83

1.67

1.52

1.38

Path – in.

-1.5

1.8

3.0

1.5

-3.1

-11.6

-24.7

Time of flight – sec.

0.0

0.1

0.2

0.2

0.3

0.4

0.6
As a big fan of the 45-70 Gov't for use in dense woodland, I had to take a second, and maybe a third, look at the 450 Bushmaster's performance in outshooting the 45-70. A little more velocity, a little greater sectional density added up to sustain velocity, which dragged all of the other numbers along for the ride.
Hornady 45-70 250 Grain Monoflex Point Blank +3″ Ordinate 180 Yards

Yards

0

50

100

150

200

250

300

Velocity – fps

2025

1813

1616

1441

1288

1165

1073

Energy – ft.-lbs.

2276

1825

1450

1153

921

754

638

Momentum – lbs-sec

2.24

2.01

1.79

1.59

1.43

1.29

1.19

Path – in.

-1.5

2.0

2.9

0.5

-6.2

-18.1

-36.4

Time of flight – sec.

0.0

0.1

0.2

0.3

0.4

0.5

0.
Accuracy for the Hornady factory ammo was all Sub-MOA. Utilizing spire tip bullets intended for rifle applications it is difficult to not shoot as well with the Ruger's American's quick 1:16″ rifling. Good little rifle, lots of power, great accuracy. We'll be back in Part II with some further handload data, but in the mean time you may want to check out the earlier "Ruger's American Rifle 450 Bushmaster Part 2"