Joe, why is the Ruger SP101 Match Champion laying down? Is it tired? Did you knock it over? Will it ever get up again? It is there because it is shiny. I put it in a light box, I ran lights up and down. I photographed it under diffusers, I photographed it with polarized light and polarized filters, I photographed it outside and, one time, in near total darkness. Still, there is sat, mimicking my presence, lens shades, wire supports… my face. So I took it outside, shot it until it was dirty, plopped it on the table and ended my commitment to an aesthetically pleasing presentation of this runway model of a revolver. Good thing it shoots like an SOB.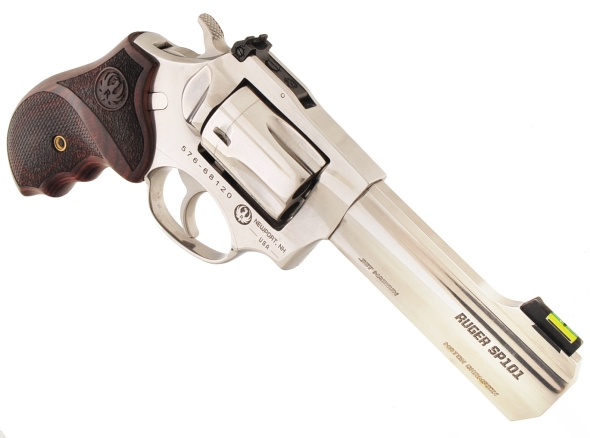 Model – Ruger SP101 Match Champion

Company
Sturm, Ruger & Co., Inc

Point of

Origin
Newport, NH
Model #
5782

Type of Action

DA/SA Revolver

Caliber

357 Magnum / 38 Special +P

Capacity

5

Barrel Length

4.2″

Hardware

Stainless Steel

Finish

Gloss
Rifling Twist Rate

1:16″

SA Trigger Pull
4 Lbs 8 Oz.
DA Trigger Pull
10 Lbs 15 Oz
Grips

Altamont Hardwood

Front Sight

Ramped – Fiber Optic

Rear Sight

Adjustable W/E – Notched

Weight of Firearm

30.0 Oz.

Overall Length

9.12″

Overall Height

5.4″

Width

1.360″ – Cylinder

Internal Key Lock

No

CA Certified

No

MA Certified

No

MSRP

$859
The SP101 is an interesting little revolver with typical unique Ruger history. None of this research into the revolver's origins is mine, it is all the product of R.L. Wilson and with cites from his book, "Ruger & His Guns. The GP100 was introduced in 1985 with the intention of replacing the Security Six that was introduced in 1971. The SP101 grew out of concerns that the GP100 was too large of a replacement and sales would be lost where agencies wanted a smaller, lighter revolver.
The Ruger SP101 was introduced in 1988 as a more compact, five shot revolver, chambered only for the 38 Special cartridge. The design was that of a scaled down GP100 including its grip frame and modular assembly.
After market feedback caused Ruger to conclude that the SP101 would not succeed unless chambered for the 357 Mag, that chamber was added, however, the frame window and cylinder were too short to accommodate a full range of factory ammunition. Subsequently the barrel on this model was marked "357 Magnum 125 Grain Ammo Only".
Unfortunately, this approach didn't work as many types of factory ammunition, even 125 grain ammunition, were too long to clear on cylinder rotation. Subsequently, the 357 Mag version were built with frame and cylinder extended 1/16″ while all subordinate cartridge models remained on the original size until inventory was used up. At that point, and in perpetuity, all SP101s were made with the longer components.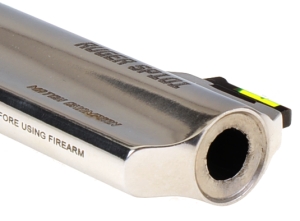 All Ruger SP101 357 Magnums were produced with either 2 1/4″ or 3 1/16″ until 2011, when an adjustable sight, 4.2″ barrel version was introduced. The idea was to boost exterior ballistics, increase the revolver's sight radius and reduce muzzle jump and recoil with approximately three ounces of increased heft.
The recently introduced SP101 Match Champion carries the longer barrel, but adds an 11º target crown, a finger groove combat style grip and polished and center shimmed hammer and trigger. The sights are also adjustable, however, the front sight on the Match Champion is a bright and easy to track fiber optic.
Peg leg, but no pirate…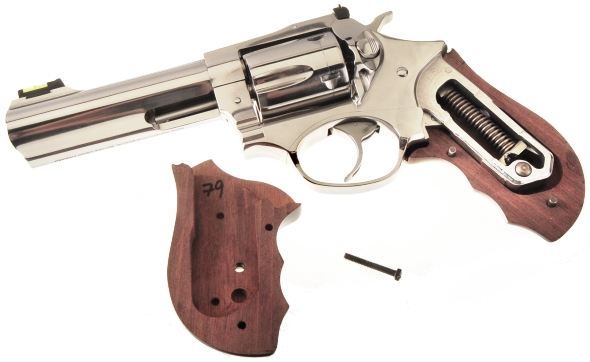 Ruger seems a very customer oriented company, which probably at least partially explains their extensive and persistent success. While very functional and attractive Altamont grips are installed on the Match Champion, Ruger knows there is a customer contingency that will want to hang something else on the butt end of their SP101. The revolver's stub grip frame will accommodate anything short of a door knob, while sidestepping the whole square butt – round butt boondoggle.
And then copious amounts of live fire ensued…

Grips can be a source of surprise, not unlike circus clowns, feeling not at all like anticipated. In this case, the Match Champion shot quite differently than a 357 Mag of this size with a more conventional angular arrangement of grip to bore centerline. In a high grip, recoil was a definite push rather than an upward rotating of the hand and muzzle jump was minimal. The same applied across the spectrum of ammunition utilized.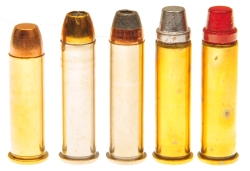 The front sight had to be drawn down, bending the wrist a bit more than would be the case with a more straight back grip. If anything, recoil felt diminished with this grip and getting the sights to settle back down on a target came quicker for follow on shots. The combination of stippling and checkering certainly doesn't leave the grip slipping around in the hand.
The Ruger SP101 Match Champion became an easy to shoot 357 Mag after a little familiarization. Would I retain the combat grip or change to a longer, straighter backed grip? Depends. This grip would definitely aid concealment as a carry revolver and compliment the revolver's small diameter cylinder. Open carry? I don't know. The Match Champion's grip is more hand filling than the standard SP101 rubber grips and, as a bonus, they might work well with a cross draw holster.
Three factory loads and two handload types were shot for posterity. They performed as they appear on the table below:
Ammunition

Caliber

Bullet
Type
Bullet
Weight
Grains
Rated
FPS
Actual
FPS
25 Yds
5 Shot
Group"

Winchester Target

38 Special

FMJ

130

800

815
2.3
Remington Golden Saber

357 Mag

BJHP

125

1220

12

28

2.2

Handload – Acme Hard Cast Lubed

357 Mag

SWC

158

12

80

1345

1.8
Handload – Acme Hard Cast Coated

357 Mag

SWC

158

12

80

1

304
2.1

Remington High Terminal Performance

357 Mag

SJHP

180

1145

1210

2.5

Groups shot from a rest
The Ruger SP101 Match Champion did not wear me down in use and became comfortable and intuitive on one or two hand holds. The assemblies were tightly fit, but not stiff or binding. The double action trigger was a little on the heavy side, but smooth. There are simple, inexpensive solutions to that issue that do not require the services of a gunsmith.
There are only a couple of changes I would make. I like a satin or bead blasted finish on stainless revolvers, but then I am not a fancy guy and aesthetics are subjective. As a minimum, I would bead blast the rib on the barrel and the approach to the front sight ramp to prevent glare. There are also design and finishing features I can appreciate like the triple cylinder locking mechanisms, the chamfered cylinder leading edge and fiber optic front sight element. It is a very nice revolver.
Handloads are on the way and will appear in Part II. At least two self defense and two trail defense loads, one will be jacketed and three will be cast.