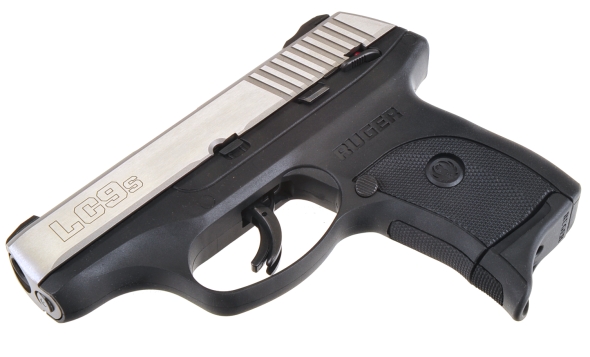 For folks who wonder what the appeal of a subcompact 9mm pistol might be; small enough to not get left behind and powerful enough for meaningful self defense. In the case of the Ruger LC9s, both benefits are served well. To illustrate that point, this review includes an overview of the hardware and a check out over the chronograph and range data with some popular types of factory ammunition.
The Ruger LC9s is highly concealable, not only because of its diminutive size, but also because of its form contouring, low profile sights and choice of finger extender or straight magazine floor plate. The LC9s is reliable in operation and flexible in digesting various types of ammunition including the occasional use of 9mm Luger +P. Ruger struck a good balance of recoil spring rates and resistance when racking the slide. The extractor is stout enough to pull nails out of wood.
Take down of the LC9s is simpler than the manual suggests, only because Ruger responsibly provides an over abundance of safe handling information. The orange inert magazine performs the same disassembly function as an empty magazine; releases the magazine disconnect safety that renders the pistol inoperable when the magazine has been removed.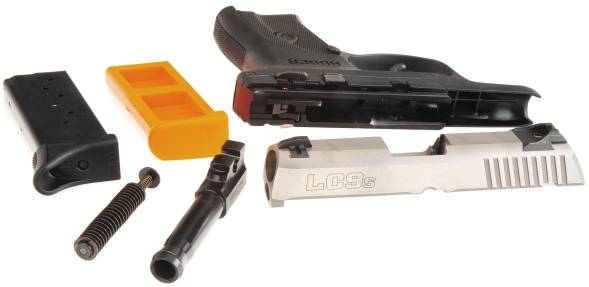 Disassembled, the usual suspects are found. The magazine finger extender can be swapped with an included flat piece. There is an inner/outer recoil spring, round stock inner, flat stock outer. The barrel is bushingless, ramped for positive feed and notched on the hood to facilitate a visual loaded chamber check. The fire control pieces and slide rails are modular and nested in the LC9's glass fiber filled poly grip frame. The stainless slide has excellent gripping surfaces, good wear characteristics and dovetail mounts windage adjustable sights.
I've often wondered who is in charge of Ruger's Ministry of Nomenclature, the group that forces us old timers to learn a new vocabulary with each firearm release. I can buy into all as they state function, with the exception of "Takedown Plate"… I revised it to "Takedown Pin Plate", but would have definitely preferred "Takedown Pin Cover". Plate sounds like the piece is the heft of a diamond plate truck running boards.
Specifications Ruger LC9s

Manufactured

Prescott, AZ

Model

3273

Frame

Fiber Filled Nylon

Slide

Stainless Steel

Type Action

Single Strike/Striker

Caliber

9mm Luger

Capacity

7+1

Trigger Pull

4.8 Lbs.

Barrel Length

3.12″

Rifling

1:10″ RH

Sights

Drift Adjustable Three Dot

Overall Length

6.00″

Overall Height

4.50″

Thickness

0.90″

Weight

17.2 Oz.

Safety
Thumb, Mag Disconnect, Trigger
State Approval CA, MA
No, No

MSRP

$499
The lay out of controls is comfortable. The slide locks open on empty and is released by inserting a full magazine, pulling back on the slide a skosh and releasing. Releasing the slide on an empty magazine requires the same skosh approach, pushing down on the slide sto.. Slide Hold Open and releasing.
The LC9s will not discharge with the magazine removed, which goes to the detriment of folks with a battle plan that includes inadvertently dropping a magazine while holding off hordes of outer space aliens with but a single round in the chamber. AKA Gun forum firefight.
The LC9s has good balance for a short barrel pistol and it form guides the hand to a high, straight wristed grip with sights aligned on target. Hand placement is protected by the beavertail frame, so no bitten hand webs. The trigger is located a bit far forward; part illusion because of the presence of the trigger safety. The take up is a bit long, but the tradeoff is a short crisp active pull.
Live fire performance…
Ammunition was selected that is readily available, moderate in price and shot routinely for project work with a good deal of accumulated experience.

Shot over a chronograph did not fair poorly considering the Ruger has a 3.12″ barrel and the shortest test barrel used to establish ammunition nominal velocity is the Hornady at 4″.
Ammo

Bullet
Type
Bullet
weight
Grains
Rated
FPS
Actual
FPS
PMC Bronze
JHP
115
1100

1093

Remington UMC Leadless

FNEB

124

1100

961
Remington Ultimate Defense
BJHP
124
1100
1046

Hornady Critical Duty +P

FlexLock

135

1110

988
Winchester Train & Defend
JHP
147
950
911
Below, typical expansion at the indicated velocities. In order of appearance on table with the UMC omitted as non expanding. In my opinion, neither the PMC or Winchester loads would be suitable for self defense applications in pistols or revolvers with this or very similar barrel lengths.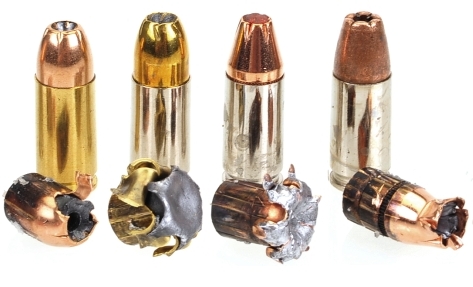 Ammunition

Type

Bullet
Weight
Grains
Measured
Penetration "
Terminal
Diameter "
Retained
Weight
Grains
7 Yard
5 Shot
Group "

PMC Bronze

JHP

115

19.0

0.355

114.2

1.7

Remington Ultimate Defense

BJHP

124

18.0

0.620

123.6

1.2

Hornady Critical Duty

FlexLock

135

17.0

0.568

133.9

1.4

Winchester Train & Defense

JHP

147

17.0

0.355

146.8

1.8

Penetration Clear Ballistics FBI blocks, 10 Feet from muzzle, standard plain gel test distance.
Terminal Diameter = Maximum full diameter of recovered bullet.
Groups Shot from a sand bag rest
Is there ever and end to these little stories?
For me, the Ruger LC9s is about as small as a pistol can get in 9mm Luger and still offer good control and accurate shot placement. I don't like posting rested group sizes because accuracy delivered in dire circumstances really falls on the state of mind and nerves of the person holding the pistol. If I can put five shots into a palm size group at 7 yards, I'm good. In my estimation, the little LC9s is a serious choice for concealed carry.