Summer is essentially over, visiting families have all returned to distant homes,, the neighborhood kids are back and school and Maine, once again, has fallen quiet. While lawns, woods and fields have remained green, overnight temps have dropped below 50ºF and the writing schedule, as far as the eye can see, is marked with hunter's firearms… like the subject Ruger American Rifle Ranch-Thirty.
Ruger introduced us to the Ranch version of the Ruger American Rifle in 2014 in 223 Remington. The company has been considered in the selection of chambers that have followed: 300 AAC Blackout, 450 Bushmaster and, now, the 7.62x39mm. All modest powder capacity cartridges that function well in short barrel firearms, but also a selection of cartridges that represent a broad range of power.
Ruger American Rifle Ranch-Thirty

Origin

Newport, NH

Manufacturer

Sturm, Ruger & Co. Inc.

Model

16976

Type

Tri Lobe Bolt Action 70

° Lift

Caliber

300 AAC Blackout

Capacity

5+1

Barrel Length

16.12″ 5/8″-24 thread
Rifling

1:10″ RH 6 Groove

Nominal Weight

5.9

lbs

Overall Length

36″

Stock

Flat Dark Earth Synthetic

Hardware

Matte Black Alloy Steel

Length of Pull

13.75″

Drop at comb

5/8″

Drop at heel

3/4″

Sights

None

Scope

Picatinny Rail Included

Trigger Pull

Adjustable 3 – 5 Lbs

Safety

Tang Two Position

MSRP

$599
Is the production of a 7.62x39mm Ruger American Rifle Ranch-Thirty warranted in light of an existing 300 AAC Blackout version? Of course. The ballistic differences are more than academic and the 7.62x39mm has a significant following with a preexisting investment in firearms, gear and equipment. So Ruger did what good companies are supposed to do; listened to their customers and serviced their demand. A little look around at the Hunter Thirty in an effort to explain why rifles of similar appearance are not frequently of similar form and function.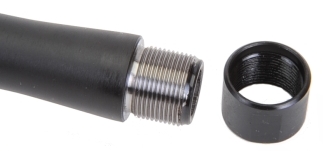 The rifle's 16.12″ barrel has a 5/8″x24 threaded muzzle end to facilitate the use of a variety of devices and a thread protector for use when none are installed. The medium contour barrel has a matte black finish and 6 groove 1:10″ rifling. Test barrel rifling standard for the cartridge is a little quicker 1:9.45″.
Contrary to the 7.62x39mm cartridge forward found in most mainstream reloading manuals, Ruger rifles chambered for this cartridge do not have a 0.308″ groove diameter. SAAMI specifies a groove diameter of 0.310″ +0.002″/-0.000″ and bore diameter of 0.300″ +0.002″/-0.000″ . Ruger sets nominal groove diameter at 0.311″ with bore diameter at 0.300″. Checking bullet pulls from factory European ammunition, bullet diameter checked 0.310″. U.S. component bullets used in handloads appearing in Part II measured 0.310″, non-cannelure bullets measured 0.311″. No 0.312″ bullets were used as they are configured, cannelure and/or ogive, for the 303 British and 7.7 Japanese cartridges.
The Ruger American Rifle Ranch Thirty utilizes standard Ruger Mini Thirty Magazines. It is gratifying to know that is I find myself in a protracted firefight in my backyard, and the only solution is to man both Mini Thirty and Ranch Thirty rifles concurrently, I will not have to think about which magazine to use as they are…… drum roll, one in the same. The Ranch Thirty ships with a 5 round magazine, however, 10 and 20 round Mini Thirty magazines are also compatible. Both steel and brass cased ammo OK, but should be CIP or SAAMI approved.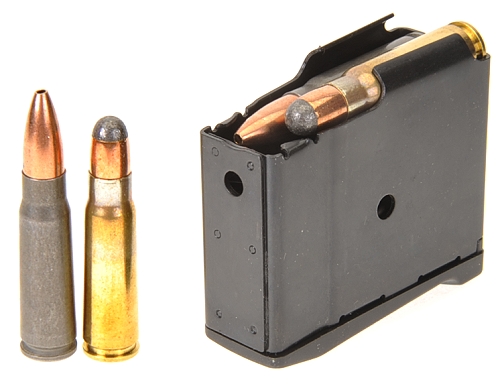 In ways that matter, magazines feed flawlessly, they attach and detach in a manner that is haptically, auricularly and visually affirming. Magazines are easy to fill and empty and mixing ammunition types did not stymie the system. For the handloader, a cartridge length capacity of 2.295″ is significantly longer than spec, which is useful when assembly custom ammunition.

The Mini Thirty magazine has a tab (arrow) that locks the Mini Thirty's bolt back on empty and it will perform the same service when used with the Ruger American Rifle Ranch Thirty. Above, far left in bolt block position, center below magazine feed lip and out of the way of the bolt. I've no doubt that anyone who does not want to lock open on empty bolt feature can trim the tab down with a file, Dremel or close brush with a belt sander.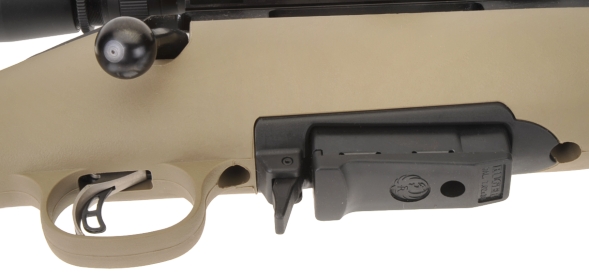 Inserted, the 5 round magazine tucks out of the way. The magazine release lever, aft of the magazine pushes forward to avoid those embarrassing moments spent ejecting a magazine when the intention was to reach for a trigger.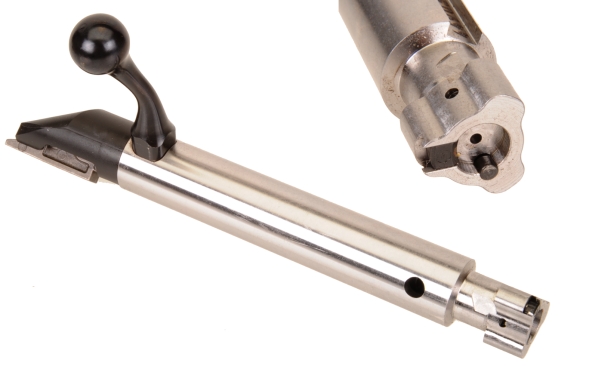 The Ruger full body bolt, the outside diameter of the body is the same as the circumference of the three locking lug, results in a smooth bolt stroke and increased strength. A plunger ejector is embedded in the bolt face, the extractor is a spring loaded slide type; both high reliability approaches. The three lug arrangement yields a 70

º bolt lift which facilitates low scope mounting.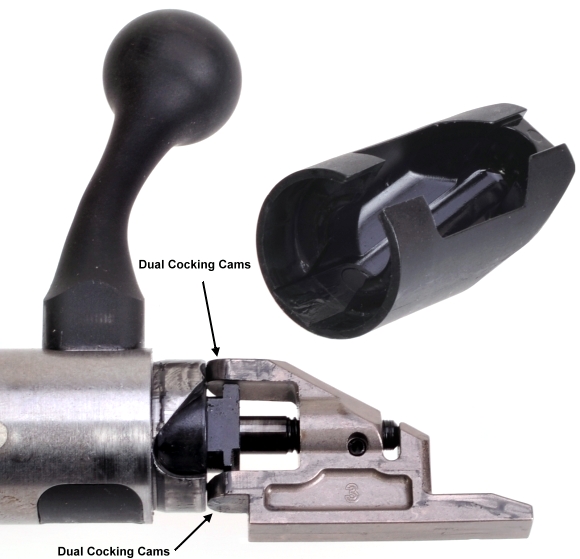 The American has two cams which reduces the effort required to cock the assembly through increased bearing surface area, greater mechanical advantage and balanced loading on adjacent contact surfaces. No, I have no idea what that means either, but the use of the term "adjacent contact surfaces" sounds pretty exciting. Between the full diameter bolt body and twin cams, the action cycles smoothly and with light effort.
Key to the Ruger American's accuracy is the Ruger Power Bedding

® system and steel bedding blocks embedded in the stock. The blocks locate the action securely at the four points indicated on the underside of the receiver, keeping it centered and preventing longitudinal movement between the stock and the barreled action. The barrel floats.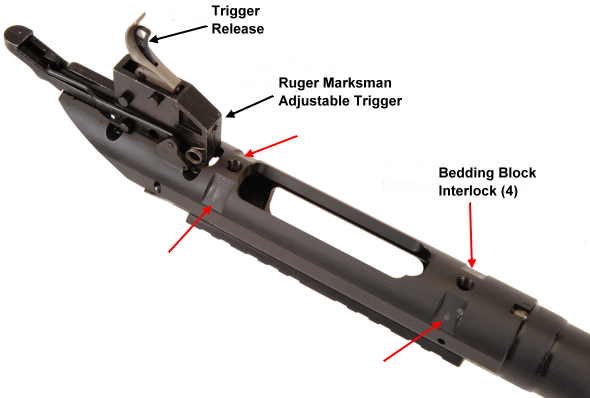 The Ruger Marksman Trigger is pull adjustable between 3 and 5 pounds and devoid of creep. Overtravel is virtually non-existent. The trigger release provides an additional margin of safety in the event the firearm is dropped or slammed around in a fall.
The receiver is drilled and tapped… should be able to just say tapped as the drilling part is a given. In any event, the Ranch is shipped with a Picatinny rail in place, a mount system that is hard to beat. The rail accommodates all sorts of rings and provides a wide range of scope ring spacing and scope placement fore and aft. The 70

° bolt lift makes for low scope mounting and good eyepiece clearance.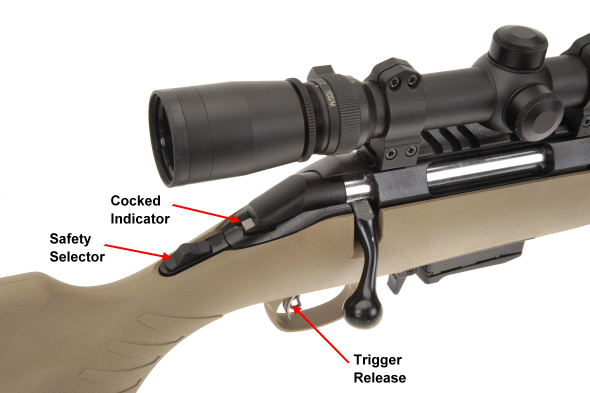 The cocking piece protrudes when cocked, creating a visual cue. The safety is two position and allows bolt removal when engaged. The trigger release assures there is a finger on the trigger before the trigger can be pulled.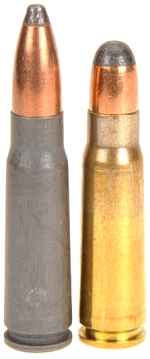 Accuracy
Two types of factory ammo were run through the Ranch Thirty, cheapo steel case Herter's Berdan primed, 154 grain soft point (Sellier & Bellot) and PPU 123 Grain soft point round nose. The former made in Russia with a copper washed steel jacketed bullet, the latter made in Serbia with a bullet that will at least expand. Neither are marked CIP or SAAMI standards compliance and both represent very cheap ammunition.
The selection was based on a need for a long bullet, short bullet stability check with 1:10″ rifling against the 1:9.45″ standard and for use as a data to line up bullet selection for handloads in Part II. Good cartridges need good bullets and there are plenty of them out there. The trick is to find bullets that will fly straight and expand at 7.62x39mm projected velocity.
Both fed smoothly, both ejected as would be expected and neither had ignition issues including the Berdan primed Herter's ammo. Recoil in this under 6 pound rifle was remarkably… insignificant. Report was moderate and really subdued with a silencer in place. Accuracy, suppressed or not, was essentially the same and both rounds produced their own good and better three shot groups with the exception that PPU shot better from a cool barrel and Herter's shot better from a warm barrel.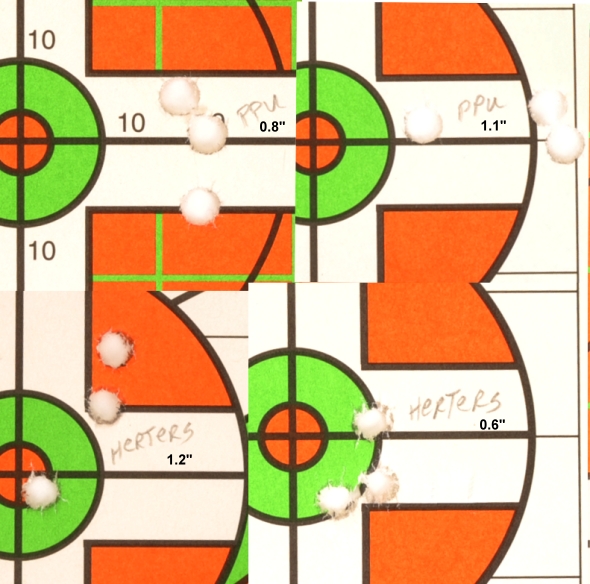 These were shot with a silencer in place, from a rest, @100 yards, three shot groups. I was pretty impressed as most every other rifle I've shot in this chamber shot 3″ to 5″ on a good day. On that note, I am going to take a break, shoot up some more factory ammo, work up some handloads and… then, I will be back.