The connection between music and humans is curious; deliberately framed and arranged vibrations that can reflect: celebration, mood, age, memories, and expression. Music has been a personal struggle, predominately in manifestation; too grating… croaking, even for the shower. Listening, however, has been met with much greater success, although I tend to listen through an intermediary.
Echo sets a meter, a cadence and/or tone for the day. Launch into work with Mark Knopfler's "Walk of Life" or revisit coming home after an Arc Light rotation to the wife and a new born son with Etta James "I'd Rather Go Blind", complete with palpable imagery. In fact, pick enough songs from memory and eventually a chronology of life emerges.
Apparently an Echo algorithm learns user preferences. Subsequently, I can now open up the shop, plop in my chair, say "Echo, play" and a medley of my favorite songs will begins to play. Who else would know to play Tom Waits "Jersey Girl" or "I Hope I Don't Fall In Love With You?
Joe, is the end near? What in the world are you yammering on about? Since you asked… I got to reading and researching the Theory of Forms, and then I got to thinking how little I know, and then I got to thinking about how, try as I may, I will never capture a significant amount of knowledge. Then I got to thinking about how the national, liberal press has given gun owners one body and one mind and described  it with so many unjust, denigrating and misleading labels. A special blend of arrogance, ignorance and expediency on the part of mainstream press.

I will write about the firearm, pictured left, in proper context; self-defense, hunting, recreational target shooting, plinking, an interesting and well made gadget. A group of people will see the images, skip the writing and report the page/site to social media with the hopes of blocking or at least suppressing the information. Other people will read the article without comment, or with favorable comment, or critical comment, but based on substance.
When this article is complete, I will go on to finish my Plato research, wear out my Kindle on unrelated subjects, prep the lawn and gardens for fall and winter, watch Patriots and Giants football, interact with family and friends, go fishing, build a rocket, and listen to Tom Waits. When time permits and interest dictates, I will pick up another firearm, or build one, or read about one, or handload for one, or put one in a holster and head out into the woods, or….  We are all firearm enthusiasts united and bound by interest, but we are all remarkably different people, with difference purposes and intent.

The Ruger AR-556 MPR
I can't hit a balance with personal ARs, pick a spot along the price curve from a bucket of parts to assemble to $3,000+ gas driven piston wonders. I do know that I have several I am not sure to do with as they were made from mix and match parts, most fitting together well, but still reflective of performance trends dated by several years. So instead of dealing with choosing a stock, grip or handguard, I would need to go back and change receivers, barrels, triggers, etc to bring them current. They are, in fact, examples of Frankenstein ARs. I do know that the Ruger AR-556 can get me to a good looking, good functioning quality AR for half the cost it generally takes me to build one from scratch.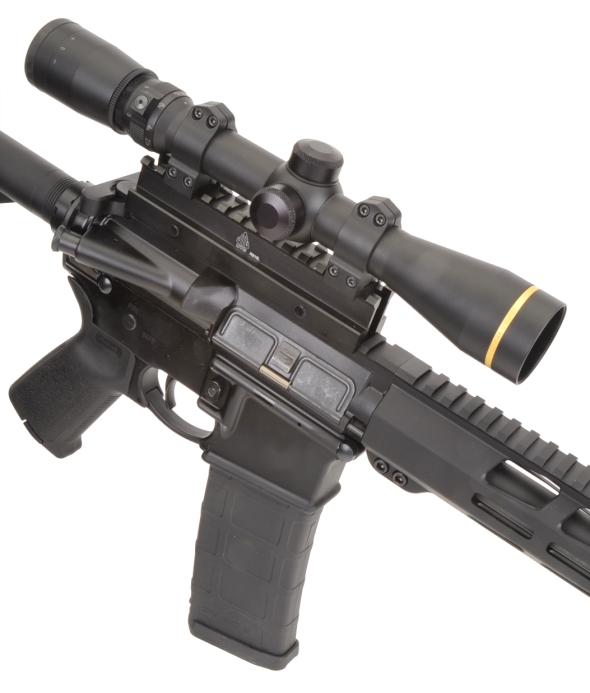 The Ruger AR-556 MPR differs from the original AR-556, which was covered extensively in Ruger's AR-556 and Ruger's California Friendly AR-556, in a number of consequential ways.

The birdcage style flash hider of the original AR-556 is gone, replaced with a more effective and more appropriate in function Ruger radial port muzzle brake. The muzzle device threads are an industry standard 1/2″-28. The 16.1″ barrel of the original AR-556 has been replaced with an 18″ barrel, with the same 1:8″ twist. Correspondingly, the standard model's carbine length gas system has been replaced with a rifle length gas system.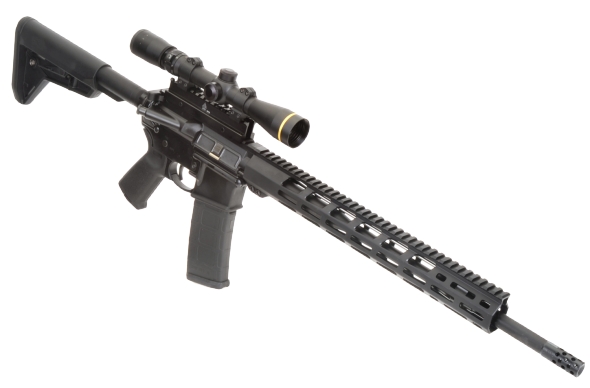 A lightweight, 15″ free floating M-LOK handguard replaces the carbine length handguard found on the original Ruger AR-15. The results are reduced weight, improved rifle accuracy, many options for attaching swivels and devices. The AR-556 has no sights, however, it does come with a Picatinny rail that runs from aft upper receiver to the front end of the handguard. I shot the AR-556 MPR with metallic sights, red dot sights and Scopes. Install and change out was quick and easy.

An improved trigger…
The Ruger AR-556 MPR gets the two stage Ruger Elite 452 trigger in place of the standard single stage AR-556 trigger. The trigger is clean, has a relatively light pull, 4 1/2 lbs, and 30% fast lock time than a standard single stage AR 15 type trigger. As an after sale item the Elite 452 is priced at $159, so the inclusion in the MPR is a great value.

On the single stage side #1, the notch in the hammer is retained by #3, the primary sear. When the trigger is squeezed, the sear is pulled downward and the hammer is released to rotate forward to move the firing pin. If the bolt cycles the hammer before the trigger is reset, the secondary sear #4, engages the #2, the hook at the back of the hammer and prevents it from falling forward.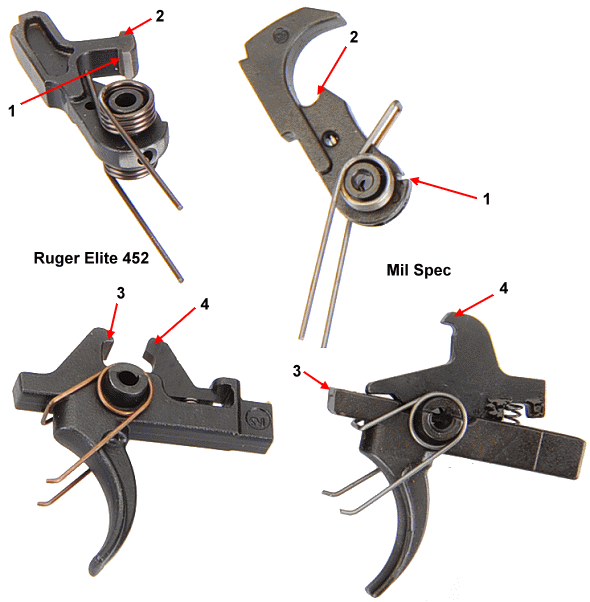 On the two stage trigger, the latching surface at the rear of the hammer #1, engages the primary sear #3. As the trigger is squeezed, the first part of trigger travel meets a light one pound resistance from the trigger spring and begins moving the sear away from hammer engagement. Then there is an increase in pressure as the backside of the hammer #2 contacts the nose of the secondary sear on the disconnector #4 and compresses the disconnector spring during the second stage of pull. The hammer's secondary sear contact surface #2 was relocated, but functions the same.
Improved shooter's comfort…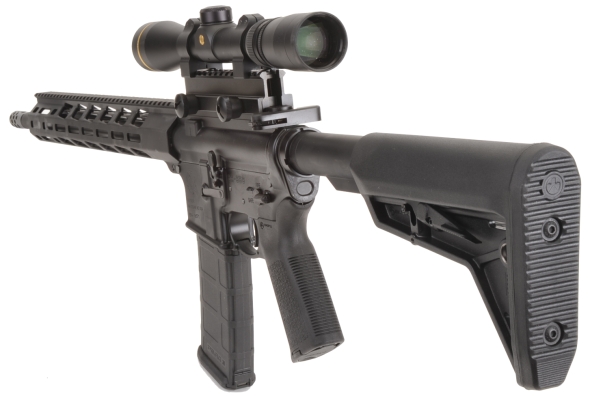 The AR-556 MPR get the Magpul MOE grip and the MOE SL collapsible buttstock, the latter mounted to a Mil-Spec buffer tube. The length of pull and the rifle's overall length shift upward a bit with a 35″ – 38.25″ overall and 11.10″ – 14.40″ length of pull range. The Ruger AR-556 MPR is supplied with a 30 round magazine. All controls are in standard locations.

Performance
100 Yard groups were shot from a overhand fleaflicker, full flume hold, which resulted in the following… actually they were shot from a leadsled to separate my post morning coffee physiology from the Ruger AR-556 Multi Purpose Rifle's potential. As you may notice, I don't spend a whole lot of time zeroing or compensating for shifts in point of impact when group size is the only point of interest.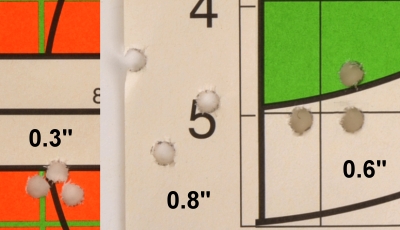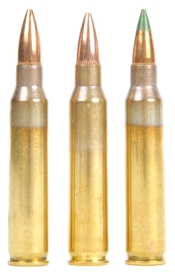 Brand
 Bullet
Grains
 Muzzle
FPS
 100 YD
Group "

 PMC XTAC

FMJBT

55

3052

 0.3

 PPU

FMJBT

55

3184

 0.8

 PMC XTAC

PTBT

62

2972

 0.6
Because a handloading component for this combination is in progress, only three types of ammunition were shot to collect initial range data. Bullet weights are on the light side for the 1:8″ twist rate, but the intention is to set the rifle up for deer season and hog hunting. Tough jacketed, expanding bullets have been selected for those purposes, so velocity needs to be kept up to achieve proper expansion stretched to a couple hundred yards. Essentially that means there will be no 200 grain, 3 foot long, 0.224″ match bullets in the mix.

Ending with where I began… kind of…
Ruger AR-556 Multi Purpose Rifle

Manufacturer

Sturm, Ruger & Co.

Point of Manufacture

Mayodan, NC

Model#

8500

Caliber

5.56 NATO / 223 Remington

Mag Capacity

30 Round Magpul PMag

Barrel Length

18″ Medium Contour 4140 CM

Rifling

1:8″

Weight

6.8 Lbs

Overall Length

35″ – 38.25″

Stock

Collapsible

Receivers

7075-T6 Aluminum Forging

Receiver Finish

Type III Hard Coat Anodized

Barrel & Gas Block

Matte Black Oxide

Length of Pull

11.1″ – 14.4″

Accessory Mount

Picatinny Rail

Trigger Pull

7 Lbs. 11 Oz. Single Stage

Safety

Rotating

MSRP

$899
My point, at the onset of this wandering, ambling and sometimes near operatic assertions is money may be better spent buying a well made, current firearm than taking the time to purchase and assemble from an expansive catalogue of bits and pieces that may be great individually, but not play well as a group. This works particularly well if your agenda is to shoot more and spend less time in gun forums complaining about problems associated with parts bin firearms.
Of course, if the goal is participate in the DIY gunsmithing… assembling culture, an owner can still take hammer and tongs to a new Ruger AR-556 MPR to make it their own. And I do get that, since I participate frequently myself. It is not different than a hot rod culture or any other culture that centers around the satisfaction of making a unique product with your own hands. But what if there are another callings, like hunting and handloading where the firearm is only a component of the overall objective and unique attributes are not a requirement?

To that calling, I am going to get over myself, stop damning the use of the 223 Remington for woodland deer hunting, throw away my 260 Remington chambered rifle and take up the clean, light and fast handling Ruger AR-556 MPR for deer season. To that end, I have put together a collection of 0.224″ bullets produced for that purpose and I will develop handloads to see if I can get them to the necessary performance. What is that level of performance? I have no idea at this point, but I will know it when I see it.