The 44 Mag is an excellent hunting revolver cartridge, but an even better hunting cartridge for rifles. A revolver has a comparatively short barrel that diminish ballistic potential. A cylinder gap can spit hot gas onto hastily placed hands and muzzle bark is loud enough to bring on a case of the flinches. A rifle's longer sight radius takes less effort to achieve accurate aim. Shot cantilevered, a revolver lacks gripping and support surfaces to support a steady hold. I could be wrong. I learn lots of new things all of the time. Like just now; never try to drink from a full glass of iced tea while lying down.
There is some basis for my 44 Mag related assertions. Shooting common ammunition through a 44 Mag rifle and revolver yielded these chronograph results:
Ammo

Bullet
Weight
Grains

Muzzle
Velocity
FPS 4.6″

 Muzzle
Velocity
FPS 18.5″

Gain
In
FPS

Gain
in
Ft-Lbs


 Federal Classic

 180

1482

2110

628


902

 Hornady Custom

180

1535

2254


 719

1208

 Federal Fusion

240

1333

1820

487


819

 Speer Gold Dot

270

1227

1593

366


619
The velocity and kinetic energy gains with the longer barrel are significant. Additionally, the Ruger weighs a full one and one-quarter pound less than the a typical Winchester Model 1892 or Marlin 1894, and all share the same short 38 1/2″ overall length.

Ruger 77/44

Manufacturer
Ruger – Newport, NH
Model Number
7401
Type
Bolt Action
Caliber
44 Remington Magnum
Mag Capacity
4
Barrel Length
18.5″
Rifling
1:20″
Weight
5.2  Lbs

Overall Length
38.5″
Stock Material
Walnut
Hardware
Blued Alloy Steel
Length of Pull
13.5″
Drop at comb
0.5″
Drop at heel
1.0"
Sights
Adjustable W/E
Scope Mounting
Ruger Rings – Included
Trigger
5 Lbs. 2 Oz.
Safety
3 Position – Swing
MSRP
$999
It's like Lynyrd Skynyrd's "Simple Man"…
I think there is no song I have liked longer than "Simple Man"; music, lyrics and performance. How could anyone not appreciate the clarity of meaning, the honesty of the words? In a way, the Ruger Model 77/44 isn't much different. And, no, that is not a stretch. The Ruger is a combination of natural materials and precision materials and process technology, blended into a simple package. The lines of the walnut stock and checkering are clean and functional. The action is stout, the feed system is sure, the barrel is the right length to extract the most out of the 44 Magnum round, and preciseness of machining operations and assembly deliver excellent hunting accuracy.
This is not our first look at the 77 Series Ruger Model 77/44. It has appeared on Real Guns in stainless synthetic form and it has appeared on walnut stocked form in two parts, mechanical detail and live fire performance. Introduced in 44 Magnum form in 1997, discontinued in 2005, then reintroduced in 2009.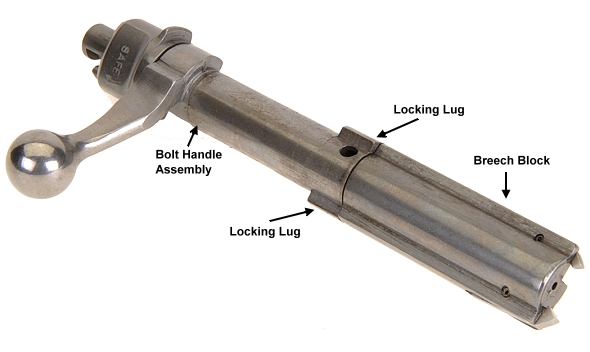 Ruger Model 77 rotary magazine firearms have a unique bolt set up within Ruger's product lines. At the forward end of the bolt is a non-rotating breech block, the equivalent of an extended bolt head, that rides in slots milled into the interior of the rifle's receiver. The result of this mechanical control is a very smooth bolt throw and feed. When the bolt handle is rotated closed, the beech block is pressed against a chambered cartridge and the twin locking lugs rotate with the bolt handle into position over the aft receiver ring lug seats.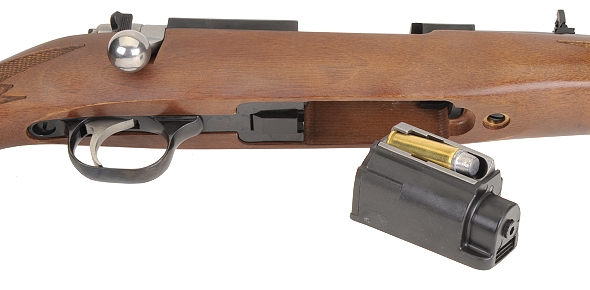 The Model 77/44's rotary magazine design accommodates four rounds while seating flush with the underside of the stock. Feed is reliable, removal and insertion easy. Spare magazines can be purchased from the Ruger store for folks who would like to carry extra mags in a jacket pocket. Yes, the same applies for folks who would like to carry spares in a backpack. yes, shooting vest also. Yup, there too. The 1.700″ well opening gives a bit of wiggle room for handloaders on cartridge overall length. I wouldn't mind if this were increased to 1.735″ to allow loading some of the longer heavy game bullets like the 300 grain Sierra GameKing that requires a minimum COL of 1.715″.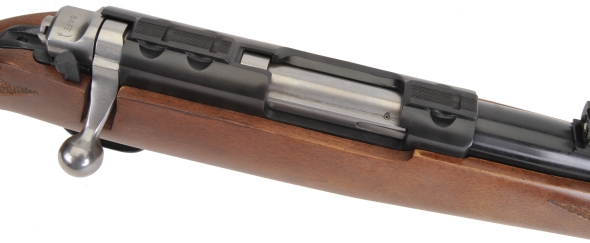 The top of the Model 77/44's receiver is scalloped to accept Ruger's proprietary rings, like the set included with every rifle. A simple brass bead front sight and forward folding elevation adjustable rear sight are a welcome addition to a good woods rifle. Both front and rear sights are drift adjustable for windage.
Below, ring locator scallops and slots positively locate Ruger rings in longitudinal alignment and prevent fore and aft movement. The bolt stop is positioned to ease bolt removal without cluttering up the mechanical landscape. The three position safety is quiet and easy to toggle with the thumb. The positions are; forward – fire, mid – safe with free bolt travel, rear – safety on, bolt handle and cocking piece mechanically locked.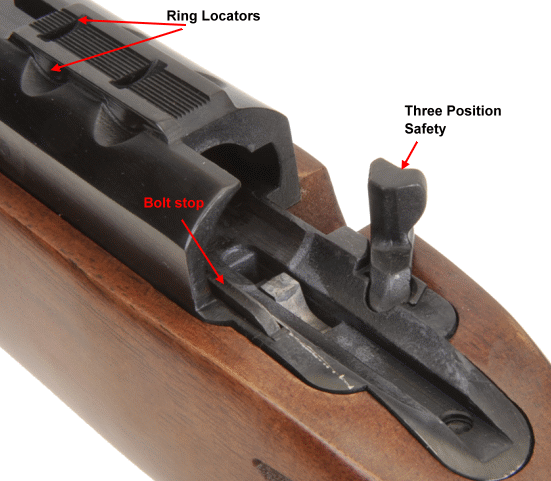 In closing…
If you can read this, I have already gone off to assemble hunting handloads, so I will leave on this note. I've had the good fortune to work with the Ruger Model 77/44, professionally and personally and have never been disappointed with the little rifle's performance. It is also well built and should last a lifetime with minimal care. More importantly, it is a likeable rifle… almost as much fun as getting a puppy.