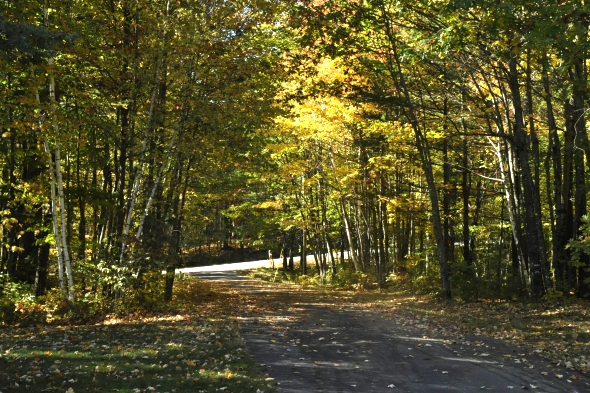 Lit the gas stove in the shop today. We went from an Indian summer to an abbreviated fall which puts lawn and garden care as a distant memory and lot of equipment prep and snow removal in the near future. Nice time to be out in the woods, enjoying the fresh air and sunshine.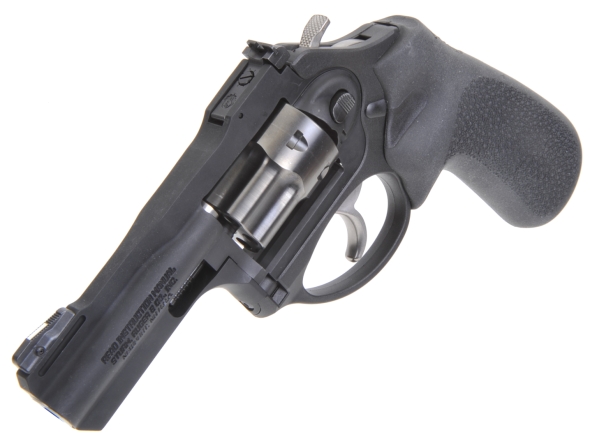 Ruger LCRx  – 22 WMR

Manufacturer

Ruger – Newport, NH

Model Number

5437

Type

SA/DA

Caliber

22 WMR


Capacity

6

Barrel Length

3.00″

Rifling

1:9″

Weight

17.8 Oz


Overall Length

7.50″

Grip

Hogue® Tamer™ Monogrip®

Grip Frame

Polymer

Cylinder

Frame

Aluminum

Cylinder

Stainless Steel

Sights

Adjustable W/E

Trigger Pull DA/SA

16 Lbs 5 Oz / 5 Lbs 12 Oz

MA – CA Certified

No – No


MSRP

$579
To some, the LCR is a thing of functional beauty; just enough meat on the bone so to speak to assure accuracy, reliability and durability. To others, the LCR is missing Western culture's aesthetic sensibilities… you know, the sweeping lines, the sculptured features, the management of reflection through creative texturing. Looking for Athens, you will find only Sicily. The monochromatic black finish is matte and truly non-reflective. The satin PVD finished, fluted  stainless steel cylinder's reflective quality is minimal.
The front grip surface is almost perpendicular to the bore; almost Webleyesque with a goniometer measured 96º interior angle, 106º to the plane of the backstrap. Trigger reach, back of grip to finger position on trigger, with uncocked trigger is 2.7″ and cocked for single action use is 2.3″.
The 22 WRM version of the LCRx is a bit different than previous LCR revolvers we have worked with: Ruger LCR 357 Mag, Ruger LCRx 38 Special +P, Ruger LCR 9mm, Ruger LCR 327 Mag, and even the Ruger short barrel, hammerless Ruger LCR 22 WRM. You may note, if you work through the reference links, that the LCR went from a concealed hammer bias to a visble hammer bias with only one concealed hammer model surviving.
A table of LCP model nuances…
Model

Exposed




Hammer

Caliber

Frame

Cylinder

BBL




Length"

Sights

Weight




Oz.

5430

No

38 SPL +P

7000 Aluminum

Stainless Steel

1.87

U Notch

13.5

5431

Yes

38 SPL +P

7000 Aluminum

Stainless Steel

3.00

Adjustable

15.7

5435

Yes

22 LR

7000 Aluminum

Stainless Steel

3.00

Adjustable

17.3

5437

Yes

22 WMR

7000 Aluminum

Stainless Steel

3.00

Adjustable

17.8

5439

Yes

22 WRM

7000 Aluminum

Stainless Steel

1.87

U Notch

15.4

5460

Yes

357 Mag

400 Stainless Steel

Stainless Steel

1.87

U Notch

17.1

5462

Yes

327 Mag

400 Stainless Steel

Stainless Steel

1.87

U Notch

17.7

5464

Yes

9mm Luger

400 Stainless Steel

Stainless Steel

1.87

U Notch

17.4

5434

Yes

38 SPL +P

7000 Aluminum

Stainless Steel

1.87

CT Grip Laser

13.5
 Highlights and other unimaginative section titles…
The scalloped cylinder maintains full diameter at the case head/cylinder notch end and is fluted over the other two thirds of the cylinder's length. A look at the front end shows the chamber wall thickness of 0.095″ is actually hefty for a 22 Mag while excess weight is removed.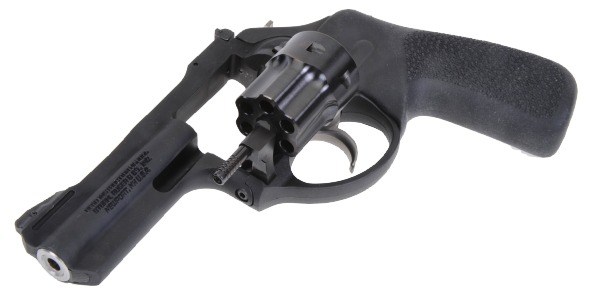 The LCR is a pretty nifty piece of modular engineering. The barrel is threaded into the cylinder frame sub assembly, the cylinder is mounted to the cylinder frame sub assembly and the cylinder frame sub assembly is joined to the fire control housing sub assembly. An example of how the pieces fit together in a snub nose, 38 Special version below. An internal hammer key lock is no longer present in the product.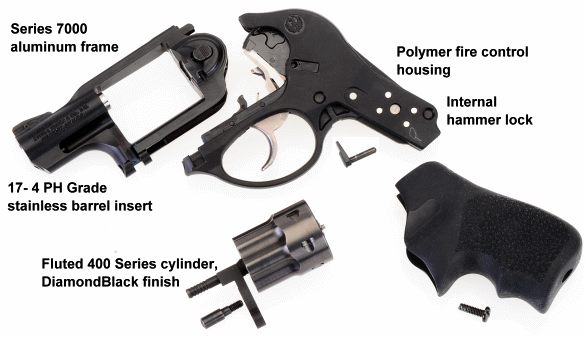 The subject LCRx with grip removed, which is the recommended amount of disassembly for routine cleaning –
Yet even MORE mind numbing observations…
The LCRx front and rear sights sit atop a rib that runs the full length. The rear adjustable sight mounts a black notched blade, the ramp front sight has a ramped white insert. Serrations at the head of the insert kill glare. The three inch barrel is short enough to be part of a compact envelope, but long enough to generate decent velocity. The LCR's wide hammer spur facilitates single action shooting.

While lens focal length and perspective distort reality a bit, the Ruger LCRx's cylinder is the revolver's widest point at 1.29″, which is quite narrow for a six shot with a full size grip, making it easy to conceal or carry open in a belt holster. The hammer spur width and angle make cocking from a high grip… less awkward than it is with virtually all double action revolvers. "Joe, you must have some fancy way of executing this maneuver".  Yes, as a matter of fact I do. I shoot double action revolvers as the design intended, double action and, while heavy, the Ruger double action no stacking trigger makes that better than most.

I do have my well worn more conventional double action revolver triggers I am fond of, the ones that feel like a trigger pull is journey to a distant land for the trigger finger with all of the pull, stop, engage, rotate, and thump sensations. And then there is always the introduction of light springs, heavy springs, shims, and finesse contact surface clean up and polish to make it all tolerable. The Ruger LCR needs none of that, although the pull requires some conviction, it is smooth and travel is brief.
The Ruger LCRx 22 mag is easy to shoot. While it does tend to generate muzzle and cylinder gap flash, muzzle blast and recoil are mild, keeping first and follow on shots on target and the 3″ rather than stubby 1″+ barrel generates respectable velocity, fast enough to promote expansion.
Is this a combination for self defense? Who know… although I am sure many will attempt to answer. Produced generally as a varmint round, Hornady, Speer and Winchester make 22 Mag specifically for defensive applications. Penetration in out favorite forms of denim attired Jello is approximately 11″ – 12″ with expansion to a less than impressive 0.30″. That said, penetration is deep enough to reach vitals and, as a deterrent… well no one wants to be at the muzzle blast and lead throwing end of a firearm. For woods work, dispatching varmints, small game hunting, I have no reservations and as a closing note, the 22 Mag is legal for deer hunting in Maine, so maybe I am just a big bore defensive weapon snob.
A little less conjecture, a little more conversation… I think Elvis sang that
Ammunition

Bullet
Weight
Grains
Rated FPS
24″ Barrel
Actual FPS
18″ Barrel

Actual FPS
3″ Barrel

3 Shot
Group "
50′


CCI Game Point

40

1875

2075

1253

2.1

CCI TNT

30

2050

2078

1369

1.5

Hornady V-Max

30

2200

2300

1412

0.9

Winchester Super X

28

2200

2357

1559

1.6
The 3″ barrel and adjustable sights, for me, made a huge difference in shooting accuracy over the 1.875″ barrel, U Notch rear sight version reviewed some time ago and the 3″ produced nearly 30% greater muzzle velocity. The 3″ version also has decisively less muzzle blast and muzzle jump which resulted in my wife enjoying shooting, to the extent I need to order a pile of 22 Mag ammo.  Just to recap, a good shooting 22 mag revolver, at a good price.