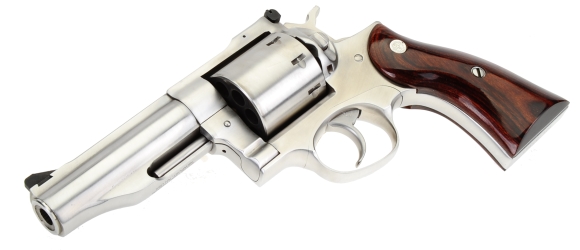 It is always beneficial to have access to firearms before they are released, if an article is to appear when they are released. Hardware can be tried tested and tortured at a leisurely pace, without much chance of a flaw going unnoticed. With time for assessment, product coverage isn't reduced to, "So in conclusion, I can say that this revolver is shiny, very shiny… really really shiny, and it is NEW!!!…!. Did I mention that already? How about its shininess?". On that note, we were able to flog the new Redhawk like a kid who found the keys to his dad's muscle car and then went for a joy ride with thrill seeking, prom queen, Bunny Badafusco. (Above 4″ Redhawk, below 5″ Redhawk).
Introduced in 1979, the Ruger Redhawk, unlike the S&W Model 29, was designed from the onset for the hunter. Subsequently, the Redhawk is a beefy handgun with exceptionally strong frame and cylinder and with live fire performance attributes that are beneficial to a hunter. The Redhawk's mechanical design is unique within the Ruger lineup. Like the GP100 and Super Redhawk, the frame has solid sides and the assembly is routine  to service including disassembly and reassembly from the little manual packed with the Revolver.
The Redhawk utilizes a single coil spring to power the hammer and reset the trigger after firing and it has a traditional full, rather than peg, grip frame which means single action pull is a little heavier than the Super Redhawk and grips must accommodate the general outline of the grip frame. As an owner and routine shooter of the Redhawk, it feels almost compact in comparison to the Super Redhawk and the trigger can easily be tuned to something very slick. Finding, fitting or even making grips for the Redhawk has been straightforward and wide ranging in styles.
Yes, it is one of the same revolvers pictured previously. For me, they actually look better with a little suet and powder gunk on them. It demonstrates that they have been a useful tool and they clean up with relatively little effort. During extended shooting sessions, beyond accuracy or velocity recording, being able to overcome moderate amounts of powder residue and latches not gumming up in cold weather is an important hurdle for a revolver to overcome. The Redhawk worked just fine, all the way through.
The Ruger Redhawk is a true triple lock gun with a front latch interlocking with the frame rather than a spring loaded detent ball hanging on for dear life to the end of an ejector rod. Everywhere you look, the Redhawk made to standup to a lifetime of use. Approximately 300 rounds went through the 5″ gun and a little over 500 through the 4″ gun, neither were cleaned until shooting was complete. Everything continued to click and clack routinely without binding or without developing an inconsistent trigger pull. I did have to brush a little residue off the front of one cylinder that I think was mostly toasted cast bullet lube residue from my handloads.
Clean top side; micro adjustable rear sight, windage and elevation, ribbed barrel with glare breaking striations and a red faced ramped front sight, dovetail mounted for interchangeability. My preference in a handgun front sight is fiber optic, but the ramped red front and black rear make for a good sight picture, clean and with sharp contrast. That combination is probably more precise in shot placement than a fiber optic front.
So what's the big hubba… bubba?
Ruger Redhawk 8 Shot




Manufacturer

Ruger – Newport, NH

Model Number

5033

5059

5060

Type

SA/DA

Caliber

357 Magnum

Capacity

8

Barrel Length "

2.75

4.20

5.50

Rifling

1:18.75″

Actual Weight – Oz

44


48

50

Overall Length "


8.25″

9.50

11.00

Grip

Hardwood – Smooth

Grip Frame

Square butt

Frame

Stainless Steel

Cylinder

Stainless Steel

Sights – Rear/Front


Adjustable W/E

Trigger Pull DA/SA


10 Lbs 7 Oz / 4 Lbs 9 Oz

MA – CA Approved


No

MSRP

$1079
Ruger marketing and engineering seems to be a bit hyperactive with new designs and existing product updates coming faster than I can type… Fortunately not faster than I can shoot.The interesting thing is that Ruger has a particularly broad product line between handguns and rifles, rimfire and centerfire, yet upgrades and new releases touching virtually every product type.
Below, Ruger took advantage of the Redhawk's beefy cylinder. The 1.780″ cylinder, designed for much larger diameter cartridges like the 44 Mag and 45 Colt as a six shooter, was given two more chambers while holding 0.065″ adjacent chamber wall thickness and 0.120″ outer wall thickness to handle the hottest factory 357 Mag ammunition.
The cylinder length of 1.755″ accommodates not only the longest spec 357 Mag with a COL of 1.590″, but also heavier 190 grain to 200 grain cast bullets that can edge up to silhouette cartridge overall length. The cylinder is thoughtfully cut to accommodate moon clips, even if they look more star like, to facilitate rapid simultaneous reloading of all eight chambers.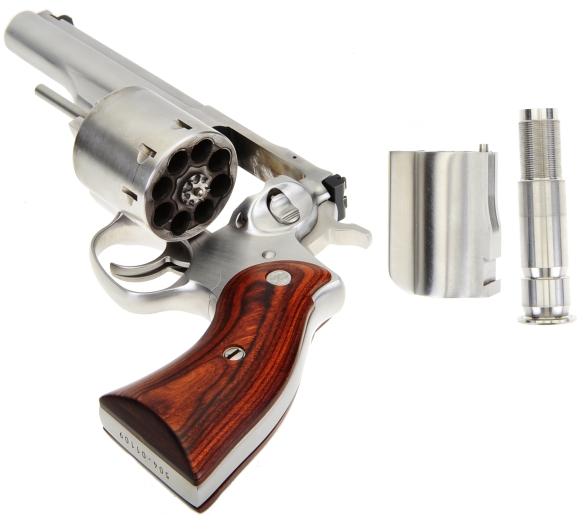 The barrel shroud is a quality improvement. The chances of getting a barrel screwed into a frame with the same amount of torque, with the sight and barrel ramp straight up and down, without a lot of time and effort, are slim to none. With the new Redhawk system, the shroud is slipped into place with the locator pin indexing it to the Redhawk's frame, then a driving mandrel is slipped into the muzzle end of the barrel, and the barrel is driven in to a consistent torque value. The result is shot to shot and one gun to the next accuracy. Who knows, maybe one day Ruger will offer accessory barrels and tools to change them? No, I do not know that to be true and no one at Ruger has intimated as such.
The Redhawk as other than desk top decoration…
For the most part, the barrel difference, 4.2″ compared to 5.5″, gave a velocity nod to the 5.5″. I am not sure there is enough of a velocity advantage to warrant the longer barrel. But then the 5.5″ does offer a longer sight radius, making it easier to shoot accurately and none of them are really compact enough for casual wear concealed carry. I use them for open carry and home defense where compact size is not critical.
Ammunition

Bullet




Weight




Grains

Bullet




Type

Rated




MV




FPS

Actual




FPS




4.2″

Actual




FPS




5.5″

Winchester Personal Protection

110

JHP

1295

1291

1385

Barnes TAC-XPD

125

CHP

1200

1419

1456

Hornady Critical Defense

125

FTX

1301

1413

1499

Winchester PDX1

125

JHP

1325

1320

1351

Hornady Critical Duty

135

FlexLock

1275

1328

1363

Federal American Eagle

158

JSP

1240

1214

1230

Blazer Brass

158

JHP

1250

1263

1287

Speer Gold Dot

158

GDHP

1235

1353

1386

Remington HTP

158

JSP

1235

1335

1365

Hard Cast Handload

158

SWC

–

1306

1322
"Rated Muzzle velocity" used to be a good point of comparison but, these days, manufacturers are testing and rating 357 Mag velocity with barrel lengths between 2″ and 7″, vented and not vented. Subsequently, the chronograph data stands on its own.
I am going to take a break and assemble data and images from Ruger Redhawk live fire, something more indicative of the Redhawk's performance.  For now I would conclude by nothing the Redhawk's excellent balance, clean double action trigger and good loading/unloading manners. 100% reliability, no failures to fire, nothing shot loose and… again, a soft shooting 357 Mag.
In regard to the new barrel shroud / barrel assembly, other than being interesting to look at and assess the mechanical and assembly benefits, they are passive in use and aesthetically subjective. They stayed put after extensive use and, as we'll see in Part II, they seem to have brought increased accuracy to the Redhawk.