The Ruger Redhawk has continued to be an opportunity for adventure, exploration and entertainment. I have shot the equivalent of the annual U.S. Defense budget in ammo, I've worn out two pairs of shooting gloves and I have not been able to break it… try as I may. The Redhawk has been very effective in poking holes in blocks of ballistic gel, ventilating paper targets, popping foam rubber filled boxes across the range, and putting tree stumps out of their truncated misery.
My wife is a barometer of firearm appeal. If invited to spend some time shooting she opts for driving twenty miles to the nearest store to shop, I accept I am working with a firearm that may be functionally exceptional but strictly utility. If she accepts my invitation and burns up lots of ammunition, we've got a winner. No, I do not think any of that reflects negatively or positively on me and the quality of my company. After fifty years of marriage, my wife assures me it is now easier to keep me then to replace me. Yay for me! In any event, my wife showed up for every opportunity to shoot the Redhawk and she really shot it well.
A table is worth a 1000 pictures… maybe even YouTube Videos
Most, but not all, of what I have to say appears on the table below. The groups we shot with a padded V Block supporting the barrel at the frame and with a leather shooting bag for supporting a two hand grip at the rear. Shooting from this set up is like lining up artillery, but once set, the gun stays set. After some years of shooting both this way and with a Ransom rest, this way is my preference. A ransom rest requires a good number of settling rounds before shooting a group and the slightest shift in the mount base will move point of impact. With the shooting bag set up, it is easy to return the gun to point of aim when it shifts under recoil. Hard cast not shown, balance of ammo shown left to right appears o
Ammunition

Bullet




Weight




Grains

Bullet




Type

Rated




MV




FPS

Actual




FPS




4.2″

5 Shot




25 Yard




Group "

Winchester Personal Protection
110
JHP
1295
1291

 1.7

Barnes TAC-XPD
125
CHP
1200
1419

 1.2

Hornady Critical Defense
125
FTX
1301
1413

 1.9

Winchester PDX1
125
JHP
1325
1320

 1.0

Hornady Critical Duty
135
FlexLock
1275
1328

 1.6

Federal American Eagle
158
JSP
1240
1214

 1.9

Blazer Brass
158
JHP
1250
1263

 1.6

Speer Gold Dot
158
GDHP
1235
1353

 0.8

Remington HTP
158
JSP
1235
1335

 1.3

Hard Cast Handload
158
SWC
–
1306

 2.0
Accuracy, from my perspective is excellent. Off the rest in with my very special two hand, high handed, modified weaver two step, I could easily plop five shots into 3″ to 4″ groups at twenty five yards, shooting double action. Could I do better? Maybe. Could you do better? Probably. So the mechanical accuracy is there and, as always, it is up to the shooter to exercise that potential. I actually think the picture below is more telling… or more visually confirming imagery as they say in California –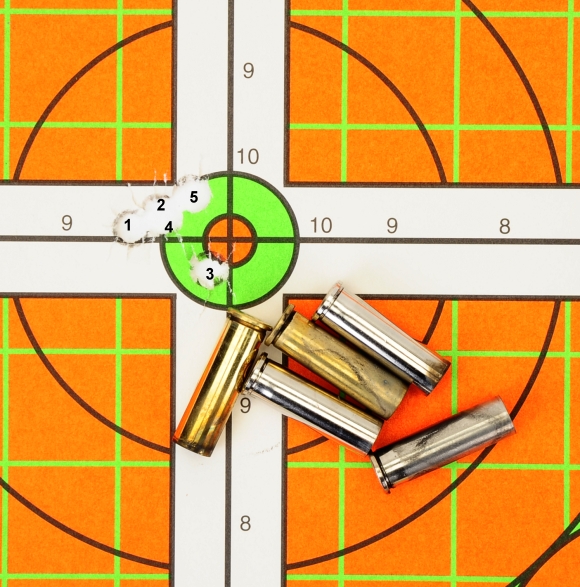 Ruger's shroud and barrel approach certainly doesn't impair shot to shot point of impact consistency when changing from one type of ammo and bullet weight to another. In my highly scientific analysis, I loaded five types of ammo in the Redhawk's cylinder and tried to shoot the same spot on a target. At 25 yards, and obviously taking more care than I did when shooting specifically for group size, the five rounds fell inside 0.8″ center to center at the widest points in the group. The ammo types represented are: 1) Winchester Personal Protection, 2) Hornady Critical Defense, 3) Hornady Critical Duty, 4) Blazer Brass, 5) Remington HTP. With a spread from 110 grains to 158 grains, both high and low velocity, point of impact shift is negligible.
OK, what does one do with a Redhawk 8 shot in 357 Mag?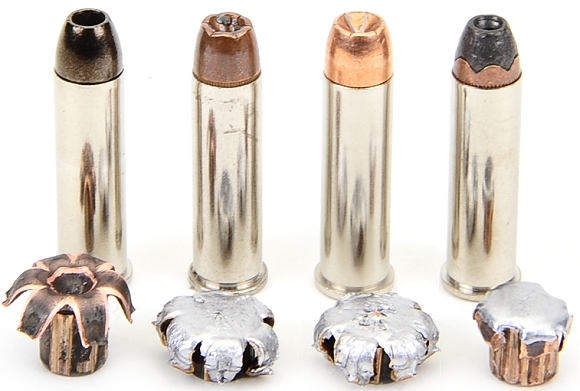 Ammunition
Bullet
Weight
Grains
Bullet
Type
Factory
Rated
FPS
Actual
FPS
5 Shot
Group "
25 YD
Gel Block "
Penetration
Recovered
Bullet "
Diameter
Recovered
Bullet
Grains
Barnes TAC-XPD
125
CHP
1200
1406
 1.7
16.0
0.690
125
Winchester PDX1 Defender
125
JHP
1325
1327
 1.3
11.0
0.650
123
Speer Gold Dot
158
GHP
1235
1232
 1.8
10.5
0.660
155
Remington HTP
158
JSP
1235
1337
 2.1
22.0
0.506
118

Above, four defensive rounds that can fit into the appropriate self defense scenario, although I am not excited by the Remington HTP soft point; expansion was marginal and way too much weight loss. The others worked well without over penetration. I would use none of them on medium size game. Many states permit the use of the 357 Mag cartridge in rifles and handguns for deer hunting, some with a 700 ft.lb. ME limit, which is comfortably doable with factory and handloaded ammunition out of a 4.2″ long barrel handgun.
Pictured left, a hard cast 158 grain handload that works well in trail gun duties. A little over 1300 fps, it will blow through 32″ of ballistic gel, it is easy to handle and it is accurate. Useful has a feral hog primary, a deer hunting secondary and a defensive round for Maine size black bear. The 158 grain can be replaced with a 180 grain or 190 grain hard cast and velocity can be pushed a bit.
Conclusion
Ruger is going to see the Redhawk 357 Mag eight shot getting its stiffest competition from its own Ruger GP100 Seven; one less round, but considerably more compact and with an arguably better trigger. The Redhawk's larger frame and cylinder are what I would call robust in terms of strength. At 48 ounces, its extra 4 ounces of weight over the GP100 Seven are well used. I guess it is nice to have a large or medium frame option, so either is a win – win for the consumer.
My wish would be that Ruger offers a tool and accessory barrels for the Redhawk shroud – barrel assembly. If that does not strategically align with Ruger's plans, perhaps a third party accessory company will step up.