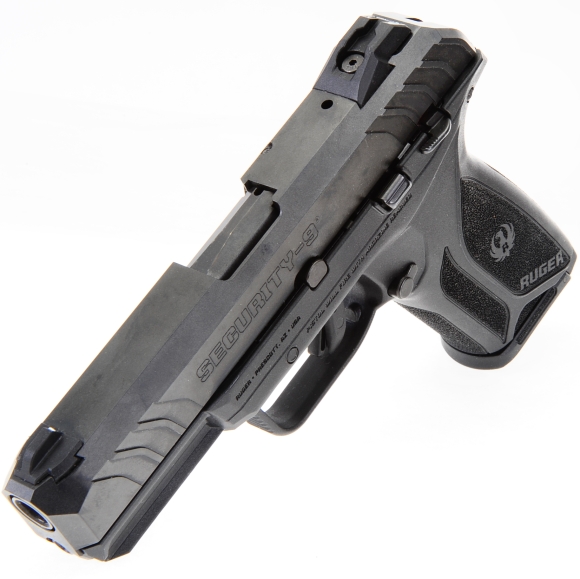 It's hard to settle down sometimes. I get excited about holidays in a good way. I get angry when I watch national news… in a bad way. Then there is the issue of growing older and reverting to a serious lack of emotional maturity and a never ending search for moments of peace of mind. So, on days I have to write, I have breakfast with my sweetheart of a wife, then listen to music. Today, music is an eclectic blend of Christmas Carols, Neil Young and the Fabulous Thunderbirds. Just take the bullshit out of life and I am happy. Subsequently, the Ruger Security – 9 makes me happy.
Ruger Security – 9



Manufactured
Prescott, AZ
Model
03810
Caliber
9mm Luger

Internal Chassis

Hard Coated Aluminum

Grip Frame

Long Glass Fiber Filled Nylon
Slide
Alloy Steel
Type Action
Precocked Hammer DA

Magazine Capacity

15 Rounds (10 Optional)

Trigger Pull

5.1 Lbs

Barrel Length


4.0″

Barrel Material

Alloy Steel
Rifling
1:10″ RH
Sights
Fixed – Drift Adjustable

Overall Length
7.24″
Overall Height
5.00″
Thickness
1.30″ at Safety

Weight
23.73 Oz. With Empty Mag

Safety
Thumb, Trigger
State Approval CA, MA
No, No
MSRP
$389
The Ruger Security – 9 is a relative compact, high capacity pistol chambered for the 9mm Luger. The top half is alloy steel, the bottom half is comprised of a precision machined, hardened aluminum chassis, held within a long glass fiber filled nylon grip. The aluminum chassis forms the slide rails and holds the hardened steel fire control components. The pistol is designed for any standard pressure 9mm Luger cartridge and can handle +P, but the manual contains a caution against the use of ammunition labeled +P+.
+P+ is not a SAAMI or CIP standard for ammunition, the rating is an invention of each manufacturer who applies the label. There is no published +P+ spec, dimensional or pressure, and values differ from from one manufacturer to the next. The label may be applied by a large, sophisticated operation, or it could be some guy and his crazy cousin Louie operating out of a storage unit.
The action is a preset hammer, single strike, double action. The rearward movement of the slide cocks the hammer to approximately 95% of full travel, trigger pull provides the remaining 5% and compression of the pistol's mainspring before sear release. In short, the cycling slide does the heavy lifting, which makes for a relatively short, crisp trigger pull. The trigger guard is formed oversize to accommodate gloved hands and an overtravel stop is molded inside the trigger guard. The front face of the trigger guard is ribbed to make it a more effective gripping surface.
The Ruger Security – 9 holds 15 rounds… although I am not sure where they are all hidden as the grip is absolutely comfortable and the trigger is within easy reach. The Security – 9 totally devoid of the feeling of holding a brick on edge that is so common in other 9mm Luger double stack pistols. There is a 10 round model offered for folks who live in states with oppressive governments that ignore the U.S. Constitution.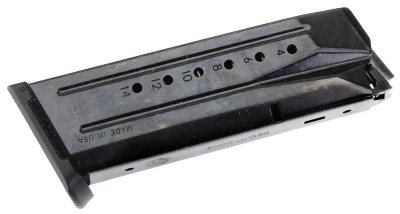 The dovetail mounted sights are fixed, but only if you want them to be… or attempt to adjust them for elevation. Otherwise, they are easily drifted for windage adjustment. The front sight presents a white dot, the rear sight presents a white outlined aperture which makes for a quick slight alignment on a target and good contrast against most backgrounds.
The Ruger Security – 9 is light to carry, but controllable to shoot. The grip is long enough and full enough to tame recoil and offer good stability. The combination of a high grip beaver tail frame and raised trigger guard at the front strap makes for a comfortable hold and trigger reach.
Further indication that Ruger intends for customers to shoot the Security – 9, the front strap, back strap and side grip surfaces are heavily stippled and there are meaningful slide gripping surfaces fore and aft. Add the latter to the pistol's easy to rack personality and the result is that the Security – 9 is easy to handle and shoot.
The open top slide design and hefty extractor / ejector combination make for jam free operation and good access to clear a chamber if the need arises. There is a chamber check port on the barrel hood, although I think most shooter's safety sensibilities cause them to pull a slide back to check.
Control layout falls within auto loader conventions, each without the drama of excessive presence. Compression of the trigger safety is incidental to the trigger pull, the thumb safety position is positive and requires only thumb knuckle actuation. I like the magazine release, it is adequate and appropriate for its purpose.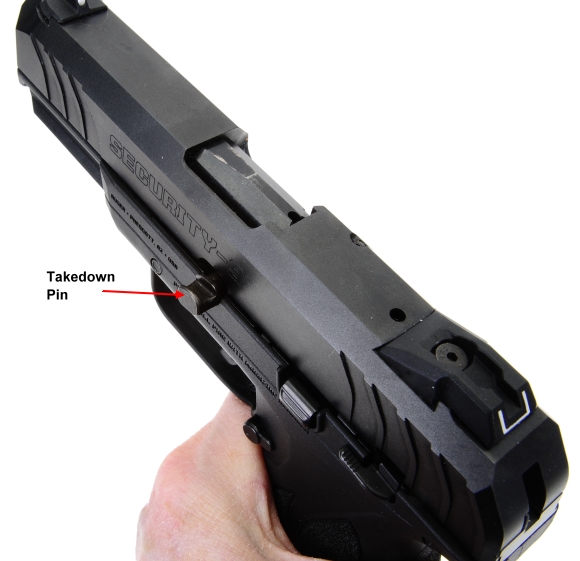 Disassembling the Security – 9 is very straight forward. Pull the magazine, check the chamber for empty, close the slide, pull approximately 1/16″ out of battery, put a screw driver blade under edge of the takedown pin and pry it out from the frame. Move the slide forward and off the frame.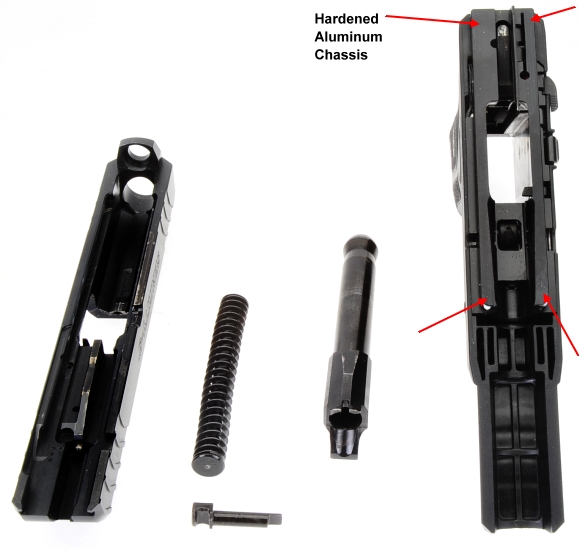 Clean assemblies across the board: alloy steel slide, captive recoil spring, ramped barrel, hardened aluminum chassis inset into poly grip frame.
The Ruger Security – 9 under fire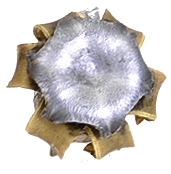 The 9mm Luger cartridge is an excellent round for self defense. The bullet on the left is a 124 grain Golden Saber that was recovered from ballistic gel. It clocked 1093 fps over the chronograph and penetration measured 14″ of ballistic gel. The expanded diameter of this 0.355″ bullet is a tad over 0.600″ and weight retention was 100%.
Available in over 170 factory loads and widely available, the 9mm Luger has once again been  selected as a primary side arm cartridge for our military. Sig will be supplying the Army with full-size XM17 and compact XM18 versions of its 9mm pistol, respectively designated the M17 and M18. The 9mm Luger makes for controllable handguns, chambered in firearms from the very small to full size. The round makes for high capacity firearms that will fit an average size hand, rather than some 2×4 size double stack pistols in larger calibers.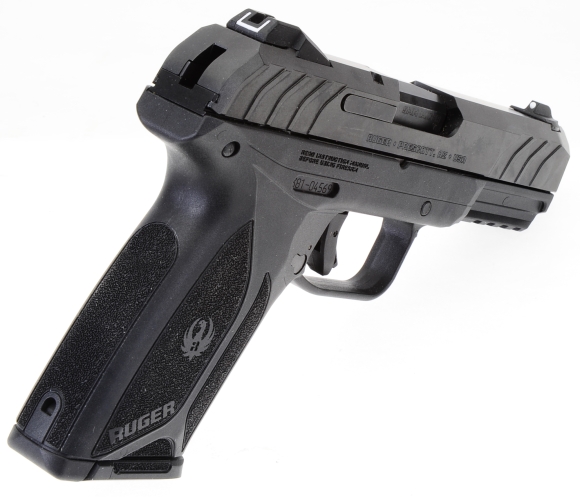 With temperatures of 12°F and a cool 10 knot breeze grabbing me by the collar and slapping me in the face, I only had time to run three types of ammo through the Ruger Security – 9 in enough quantity for assessment… before my wife tossed out a grappling hook and winched me back into the house. It is an easy pistol to rack and shoot and sights are fast on target.
With lots of snow on the ground and a bit of drifting, shooting was held to 50 feet, the point on the range where depth of snow exceeded leg length. For a concealed carry or home defense handgun, that distance is probably excessive. Using shot filled bags front and aft as a rest –
Ammunition

Bullet




Weight




Grains

Bullet




Type

Muzzle




Velocity




FPS

50′




3 Shot




Groups

50′




5 Shot




Groups

Remington Ultimate Defense

124

BJHP

1093

1 3/8″ – 1 7/8″

1 3/4″ – 2 1/2″

Remington UMC

124

FMJ

1025

2 1/8″ – 2 1/2″

2 1/2″ – 2 3/4″

Hornady Critical Defense +P

135

Flexlock

1112

1 3/4″ – 2 1/8″

–
For me, the Ruger Security – 9 is more than accurate enough for its intended application as even 50 feet is a long ways off for close in self defense. I would also go so far as to say it performs beyond the capabilities of the average person. If you don't believe me, the next time you're at an indoor range check the barely blemished target being reeled in from 25 yards and the shotgun like patterns shot at 10 yards. Palm size groups shot at 10 yards is a good objective and worth practicing to be able to turn out such size groups from a comfortable and intuitive stance.
Ruger has done a good job in improving trigger function.The 95% precock of the hammer comparatively reduces trigger travel to a major degree and  removes  much of the feeling of creep common to pistols where a trigger plays a role in compressing a mainspring. The Ruger trigger is also light in pull for this type of firearm, without compromising the pistol's safety features. The Ruger Security – 9 is a very safe firearm. Last but not least, great price.