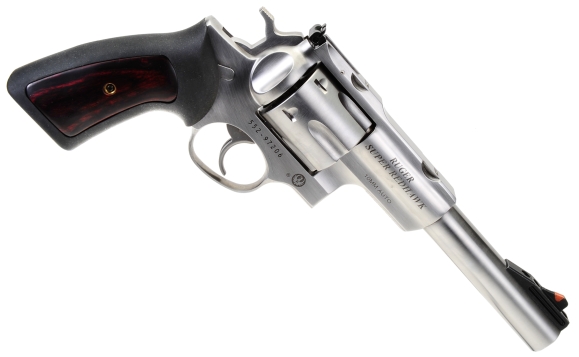 Writing about the Ruger Super Redhawk, chambered for the 10mm Auto, was interesting. The Super Redhawk was designed as a hunting revolver and it is generally available in 480 Ruger, 454 Casull, 44 Magnum, and the 41 Magnum as a concession to smaller bore acolytes and a bridge cartridge to the standard Redhawk. So how does the 10mm cartridge fit into the scheme of things?
Cartridge
MAP
PSI
Bullet
Diameter
"
Case
Capacity
Grains
H2O
Number
Of
Factory
Loads
Number
Of
Component
Bullets

Min
Bullet
Weight
Grains
Max
Bullet
Weight
Grains
Common
Bullet
Weight
Grains
Common
Bullet
Weight
Velocity
Common
Bullet
Weight
Energy
480 Ruger
48000
0.475
44.0
4
7
325
410
325
1350
1315
454 Casull
65000
0.452
46.8
27
128
240
360
260
1350
1050
44 Magnum
36000
0.429
39.5
64
91
160
340
240
1180
741
41 Magnum
36000
0.410
35.0
26
21
150
300
210
1300
788
10mm Auto
37500
0.400
24.0
60
78
60
230
180
1180
556
Looking for potential…
The 10mm Auto is a rimless cartridge, designed for use in auto loader pistols, a combination intended for use in combat. The 10mm Auto, setting aside the issue of bullet diameter, approximates the power of 357 Magnum's mid range weight loads. In commercial civilian long barrel form, the 10mm Auto has made its way into medium size game hunting… lets call that hog and deer hunting, and into service as a trail gun. Setting aside gimmicky cartridges and conversion kits, the 10mm Auto is about the upper limit for auto loading pistols with a SAAMI MAP pressure of 37,500 PSI.
The barrel shank of a 1911 type 10mm Auto 0.690″ in diameter, which yields a chamber wall thickness of0.131″ surrounding the 0.428″ chamber diameter and a slide that scoots back and forth every time a pistol's hammer drops or striker, strikes. The Super Redhawk's cylinder is 1.780″ in diameter, with outer chamber walls 0.130″ thick at the aft end and 0.140″ at the front end. Adjacent walls measure 0.130″. Unlike an auto loader, the frame is stout, the barrel is fixed in position and the very large cylinder is locked in three places prior to discharge. In short, the Super Redhawk provides a framework of strength and consistency of mechanical operation that could not be found in an autoloader.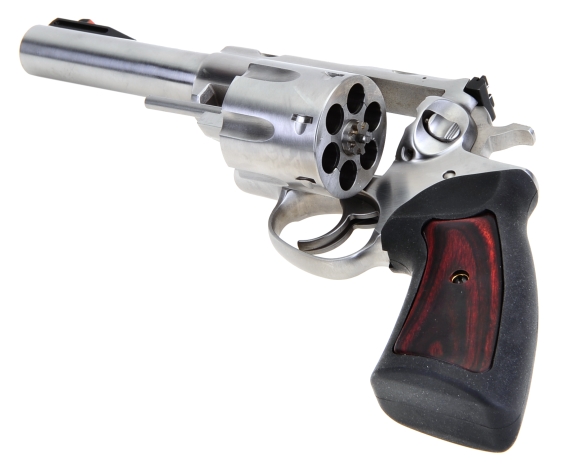 According to the federal government's National Institute of Standards and Technology, auto loader barrel length is measured from the barrel's muzzle to the firearm's breech face, which includes the chamber. Revolver barrel length is measured from the muzzle to the farthest end of the barrel forcing cone, chamber length is not included. In the case of the 10mm Auto, the 5″ semi auto net barrel length, after subtracting the 1.004″ chamber but including the unrifled throat, is 3.996″. The Super Redhawk's barrel length is 6.50″, the cylinder is 1.730″ long, less the 1.004″ chamber length yields 7.226″ of throat, forcing cone and rifled barrel forward of the chamber. The Redhawk has a significant barrel length advantage.

The Ruger Super Redhawk, as noted previously, was designed from the beginning as a hunting revolver. Subsequently, it is supplied with micro adjustable metallic sights and the frame is scalloped to receive Ruger proprietary scope rings. In fact, the Super Redhawk is supplied with a set of said rings. A revolver makes for a much more stable platform for optical sights and there is no auto-loader moving slide to bang them around.
Ruger Super Redhawk 10mm Auto




Manufacturer

Ruger – Newport, NH

Model Number

5524

Type

SA/DA

Caliber

10mm Auto


Capacity

6

Barrel Length "

6.50

Rifling

1:16″

Actual Weight – Oz


54

Overall Length "


12″

Grip

Rubber – Hardwood


Grip Frame

Peg

Frame

Stainless Steel

Cylinder

Stainless Steel

Sights – Rear/Front


Adjustable W/E

Trigger Pull DA/SA


11 Lbs 6 Oz / 5 Lbs 8 Oz

MA – CA Approved


No

MSRP

$1159
The Ruger Super Redhawk is American manufactured, specifically at Ruger's Newport, New Hampshire facility. I used the term manufactured, which is quite different than assembled in America from a box of piece parts and assemblies brought in from off shore.
The Super Redhawk can be shot either double action by just squeezing the trigger or single action by manually cocking the hammer before squeezing the trigger. In this case, trigger pull checked a little on the heavy side, but it is a new gun that will no doubt lighten after a bit of use.
The Super Redhawk is not hide in a watch pocket kind of revolver, but it is a comfortable carry in a belt holster or an across the chest hunting rig. At 6.50″, I think the barrel is about as long as it should be for reasonable handling. 54 ounces is more than manageable, it is steadying when aiming and it is recoil dampening.
The grip is wide… handfilling and also recoil dampening, but without creating a long trigger finger reach to the trigger. The grip frame is a peg rather than an outlining frame, which offers a good deal of latitude to grip makers.
The Super Redhawk is all stainless, aiding is corrosion resistance. The finish is a soft satin finish that won't show handling quickly and is an easy cloth wipe cleanup.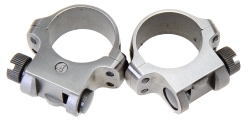 The sights are very good; reasonable increment of adjustment, one click per 3/4″ shift at 25 yards, windage or elevation. The front sight sits high on a ramp, its red insert contrasts well with most backgrounds. A set of stainless 1″ rings are packaged with the Super Redhawk. Keyed and clamped, they won't budge under recoil.
Shooting personality
Before heading out to work on handloads, baselining some factory loads seemed a good idea. Four types of 10mm Auto factory ammunition were randomly selected.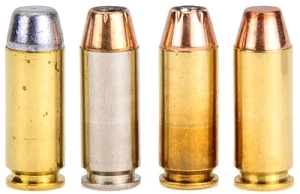 Cartridge

Bullet




Weight




Grains

Rated




Velocity




FPS

5″




Auto




FPS

6″
Auto
FPS

6.5″




SR




FPS

Buffalo Bore Heavy

220

1200

1183

1203

1247

Federal Hydra-Shok

180

1030

1015

1063

1042

PMC Bronze

180

1200

1086

1127

1195

Prvi Partizan

170

1115

1017

1039

1061
A couple of points on the live fire comparison. The 6.50″ barrel Super Redhawk does offer a measurable and repeatable increase in velocity over the 5″ barrel auto loader, with the exception of the relatively low velocity Hydra-Shok. Why this anomaly? I have no idea, but I may stumble across and explanation while working on Part II. Without reciting the saga of the Bren Ten, FBI, Norma, 40 S&W conflagration for the umpteenth time, 10mm shooter need to sort factory ammo for that which is full power from that which is soft loaded, both being well within the SAAMI specification for the cartridge.
It is rumored that some manufacturers chambered firearms for the 10mm Auto that were not stout enough to last with full up loaded 10mm Auto ammunition, so some ammunition manufacturers backed up load levels. Rumor also suggests that the 10mm Auto is too harsh for the average shooter so load levels were reduced. Still others suggest that the country of Spain is responsible. I have no insight whatsoever, the Spain thing or others, but I can see an opportunity for handloads and the Super Redhawk.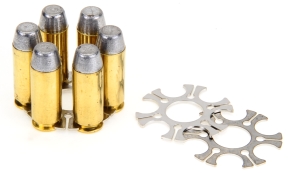 I thought I would find a place to segue into the topic of moon clips, unfortunately, that opportunity did not present itself. So…. The Ruger Super Redhawk's cylinder is not relieved for the moon clips, but functionally there is no difference in use than other such systems. The moon clips are necessary to use the ejector to dump empties. I did load and shoot without the moon clips, using my BIC ejector tool and the cases fell out after being barely touched. And on that out of logical order descriptive, I will be back with Part II shortly.