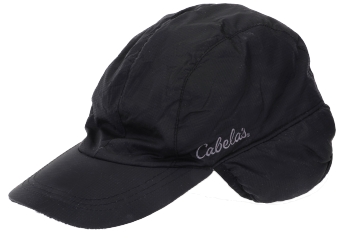 I am not a hat guy. My Dad spent too much time hiding his thinning cuoio capelluto, first by always wearing a hat then as a mature man, growing and weaving his hair into a swirling comb-over that under the influence of a stiff breeze took on an almost hypnotic quality. Thanks to the missionary work done by Bruce Willis, us balding guys have an alternative look; no hat and it is impossible to tell where shave head ends and baldness begins.

Still, when the Maine winter cold sets in, a dark blue or black gubalini pulled down over the ears does the trick while clearing snow. Today, the first range day for the Ruger PC Carbine, there was two feet of accumulated snow on the ground, the temperature was -6°F, wind chill -20°F, which caused a step up to quilted, ear flapped, Elmer Fudd like attire. No, this is not an in article promotion paid for by Cabelas. I can barely get them to confirm my orders.

The Ruger PC Carbine Versus the Platypus
The Platypus is one of nature's designs that does not compromise function for the sake of superficial aesthetic expectation. A carnivorous egg laying mammal, a duck bill, a beaver's tail, an otter's body, webbed feet, water tight orifices, electrical sensing system, venomous hooks on its hind legs, and no teeth so a mouth full of gravel is needed to chew food. How could anyone not appreciate this unique little rascal?
The Ruger PC Carbine is chambered for a pistol cartridge, its fluted and removable barrel is rifle length, it's length of pull can grow or shrink by an inch and one half, it accepts multiple manufacturers pistol magazines, it has ghosts sights and a Picatinny rail, it has an accessory rail, and a threaded muzzle to accommodate muzzle devices. Trigger components come from the Ruger 10/22, its mag release and charging handle can be swapped side to side and the dead blow action is somewhat recoil canceling. Platypus, platypus, platypus.
Ruger PC Carbine


Company

Ruger

Point of Manufacturer

Newport, NH

Model #


19100

Type of Action

Dead Blow


Caliber

9mm Luger


Magazine Capacity

*17

Magazine Type

Ruger/Glock As Shipped

Barrel Length


16.12″

Barrel Material

Chrome-Moly

Barrel Finish

Black Oxide

Rifling Twist Rate

1:10″

Receiver Material

7075-T6 Aluminum

Receiver Finish


Type III Hard Coat

Stock Material

Glass Filled Nylon


Length of Pull

12.62″ – 14.12″


Trigger Guard Material

Glass Filled Nylon


Front Sight

Protected Blade


Rear Sight

Adjustable Ghost Ring

Scope Accommodation

Picatinny Rail


Trigger Type

10/22 Derivative


Weight of Firearm

6 1/2 Lbs

Overall Length

34.37″

Safety

Cross Bolt


MSRP

$649

*Also available as a 10 shot Model 19101
Turning up the verbosity…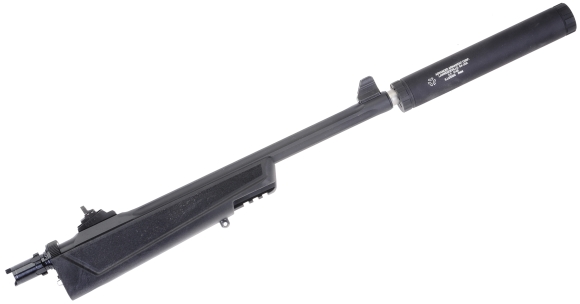 The Ruger PC Carbine is a take down firearm. A sliding latch under the forearm unlocks the barrel, permitting it to be rotated counterclockwise and disengaged from the receiver. A knurled ring, the adjustment knob, takes up any slack that might build up in use. Both ghost ring rear sight and protected front sight remain with the barrel as an assembly. The barrel is of heavy contour for stiffness, but fluted to reduce weight. A silencer or other muzzle device screws directly onto the barrel's 1/2″-28 threads. Allowing the bolt to slam closed zeros a newly installed barrel.
The stocks length of pull is adjusted by stacking recoil pad 1/2″ spacers. The rifles ships with 1 spacer installed and 2 more spacers in the box.
There are a lot of folks out there who like their utility firearms to utilize a standard magazine… even if there is no standard magazine. In recent years, Ruger has gone out of its way to honor that request and they should get the credit for effort and accomplishment. The Ruger PC Carbine is supplied with two interchangeable magazine wells. Installed; SR-Series Pistol and Security-9® magazine compatible (below left), and in the box Glock compatible. A third well is offered in the Ruger Shop for the Ruger American Pistol® for $19.95. With magazine prices hovering around $40, it is a worthwhile flexibility.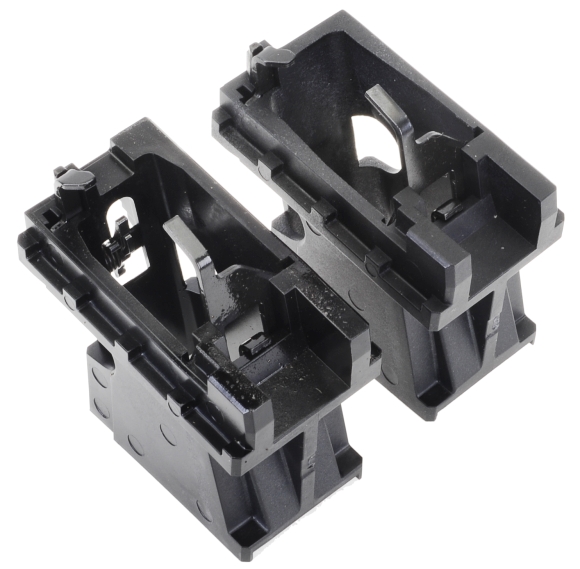 While swapping out magazine wells would not be routine, the task itself is.  A quick run through –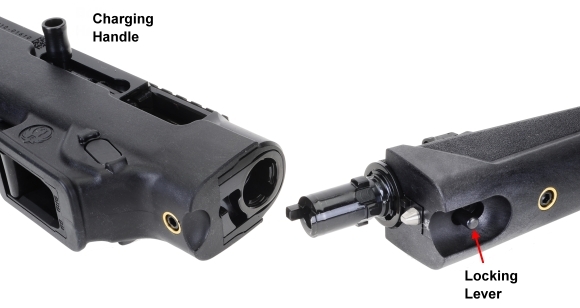 The magazine is removed, the chamber is checked for empty and the bolt handle is locked back so that the bolt is open. The locking lever is pushed forward and the barrel / forearm assembly is rotated counter clockwise until it disengages from the receiver and it can be pulled free.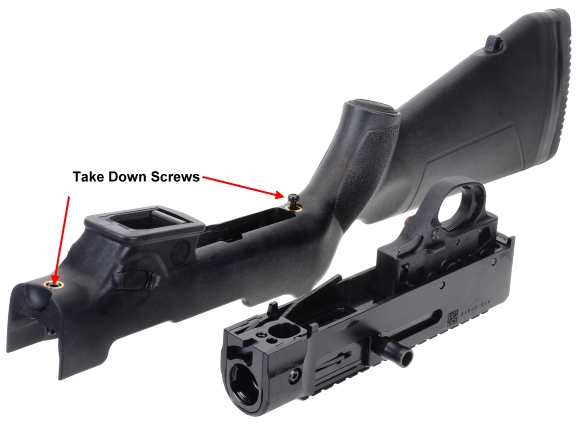 The take down screws are loosened, but remain in the stock, and the stock is lifted free of the action.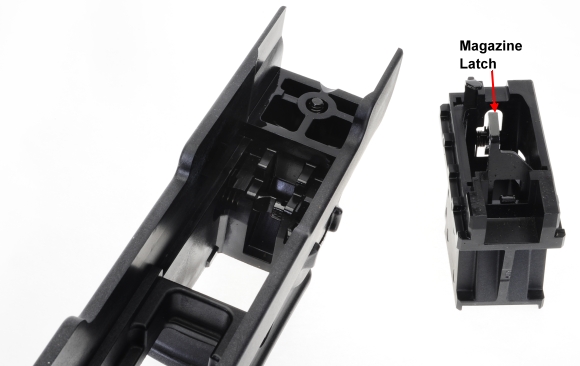 The stock is flipped over, right side up, the Magazine Well's latch is compressed (Ruger magazine well only), and the well can be pulled from the stock. Reverse procedure to reassemble.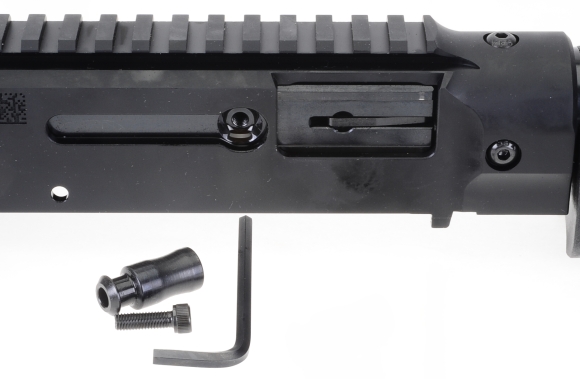 The charging handle is easily swapped from right to left side of the receiver by removing one cap screw. The magazine release swaps sides the same way. The charging handle capscrew is torqued to 65 in-lbs and it is suggested torque is verified every 1,000 rounds.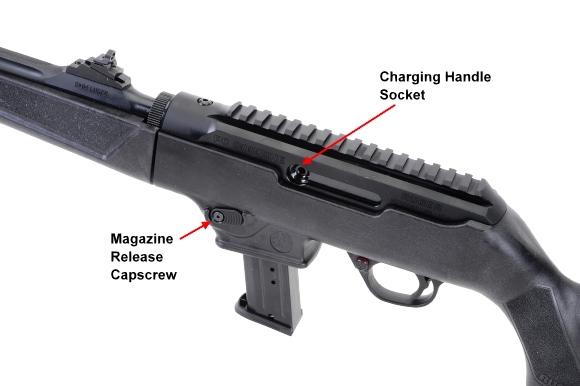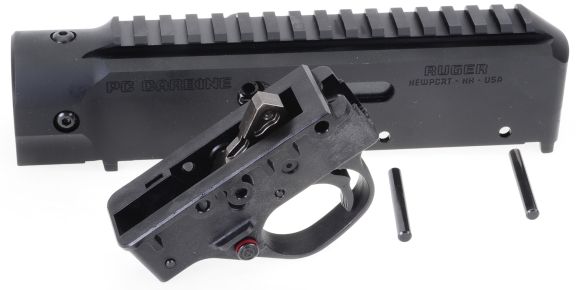 The trigger guard assembly is removed by pushing out the two trigger guard retaining pins. The manuals used the term "drift" but they are lightly held and solidly retained by the stock when assembled. Trigger pull measured a crisp 4 Lbs 12 Oz.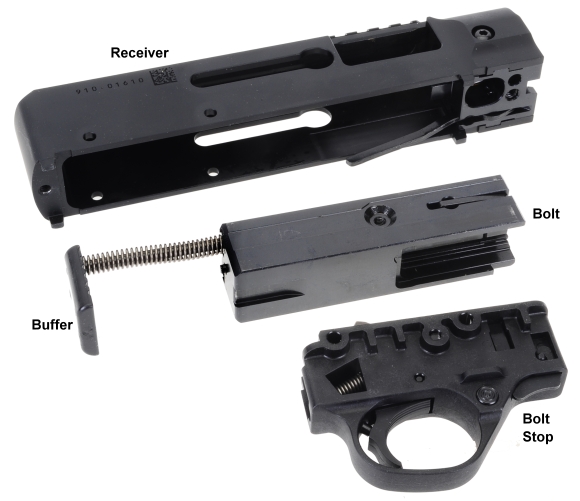 With the trigger guard assembly removed, the bolt is removed from the receiver by tugging up on the buffer. Note on handling: Care should be taken not to depress the bolt stop with the trigger guard on its side as this may cause the bolt stop retaining pin to fall out, the bolt stop to drop down and a small spring to magically appear, roll of the bench and fall into a large box full of scopes. The spring will eventually be identified as the bolt stop spring and reinstalled after an hour of searching through scope cubbies. Just saying, it could happen that way.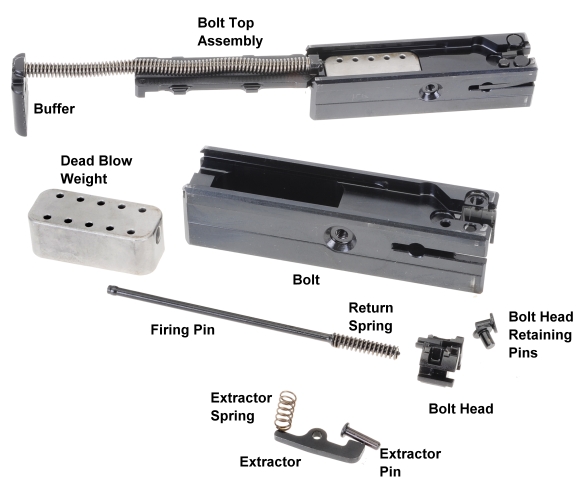 The Ruger PC Carbine is easy to clean and service, the manual provides exceptional step by step detail. The use of a 9.4 ounce tungsten weight recessed into the bolt body reduces required buffer spring rates and greatly dampens recoil. In fact, only a millennial would think the PC Carbine has recoil… and perhaps some engineers.
The Ruger PC Carbine muzzle has a 1/2″-28 thread to accommodate a variety of muzzle devices, in this case, a moderate capacity silencer. The rubber O ring comes off with the thread protector before a muzzle device is installed. The carbine's 16.12″ barrel boosts muzzle velocity 100 fps to 150 fps over a 4.25″ pistol barrel, something that should be taken into consideration when selecting subsonic ammunition.
Bang, bang… bang…


Eight types of ammunition were run through the PC Carbine in weights from 115 grains to 147 grains, both standard and +P pressure. Magazines were loaded with single ammunition types and loaded mixed types; didn't matter as there were no failure to fire, failure to feed, failure to cycle, or failure to lock open on empty.
Ammunition

Bullet




Grains

Bullet




Type

Rated




FPS

4.25″




FPS

16.12″




FPS

Δ

Winchester Train & Defend

147

JHP

950

931

1054

123

Remington UMC Leadless

124

FNEB

1100

1131

1203

72

Remington UMC

124

FMJ

1100

1025

1128

103

Remington Ultimate Defense

124

BJHP

1100

1093

1219

126

American Eagle Suppressor

124

FMJ

1125

1171

1052

-119

Winchester USA

115

FMJ

1190

1143

1299

156

PMC Bronze

115

JHP

1160

1198

1339

141

Hornady Critical Defense

115

FTX

1140

1181

1318

137
A 4.25″ barrel chronograph reading was used to baseline as manufacturers have been juggling test barrel lengths to accommodate short barrel firearms. I have no idea why the subsonic was so much slower, other than the effects of modest case capacity and increased long barrel bore friction, or possibly the type of powder and -6°F range conditions. Warmed ammunition and chronograph can only hold onto heat for so long when the wind chill is -20°F.  A much closer look will be taken in Part II. (Editor's note – this part of the evaluation was re-shot with temperature compensation in Part II).
Ghost sights and accuracy
The three shot 1″ group on the left was shot at 25 yards with ghost sights with Remington UMC Leadless ammo. The 3/4″ group on the right was shot with Remington Ultimate Defense. Why the short distance? Two feet of snow, -20°F wind chill, my eyes and ghost sights, and the 9mm Luger cartridge. Part II, tentatively will be shot at 50 yards, but I thought this would work for a down and dirty indicator of metallic sight accuracy.
First impressions
About the size and weight of a 22 rimfire, the Ruger PC Carbine adds the power and arguably greater reliability of a centerfire pistol cartridge. With over 115 factory loads, supersonic and subsonic and a wide selection of bullet weights and types, the PC Carbine is a flexible little rifle with reasonable ammunition cost. Camp gun, trail gun, home defense, recreational target shooting all fit.
What would I change? Not much. I would like to see a version in 45 Automatic for a little more power. I'd love to see one in 10mm Automatic. We'll get some ammo assembled, get a scope on the rail, push out the shooting distances and be back with results in Part II.