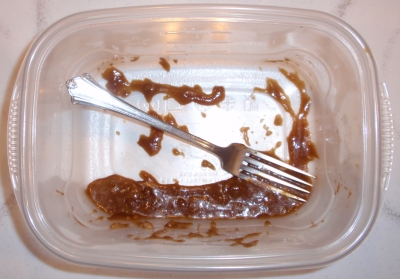 It's Saturday, the day after a blizzard and the day before scheduled comprehensive roof clearing. The area temperature is -9°F with a wind chill of… Who am I kidding? It doesn't really matter because I am not going outside. I'm having a lazy guy day; writing, while watching TV… "Manhunt in Space" and contemplating the future of a leftover meatloaf.
My wife is a discerning chef, but I am not a discerning consumer, so the meatloaf was combined with also leftover brown gravy, then popped into the microwave for a minute, thirty seconds. I was in a hurry. Cold? Not entirely. Gravy in a liquid state? Not entirely. But there were enough warm spots in both to savor and, in total, it was much better than barbecued puppy on a stick or monkey kabobs… neither of which are too bad when washed down with a warm beer in a tropical setting.
A  very recent walnut and blued steel rant of mine lamented the diminishing presence of new high craftsmanship firearms and denounced the increasing presence of high mechanical tech, low organic firearms. The severity of this emergence was labeled "cosmic cataclysmic" and an oath was made to never make a high mechanical tech / low organic firearms endorsing comment. Then I picked up the Ruger Precision Rimfire and I was reminded of my old boss Marty Ammenwerth who often said, "Never use the word "never""…. which I confess was a little confusing… the comment, not the rifle.
Ruger Precision Rimfire


Company

Ruger

Point of Manufacturer

Mayodan, NC




Model #

8400

Type of Action

Bolt, Adjustable Throw


Caliber

22 LR


Magazine Capacity

15

Magazine Type

Detachable – All 10/22


Barrel Length

18.0″

Barrel Material

Carbon Steel

Barrel Finish

Black Oxide

Rifling Twist Rate

1:16″

Receiver Material

Carbon Steel

Stock Type

Quick Fit Precision Adjustable


Stock Material

Glass Filled Nylon


Length of Pull

12″ – 15.5″


Grip

AR Pattern


Front Sight

NA

Rear Sight

NA

Scope Accommodation

Aluminum 30° Rail


Trigger Type

Ruger Marksman Adjustable


Weight of Firearm

6.8 Lbs

Overall Length

35.13″ – 38.63″


Safety

2 Position Rotating Selector


MSRP

$529
The Ruger Precision Rimfire is a magazine fed, bolt action firearm. The receiver mounts the trigger, barrel and floating handguard, and this assembly fits into a chassis. The chassis provides spot bedding and hand gripping surfaces and extends back to form the very adjustable buttstock. The centerfire version of the Ruger Precision Rifle mounts the buttstock to the aft receiver tube and the fire control components and grip are mounted to, or contained within, unstressed lower half enclosures. Another way to define the difference is the centerfire is a tube rifle while the rimfire is a chassis rifle.
OK, I know what it is, but what does it do?

The Ruger Precision Rimfire is suited to precision rimfire competition such as the NRA's Smallbore Competition, ELEY's Practical Rimfire Challenge and the National Rifle League's NRL 22. Shooting distances range from 50 feet to 300 yards, shooting is accomplished from a wide variety of shooting positions and circumstances.
The Ruger Precision Rimfire also makes an excellent trainer for the centerfire, long range precision shooter, for both new and established competitor's. The Ruger Precision Rimfire makes and excellent rifle for training a new shooter on everything from the fundamentals of safe firearm handling to doping the wind. Finally, the Ruger Precision Rimfire is an excellent recreational shooter for paper punching and small game and varmint hunting. It could easily be that one good rimfire rifle everyone should own.
Some Precision Rimfire's feature highlights… In no particular order

The Ruger Precision Rimfire 18″, 4140 alloy steel target barrel sports a 1/2″-28 threaded muzzle to permit easy attachment of an assortment of devices. The 15″ full floating handguard is made of black, hard anodized aluminum with M-LOK slots on four sides to facilitate accessory mounting.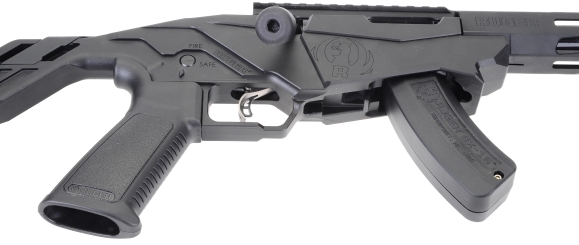 The Ruger Precision Rimfire mimics the centerfire Ruger Precision Rifle dimensions so it feels comfortable when switching between each and so it can be an effective training firearm for the centerfire version. They share a common reach from grip to trigger, they share a common  bolt handle size, the grip and selector can use standard AR 15 pieces and the selector can be swapped left or tight side. Consistent with other training accommodation, the bolt through can be set to a short 1.5″ 22 LR bolt throw or 3″ to simulate centerfire short action throw length.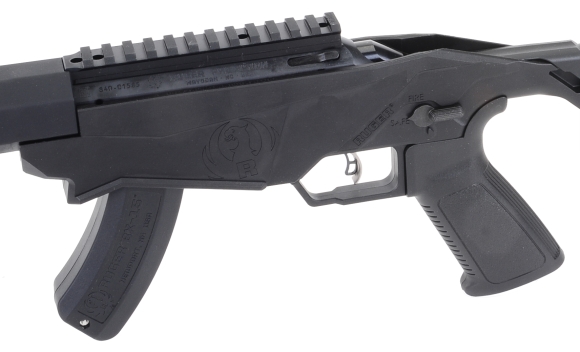 Serious rimfire business, the removable Picatinny scope base has 30 MOA elevation to extended long range capability. The bolt release can be seen just below the aft Picatinny base. The subject rifle version is supplied with one 15 round BX-15 magazine, another is supplied with two 10BX-1 10 round magazines, both accept any Ruger 10/22 magazines.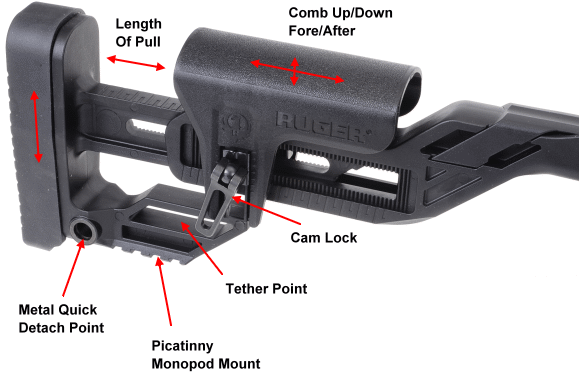 The Ruger Precision Rimfire stock is well done. It is a very rigid structure with useful adjustment points and range of adjustment and flexibility in mounting points to accommodate accessories. Where preferable, the cam lock that sets length of pull and comb position can be swapped to the left side. Coming from a time where one stock configuration fit all… mostly poorly, it is easy to take advantage of this feature.
No fun unless you can take it apart…

The chassis is secured to the barreled action with two bedding screws. When disassembling, the front fasteners is removed first, then the rear. When reassembling the reverse sequence is applied and both are torqued to 35 in-lbs in production rifles.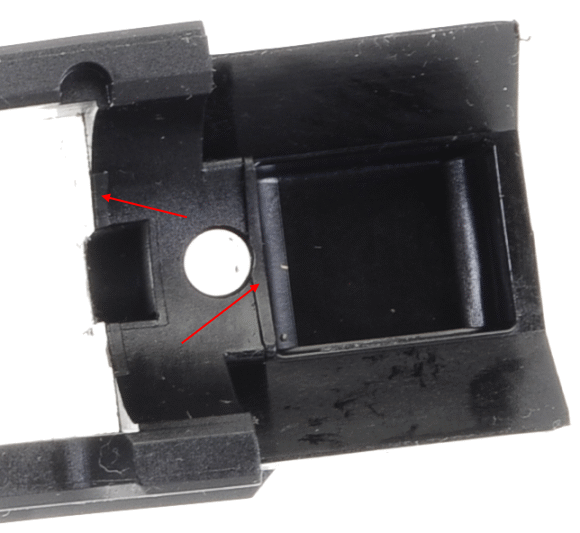 Above, the front chassis bedding contact points protected by not over torquing the bedding fasteners.

With the chassis removed, the balance of disassembly is easy and covered in detail within the manual including trigger removal and servicing. Trigger pull resistance can be adjusted with the rifle fully assembled within a range of 2.25 lbs – 5 lbs.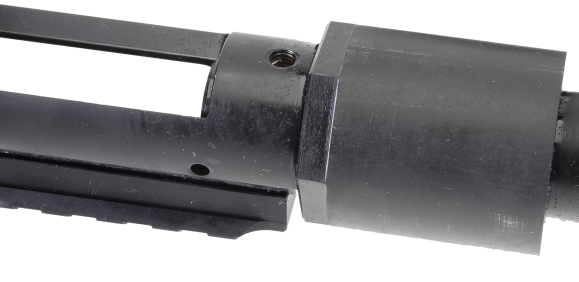 Above, the heavy contour target barrel is secured to the receiver with a barrel nut and relatively easy to remove and reinstall, or replace  with the aid of a headspace gauge.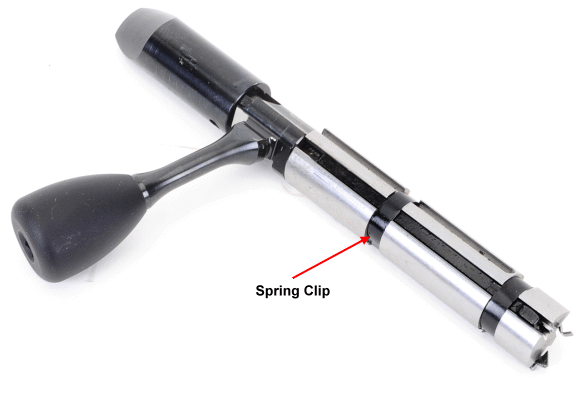 The Ruger Precision Rimfire ships with the bolt throw limiting clip in place, which limits bolt stroke to 1 1/2″. Removed, the bolt throw emulates that of a 308 Winchester.
Conclusions?
Well, for one thing the lighting in these shots suggests someone moved the monolights and did not put them back in place. Either that or the shutter is finally falling out of my camera and it is time for an overhaul or replace…. But you probably don't care about this little rainfall in my life and would like a conclusion on the Ruger. I don't actually have one as yet. So far I can say the Ruger Precision Rimfire is solidly built, the typical Ruger solid engineering and it is aesthetically very clean.
It could be said that the Precision Rimfire has all of the ingredients for it to be a highly accurate rimfire, but it has not been shot enough for me to arrive at a statistical conclusion. So we'll take a break, I will round up a good array of rimfire ammunition until the rifles performance is clear to me. Be back soon.