The weather warmed a bit, making working outdoors and getting around a bit easier… or at least I didn't get stuck in the snow down range and my wife didn't have to throw me a line and pull me out with the tractor. On that note… A scope was mounted on the Ruger Precision Rimfire, a Ruger Silent-SR was installed and a variety of rimfire ammo was selected and live fire commenced.

Ammunition

Bullet




Weight




Grains

Rated




FPS

Actual




FPS

Remington Target Rifle

40

1050

1057

Remington Golden Bullet

40

1255

1253

Eley Subsonic

40

1040

1065

CCI Mini Mag

40

1235

1204

Winchester Super Speed

40

1300

1246

Remington Cyclone

36

1280

1346
Looking at the comparison between rated and actual muzzle velocity, the standard test barrel length for the 22 Long Rifle is 24″, while the Ruger Precision Rimfire barrel is 18″. Additionally, all live fire was accomplished with the silencer in place.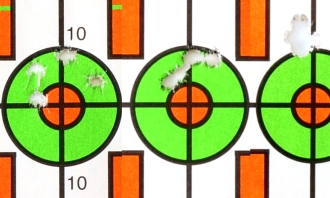 The day was blustery and wet and that warmer weather never got above 30°F. The 50 yard groups pictured above were the first 15 rounds out of the rifle, 5 in each.from left to right, each progressively better. 1) 5/8″ Remington Golden Bullet 2) 1/2″ Remington Target 3) 1/4″ Winchester Super Speed. The rifle settled down, I settled down and the wind settled down. The result after re-shooting was everything falling between 1/4″ and 1/2″ which makes this one of the least ammo sensitive rimfire rifles I've shot in quite some time.
I did not shoot farther; too cold, the snow was too deep and I kept having visions of an old guy running targets and being taken down in the snow by coyotes, or a hungry bear, or a passing moose. Still I can extrapolate my shooting results enough to know the Ruger Precision Rimfire can hit at a distance.
Shooting session notes
The Precision Rimfire's top rail is shorter than an AR, so full length riser rails were a bit longer than the Precision rifle's top rail. Functionally, full length rails worked fine, so the issue is cosmetic, so went with two low, short rails. The adjustable stock very much came in handy with comb height and fore/aft  position and length of pull adjustments becoming routine when accommodating my various shooting positions; old guy hunched over the bench, old guy sitting in the snow without a ground tarp, old guy laying down and considering taking a nap, old guy kneeling and getting blown over by the wind. You should see that shooting position wall chart. My point is, I did not have to contort to get my eye aligned with the scope, or stretch my shoulder to get a comfortable trigger finger contact or to get my cheekbone against the comb. A couple of quick adjustments and the Precision conformed to me.
The Ruger Precision's 30 MOA Picatinny rail bias put the 1″ tube VX-3 Leupold scope near the bottom of its elevation limit when zeroing at 50 yards. The rifle is intended for longer range shooting, which means bigger glass, larger diameter tube and associated range of adjustment that would eliminate this issue. If I were shooting at short distances routinely, I would buy a second rail without the 30 MOA bias… like the rail supplied with the Ruger American Target.
The trigger is exceptional. The factory setting was a little light for my taste, so it was adjusted up to a bit over 4 lbs and that did the trick for me. I love the magazine and magazine release on the Ruger Precision Rimfire as release and insertion are very positive. The operation of the safety is intuitive and also positive. The silencer is a welcome touch for a range session; quiet subsonic or supersonic and easy enough to take on and off.
It would be tough to find a 300 yard rifle at this price that would be as easy to shoot or less nerve wracking in terms of report, recoil and shooting costs. In form, the Precision Rimfire feels like a lightweight AR when shooting from a rest on the firing line… except for the bolt handle. The Ruger Precision Rimfire has the Ruger unique blend of sound engineering, quality manufacturing and more than a little aesthetic appeal.
A closing note on Ruger Precision Rimfire applications…
Designers are a lot like authors; there is the product dream of the designer, but then there is the product reality in the hands of the consumer. In the case of the Ruger Precision Rimfire, my opinion is that the reality is larger than the dream with application opportunities well in excess of a 300 yard competition rimfire rifle.
At MSRP, the Precision Rimfire is priced approximately $30 more than the Ruger American Rifle Target 22 LR, less at discount retail. The Precision Rimfire adds the versatility of the adjustable stock for shooter comfort and control, a floating handguard for accuracy and, in my objective testing, it is a bit more accurate. Weight is about the same, both have a threaded muzzle, both have an excellent trigger. The Precision Rimfire adds the feature of adjustable bolt stroke for centerfire operation emulation and perhaps holds future DIY potential as it is easy to take down to component parts.
My conclusion is that, while the Precision Rimfire is right at home in rimfire competition, a person doesn't need a 300 yard outdoor range to take advantage of the Ruger Precision Rimfire's potential. There are plenty of wooded areas for recreational target shooting and lots of small game and varmint hunting opportunities to keep a Precision Rimfire owner busy.