Today was another shovel out day; half a foot of snow on top of accumulated snow and temps hovering around zero. Atomic Squirrel seems to have continued to outsmart me, or he is in cahoots with a gang of chipmunks that can clean peanut butter from a small trap and get out before the door slams shut. I've tried racoon size traps and squirrel size traps to catch the enemy I see. This afternoon I will have an even smaller trap with a hair trigger… perhaps I should have looked for one with a hare trigger, as a last resort. If this does not work, I will stop looking for traps with names like Have-A-Heart and begin looking at traps with names like Skull Crusher and The Executioner. I don't want to, but I am running out of peanut butter.
This is not the first time the Ruger American Rimfire Target has appeared on Real Guns. The 22 Magnum version was previously covered, in substantial detail, including the American Rimfire's unique bedding system and use with the Ruger Silence-SR. Those details also apply to this 17 HMR version. So why not pretend to be working and spend the day shooting the 17 HMR version?
Ruger's American Rimfire® Target

Manufacturer

Ruger

Point of Origin

Mayodan, NC

Model

8350

Type Action

Bolt Action – 60° Lift

Caliber*

17 HMR

Magazine Capacity

9

Barrel Length

18″

Twist

 1:9″ 6 Groove RH

Muzzle Thread

1/2″-28

Metal Finish

Satin Blue

Sights

None

Scope Mount

Picatinny Rail

Stocks

Black Laminate

Pull Length

13.75″

Overall Length

37"

Weight

6.8 Lbs

Safety

Tang – 2 Position

MSRP

$499

* Also available in 22 LR & 17 HMR
When the American Rimfire was introduced in August 2013, it struck me as a utility piece; highly accurate, durable, adaptable but not what I would call aesthetically pleasing. Threaded barrels were added in 2014, a hardwood stock option was added in 2015, the Target versions were added at the end of 2016. In going through this evolution, the Ruger American Rimfire has become a quite slick little rifle.
In recent years, many rimfire rifles have been reduced in quality. They have a plastic/stamped steel feel about them with sloppy bolt fit, loose fitting safeties,  coarse triggers, and receivers cut to mount budget rimfire scopes. The Ruger American Rimfire Target has none of those attributes and has, in fact, the substantial feel of a well made centerfire rifle. The metal pieces all fit tightly, moving parts are positive in actuation and smooth in operation. The finish on receiver and barrel is exceptional and the stock is a flawless lamination. And, yes, I do like the fact it is made in the U.S.A., in American facilities, with American labor.
If there is a quandary associated with the Ruger American Rimfire Target, it might be which cartridge to select: 17 Hornady Magnum Rimfire, 22 Long Rifle or 22 Winchester Magnum Rimfire. The 22 Long Rifle option offers inexpensive ammunition, as low as 5¢ per round, compared to 22¢ per round for the 17 HMR and 18¢ per round for the 22 WMR. Additionally, there are 111 factory loads for the 22 LR, but only 14 for the 17 HMR and 30 for the 22 WMR.The 22 LR comes in subsonic, super duper sonic and even shot. There are solid points, hollow points and fragmenting bullet selections. If the 22 Long Rifle gives anything up to its magnum counterparts, it would be power and range performance.
Caliber

Brand

Bullet




Grains

MV




FPS

ME




Ft-Lbs

22 Long Rifle

CCI Mini-Mag

36

1260

127

17 HMR

CCI V-Max

17

2550

245

22 WMR

CCI Maxi-Mag

30

2200

322
The 22 LR, with a 100 yard zero, maintains 876 fps of velocity, 61 ft-lbs of kinetic energy and drops 32.7″ at 200 yards. With a 100 yard zero, the 22 WMR drops approximately 16.5″ at 200 yards and is carrying 1007 fps of velocity and 67 ft-lbs of kinetic energy. The 17 HMR drops approximately 8.5″ at 200 yards, when zeroed at 100 yards and arrives with 1375 fps of velocity and 72 ft-lbs of KE. Essentially, moving through the cartridge progression halves 200 yard drop with each. Out to 50 yards, shooting targets or small game, I do not think one offers much more than the other. At 100 yards, the 22 WMR and 17 HMR have a distinctive edge over the 22 LR. At 200 yards, the 17 HMR arguably holds and edge over the 22 WMR.
Caliber

Brand

Bullet




Grains

Rated




FPS

Actual




FPS

17 HMR

CCI TNT

17

2550

2593

17 HMR

Hornady Varmint Express

17

2550

2587

17 HMR

Hornady Varmint Express

20

2375

2451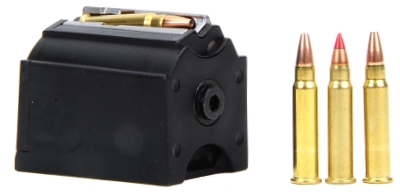 Three types of 17 HMR ammunition were shot, all outperformed factory ratings. Not bad as temperature was 2°F and chronograph batteries and monitor has to be warmed before use.
Factory ratings are based on a 24″ barrel, the American Rimfire Target used to collect chronograph data has an 18″ barrel.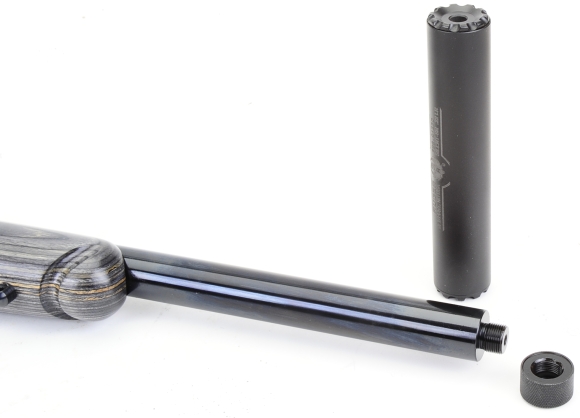 The Ruger Silent-SR is listed by Ruger as a 22 LR sound suppressor. It is very compact, adding little weight to the Ruger American Rimfire Targets heavy contour barrel, but does an excellent job of suppressing 22 LR, 22 WMR and 17 HMR by as much as 40 dB. These days, in an effort to hang onto my hearing, I shoot suppressed as much as possible. I've found this to not impede velocity or impair accuracy.
I need a sled dog? snowmobile? A target retrieval system…
We had a break of several days with warm weather that did a great job of melting snow. With a forecast of 12″ to 18″ of snow two days out, it seemed a good time to get in some range time with the Ruger American Rimfire Target. There were some gusting winds, but I just waited until the wind dropped and the target returned to its original position until taking a shot.
Quite a few three shot groups were… shot with both 17 grain and 20 grain ammo. Left to right: 20 Grain Hornady 3/4″, 17 Grain CCI 5/8″ and 17 Grain Hornady 1/4″. Performance in regard to accuracy was virtually the same suppressed or not suppressed. The American Rimfire Target is easy to shoot from the bench. The stock geometry is comfortable and the forearm and pistol grip are hand filling for a very stable hold. Ambient was approximately 40°F throughout the shooting session and the barrel stayed relatively cool.

Conclusions?
Well made, well balanced, accurate and reliable. The Ruger American Rimfire Target is made for anyone who can put an accurate rifle to good use and appreciate its quality.  It was a lot of fun to shoot and it kept me at the range trying to best my own typical accuracy. Nice rifle.