The weather has actually been mild this winter. Sure, there are few stretches of sub zero weather that were responsible for a transfer of wealth; my bank account to the oil company's bank account, but snowfall was infrequent and moderate and the driveway black top has been visible more days than not. With high hopes of an early spring, my thoughts have shifted to a fishing boat. Something high speed with luxury accommodations for Sebago Lake would be ideal, but a light portable is more realistic… see previous "transfer of wealth".
I don't want to trailer a boat, simply because I can't back up with anything connected to a hitch. I am still getting out from under the garden tractor with lawn trailer incident of 2004. That one left the vehicle and attachment severely jackknifed and abandoned at the end of the trail to the compost pile turn around. Still there. Then there was the 2012, 103 point back in at the public boat launch incident. That 12′ skiff was SO close to water. That proved to be a great example of how boating mob anger can be harnessed and channeled to get a boat off of a trailer, even if not to place it specifically in the water.
What I need is an inflatable with a solid hull, floor and seats that can hold six people, take a 50 horse power outboard and weighs no more than 80 pounds, total. I would even be willing to go for the boat and motor each weighing 80 lbs, but it all has to fit in the back of a Ford Escape. Until I find such a packaged craft, I will continue as a client of Pete's Pontoon Boats and Bait.
Useful packages that actually exist

The Ruger American Rifle with Vortex Crossfire II Rifle scope is what a North American big game hunting rifle looks like when you strip away all of the pretense, peacock feathers and need to be different criteria from firearm selection.
In regard to chamber, there is not a deer, moose, elk or bear that can't be dropped convincingly with the 30-06 Springfield and appropriately selected bullets. The scope magnification range is ideal and the scope's performance specifications are impressive. With a bundled MSRP of $639, they can be purchased on Gun Broker, all day long, for under $500.
Ruger American Rifle With Vortex Crossfire II

Company
Ruger
Point of Manufacture
Mayodan, NC

Item #
16933
Type of Action
Bolt Action 3 Lug 70º Lift
Caliber
30-06 Springfield
Magazine Capacity
4
Magazine Type
Flush, Detachable, Rotary
Barrel Length
22″
Barrel Material
Alloy Steel – Cold Hammer Forged
Barrel Finish
Matte Black Oxide
Rifling Twist Rate
1:10″ RH 6 Groove
Receiver Material
Alloy Steel
Stock Type
Black Synthetic
Length of Pull
13.75″
Drop at comb
5/8″
Drop at heel
3/4″
Trigger Guard Material
Integral To Stock
Front Sight
N/A
Rear Sight
N/A
Scope Accommodation
Mounted Vortex 3-9×40

Trigger Pull
Adjustable 3 To 5 Lbs
Weight of Firearm
7.1 Lbs
Overall Length
42.5″
Safety
Tang
MSRP
$639
Before I go on with my 30-06 Springfield obcession, I should note that this Ruger American Rifle – Vortex scope package is not the only combination available. There are models chambered for the: 204 Ruger, 223 Remington, 243 Winchester, 6.5 Creedmoor, 270 Winchester, 308 Winchester, as well. Barrel length is consistently 22″, some barrels are threaded for muzzle devices.
Some models feature the rotary magazine, others accept AR types or AI type magazines, and some models are equipped with a 4-12×44 Vortex Crossfire II scope. The Ruger site has a complete and current list of available models. Regardless the model, all American Rifles hold some design features in common that make them uniquely Ruger.
It may be inexpensive, but it certainly isn't cheaply made…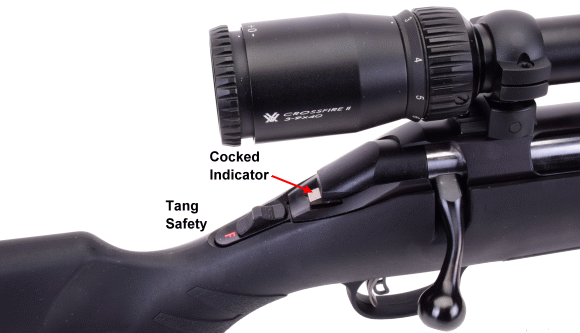 Controls on the American Rifle are well placed. The low 70° bolt lift clears low mounted, large eyepiece scopes. The cocked indicator is a good quick check tool and the tang safety is within natural reach.
The three lug bolt head provides a shallow 70º lift for good scope clearance and the larger surface area of engagement for greater strength. A cartridge case head is recessed for better containment, the sliding extractor allows for a solid bolt face with nothing residing in the recess other than the plunger type ejector. Ruger American below left, next to a twin lug Remington Model 700.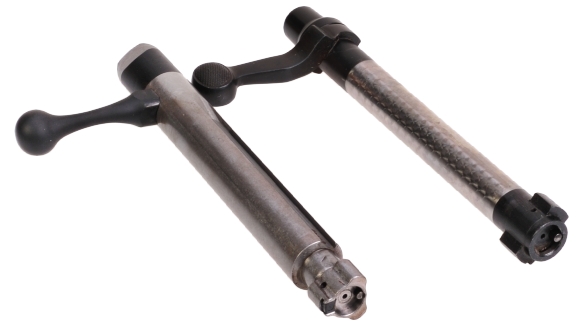 The bolt is full diameter, or about the same as the diameter of the bolt lugs. The Ruger American's bolt throw is very smooth, as the bolt rides on its major diameter rather than receiver slots that accommodate a two lug bolt design.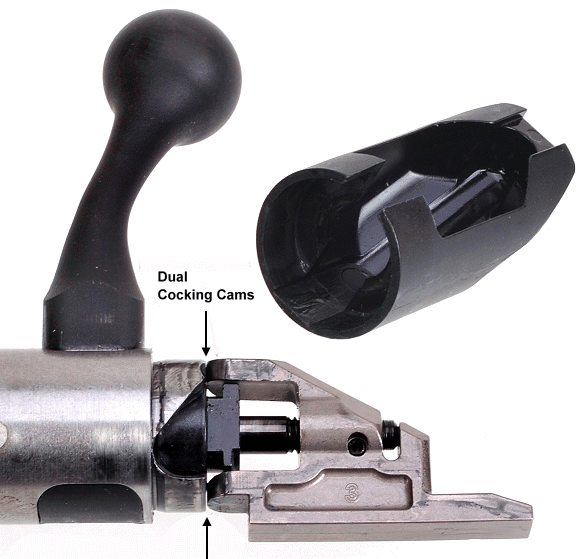 The Ruger American Rifle utilizes dual cocking cams to tension the firing pin. By spreading the lift load over two cams, the surface area is increased and required cocking effort is decreased, which allows the firing spring rate to remain relatively high and lock time relatively short. It all contributes to ease of operation and accuracy.
The Ruger Marksman Adjustable Trigger, left next to M77 trigger, is adjustable for pull weight, three to five pounds in half turn increments, over six complete turns. Additionally, a trigger release lever, hinged into the face of the trigger, effectively blocks the trigger unless the shooter has completely depressed the release lever.
The Ruger's Power Bedding System is one of those "heart of the product" feature. Clamping the notches in the bottom the receiver to the bedding blocks in the stock, while floating all of the other surfaces assures consistent loading and consistent contact. The results is an incredibly accurate sporter. My experience with a variety of chambers has always been the same; sub MOA precision.
Good scope, not sure how I feel about the name…
We've worked with Vortex Scopes before, the last a Viper HS LR model that performed well. The Crossfire II is a Vortex value product, but still full featured and nicely made and more than enough scope to get the job done.  The Crossfire II 3-9×40 certainly has enough magnification for the cartridge, eye relief is generous, the optic are bright and the compensating reticle is useful if the owner calibrates to his or her individual firearm and ammunition and power setting.

The vertical below the crossed hairs reticle subtentions, the little tic marks on the cross hairs, represent holdover values of : 1.5 MOA, 4.5 MOA and 7.5 MOA regardless the range, however, MOA value is only true when the scope is at a 9x setting. At that magnification, as long as the distance is known, not only can a precise hold over be determined, but so can the size of a target. I think this is a better choice than a first focal plane reticle for most people and situations as the apparent reticle size remains constant, thin, which makes it easier for use at a distance. A first position focal plane reticle grows with magnification, so subtention scale is true across the magnification range, however, cross hairs get as thick as 2x4s. Ruger made the right selection. Pictured bellow with tower caps removed –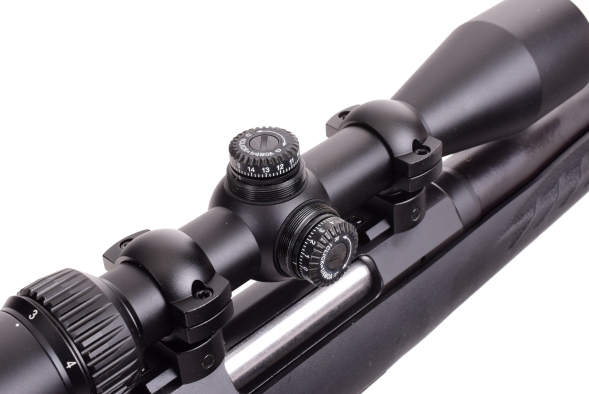 I think it is safe to assume that most people will just use the intersecting cross hairs for sighting in and aiming and save the rest of the possibilities for impressing friends and anyone else they can corner at the range, Which is why it is important to note the scope has exterior multi coated optics to cut reflection and promote light transmission, the one piece machined aluminum tube is O ring sealed to keep out debris and small animals, the scope if nitrogen purged to prevent fogging, and the turret adjustment settings can be reindexed to zero after sighting in to facilitate field adjustment. If you read all of that and thought blah, blah, blah, at least note that the Vortex scope carries a life time parts and labor warranty.
Now about that thirty aught six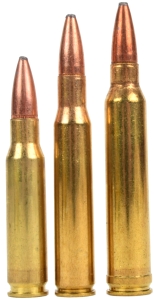 I grew up shooting the 30-06 Springfield in old 1903 Springfield, Model 1917 U.S. Enfield and M1 Garand rifles, and a lot of surplus .30 caliber ball ammo, under the auspices of CMP supported marksmanship training organizations. The 7.62 NATO was still an upstart cartridge hiding behind the 308 Winchester moniker and considered diminished power. The 300 Winchester Magnum was for folks who couldn't shoot well and thought the magnum nomenclature would cause big game to surrender without a fight. My preference was the 30-06 because I had access to rifles and ammunition.
With 180 grain loads, the 30-06 Springfield is approximately 100 fps faster than the 308 Winchester and approximately 250 fps slower than the 300 Winchester Magnum. Shooting the 308 Winchester and 30-06 Springfield side by side, it is hard to discern a difference in recoil or muzzle blast. Shooting a 30-06 Springfield along side of a 300 Magnum, it is quite easy to tell one from the other in terms of recoil and muzzle blast. Subsequently, I usually grab the penalty-less 100 fps and leave the 250 fps to the feel this is necessary.
Anyone who has shot a 30-06 Springfield knows it garners attention on both ends. In fact, it was a single deer season with a steel butt plate, early Remington Model 700 that got me hunting with the 243 Winchester. Subsequently, better recoil pads and stock geometry reconnected me with the 30-06 Springfield cartridge. It is a cartridge of moderate capacity and wide bullet selection that makes it a natural for the handloader. In factory ammo, the 308 Winchester is available in 152 loads, the 30-06 Springfield 126 and the 300 Magnum is sporting 88. In short, they are all amazingly old yet popular cartridges. Did I mention my favorite is the '06?
Cartridge

Bullet




Grains

Rated




FPS




24″

Actual




FPS




22″

Remington Core-Lokt

125

3140

3068

Remington Core-Lokt

150

2910

2898

Remington Core-Lokt

180

2700

2796
30-06 Springfield 180 grain – Point Blank 247 Yards +3″ Ordinate


Range

0

50

100

150

200

250

300

Velocity – fps

2796

2678

2564

2452

2344

2238

2135

Energy – ft.-lbs.

3124

2867

2627

2403

2195

2001

1822

Momentum – lbs-sec

72

69

66

63

60

58

55

Path – in.

-1.50

0.81

1.90

1.67

-0.00

-3.26

-8.25

Drift – in.

0.00

0.00

0.00

0.00

0.00

0.00

0.00

Time Of Flight – sec.

0.00

0.05

0.11

0.17

0.23

0.30

0.37
Dropping down to 125 grains and picking up muzzle velocity, at 300 yards the 125 grain has slowed to the same 300 yard velocity as the 180 grain bullet and the 180 grain bullet has retained 30% greater kinetic energy. The 125 grain bullet extends point blank range by only 10 yards.
Part 1 Conclusions
The Ruger American Rifle with Vortex scope is a trouble free piece of equipment that can get the job done and last for a very long time. If I had children or grandchildren at an age where they were getting started with hunting, the American Rifle would make for a good gift. My the same token, the American Rifle is well suited to the experienced hunter where accuracy and reliability are key performance features. We'll take a short break, handload some ammo and shoot it along side factory ammo.