After making the mistake of watching anti gun, network news coverage and listening to histrionic, soul sucking Democrats bleating, screaming their fabrication of reality into news cameras, I decided to seek something less fiction and more truth. So at 2 AM, I broke out the Kindle and resumed reading the latest installment of Cal Carver and his Space Team rascals. Space Team is a well written, if brainless piece of science fiction humor that massages the mind and does not attempt to undermine the U.S. Constitution and frighten children.
Somewhere between a woman with gills and an old guy who controlled time, I got to thinking about what would be the firearm equivalent of fun, relaxation and instant gratification. No bashing recoil, no brain pulsing report, no wallet emptying ammunition, and no requirement for an 1,800 yard shooting range. The best I could come up with was the 22 rimfire and it had to be an auto loader so there would be no need for bolt throwing, lever flicking, slide sliding, or action breaking. It also wouldn't hurt if it was a quality rimfire, with pleasing aesthetics and a record of reliability and accuracy… The Ruger 10/22 Sporter.
The Ruger 10/22 projects of the past have concluded with little of the original rifle while transforming a good deal of my meager financial resources into third party, performance part alchemy. The resulting bullet "twacks" through targets were only moderately more huddled than the Ruger 10/22 factory target versions.This time around, I thought I'd leave the gun alone, mount a scope to minimize my eyesight's influence of  the rifle's performance and see what happened.
Ruger 10/22 Sporter

Manufacturer

Ruger

Point of Origin

Newport, NH

Model

1102

Type Action

Auto Loader

Caliber*

22 LR

Magazine Capacity

10

Barrel Length

18.5″

Twist

 1:16″ RH

Receiver Material

Anodized Aluminum

Barrel Material

Alloy Steel Satin Blue

Metallic Sights

Adjustable

Scope Mount

Weaver Rail

Stocks

American Walnut

Pull Length

13.75″

Overall Length

37.0"

Weight

5.2Lbs

Safety

Cross Bolt

MSRP

$419
The design of the Ruger 10/22 began in the late 1950's, a collaborative design from Harry Sefried, Bill Ruger and Doug McClenahan. Commercially introduced in 1964, production began in Ruger's Southport, Connecticut factory not far from the original Ruger Corporation's Station Street Red Barn. In 1970, 10/22 production was moved to the then new Ruger Newport, New Hampshire operation. Since that time, multiple millions of Ruger Model 10/22 firearms have been produced in many configurations and grades of finish for civilian and special military and law enforcement applications.
A little closer look..

The Ruger 10/22 receiver is drilled and taped to accept a myriad of scope bases and ring combinations. A Weaver type rail is included that will accept Weaver compatible solid and hinged rings. For folks who like to keep rifle's simple, the 10/22 Sporter is supplied with metallic sights. The rear sight folds to stay out of the way of an objective lens bell and the sight leaf is adjustable for elevation in graduations equal to 1″ at 25 yards. Windage adjustment is made my drifting the rear sight. The barrel band mounted front sight is not ramped, but its face is serrated and fitted with a brass bead.
The safety is an easy to reach and actuate cross bolt type. The 10/22 does not lock open on empty, but the action can be locked open by pulling back on the bolt handle and pressing the bolt lock rearward. The bolt lock is pressed upward to release the bolt.  The flush magazine is released by pushing forward on the magazine release. The Sporter is compatible with all Ruger BX type magazines including 5, 10, 15, and 25 round versions.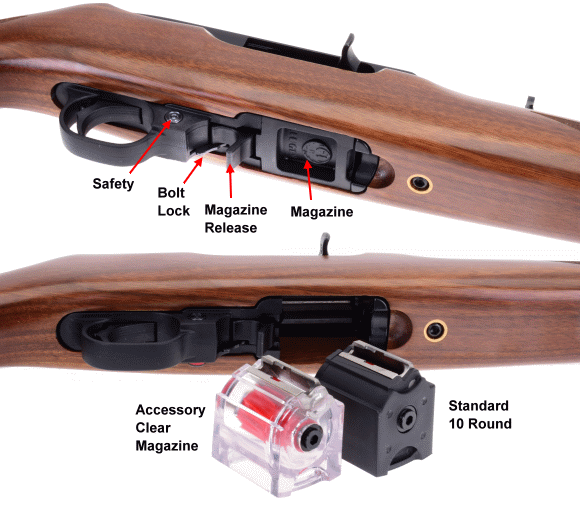 The Ruger 10/22 Sporter is supplied with one opaque black ten round rotary magazine. I tend to use clear magazines that are available as accessories at the Ruger Shop and other retailers, because they make it easy to do a round count check. It is also handy to have extras preloading in a jacket pocket.
Live fire… not to be confused with SRV's Crossfire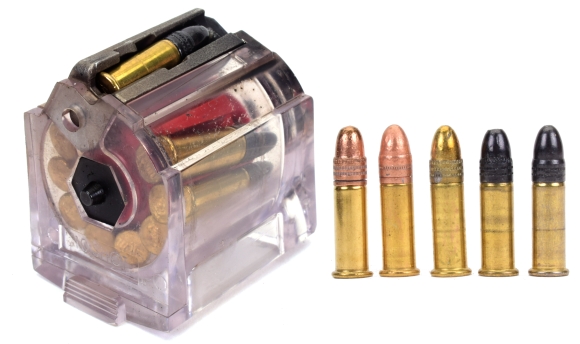 Five types of ammunition were selected to get a fix on the Sporter's shooting personality. The picture of the loaded magazine illustrates the visual check feature of the transparent magazine and, apparently, how lax I am in magazine cleaning duties.
Cartridge

Bullet
Weight


Grains

Factory
Rated


FPS

Recorded




FPS

100 Yd




5 Shot




Group "

 Winchester Super Speed RN

40

1300

1249

1 7/8


 CCI Mini-Mag RN

40

1235

1216

3/4

 Remington Golden Bullet

40

1255

1227

1 3/4

 Remington Cyclone

36

1280

1313

    1 1/8    

 Remington Target

40

1150

1112

1 3/8
The industry test barrel length used to establish velocity standards is 24″. In comparison to other rimfire rifles we've tested, the Ruger 10/22 gives up nothing, even to bolt action guns with the same barrel length. For me, accuracy was excellent as the range was 100 yards, not 50 yards or 25 yards and shooting was done off of a forward placed shooting bag, outdoors on a day with gusting winds. Clearly squirrels are in jeopardy at that range, as might chipmunks if they weren't so much fun to watch aimlessly scrambling around. Could the groups be tighter? Sure, but I might be tempted to just shoot CCI Mini-Mag ammo in the subject rifle rather than pick and poke at the rifle.
Conclusions?
What can I say that I have not already said?. Nice walnut, nicely finished metal bits, accurate, and reliable. It is a rifle that instills pride of ownership. I call it a good looking rifle, my wife tells me it is pretty. One of the reasons my wife and I don't share adjectives, but I can't say she is wrong. It is a terrific departure from those club like synthetic stocked products that deliver accuracy and reliability, but not much else that appeals to the firearm enthusiast. The Ruger 10/22 Sporter, there is a lot to like.