05/17/2021 – Conjuring a spring snow storm in Maine is fairly easy, especially if employing the most successful techniques. The tractor, set up for mowing, was pulled out of the shed where it spent the winter months. The driveway snow markers were removed until next winter. The first spring barbecue was scheduled based on a forecast of clear skies and temperatures in the high 50s.
So there I was, standing on the porch, grilling burgers, looking out at the dark gray sky, snow covered lawn and staying close to the grill to stave off the 14°F weather. Wife and company standing inside the house watching me through snugly closed French doors. On the plus side, killer burgers.
It has been nine years since Ruger announced the American rifle product line, seven since the Ranch version was added. The Ranch, originally offered in 223 Remington and 300 Blackout, has grown into fourteen configurations, differing in stocks, magazine capacity and caliber.
Chambered currently in: 5.56 NATO, 6.5 Grendel, 300 Blackout, 350 Legend, and 450 Bushmaster, the Ranch covers a lot of ground in both both security and hunting applications.
Ruger American Rifle Ranch – Standard


Company

Ruger

Model Designation

26981

Point of Manufacture

Newport, NH, USA

Type of Action

Bolt Action 3 Lug 70º Lift

Caliber

350 Legend


Magazine Capacity

5

Magazine Type

AR Style

Barrel Length

16.38″

Rifling Twist Rate

1:16″ RH 5 Groove

Muzzle Threads

1/2″-28 x 0.4″

Barreled Action

Alloy Steel – Blued

Stock Type

Flat Dark Earth Synthetic

Length of Pull

13.75″

Drop at comb

5/8″

Drop at heel

3/4″

Metallic Sights


None

Scope Mounting

Receiver Top Rail

Trigger Pull

3 To 5 Lbs

Weight of Firearm

6.1 Lbs

Overall Length

36.00″

Safety

Tang

MSRP

$549
The calibers offered do have a common denominator. With the exception of the original 5.56 NATO, they are all cartridges developed to add more power and reach to the AR-15 platform. In a number of states, use of any of these cartridges is enough to qualify the AR-15 as legal for deer hunting, where it might not have been as a 5.56 NATO.
Why not just buy an AR-15? Why do manufacturers produce bolt action, lever action, single shot, semi automatic, and pump action rifles? Preferences are typically based on both objective and subjective factors.
My action type preference for these types of cartridges is the bolt action. The strength of a bolt action, in comparison to a fixed gas metered auto loader, is more forgiving of top handloads firearm and I can load subsonic without the mechanical clackity-clack of an AR action cycling. Additionally, for me, it is easier to get to a lightweight, accurate firearm than I can with the AR platform.
In the beginning…


The first time Real Guns® conducted a project with a cartridge originating with the AR platform and a lightweight bolt action hunting rifle was in 2009, before the good folks at Ruger were manufacturing such a firearm. The result was a mini-Mauser with quick change barrels, chambered for the 30 Remington AR and the 7mm-30RG, the latter a 7mm wildcat based on the 30 Remington AR case, developed as part of the project.
A mini Mauser action was used with 21″ match grade barrels, lathe turned to an ultralight profile. The finished rifle weighs just at 6 lbs with scope installed. Without the distractions of aggressive handload derived explosions or shrapnel, the 7mm-30 RG chronographed 2850 fps with 120 grain flat based bullets and just about 2750 with a 140 grain bullets. Switching the gun over to 30 Remington AR, 125 grain bullets clocked 2830 fps and 150 grain bullets at just about 2700 fps.
In some ways the project was very successful, but not so much in other ways. The rifle remains accurate and resulting ballistics are more than adequate for deer size game. Unfortunately, the 30 Remington AR is all but obsolete and I don't trust Remington's new ammunition manufacturer, Federal, to continue on with the cartridge or brass. Making brass with undersized rims from the 284 Winchester or 450 Bushmaster is a less than exciting proposition.
The Ruger Ranch – A rifle that works AND has ammo

I have a lazy boy tendency of wanting to skip over firearm detail when I have previously written about in, which is the case with the Ruger Ranch Rifle and several cartridges… including the 350 Legend. However, that would be skipping over what makes the Ruger and 350 Legend combination such a terrific integration and you would only be left with my blah-blah… blah.
Salient features, in no particular order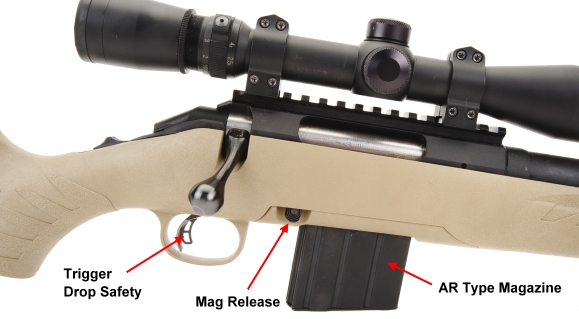 The Ranch rifle's hinged trigger release that passes through the face of the trigger, blocks trigger movement until it is depressed with a finger on the trigger. It is a nice way to prevent an accidental discharge from a dropped or roughly handled firearm. The AR Type magazine inserts and releases like an AR, but the feed lips are modified to accommodate the 350 Legend cartridge. The rail is removable and not integrated as part of the receiver.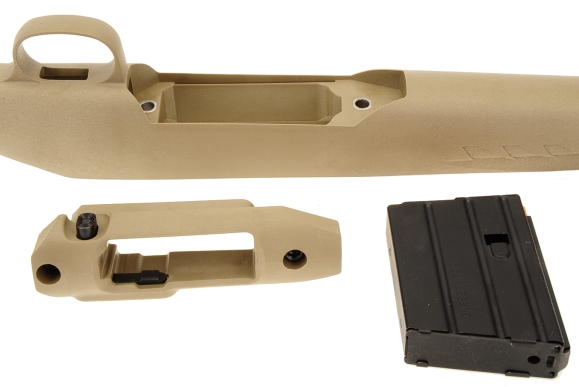 The feed system on the Ruger American Rifle Ranch is modular, which allows the rifle to be adapted to a variety of cartridges and feed systems. In the case of the 350 Legend, the magazine well houses the magazine release and retention system. Bedding blocks pass through the stock to provide a close fit for the action screws and extend to the top side as bedding blocks that keep the stock and action tightly interlocked.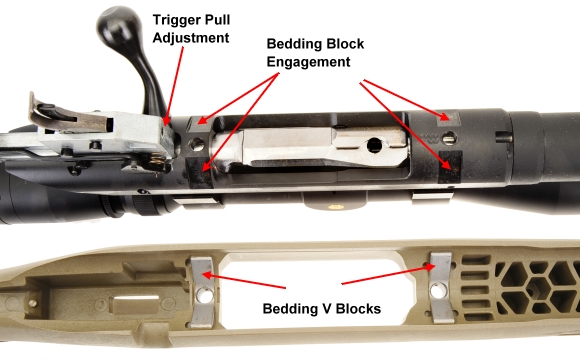 The Ruger Power bedding system utilizes the stability of the rifle's synthetic stock to prevent rotational and longitudinal movement between the barreled action and stock. It is a solid approach toward achieving shot to shot point of impact consistency and exceptional accuracy. Must be good as Ruger makes a commitment to sub one MOA accuracy for this configuration. Trigger pull weight is adjustable in a range of three to five pounds, adjustment is made with the stock removed.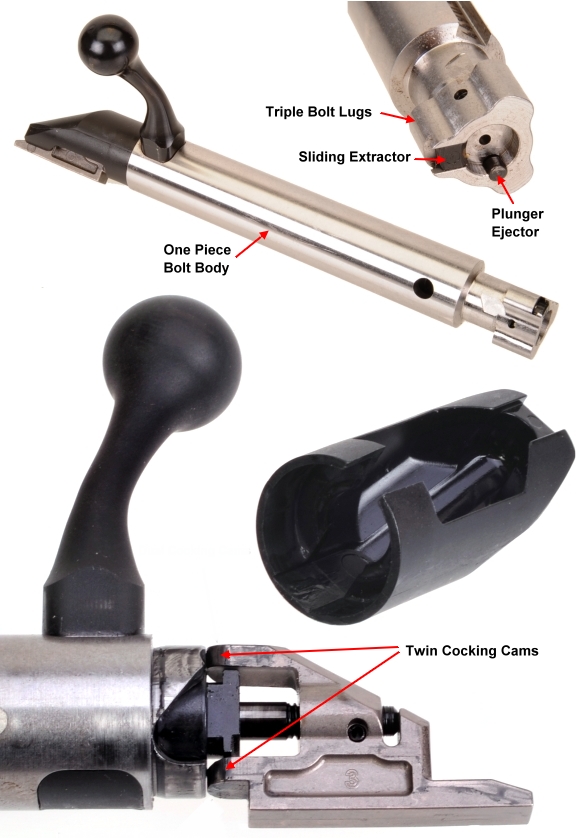 The American Rifle's three lug bolt with recessed bolt face accomplishes several things: bolt lift it a low 70° for reduced bolt throw and increased scope clearance, provides additional support around a cartridge casehead and assures clean extraction and ejection. The full bolt body provides smoother travel and additional strength. The dual cocking cams split cocking load between two bearing surfaces reducing cocking effort.
The benefits of a Picatinny rail
I looked at the storage shelf lined with bins filled with scope bases and rings on the shelf. Contained within is a set for any type of sight, on any type of firearm, with the exception of whatever is the active project… an easy $3 million to $4 million worth of scrap iron and aluminum. So, these days, I am appreciative of Picatinny rails where universal rings can be used for scope mounting. However, rails on a bolt action rifle tend to require lower mounting rings or the scope will mount to high.
In the past, I always used Warne steel rings. This time around, finding permanent mount Warne steel rings priced at $50 a set and aluminum as high as $100 a set, I went with a set of Monstrum Precision Picatinny scope rings. $15 set on Amazon, they are well made from aluminum, hard anodized black and same price in 1″ or 30mm and in any height.

A very nice feature of the ring are the rail interlocks that key into any Picatinny spec rail and do a great job of securing any size scope. How well are they made? Not saying this is always the case, but I mounted a Leupold scope to the Ruger with these rings, inserted a bore sighter and the cross hairs were centered on the grid. Yes, I realize we live in a capitalistic society where the company and market set the price… which is why I set the price of rings I am willing to buy at $15. If these companies that are running up prices while Americans suffer economically can prosper, the more power to them, but not my money.
The 350 Legend Cartridge
The 350 Legend shares a rim diameter with the 223 Remington, however, where the 223 Remington's rim and casehead diameter are essentially the same, the 350 Legend's casehead is 0.012″ larger than its rim, which makes the rim slightly rebated. The 350 Legend case is 0.050″ shorter than the 223 Remington and 0.014″ larger in diameter just forward of the extractor groove. The 223 Remington is not considered a parent cartridge to the 350 Legend by Winchester, the developer of the cartridge.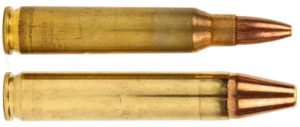 Ruger's approach to the 350 Legend is straightforward. The Small Arms and Ammunition Manufactures Institute, SAAMI, established the test barrel length used for rating factory ammunition velocity as 16″ and initial factory ammunition as 145 grain bullet @ 2,250 fps. Ruger's Ranch rifle has a 16.38″ barrel and clocks 2,293 fps muzzle velocity, which generates 1,693 ft.lbs of muzzle energy with 145 grain factory ammunition. Why is the test barrel length so short? Speculation – It is a good match for powder capacity and the cartridge will probably see this type of barrel length in modern sporting rifle applications, so the 16″ barrel is more representative of real world expectations and applications.
How well does the cartridge / rifle combination work?
Three types of ammo were on hand this
time around. If this ammo shortage doesn't end soon I believe I wall be learning how to handload with baking soda, vinegar, tree bark and acorns under new SAAMI specs. Anyway, pictured L-R Winchester Target 145 grain FMJ, Hornady American Whitetail 170 grain SP and Winchester Super X 180 grain Power Point.
Cartridge

Bullet




Grains

Rated




FPS

Recorded




FPS

100 Yard




3 Shot




Group "

Win Target

145

2350

2291

0.8

Hornady

170

2200

2290

0.9

Win Super X

180

2100

2118

0.7
While performance at a firearm's muzzle is a standard, down range performance is probably of greater consequence. An example below for the Hornady ammo. From the Real Guns® ballistic calculator set to calculate best zero with a maximum ride of 3″ above line of sight.
Hornady American Whitetail

Near-Zero – Yards

20

Mid Range – Yards

103

Far-Zero – Yards

179

Max Ordinate – "

+3.0

Point Blank – Yards

190
Best Zero : Range 0 – 300 yards

Yards

0

50

100

150

200

250

300

Velocity – fps

2290

2103

1926

1758

1600

1457

1329

Energy – ft.-lbs.

1979

1669

1400

1166

966

801

666

Momentum – lbs-sec

56

51

47

43

39

35

32

Path – in.

-1.50

1.73

2.98

1.89

-2.03

-9.35

-20.77

Drift – in.

0.00

0.00

0.00

0.00

0.00

0.00

0.00

Time Of Flight – sec.

0.00

0.07

0.14

0.22

0.31

0.41

0.52
I realize it is very fashionable to buy for 1,000 yard shooting circumstances but, unless shooting through trees has become popular, there may be a better use of time than planning for that eventuality in woodland hunting.
Overall…
I would say that the Ruger Ranch has replaced the lever action rifle in moderate range hunting in America, but someone would ask why Ruger purchased Marlin. So I will day it is a matter of choices. At the risk of drawing the ire of AR owners, a group that like to denigrate and ridicule anyone who doesn't share their choice, I would say the Ruger Ranch utilizes cartridges developed for the AR-15, better than the AR-15.
The Ruger is lighter, stronger and out of the box more accurate, with a price tag of $549 MSRP. Less at retailers everywhere. Thanks to the Ruger's threaded muzzle, a silencer plops right on, ready to do supersonic and subsonic duty.