Internet Soliloquy? Sure. Why not?
One of the great frustrations regarding social media is the use of the word "opinion" and the lack of understanding of the difference between objective and subjective information. Case in point, a picture of the S&W Performance Center® Model 460XVR™ was posted to our Facebook page and, almost immediately, @ChuckyCheese showed up offering comment after 10 seconds of consideration, "Better off with a rifle. Much more power". So, forever in search of understanding, I posted a reply, "200 grains, 2200 fps, 2149 ft/lbs and the revolver is half the weight of a typical sporter". Chucky's response, "That's your opinion and others differ. I make up my own mind, buddy". Which I did find a little curious, however, I kind of liked the name "buddy" as being called "Joe" for seventy three years can become a bit monotonous.
I actually didn't care which firearm selection road he chose to follow. I did, however, view his post as a bit misleading, so I posted objective data for others to contemplate after reading Chucky's proclamation. I did not conclude, guide, lead or otherwise attempt to mind massage anyone. Then I banned Chucky from the page, not for his opinion, but because I concluded he was a disrespectful worm with a chip on his shoulder. I also didn't want weeks of concerted research and writing effort undermined by someone who suffered a brain fart. But then, that was just my opinion.
Returning from orbit…
I think the introduction of the X Frame revolver was the equivalent of the U.S. – Soviet arms race that was concluded with Ronald Reagan's Strategic Defense Initiative, with the exception of the X Frame's actual existence. Smith and Wesson introduced the X Frame in 500 S&W Magnum in 2003, followed up with the 460 S&W Magnum in 2005 and competitors did not pursue further bigger bore cartridge and handgun development. S&W, happy to lead the big bore parade, currently offers seven X Frame configurations for the 500 S&W Magnum and seven for the 460 Magnum.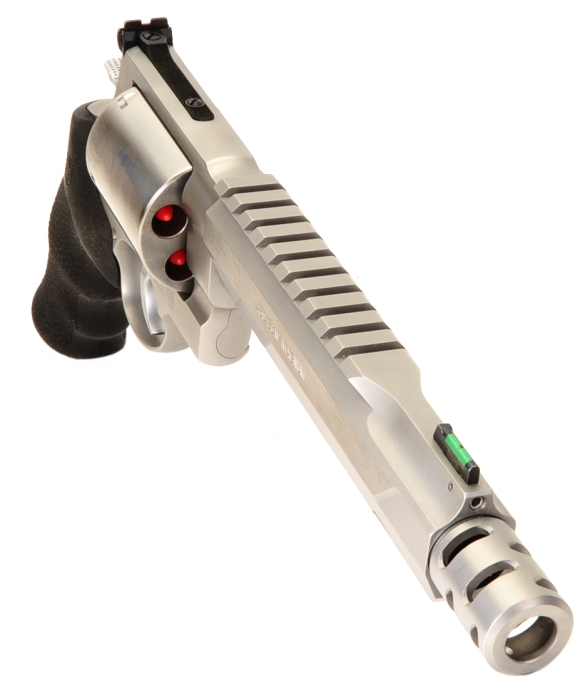 The S&W X Frame 460 S&W Magnum with a 7.4″ to 14″ barrel is a continuation, an evolution, of tools for the handgun hunter or for long range handgun competition. In 3.5″ to 5″ versions,  for someone of sufficient mass , the S&W X Frame makes for solid wilderness defense where very large and dangerous wildlife. No, the killer rabbit of Caerbannog would not fit that description.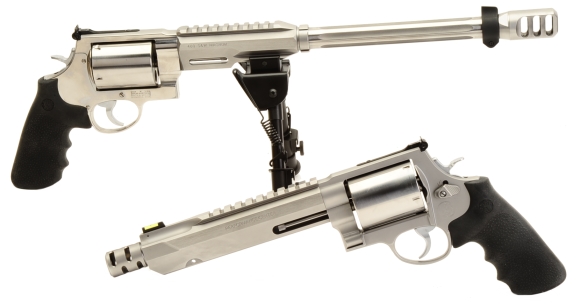 My original intention was to address both 7.5″ and 14″ Model 460XVRs in a joint review. However, it soon became apparent that they represent two different types of applications, even if there is overlap. Based upon handling and shooting positions and circumstances, the 7.5″ gun aligns more closely with the Magnum Research BFR, Ruger Super Blackhawk and Super Redhawk. The 14″ version more closely aligns with the Nosler 48 NCH, Remington Model 700 CP and Thompson/Center Contender or Encore pistols in size and handling. Perception subject to change with experience.

S&W Performance Center Model 460XVR™




Manufactured

Springfield, MA


SKU Number

11626

Type Action

Double / Single

Caliber

460 S&W, 454 Casull, 45 Colt


Capacity

5

Construction

Stainless Steel


Grips

Soft Synthetic


Trigger Pull DA / SA

12 Lbs 3 Oz / 4 Lbs 4 Oz


Barrel Length

7.5″

Rifling

Gain Twist 1:100″ – 1:20″


Rear Sight

Adjustable W/E

Front Sight

Green Fiber Optic


Type Safety

Hammer Lock

Overall Length

15.2″

Overall Height

6.5″

Width At Cylinder

1.918″

Weight

78.1 Oz.

MSRP

$1,779
Giving credit where credit is due
The best article I've read, in regard to the 460XVR revolver, appeared in American Rifleman, written by Aaron Carter, Managing Editor. Developmental history, pre-release product progress, instrumental contributors and released product performance. There is an expertise, access to people and information that I could not duplicate. If you have not as yet read this, I highly recommend you do.
My stuff… Immediate impressions
Looking for an analogy, picking up the 460XVR 7.5″ is like hefting a Colt Dragoon. Right, Joe, there is common familiarity with a mid 1800's black powder revolver. Terrible analogy. OK, it is not like other modern revolvers in terms of mass, weight and balance.
Comparatively speaking, a Ruger Single Action Super Blackhawk Bisley in 454 Casull is tiny in all places but the grip, where the two are very similar in size.  It is also significantly larger than a Super Redhawk 7.5″ 454 Casull, again, with the exception of the grip size. Which leads to the notion that the X Frame, 460 S&W or 500 S&W, is sized around these large, high pressure, S&W cartridges; 65,000 psi and 60,000 psi respectively. Not oversized, just accommodatingly dimensioned.
Revolver

Barrel




Length"

Overall




Length"

Weight




Ounces

Cylinder




Diameter"

Cylinder




Length"

Cartridge

Cartridge




Length"

MAP




PSI

S&W 460XVR

7.5

15.2

78.1

1.918

2.300

460 S&W

2.290

65kpsi

Ruger Super Redhawk

7.5

13.0

53.0

1.795

1.750

454 Casull

1.765

65kpsi

Magnum Research BFR

7.5

15.0

68.8

1.750

3.060

460 S&W

2.290

65kpsi
A comparison of the 460XVR to the Ruger Super Redhawk chambered for the smaller dimension 454 Casull is a good illustration of how cartridge drives firearm size. The table also illustrates how stout the S&W 460XVR is compared to the Magnum Research BFR. While the BFR cylinder is well over maximum SAAMI maximum cartridge length of the 460 S&W Magnum, this is primarily because the BFR must also accommodate the longer cartridges chambered in the BFR; 30-30 WCF, 450 Marlin, etc. While longer than the X Frame cylinder, the BFR's 460 S&W cylinder is smaller in diameter than even the Ruger Super Blackhawk in 454 Casull. The X Frame 460 S&W's larger diameter cylinder yields a breech end, exterior cylinder wall thickness of 0.134″ and an adjacent chamber wall thickness of 0.217″.
The revolver's CG is at the forward surface of the crane, making for a long barrel revolver that is not muzzle heavy. The grip contours and size  make for a secure hold. Between it and the revolver's balance, shooting from a standing two hand hold is steady. That basically means you can hold as you would a smaller magnum revolver and not have to constantly be in search of a branch or boulder to use as a rest.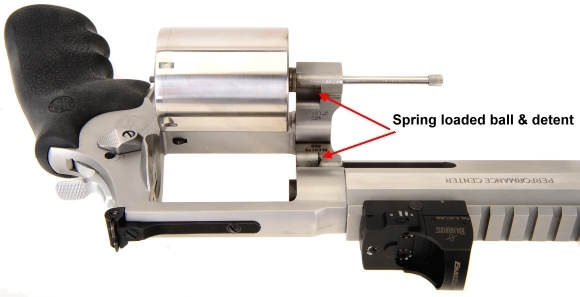 The front cylinder latch is comprise of a spring loaded ball recessed in the frame and a recess in the crane that engages the ball when the cylinder is closed.
Lots of shooter accommodations
A rail was integrated into the barrel shroud to facilitate a variety of optical sights. The adjustable metallic sights are certainly suitable for 100 yard shots for youthful eyes, but a red dot sight strategically positioned does wonders for mature eyes. I mounted a compact red dot sight slightly forward of the tail end of the rail and it worked commendably. It was far enough aft of the brake and forward of the cylinder gap to avoid powder residue covering its lens.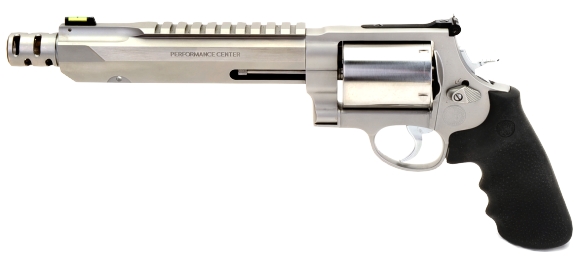 The 7.5″ barrel 460XVR barrel is secured at the frame end with traditional threads, but it is also preloaded at the front end of the barrel shroud. This design approach spreads the load over the length of the barrel and allows reliably performance over the long haul with maximum 460 S&W Magnum loads. The soft synthetic grip is standard size, covering a traditional S&W round butt grip frame. The grip size makes it easy to get a secure grip and it is soft on the hand under recoil.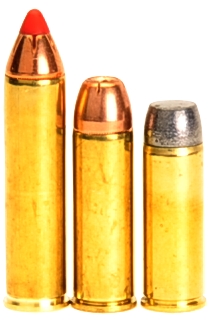 Why the 460 S&W Magnum and not the 500 S&W Magnum?
In terms of industry support, there are 16 factory loads available for the 460 S&W sold under 7 brands. There are 18 loads for the 500 S&W sold under 8 brands. Each cartridge type is supported with 2 brands of new brass, Hornady and Starline. For cartridges with a relatively narrow range of application, those are actually good support numbers for both.
It really comes down to cartridge versatility. Being able to shoot the 460 S&W Magnum, 454 Casull and the 45 Colt from the same revolver provides the gun owner with a lot of excellent choices. The 500 S&W Magnum is a boomer, but I've not found there to be the same relative bullet weight or construction range as there is with 45 caliber cartridges.
Finally, I routinely handload for the 45 Colt and 454 Casull, so going with the S&W 460 XVR allowed some degree of ammunition swapping with my other firearms and a better yield on handload development efforts.
Preliminary live fire
I did have the opportunity to shoot a few types of ammo in the S&W 460 XVR to get a better feel for the X Frame and an opportunity to compare velocity between this 7.5″ barrel gun and the 14″ barrel version.
Cartridge

Ammunition

Bullet




Type

Bullet




Weight




Grains

7.5″ Barrel




FPS

14″ Barrel




FPS

Δ

460 S&W Magnum

Hornady Custom

FTX

200

2315

2344

29

454 Casull

Hornady Custom

XTP Mag

300

1681

1731

50

45 Colt

Grizzly

WFNGC Cast

265

1338

1385

47
Conclusions regarding barrel length and performance? None. Not enough of an evaluation and not with a broad enough selection of bullets and handload sets, but a place to begin. Coming soon.
In years gone by, if I wanted to participate in some recreational target shooting with a 45 Auto, I'd spend some time shooting a 44 Mag. By comparison, the 45 Auto recoil and report would be modest and it would be easier to concentrate when shooting for score. The 460 S&W Magnum may provide that same dynamic for shooting the 454 Casull, certainly for hot 45 Colt loads. That said, with the exception of report, the X Frame 460 S&W magnum recoil wasn't bad at all. The effect of the X Frame on the 454 Casull was major in terms of softening recoil and getting muzzle climb under control and heavy 45 Colt loads could be shot all day without ice bucket end of day festivities.
The 460XVR can be shot one handed, although I don't know why anyone would want to as a two handed stance is so steadiling. Shooting from a rest is not essential with the 7.5″ barrel version, but I did use one when shooting 50 yard groups with a red dot sight mounted.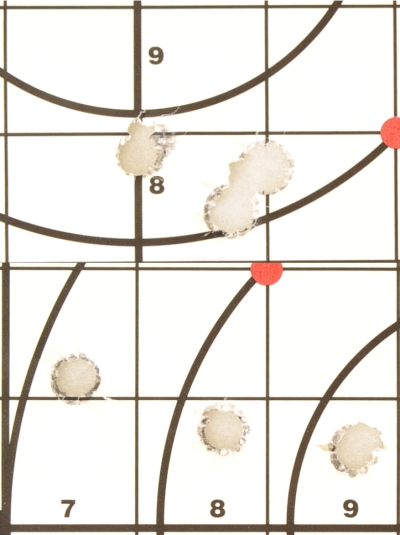 The extremes in group size. Top – Hornady 200 grain FTX 460 S&W Magnum 0.9″ center to center farthest hits. Bottom 265 grain Grizzly hard cast 45 Colt 2.1″ center to center farthest hits. Conclusions? None. 454 Casull shot close to the 460 S&W group sized, both were copper alloy jacketed where the Grizzly was hard cast. I will have a better feel after I've had a chance to shoot more factory and handloaded rounds.
Considering the size of the cylinder being rotated with a double action trigger pull, and large rifle primer that needs to be reliably indented for ignition, double action pull was't bad; smooth, relatively uniform in required effort. Single action pull was outstanding; also smooth, very short pull and light.
Closing…
Exposure to the S&W Performance Center 460 XVR has caused me to alter the perceptions that kept me away from this combination. I see a great deal of potential for New England deer hunting, and for Texas hog hunting. At the moment, I am looking forward to spending more time with the X Frame. Be back soon.