October 24, 2019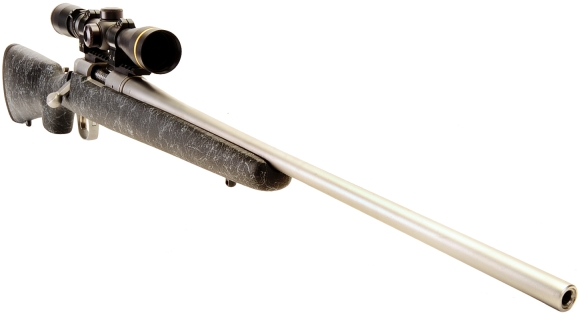 The Standard Catalog of Remington Firearms indicates that Remington introduced both walnut and Kevlar stocked Model 700 Mountain Rifles in 1986.  In 1998, a walnut stock, blued steel, flush fitting detachable magazine version was added to the lineup. In 2012, an aramid fiber stock, stainless steel barrel and action version was added. Enduring key features of the model designation are a slender stock without a raised comb, a 22″ lightweight contour barrel and light weight. Currently, only the stainless steel version is in production.
My personal experience with a Remington Model 700 Mountain DM in 25-06 Remington ran from 1998 through roughly 2006… maybe 2008, when it was sold after a geographic relocation when it no longer best suited to my applications. Additionally, I wanted to move up to a caliber with greater sectional density and improved ballistic coefficient at typical bullet weights. Still, it was an excellent performer and a very good looking gun that, hopefully, someone else is now enjoying.
For a walnut stocked gun with a thin barrel and pressure pad at the forend, it was a good one. Accuracy with handloads made it a MOA to sub MOA performer. The 25-06 Remington cartridge was flat shooting and hard hitting, giving up little to the slightly short for standard 22″ barrel. If there was any quirk it was a tendency to string shots to a minor degree on range days when the barrel would heat up. A half dozen shots left it too hot to touch et the muzzle, but that number is probably four to five shots more than expended on a deer by a conservative hunter.
Remington Model 700 Mountain SS


Manufactured

Ilion

, NY

Order #

84276

Type

Bolt Action 90º Lift

Caliber

7mm-08 Winchester


Mag Capacity

4

Barrel Length

22″

Rifling

1:9 1/4″

Nominal Weight

6 Lbs 8 Oz

Overall Length

42 5/8″

Stock

Bell & Carlson Aramid Fiber

Barrel & Action

416 Stainless Steel


Length of Pull

13 3/8″

Drop at comb

1 1/8″

Drop at heel

1 3/8″

Sights

Clean

Scope

Drilled and Tapped

Trigger Pull

X-Mark Pro Adjustable

Safety

Thumb

MSRP

$1,152
Remington has made some substantial, if subtle, changes to the Model 700 Mountain Rifle that measurably improve accuracy and shot to shot consistency. Some changes are mechanical improvements, some are shooter enhancements while the basic barreled action design remain the same.
Ever try working toward cogent expression, at home in the evening, while listening to Sean Hannity? First my typing speed picks up, I find myself typing "%&##@… !!!", then shouting "Hell No, we're not going to take it, Sean" before removing a comfy slipper and throwing it with little effect at the TV. And yet, I can't switch off the TV.
About the time Hannity calms down a bit, he tags out to a feisty Sara Carter and I'm typing "communist bastards" instead of cartridges. I would stop watching, but it is a form of aerobic exercise and it will keep me angry through election day. Anyway…
Mechanical difference in the Remington Model 700 Mountain SS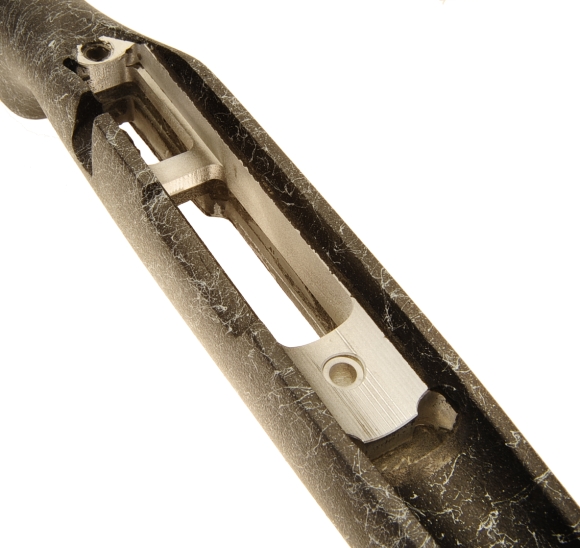 In terms of shot to shot point of impact consistency, the biggest refinement comes with an improved stock and stock to barrel and action fit. The Bell and Carlson stock is built around a stout aluminum bedding block that runs from front swivel stud to pistol grip. The bedding block is encased in a build up of hand laid up composite that includes fiberglass, aramid fibers, graphite, epoxy gel coats and laminating resins, reinforced with polyurethane with milled fiberglass.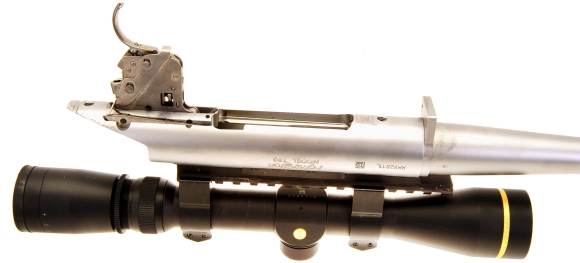 The machined from bar stock, cylindrical Remington receiver clamps securely to the stock's bedding block. Two fasteners pass through pillars molded into the stock, through precisely located holes in the bedding block and into the Model 700 receiver. The recoil lug keys to a machined recess in the bedding block. Further back, the butt stock's resilience helps to absorb recoil and rebound from recoil compression. The barrel floats the entire length of the barrel channel to eliminate extraneous pressure points, hot or cold barrel.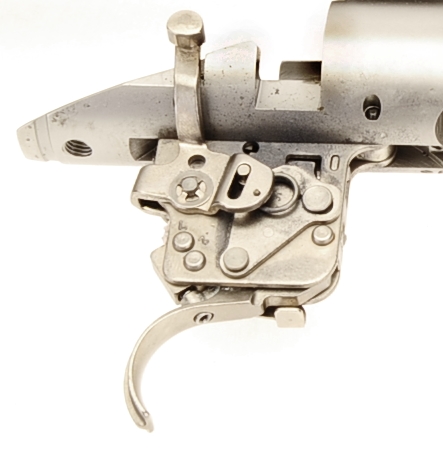 The X-Mark Pro trigger pull is adjustable between 3 and 5 lbs. There is zip take up, no creep and no over travel. The safety is an integral part of the trigger assembly and is both quiet and positive in engagement. The quality of the trigger and the ability to alter pull is a solid contribution to shooter control and improved accuracy.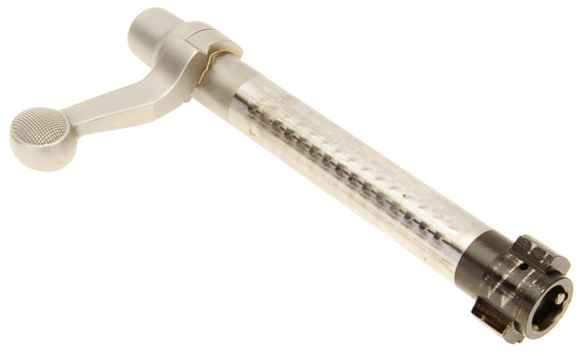 The heart of the Remington Model 700 Mountain SS action, a twin lug, 90° lift bolt, push feed bolt. Fifty years of three rings of steel; bolt body extension ahead of lugs seats close into recess in barrel shank and the barrel shank is enclosed in the receiver ring. The ejector is a spring loaded plunger type, the extractor is a half moon of spring steel riveted inside the bolt face recess. Simple, but a stout proven reliable assembly.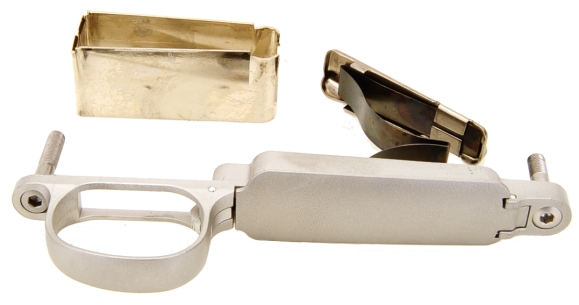 Bottom metal is aluminum, anodized to do a good imitation of the stainless steel pieces. The magazine box and follower are nickel plated steel. Light weight and flush fitting hinged floorplate.
And some time later that day, and the next…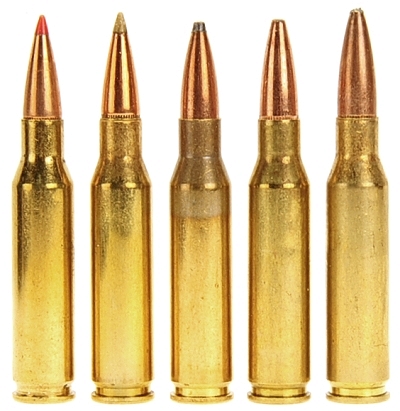 Ammunition
Bullet Type
Bullet
Weight
Grains
Rated
FPS
24″ BBL
Actual
FPS
22″BBL
100 YD
3 Shot
Group"

Hornady Superformance

PTBT

139

2950

2906

0.8

Remington AccuTip

PTBT

140

2860

2803

0.5

PRVI

SPFB

140

2850

2732

1.0
Fusion

SPFB

140

2850

2856


 0.8

Remington Core-Lokt

SPFB

140

2860

2805


 1.1
The largest and smallest groups both came from Remington, Core-Lokt vs AccuTip, While the barrel heated quickly… and cooled quickly for that matter, accuracy was independent of temperature changes. The AccuTip shot as well, cold or hot barrel as did the rest, which say a lot for a lightweight barrel firearm. There was a time when slender barrels would shoot three shots tightly, then begin to string as the barrel heated, but improved stable materials and improved bedding philosophies have jumped that hurdle.
Do the rest of us have to carry heavy rifles?
I understand the use of the term "Mountain Rifle", but there are maybe six guys in the United States who hunt sheep. Special individuals with deep pockets… except for that guy on Mountain Men who climbs mountain on snow shoes. I think the term should be changes to "Anybody who doesn't want to lug a heavy rifle through the woods rifle".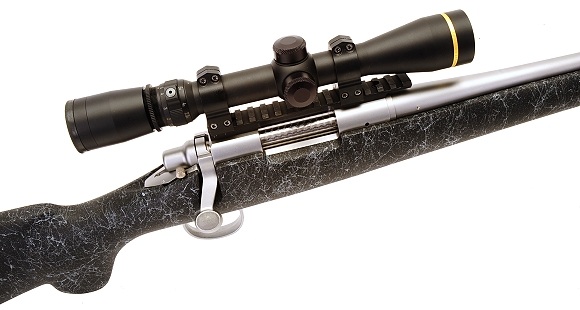 The 22″ barrel loses little velocity to 24″ nominal velocity ratings and accuracy is excellent. The Remington Model 700 Mountain SS is available in: 25-06 Remington, 7mm-08 Remington, 308 Winchester, 270 Winchester, 280 Remington, 30-06 Springfield, and 6.5 Creedmoor. Within that selection is something for just about everyone. Bullet selection makes all of them short range and longer range capable.
Anything I would change? Sure, but it is all subjective. With all of the processes available to blacken stainless, I think one would be a preference to bare stainless and its reflective qualities. I think it is considerate for Remington to ship with a rail in place, but my preference is for two piece, low bases to get the scope down closer to bore centerline. That's it. Good rifle.