02/28/2021
What follows is not a "Pry from my cold dead hands" commentary. In fact, it is a commentary on the same common sense and self reliance approach that puts spare tires in the trunks of cars and sets aside a supply of food, water and a first aid kit in anticipation of severe weather… or a Coronavirus lock down.
Common sense Vs. common understanding – Maslow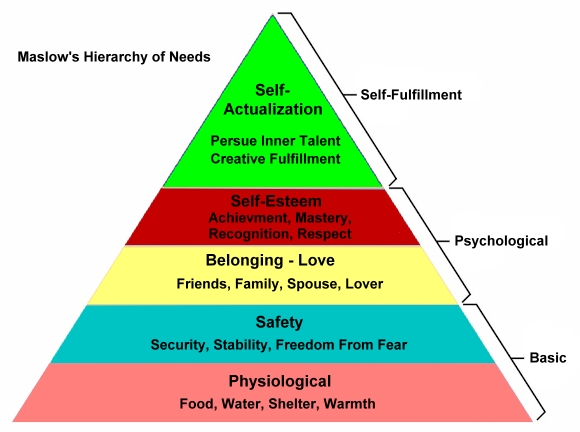 For many people, development in life is; born with not much, working hard to overcome and meet basic needs. Then, once there, they progress on to  meet Physiological Needs. Hard lessons learned produce maximum motivation to never return to the good old days of struggling to meet Basic Needs. Subsequently, contingency plans come into play when government institutions appear to be less reliable and luxuries and necessities fall into short supply.
Other people are born into Physiological Needs, completely skipping over the struggle to meet Basic Needs. These folks have never encountered a problem that cannot be solved with a phone call to a parent, friend or Uber. No hard lessons learned, means little to no motivation to plan avoidance of difficult circumstance they have never experienced. Consequently, they never understand why the first group makes contingency plans. In fact, they often attempt to stop the first group from planning, as contingency planning is an unfamiliar activity that makes them feel… uncomfortable.
Note: Who reaches Self-Fulfillment? Eventually everyone. People either amass great wealth and freedom as the head of a tech company and pursue their love of the Wagner tuba, or they grow old, passively accept that life has crushed their dreams, and settle for a pair of comfy slippers and a nice bowl of oatmeal… Charlie Maslow's Hierarchy of Reality.
A hybrid approach to preparedness

A third group of people ignore psychobabble's arts and charts and play the hand they are dealt. Anyone living through a year of Coronavirus idiocy, both public and private sector induced hysteria, knows store shelves can empty, Amazon can stop delivering, police can be overwhelmed and slow answering emergency calls, and lock down isolation can make the most normal people do the strangest things.
As members of Group 3, my wife and I stocked up on necessities including: a variety of healthy foods with a long shelf life, cases of bottled water, first aid supplies, TP, and multiple subscriptions to streaming British TV… Can never get enough DCI mysteries and droll comedy. We also took time to give the family firearm inventory a once over. See previous pyramid, "Basic Needs, Security & Safety".
Can you see the tree?
An AR-15 makes a great image for illustrating society's differing perceptions. For those lacking in firearms knowledge, who get their information only from other people lacking in firearm knowledge, the image below is a sinister, black, weapon of war. It has devastating power, carries a virtually unlimited supply of ammunition and is capable of stealthy, whisper silent operation. Which would of course be humorous if if it weren't so sad.

For folks with a more pragmatic, informed view of firearms, the image is that of a utility firearm, of modest power, with a primitive but effective sight system. The 30 round magazine is as good of a place as any to store ammunition. Perhaps not in this rudimentary form, but an AR has the potential of being the Swiss Army knife of firearms; no more, no less… no drama.
For me, the AR is an essential firearm, if only because many firearm applications can be serviced with a single AR. The 5.56 NATO/223 Remington round can be assembled up or down for anything from deer to rabbit. The effective range for the larger game in that group is probably limited to 200 yards, but this is Maine where the distance between trees is twenty feet. There are other positive attributes like virtually no recoil, reasonable report, inexpensive ammunition, moderate firearm wear and tear and low cost upkeep, many common replacement and upgrade parts.
A safe full of ugly
Building ARs, for me, is a diversion from the norm. While my exposure and experience with firearms originated early in my childhood, and has persisted, my military service was as an Air Force, B-52 Crew Chief. Subsequently, while I did have the opportunity to enjoy mandated vacations in tropical places, I was not issued an M-16 to bond with under dire circumstances. I was not not even given the option of bringing home a 750 pound bomb, or even a smallish nuclear weapon, as a souvenir.
My budgetary control of an AR build is non-existent, which means I have to sell each upon completion to pay the bills for the build and to finance the next project. In the rare cases where and AR can escape that destiny, they are usually too weird and/or too non standard to sell; odd calibers and an economy of parts that may fall short, in some people's view, of a complete firearm. An AR-15 with High Standard receivers, chambered for the 30 Remington AR does not shout "I'm here when you need me". Nor does a 300 Blackout that only cycles when it is in the mood, or… another that is caliber marked with less than specificity. As I said, a safe full of ugly.

Above is my new essential AR. Straightforward, it is a Ruger AR-556 with accessories that are well suited to my anticipated applications. Naked, it weighs 6 lbs and change. Suited up as pictured, it weighs 10 lbs.. But I am getting ahead of myself.
Seven days earlier… dramatic lapse dissolve
Ruger AR-556 Multi Purpose Rifle

Manufacturer
Sturm, Ruger & Co.
Point of Manufacture
Mayodan, NC
Model#
8514
Caliber
5.56 NATO / 223 Remington
Mag Capacity
30 Round Magpul PMag
Barrel Length
18″, 1/2″-28 Threaded

Rifling
1:8″ RH 5 Groove

Weight
6.8 Lbs
Overall Length
35″ – 38.25″
Stock
Collapsible
Receivers
7075-T6 Aluminum Forging
Receiver Finish
Type III Hard Coat Anodized
Barrel & Gas Block
Matte Black Oxide
Length of Pull
11.1″ – 14.4″
Accessory Mount
Picatinny Rail
Trigger Pull
4 Lbs. 11 Oz. Single Stage
Safety
Rotating
MSRP
$899
The subject AR-556 is a MPR is one of three product types within the Ruger AR-556 product line. It reflects my personal choice, but there are many more configurations available. There are twelve versions of traditional AR-556s, including one lower assembly for folks who want to furnish their own upper. The traditionals feature a rapid deploy rear sight, A2-style F-height front sight and a delta ring secured non-floating handguard. All 5.56 NATO/223 Rem chambered.
There are three versions of the 16.10″ barrel AR-556 with Free-Float Handguard models; all flat tops without factory sights and with 11″ floating handguard. These are available in 5.56 NATO/223 Rem and 300 Blackout chambers.
Ruger offers ten versions of the AR-556 MPR. They are available, depending on configuration, in 5.56 NATO/223 Rem, 350 Legend and 450 Bushmaster. Barrel lengths run from a law enforcement only 10.50″, to 16″ and 18″…rounding numbers. Capacity varies from 30 rounds for people living in the United States to 10 rounds for state complaint models where magazine capacity and only citizens are restricted from ownership.
We have reviewed the Ruger AR-556 multiple times. The most comprehensive in mechanical detail and performance, but not in creative titling, is "Ruger's AR-556 Multi Purpose Rifle" Parts I & II. Yes, those are incredibly tiny link targets, but then marksmanship is always something to work at.
Ruger AR-556 Multi Purpose Rifle – Model No. 8514

So I bought a Ruger AR-556 MPR. Why? As quality of firearm, availability of parts and product support are important, I prefered to place my trust in a company that has been in continuous operation since 1949, publicly traded since 1969, and is staffed wall to wall with gun people. Ruger has not been sold to a European firearms corporation, nor have they been broken down and repackaged by investment bankers with each new business entity stating, "We are not responsible for prior production".
When I purchase a Ruger firearm, I know who I am dealing with and I know they will be there if and/or when support is needed. The Ruger AR-556 is also a spec gun, so if Maine decides to secede from the union… or, more likely, Raymond sucedes from Cumberland county, I can still secure standard AR-15 parts from many local sources and keep my AR in operation.
The Ruger AR-556 is a complete product with mature, well tested components. Subsequently, few changes were required and few pieces were needed to complete the system for my purposes. The following is not a recommendation, just a share of information, while I walk through configuring my new firearm. No doubt, countless generations of engineers who have refined the AR-15 to near perfection will groan in unison. Not at the Ruger AR-556, but rather at some of my choices in add-ons.
Nice butt
There are more elaborate buttstocks, probably some that have solar powered adjustment of cant, LOP, comb height, and camo patterns. However, the Ruger supplied MOE SL collapsible buttstock and Mil-Spec buffer tube provide all of the function my brain and body can utilize.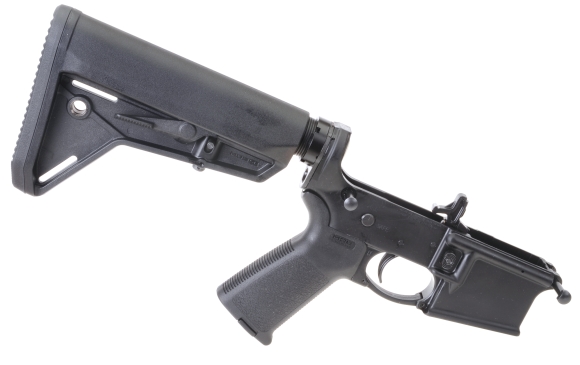 Above, shown collapsed, length of pull is adjustable in six locking increments from 11.10″ to 14.40″. The recoil pad has a slight rake and a rolled toe which makes it easier to shoulder the rifle while wearing a t-Shirt or heavy winter gear. The +0.8″ comb provides proper noggin support with the type of sight setups planned. The stock is slotted for sling attachment and it accepts QD sling swivels. All of the features are ambidextrous.
Getting a grip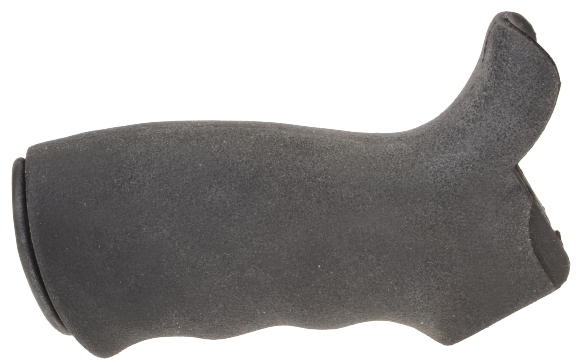 The factory supplied Magpul MOE grip is basic ,but excellent. Factory grips have the right angle, the right finish and are compatible with Magpul Core Storage inserts that are made to hold everything from gun lube to a spare bolt and firing pin. My AR-556 received a very old ERGO Sure Grip. It has a soft surface, finger orienting grooves and a palm filling back. It does have a free form storage compartment. Why the change? It is my lucky grip. Multiple operational nondisclosure agreements prohibit elaboration… No, of course that is not true. It is just that the grip is hand filling, squishy and it doesn't stick to a bare hand in sub zero temperatures.
Gas, barrels and handguards that float
The gas block in the Ruger's rifle length gas system is very compact. An extended barrel nut provides support for the easy on and off 15″ floating handguard. The handguard is lightweight aluminum, front end loaded with M-LOK attachment points and topped with a rail that continues from the rifle's flat top receiver. The handguard finish is Type III Hard-Coat Anodized.

This is the first time I have dropped the use of an adjustable gas block. Probably because I came to the conclusion that while such systems are fun to play with,  I rarely make adjustments. The 18″ barrel is a medium contour hammer forged 4140 piece with a 1:8″ rate of twist that stabilized bullets 35 to 77 grains in weight. The barrel's chamber is cut to accept both 5.56 NATO and 223 Rem ammo. No changes necessary.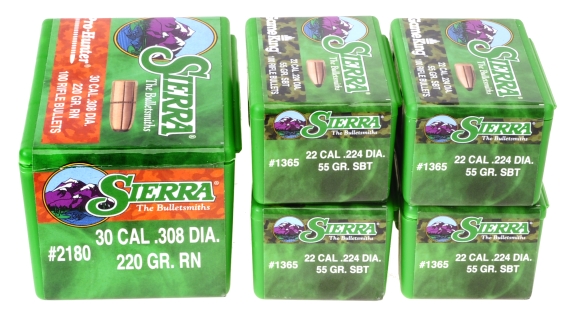 Yes, I realize there are 0.224″ bullets approaching 100 grains in weight, but weights above 77 grain are typically reserved for non expanding match bullets. Additionally, one of the reasons for selecting a 5.56 NATO firearm is the compact form of cartridges and bullets. Above, a box of 100 ct. 30 caliber bullets along side 400 0.224″ 55 grain bullets. Depending on the bullet weights, 7.62 NATO rounds weight more than twice as much as 5.56 NATO rounds.
Yes, I still think "Roy Rogers" when someone says "trigger"
The Ruger AR-556 MPR gets the two stage Ruger Elite 452 trigger in place of the standard single stage AR-556 trigger. The Elite 452 trigger is clean, has a relatively light pull @ 4 1/2 lbs, and 30% faster lock time. Below, on the single stage side #1, the notch in the hammer is retained by #3, the primary sear. When the trigger is squeezed, the sear is pulled downward and the hammer is released to rotate forward to move the firing pin. If the bolt cycles the hammer before the trigger is reset, the secondary sear #4, engages the #2, the hook at the back of the hammer and prevents it from falling forward.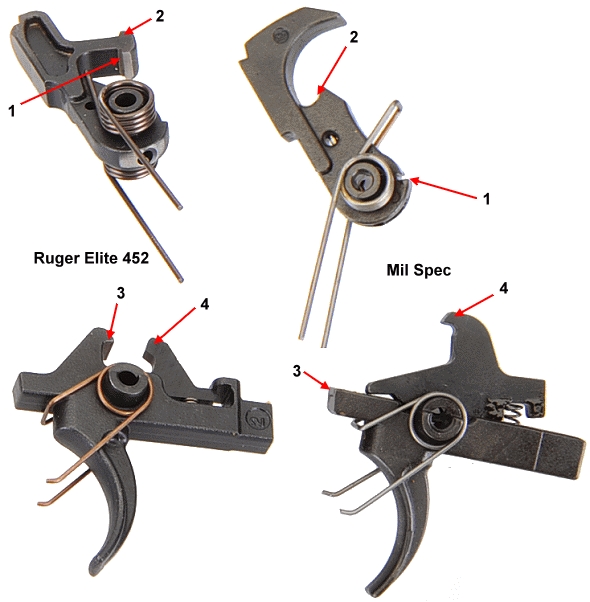 On the two stage trigger, the latching surface at the rear of the hammer #1, engages the primary sear #3. As the trigger is squeezed, the first part of trigger travel meets a light one pound resistance from the trigger spring and begins moving the sear away from hammer engagement. Then there is an increase in pressure as the backside of the hammer #2 contacts the nose of the secondary sear on the disconnector #4 and compresses the disconnector spring during the second stage of pull. The hammer's secondary sear contact surface #2 was relocated, but functions the same.
I would run out of ammo first…
The AR-556 bolt is fashioned from mil-spec 9310 steel, machined and shot peened for added strength and durability. Both the bolt carrier and gas key are internally chrome-plated for increased resistance to gas induced erosion/corrosion. The gas key is staked so it won't shoot loose. Carrier and/or bolt failure is probably not in the cards, however, I do keep a spare as well as a supply of small piece parts.
A mostly inexpensive approach to securing accessories

Installing a bi-pod was done with the lowest level of commitment. I cannot say I ever found myself without a bent arm and supporting elbow to rest a forearm, or a rock or a branch… dried cow patty. I don't want to be a lazy boy, outfitted with accessories built for a shooting bench. So I am trying to see if they just mean more weight and extra space or if they really serve a purpose.
These are listed as a five position MidTen Bipod 7.5″ – 9″ and were purchased for $35. They are made of mostly anodized aluminum with some black oxide treated steel hardware. The rectangular form is more rigid than round tubular, collapsed or extended.
The bipod halves are secured to the handguard at the 3 o'clock and 9 o'clock positions with M-LOK fasteners. The legs can be folded backward or forward when stowed. The possible failure I can predict might be the failure or loss of latch springs, which are trapped, but not contained under the adjustment latch. Obviously produced at one factory, these bipods are sold under numerous brands, differing only in price, labeling and packaging.
The adjustable 550 Paracord 2 Point Rifle Sling with Shoulder Pad is a $25 item. The sling is made of 550 lb Paracord braid strap, 600D nylon webbing and opens to 62″. The sling quick attach/detach is with alloy HK hooks. The JIALITTE QD swivels connect directly to the buttstock and with an M-LOK mount at the handguard. $20 for the set, S-ling swivels were selected because they keep HK hooks centered and rifle's slung position predictable.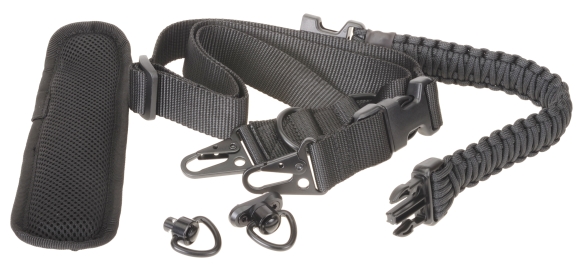 My early exposure to rifle slings came with bolt action rifles and my father's instruction as to how to shoot with sling support from all basic positions. Subsequently, rifles I take into the field are fitted with either leather military or Latigo slings. I never tried putting a leather sling on an AR, but I might just try doing so, and leaving this elaborate sling and the bi-pod at home. This fabric two point sling, when properly adjusted, shoulder carries well. Cross front carry allows quick shouldering into a steady hold.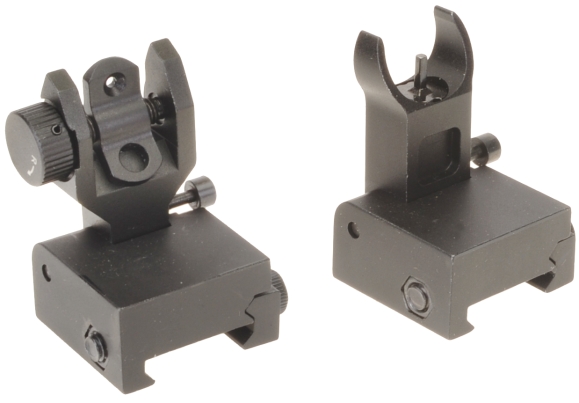 $28 covered the cost of a set of sort of hard anodized aluminum Feyachi flip up front and rear sights. They are matched for same plane line of sight, which is fortunate as this matches the Ruger's full length rail. The flippy apertures are selectively large CQB or small long range and indexed for windage adjustable. The A2 post front sight requires a $10 four prong adjustment tool that is not provided with this set. Mechanically, they are sound and hold adjustment. Aesthetically, I would not count on that anodized finish from staying put for very long. For folks who want something better, the exact same sights are sold on Amazon… including finish, but with a better logo, for $47.

If you find there is nothing on TV to watch, and you don't want to engage in conversation with anyone, read the comments section under the product listing on Amazon for entertainment. The little push button sticking out of the side of each sight releases the top so the sight can be folded down, where it will remain until called to action. To raise the sight into active position, you must lift each sight, at which point it will lock, like a tray table, in the upright position. No, it will not spring to life if you push the button, or lay down on its own volition. And no, the sights don't comply with GIJOE 678/2 in fit finish, or operation.
Rapid Transition Sight mounts, Hollywood hold, don't work for me. Instead, a 1/2″ riser rail was installed to mount a compact reflex sight. Folded, the sights are not in line of sight. Popped up they can be used looking through the reflex sight. This riser is a $15 piece; easy on, easy off. Why would I want to take it off?

In case I get tired of staring at red dots or flipping metallic aperture, or squinting, I have a set up for a moderate power scope. No, this set up does not accommodate other sights, but then the previously indicated sights, and this set up, come off easily with a government issued 25 cent screw driver.
SilencerCo Omega 36M
The SilencerCo Omega 36M is listed as an all purpose silencer. It is a modular design that permits it to be used in compact or full length forms. The Omega 36M is compatible with all SilencerCo Charlie accessories; ASR mount pictured, direct thread mount, piston mount, and three lug mount. With a $1,187 MSRP, it is not a budget component, however, it is a good component and it is used on many firearms, so the overhead cost is spread around.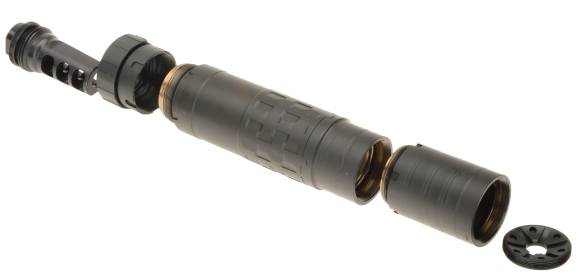 The Omega 36M is listed for use with cartridges 22 Hornet to 338 Lapua Magnum. I have used it with the 350 Legend, 338 Lapua, 300 WSM, 9mm Luger pistol projects. In terms of minimum barrel length, SilencerCo rates the Omega 36M as 10" barrel for 223 Remington/5.56mm NATO, 16" barrel for 308 Winchester/7.62mm NATO and 20" barrels for 300 Win Mag and 338 Lapua Mag.
The silencer serves three purposes: it protects my hearing, it shows respect for rural neighbors, it minimizes driving wildlife into the next county after a missed opportunity. No, of course I have never missed a shot, but there is always the possibility of a fluke occurrence.
I know… I'm tired too
I'm done for now. Thank you for letting me think through my own decision making process in public. Now, I am going to take my new rifle, shoot it a lot and collect some performance data and drag it through the snow, cold and tangles mess of woods and brush and see if anything falls off.  The result in Part II