Not going for melodrama here, but raking leaves in New England is worse than a Sisyphus bout with inclined, repetitive boulder rolling. The beautiful fiery red and golden leaves of autumn, drop dead, turn a very ordinary brown and begin to fall, and continue to fall, for a couple of months until the trees are barren. Leaves fall in the woods, they fall on the lawn, they fall in the garden, they definitely fall in the gutters and, then, they must be removed.
My wife and I dump leaves into a shredder, we run them over with a lawn mower, we blow them around with a leaf blower, we rake them until the lawn and gardens are rid of them and they are piled high behind the woodland treeline. Then we go inside and have dinner, as the wind kicks up and returns every single leaf to its exact original position and orientation. It is 762 B.C. all over again. In the morning, I'll walk outside with a cup of coffee in one hand, shake the other fist at the sky skyward to express my displeasure with nature, before resolutely beginning raking anew.  Yes, "anew". No, not "a gnu".
Short of a cooperative black hole, nothing will stem the incoming tide of leaves moving from woods to lawn. However, I do wonder why the tide never goes out, moving the leaves from lawn to woods. All we can do is wait for heavy snow. It won't solve the problem, but it will hide the problem, and isn't effectively hiding a problem as good as a solution?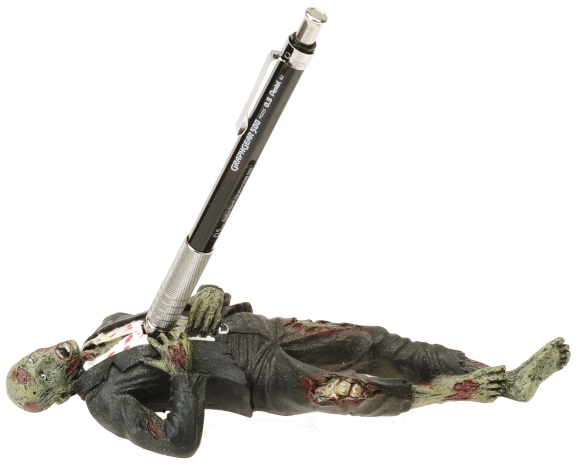 I am struggling with what to write that is worthy of this really nice firearm. A Winchester wrapped in nostalgia with performance potential to spare. So I am just stalling. I spent the past half hour trying to decide if I like Lucinda Williams's 1988 version of "Change The Locks" or the 1996 Tom Petty version and I am wondering if anyone else still uses a mechanical pencil. Are you hungry, or is that just me?
I like Tom Petty, but Williams is just so much more…." And I love mechanical pencils and I do like Lucinda Williams, and Zombie Bob has more than earned a spot on my desk, holding a pencil at the ready. OK. You guys are no help, so I've mentally cracked my knuckles, adjusted my chair and I will poke at this keyboard until something comes out of it…
History. I'll take "Things not taught in schools anymore" for $200, Alex


The Winchester Model 1892 represents only one of a number of Winchester's Thomas Grey Bennett and Browning's John Moses Browning collaborations. T.G. Bennett's forte was manufacturing. Browning's forte was exceptional, manufacturable firearm designs. Their working relationship was based on mutual respect, allowing it to endure for nearly twenty years.
As the story goes, Bennett needed successor for the Model 1873 successor, a scaled down version of Browning's Model 1886 design, chambered for cartridges similar in size to the 44-40 WCF. Bennett created the incentives of bonuses to encourage Browning; $10,000 for design delivery in three months, $15,000 for delivery in two months. Browning countered with $20,000 if done within 30 days, and proceeded to meet that objective.
During the 50 years that followed, over a million examples of the Model 1892 were produced. Initially, the Model 1892 was offered in 44-40 WCF, 38-40 WCF and 32-20 WCF. In 1895, the then new 25-20 WCF was added. In 1936, and for two years that followed, the Model 1892 was chambered for the 218 Bee on special order.
The Model 1892 was produced with barrels as long as 30″, the Musket, and as short as 14″, the Trapper. Special order barrel lengths went as long as 36″. Tubular magazines were available in 1/2, 2/3 and full length. There were round barrel and octagon barrel options and rifles customized in various grades to suit. Not only was the Model 1892 a success in America, it was also well received in South America, Australia and the Far East.*
The Model 1892, at least in carbine form, was produced until 1941. However, derivative models such as the Models 53 and 65 continued on through 1947. Limited edition appearances of the revived Model 1892 occurred in 1997 and in 2006, resurrected for distributor and show specials. Full modern production resumed in 2011.
Some of the early limited production runs came from the Winchester facility in Connecticut, like my 90's vintage 45 Colt Winchester Ranger that was sold through the western U.S. Big 5 retail chain. However, in 1995 Winchester Model 1892 production began at the Miroku firearms company in Kochi, Japan. In 2006, after the Connecticut Winchester facility closed, Miruku became the sole producer of Winchester lever action firearms for special runs and then continuous production.
 Chambers, then and now…
Cartridge
Bullet
Weight
Rated
FPS
Max
CUP (K)
.44/40 WCF
200
1190
15
.38/40 WCF
180
1160
16
.32/20 WCF
115
900
16
.25-20 WCF
86
1673
16
357 Magnum
158
1600
45
44 Magnum

240

1350

40

45 Colt
255
915
14
The first four cartridges were included at some point within early production. All were originally black powder, all are bottle neck rimmed design and all were chambered in rifles and handguns. Interesting that none seemed to suffer from the cartridge setback in revolvers issue experienced by cartridges like the 22 Jet. But then, the 22 Jet bottleneck form is much more pronounced and chamber pressure was 37kpsi +/-. More than twice the level of the old black powder cartridges. More later, on why the 357 Mag was not chambered in the last stages of Model 1892 production. The 44 Magnum did not come along until 1956. The 45 Colt cartridge carried the wrong brand for promotion and the 44-40 WCF already outperformed the then very anemic 45 Colt.

All of the modern chambers are for straight walled and rimmed cartridge. By SAAMI standards, the 357 Magnum and 44 Magnum are comparatively high pressure. The 45 Colt pressure reference is misleading as the cartridge is commonly loaded at or near 44 Magnum pressures by specialty ammunition companies in the absence of a SAAMI homolgated 45 Colt +P version.

Mighty Mouse
I used the term Mighty Mouse to infer that the Winchester Model 1892 is very compact, but also very strong, but I am not sure if anyone still remembers Mighty Mouse. With a presence from 1942 through 1961, and only two minor attempted revivals since, too many people may be wondering what muscular rodents have to do with firearms. My point is, the Model 1892 is a very tough firearm. Based on the large, stout Model 1886 design chambered for cartridges like the 45-90 WCF, the Model 1892 is more than enough gun for any of its historical and current chambers.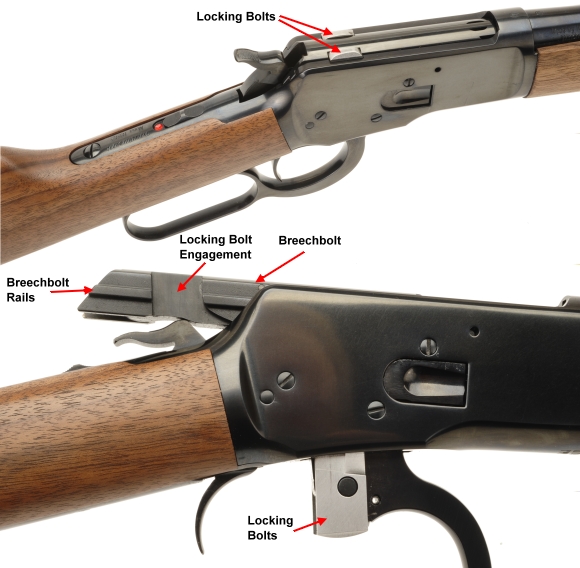 The rectangular breechbolt rails ride in close fitting slots cut into the thick interior receiver walls. The breechbolt runs on bore center and is controlled in all directions. Longitudinal movement is controlled by the lever when being cycled, and locked into battery by twin locking bolts engaging the breechbolt when moved into battery. It is a great deal of mechanical containment for what are essentially moderate power cartridges.
Semi-Buckhorn rear sights and Marble Arms gold bead front sight are a combination that works well for the Model 1892 and its intended applications. The sights are dovetail mounted with a 0.040″ rear half aperture and a 0.125″ front bead.Windage is drift adjustable and elevation is adjusted with a rear sight stepped… elevator.
The Model 1892 is not drilled and tapped for optical peep sights. However, various aftermarket suppliers make adapters that replace the rear sight with a peep sight or mount for red dot and optical sights. There are also gunsmith fit sights and scope mounts.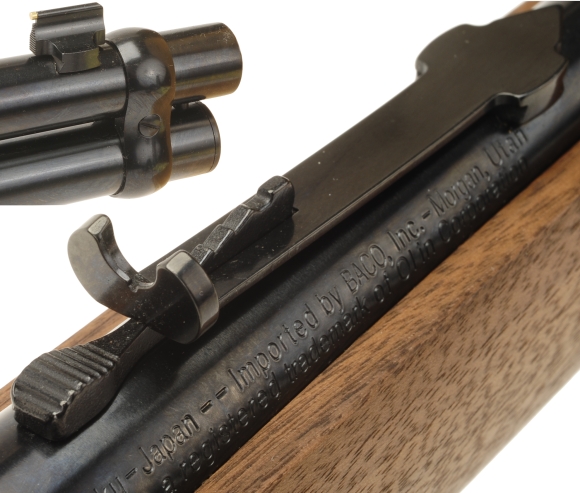 The open sights, even with my diminished eyeball IQ are good for 100 yard shots on deer. The "U" notch rear and front bright bead make for solid critical alignment. Their battery will not die at an inopportune time, their reticle won't fall and their adjustment will stay put.
Hammers that rebound and safeties that slide…
The Model 1892 has a rebounding hammer, a mechanism intended to prevent the hammer from making contact with the gun's firing pin unless the trigger has been intentionally depressed. For relics like me, there is a missing familiar "click – click" when cocking the hammer. That has been replaced by just one click and either full cock and fully rearward, or rebound hammer position, down, but not resting on the firing pin as seen below.
The normal rifle carry position is the hammer in the rebound position (inset) with the tang safety on. After chambering a round, the hammer can still be lowered from full cock to rebound position by following the detailed procedures outlined in the product user's manual. The tang safety is smooth, but positive in actuation and a welcome alternative to a Frankenstein, cross bolt through the neck safety.
The 357 Magnum
Winchester Model 1892 Carbine

Origin
Japan
Manufacturer
B.C. Miroku
Item #
534177137
Type
Lever Action
Caliber
357 Magnum

Mag Capacity
10
Barrel Length
20″
Rifling
1:18.75″
Nominal Weight
6 lbs
Overall Length
37 1/2″
Stock
Black Walnut
Hardware
Blued Steel
Length of Pull
12 3/4″
Drop at comb
1 1/8″
Drop at heel
1 3/4″
Sights R – F
Semi-Buckhorn – Post
D&T for Scope
No
Trigger Pull
5 lbs. 7 oz.
Safety
Tang – Sliding
MSRP
$1,069.99
Elmer Keith and cohorts seemed to make a habit out of stuffing way too much powder in revolver cartridges. However, a big personality and many places for his thoughts to be heard, often resulted in major manufacturers making his forward thinking into product. In this case, the 357 Magnum was the manifestation of Elmer Keith and Phil Sharpe pushing the notion of high pressure 38 Special loads and S&W's Major Wesson's desire to make a safe product.
The factory cartridge was introduced by Smith & Wesson for revolver applications in 1935. Finessed and developed by Winchester for Smith & Wesson, the hot loaded 38 Special became the high pressure and longer 357 Magnum. As is often the practice, extending a case is done to prevent chambering the high pressure loads in a lesser cartridge chamber, not to gain powder capacity. Case length went from the 1.155″ length of the 38 Special to the 1.290″ case length 357 Magnum. At the same time, chamber pressure was increased from the 17 kpsi of the 38 Special and 20 kpsi of the 38 Special +P to the 35 kpsi of the 357 Magnum.
So twelve years lapsed from the time of the 357 Magnum's introduction until the Model 1892's production came to a close, during which time the chamber could have been added, but was not. The omission could have been concern over the 357 Magnum's high 35kpsi chamber pressure. The omission could have been due to contractual agreement restrictions between S&W and Winchester. Omission could have been due to a lack of market interest in a rifle chambered for the 357 Magnum which was primarily associated with handguns.
A late boomer
Back in those days, "New" did not sell as well as it does today. Firearms were used more routinely for putting food on the table and keeping real and metaphorical wolves away from the door. "Reliable!", "Dependable!" and "Available Everywhere!" made for better advertising keywords/key terms than "New and but not found at your local general or hardware store".
Compounding the "New" problem was the fact that the 357 Magnum was factory loaded only with a 158 grain cast bullet, causing the 357 Magnum to develop a reputation for barrel leading. In the late 60's general availability of jacketed bullets eliminated that handicap and the 357 Magnum passed into wide acceptance and popularity. By then, the Model 1892 had long since gone out of production*.
But Joe, the Model 1892 does not look like a survival rifle…
The Winchester Model 1892 is a perfect companion for a 357 Magnum revolver as, together, they can cover a lot of ground. Where a 4″ barrel revolver is compact, and easy carry, the 20″ barrel rifle increases power and, subsequently, range. Like the rifle, the revolver has good power, Like the revolver, the rifle is compact and light in weight. Both utilize the same compact, light to carry cartridge, drawing on a common resource inventory.
Yes, I do own firearms that defy ammunition supply or require manual cartridge fabrication. Both wildcat cartridges and cartridges that were, and remain, a good idea but never achieved popularity. Personally, I do believe the 8x56R Mannlicher Hungarian will be making a strong comeback… possibly pulling along the 7mm-30RG wildcat. But what happens if I find myself without brass stock, forming tools, a machine shop and ten hours to produce each round?
When planning for emergencies and concerns over supply shortages, having two firearms that share the same ammunition, especially a popular type of ammunition and common reloading components, offers a major advantage. Of course, that is as long as the cartridge can get the job done. In Maine, the job would be self defense and putting food on the table: small game, wild turkey, black bear, deer, and moose.
Cartridge

Bullet




Grains

4″ MV




FPS

4″




ME




ft/lbs




20″ MV




FPS

20″




ME


ft/lbs


Barnes XPB

140

1397

607


1878

1097


Remington SWC

158

1310

602


1801

1138


HMS Bear Load

180

1180

557


1593

1015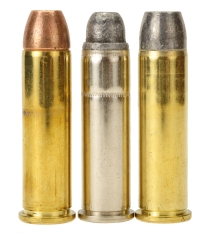 The 357 Magnum would not be my first choice for medium and large game hunting, but if I needed something that was easy on hardware, easy to feed and would be used up close, the 357 Magnum would definitely work for me. The 140 grain Barnes expands, but holds together at both handgun and rifle velocities. The Remington 158 grain is not hard cast and will expand and penetrate on deer size game. The 180 grain hard cast exhibits minimal expansion, but penetrates deep and will break bones.
There are seventy seven factory loads for the 357 Magnum, representing twenty brands, to choose from. Within that population, there are fourteen types of bullet, in weights from 55 grain to 180 grains. For the handloader, there are sixty one bullets, a composite from fifteen manufacturers; cast, composite, jacketed, and monolith construction. Bullet weights range from 93 grains to 200 grains.
The Winchester Model 1892 and the 38 Special

The Winchester Model 1892 is stamped 357 Magnum only. The Winchester manual states only used ammunition as marked on the firearm's barrel.  Yes, handguns chambered for the 357 Magnum routinely digest lower pressure, smaller of stature 38 Special ammunition, but those revolvers are loaded by hand, or with a speed loader, and empties removed by ejector. The Winchester must move the ammunition from its tubular magazine to a carrier in the receiver, then as the lever is closed, the ramped carrier raises the nose of the bullet to the opening of the chamber as the bolt moves to battery and chambers the round.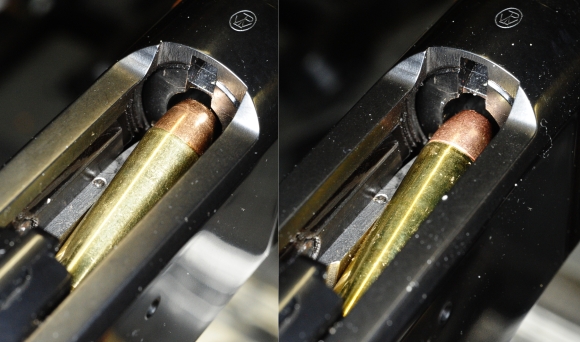 The cartridge sits on the carrier at an upward angle to the bore centerline. Closing the lever, the bolt pushes on the cartridge rim and pushes the cartridge forward and upward. Right – The longer 357 Magnum bullet enters the chamber before the cartridge rises high enough to bump the chamber opening and the bullet ogive guides the cartridge into the chamber as the bolt drives it home.  Left – Some shorter 38 Special cartridges will rise to intersect the chamber wall before the bullet enters the chamber, blocking the cartridge from entry.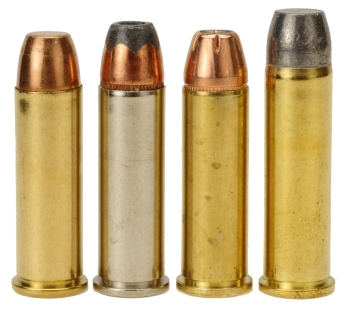 Officially, the Winchester Model 1892 is a 357 Magnum only. Unofficially, it is possible to pick and choose ammo that will work reliably.
Left to right – Winchester 38 Special 130 grain FMJ target ammo will hang at the meplat and Remington 38 Special 110 grain JHP will do the same. Hornady Custom 38 Special 158 grain XTP with a more sharply tapered ogive feeds without a hitch. HSM Bear Load 180 grain also feed cleanly.
Personally, I do not shoot 38 Special ammunition in my 357 Magnums and I do not own, at the moment, any 38 Special firearms.
Additionally, I do not often shoot factory ammunition. Subsequently, it is easier to use 357 Magnum brass universally and light load if I feel the need for this type of cartridge. Which solves the 38 Special / 357 Magnum issue.
Overall Impressions
The Winchester Model 1892 feels like a Winchester built in the 1950's… and that is a good thing. The action is slick in operation, ejection is positive and filling the tubular magazine is a straight forward process. Additionally, the straight cut stock and forearm are slender and unadorned with caps. By comparison, my recently produced Model 1895 Marlin's stock is bulbous and overly decoratively checkered, the action is rough and I leave half of my thumb in the loading port at the range. My old Marlin, 1957 is closer to the Winchester in weight, form and finish. Winchester did a good job of keeping the Model 1892 close to the original.
The days of angle eject are gone, but ejected empties fly over the head with plenty of room to spare. The receive is not drilled and tapped for a scope or peep sight but, as noted earlier, there are aftermarket sights and mounts designed to fit into the rear sight dovetail that will accommodate any type of metallic or optical sight. As an honest rifle, and hunting within range of the rifle – cartridge combination, what comes on the rifle will easily get the job done.
For all intent and purposes, the rifle is recoil free. It is also light and well bounced, making tracking to a moving target realistic. Noise levels are low… a nice change of pace after a 280 AI project. Trigger pull measured 4.5 lbs with minimal creep. The Model 1892 is a lot of fun to shoot, as suggested by the empty ammo boxes laying around. So I am going to grab that empty brass, assemble some handloads and see if we can't wrap up a Part II.