03/15/2021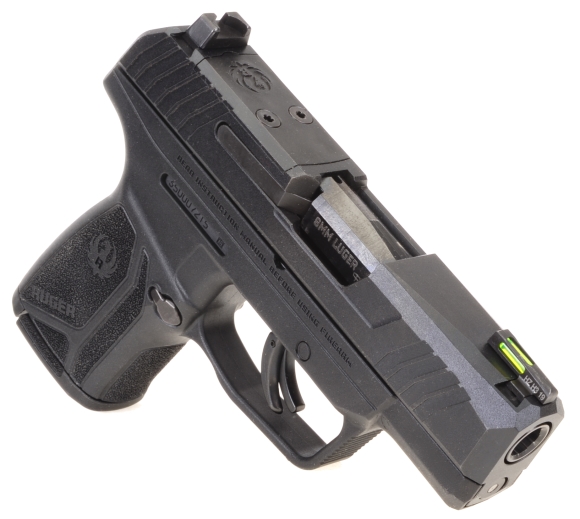 Ruger Max-9




Manufactured

Ruger – Prescott, AZ

Model

3500

Grip Frame

Fiber Filled Nylon

Internal Chassis

Hard Anodized Aluminum


Slide/Hardware

Black Oxide – Alloy Steel


Type Action

Single Strike/Striker

Caliber

9mm

Capacity*

12+1


Trigger Pull

5 Lbs. 2 Oz.

Barrel

3.20″ Alloy Steel


Rifling

1:10″ RH

Front Sight

Tritium Fiber Optic

Rear Sight

Black – Drift Adjustable

Optic Ready

Yes


Overall Length

6.00″

Overall Height

4.52″

Width

0.95″

Weight

18.2 Oz.

Manual Safety*

Yes

CA, MA Approved

No


MSRP

$499

 

* Model 3501 – 2 10 rd mags, manual safety




   Model 3503 – 1 12 rd + 1 10 rd mag, w/o manual safety.



The Max-9 Model 3500 is one of a trinary product introduction from Ruger. Models differ in magazine capacity supplied and in the absence or presence of a manual safety. The Max-9 is a compact model, falling within a dimensional envelop similar to Ruger's compact LC9/EC9s products.
The subject Max-9 Model 3500 is supplied with one twelve round magazine, one ten round magazine and it has a manual safety.
The model 3501 is supplied with two ten round magazines and has a manual safety.
The model 3503 is supplied with one twelve round magazine, one ten round magazine and has no manual safety. All other features and function are common to all three model designations.
Function
Ruger defines the Max-9 as a compact, single strike, striker fired, magazine fed, auto loading, recoil operated pistol. A tilting barrel design, it is fired from a locked breech condition.
Notable in the scheme of things, the Max-9's striker is tensioned by the movement of the pistol's slide. The trigger pull does not assist in cocking the striker, which gives the Max-9 a short, light trigger pull. Removal of the Max-9's magazine does not prevent firing a chambered round.
Optic Ready

Above, the Tritium fiber optic front sight, drift adjustable rear sight and, just forward of the rear sight, the optics plate cover. The height of the sights permits co-witnessing with a micro red dot sight installed.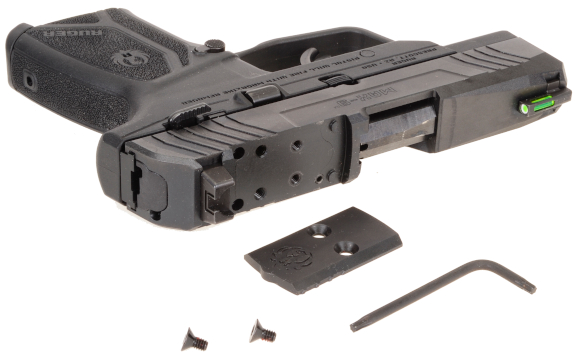 Removing the two screws that secure the optics panel with the supplied Torx wrench shows the direct mount surface for a micro red dot sight. Sights are located with two screws and two dowel pins directly to the slide's surface. Ruger selected the JPoint – Shield mount standard, which provides a wide selection of quality sights.
Micro red dot sights are used with both eyes open, they are virtually parallax free and they do not require rear-front-target sight aliment.  They do add a little size to a pistol, but not much, and there are many holster selections that accommodate them. In the case of a short barrel auto loader, a red dot sight can definitely extend effective range and boost speed of target acquisition under pressing conditions.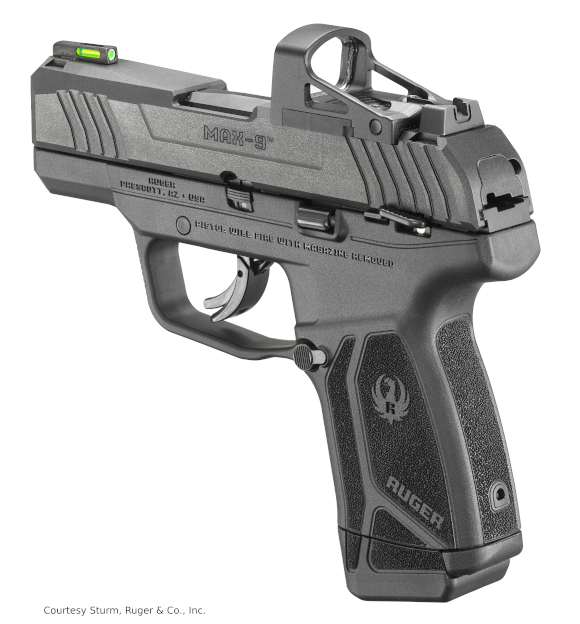 Micro Red Dot sights have found their way onto most of my firearms; rifle, shotgun and handgun. Unfortunately, my collection of micro red dot sights are Docter / Noblex mount standard and a compatible sight was not available before deadline. A Ruger photo illustrates the reflex sight configuration. Ruger always represents its products with exceptional photography… to the extent of humbling my own. As a minimum, the following red dot reflex sights are compatible with the Max-9:
Shield
Holosun
Swampfox
Crimson Trace
Sightmark
HEX
SIG
Jpoint
SMS2
RMS
RMS2
RMSw
SMS
SMSc
RMSc
507K
407K
Sentinel
1500 Series
Mini Shot A-Spec M3
Wasp
Romeo -0
MRD
Ammunition
The Ruger Max-9 is approved for use with all U.S. industry standard factory ammunition including hollow point with brass or aluminum cases. The Max-9 is also approved for +P ammunition with the suggestion of moderate use to avoid accelerated wear and tear. Within this span of approval there are over two hundred types of ammunition available from a collective of thirty two brands.
Pictured L-R: IMI Systems 115 grain JHP, Remington 115 grain JHP +P, Remington Ultimate Defense 124 grain BJHP, Remington UMC 124 grain FMJ. SAAMI standard ammunition has a MAP assignment of 35,000 psi, SAAMI +P has a MAP assignment of 38,500 psi.
The difference in performance between standard pressure and +P, with a common denominator of a 4″ industry test barrel and universal receiver, ranges from no gain, or lesser rating to 100 to 150 fps gain best case, within a bullet weight range of  115 grain to 147 grains. Mostly, bullet choice is more important than a standard or +P labeled difference.
Ruger does not approve the use of non-standard +P+ ammunition. +P+ ammunition is loaded to pressure levels determined at each producing companies discretion, which means +P+ is no standard at all. Firearm manufacturers design to SAAMI / CIP standard, making the design sufficiently robust to handle spec pressure with specified margin of safety. This assures not only safety for the shooter, but also a long service life and reliable function.
+P+ ammunition generally exceeds SAAMI / CIP maximum pressure specifications, as well as firearm manufacturers design specifications, by an amount known only to the ammunition producer. In doing so, the ammunition cuts into the intended safety margin, shortens firearm service life and reliability. I can think of no firearm manufacturer that approves this product for use with +P+ and for good reason.
Context, contours and optical illusions

My compact carry pistol is an early preset hammer Ruger LC380 with a 9mm conversion kit. It is the same size as the current Ruger EC9s. Shooting the Max-9, I appreciated what I thought were the benefits of its increased size, heft and longer sight radius. The Max-9 was easier to control, it was more hand filling, there was minimal muzzle rise, and it was easier to get sights on target. It came as quite a surprise that, while they are quite different pistols inside and out, they are all essentially the same size.
With 7 round mag in the LC9 and 10 round mag in the Max-9, ignoring the finger extension on the LC9, they are the same height. The Max-9's slide in only 0.050″ wider, however, the grip frame below the slide is 0.015″ more narrow. The LC9 series slide is more contoured, where as the Max-9's slide is more angular, both good approaches to weight and form reduction. As a result, the LC9 weighs only 1.2 oz. less than the Max-9.
Pictured below, the 10 and 12 round nickel-Teflon coated magazines included with the Max-9. The 12 round mag provides grip pinky support, as does the 10 round magazine with the finger extension follower in place. The included flat follower can be installed on the 10 round mag to minimize pistol form. All of these configurations are identical to the LC9's height when similarly configured.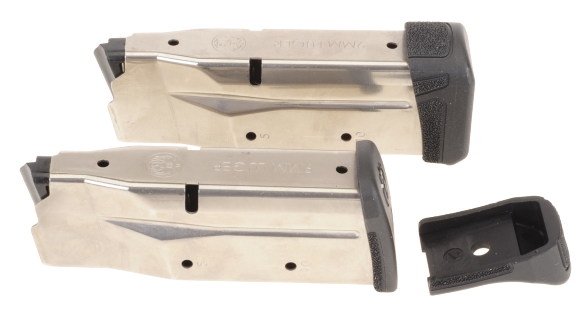 The LC9 has a narrow single stack magazine 3.670″ x 0.477″ that holds 7 rounds. The Max-9 has staggered round magazines that hold either 10 or 12 round dependent upon magazine selection.They are the same length as the LC9 magazine, but 0.790″ wide. However, both the LC9 and Max-9 have the same grip width at the widest part of the back strap.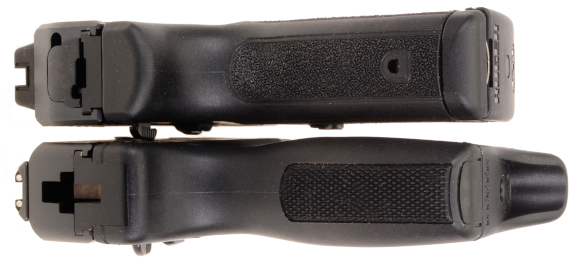 The difference is that the LC9's backstrap width diminishes as it approaches the grip bottom and it tapers sharply from backstrap to frontstrap, 0.960″ to 0.800″. The Max-9 stays approximately the same, backstrap to front, at 0.960″. The Max-9 does not feel oversized, but rather it presents a form that is easier to grip, which gives the Max-9 an improved shooting personality.
I shoot the my LC9 enough to be proficient, but not with exceptional enthusiasm for extended range sessions. The Max-9 can be shot a great deal for proficiency training, as well as for recreational enjoyment, without hesitation.
Controls… a need to over-explain

The sights are a good combination. The face of the rear sight is matte black, which offers clear contrast to the green HiViz Tritium/fiber optic front sight. The Tritium light source provides 24/7 illumination, even in a darkened environment and the fiber optic element also gathers ambient light. The Tritium mount is closed at the front end so that its light is not visible from the front. Tritium decays over time, but 12 years is approximately half life, meaning useful illumination for that period of time.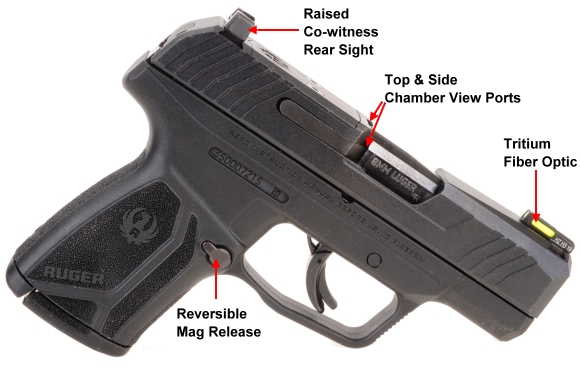 The chamber ports permit a cursory loaded chamber check from top or side. Of course, an actual empty chamber check requires an open slide look into the chamber with the magazine removed. Yes, that is a giant extractor poking out of the slide behind the ejection port. No messing around with making sure empties get out of the way of a fresh round. The ejection port is open at the top to remove any restriction to ejecting brass or cartridge.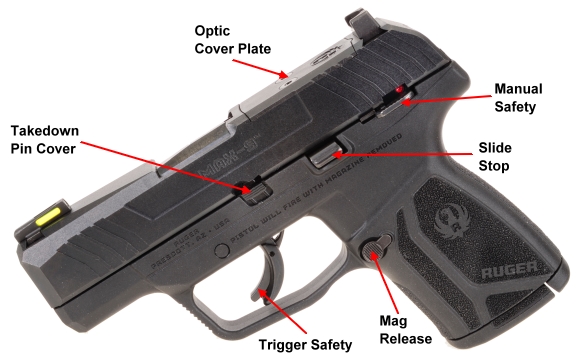 The subject model has a manual safety and, as an old 1911 guy, it is a feature I appreciate. This one pivots up at the front and can be thumbed on or off in a manner God and John Browning intended. For folks faced with multiple ninja attackers, who don't have time to front pistol spin – back pistol spin, dive and roll, AND switch a safety off, there is a manual safety delete option labeled the Pro model. Yes, Ruger did an excellent job with the safety and accommodating customers whose training or environment require a safety or no manual safety.
Inner Sanctum
Disassembly is straight forward; pull the magazine, clear the pistol, push out the takedown pin, and move the slide forward and off the frame rails. The barrel and guide rod assembly lift out. The takedown pin is a light slip fit, so no tools are needed for removal. The pin is securely retained by the takedown pin cover when the pistol is in service.
The guide rod is a captive assembly; rod, small diameter round stock spring inside of a tubular sleeve, flat stock spring wrapped around the sleeve to form a progressive spring rate assembly. The hammer forged barrel is ramped, important in a 9mm, and cammed to control lock and unlock timing.
Handling
I did not measure slide resistance, but the Ruger Max-9 seems easier to rack than the LC9. Could just be the change in the aft serration pattern, straight line to chevron. Similar serrations have also been added to the front surface of the slide. Thumb reach to manual safety, mag and slide release and finger reach to trigger are all comfortable and about the same as a larger 9mm pistol.
The Ruger Max-9's form makes for a comfortable, high grip. The grip provides solid support at the web and palm of the hand. An extended trigger finger aligns mid trigger. The balance and heft of the short barrel and a magazine full of ammo make for a steady sight picture.
Live fire
Brand

Type

Grains




Weight

Rated




FPS

Recorded




FPS

IMI Systems

JHP

115

1150

1114

Remington HTP +P

JHP

115

1145

1084

Remington UMC

FMJ

124

1100

983

Remington UD Compact

JHP

124

1100

1016
The Ruger Max-9 was shot at 10 yards, using playing cards as targets and with the pistol's metallic sights. All of the ammunition indicated put 5 shots inside of a 1.5″ x 2.5″ inner border from a two hands on a sandbag rest, and inside the 2.5″ x 3.5″ card from a two hand hold.

Where does a Ruger Max-9 fit in?

In comparison to the Ruger EC9, the Max-9 is just a much upgraded product with: 70% increase in capacity, premium sight system, optic accommodation, and improved handling and accuracy. Where budget constraints are the priority, the EC9 can certainly get the job done. For a bit more, the Max-9 can provide solid personal security and serve as a recreational shooter.
In comparison to the Springfield Armory Hellcat, I think the Hellcat tries too hard to carry large pistol features over to a short barrel firearm, with capacity seemingly the biggest feature.  Unfortunately, while 42 states permits high capacity magazines, eight states do not. Where the Max-9 offers a 10 round magazine for state compliance, the small Hellcat minimum magazine is 11 rounds. Where the Ruger high capacity magazine is 12 rounds, the Hellcat holds only 1 more round.
The Ruger has a 0.200″ longer barrel with the same overall length. The Springfield Armory Hellcat is made in Croatia, the Ruger Max-9 is made in the U.S.A. in Arizona. The Springfield Armory Hellcat has a $569 MSRP. The Ruger Max-9 has a $499 MSRP.
The SIG P365 compact offers a 0.2″ shorter barrel for a slightly shorter than the Ruger Max-9. SIG touts the 10 round standard capacity of the P365 as innovatively high… as compared to Ruger's 12 round capacity.They have added an extended 12 round magazine as an after sale $49.99 option.
The SIG is not optic ready and it does not have a sight system comparable to the Tritium fiber optic system supplied with the Ruger. The SIG's 10 round P365 MSRP is $699 + $49.99 for a 12 round magazine. The Ruger Max-9 has a $499 MSRP and it is come with both a 10 round and 12 round magazine.
Ruger put a lot of thought into the Max-9. Not only is this apparent in price, features and size, but also in regard to evolutionary improvement over Ruger's own similar size pistols. The refined shooting personality alone is enough for me.