04/25/2021 Is there utility in a lightweight revolver? Lightweight revolvers do not stress holsters or tug at belts and clothing, which makes them easier to conceal and more comfortable to carry. Lightweight revolvers stay out of the way while working, camping, fishing, hunting, or carrying other gear, so people tend to carry them, rather than leave them at home. Subsequently, they are there for personal defense when needed.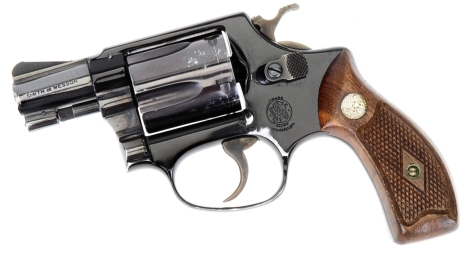 Lightweight revolvers require practice for proficiency, but lightweight revolvers may not make for a pleasant day at the range. A lightweight feature may also be partnered with ease of concealment features that can bring significant ballistic and handling compromises.
Short barrels greatly diminish muzzle velocity and increase report, muzzle blast and muzzle rise. Small grips reduce hand purchase, reduce control and exaggerate the effects of recoil and muzzle climb. Such firearms are often intended for defense at close distances and have only rudimentary fixed sights.
A revolver carried into the woods, for me, is considered emergency gear or survival gear. As such, one is always with me, to be used in to secure food or defend as necessary. As incidences of this type are rare, a revolver in this application spends its life in a holster, or punching holes in targets to build proficiency.
My current revolver is a six shot, double action, 4″ barrel 357 Magnum. It is very accurate, very reliable and it is shot often. However, it weighs 40 oz, and that 2 1/2 lbs drags on a gun belt as the day wears on and its presence is always felt.
The Model 329 Personal Defense AirLite Sc 44 Mag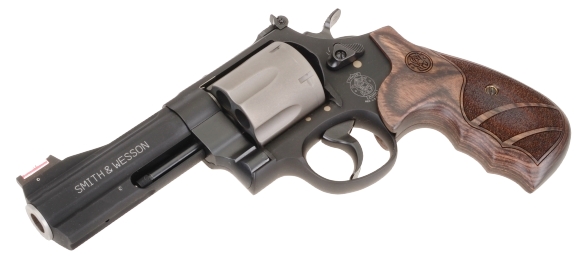 The Model 329 PD was introduced by Smith & Wesson in February 2003 as a personal defense firearm. Based on the large N frame, the 329 PD distinguishes itself from the S&W Model 29 and other Model 29 derivatives with a Scandium/ aluminum alloy frame, titanium cylinder and stainless steel barrel. While 3″ barrel versions have been produced by the S&W Performance Center, the introduction model had a 4″ barrel, as does the subject revolver. In a less blather, more numerical representation…
Model Indices

S&W Model 329 PD

S&W Model 29-10 Classic

Company

Smith & Wesson

Manufactured

Springfield, MA

SKU

163414

150254

Type Action

SA/DA

Caliber

44 Remington Magnum

Capacity

6

Barrel Length

4.13″

4.0″

Barrel Material

Stainless Steel

Blued Alloy Steel

Frame Material

Round Butt, Scandium Alloy, Black

Blued Alloy Steel

Cylinder Material

Titanium Alloy – Natural

Square Butt, Blued Alloy Steel

Grips

Wood + Synthetic

Walnut

Front Sight

Hi-Viz Red Fiber Optic

Ramped Red

Rear Sight

Adjustable V Notch

Adjustable Square Notch Outlined

Weight

25.2 Oz.

43.8 Oz.

Overall Length

9.5″

9.3″

Overall Height

6.0″

Cylinder Width

1.71″

Hammer Key Lock

Yes

MSRP

$1,179

$1,031
Weight, in context, is tough to represent through written word… or through modern dance for that matter, as each person has their own points of reference. The Model 329 PD weighs one and one half pounds: 42% less than a Classic Model 29 4″, 37% less than a 4″ barrel L Frame 357 Mag revolver or 5″ barrel 1911 service pistol, and two and one half ounces less than a lightweight, poly frame, 4.25″ barrel S&W M&P9 M2.0.
Still not connecting? How about one half the weight of a shutter worn thirteen year old digital camera, with a thirty year old lens and a fifty year old UV filter? Sorry, I'm just distracted by this finicky old piece of electromechanical wreckage that is being so uncooperative today. One day, it will meet its demise at the end of a firearm review. I do not know where to go from here on the topic of weight, so let us move on, shall we?
Balance
While the Model 329 PD is very light for this caliber and size of revolver, it has good balance. The stainless steel barrel counterbalances the lightweight frame and cylinder, resulting a very steady hold and associated sight picture.
Sights
The Smith & Wesson 329 PD sights are very good; range of adjustment, increment of adjustment and they stay put where set. It took a bit to get used to the V notch rear sight but, once sorted, it was fast on target and precise in shot placement. For folks with different preferences, there are many different drop in Smith & Wesson and aftermarket sight component sights or sets, including front/rear fiber optic at reasonable prices.
Size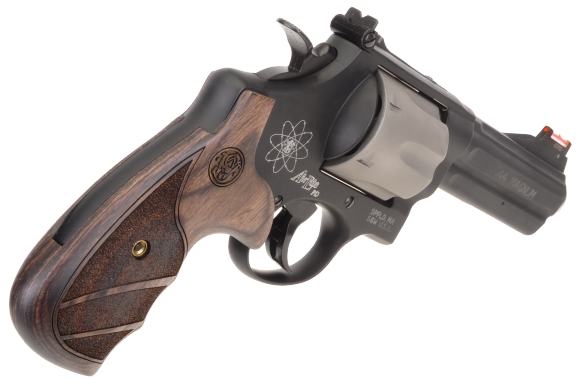 Yes, the S&W Model 329 PD is an N Frame, a Model 29 made light, but it carries and feels like a more compact L Frame revolver than a Model 29. The cylinder diameter is 1.7″, but the rest of the revolver is slab sided and compact.
Hang on tight
The Model 329 PD is supplied with both a round butt wood grip and a square butt synthetic grip. Each gives the revolver a different shooting personality. Both grips are hand filling, which makes the the combination of light revolver – big cartridge quite controllable.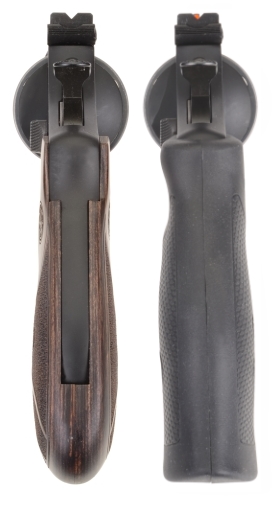 The round butt grip tends to let the revolver roll upward on discharge, redirecting recoil away from the wrist. The square butt grip tends to keep the muzzle down and dampens recoil effectively. I would guess the round butt grip is better for concealment and it adds a little fancy to the Model 329 PD's appearance.
The soft synthetic grip's increased width, hand filling contour and extended length provides a larger hand contact area. This form dissipates recoil, provides enhanced control and, perhaps, adds a useful bit of finger reach to the trigger for a more stable grip.
Speaking of shooting…I have to laugh at some of the drama posted to social media regarding the Model 329 PD's recoil, where each comment in a thread adds one more increment of exaggeration until it gets to, "I pulled the trigger and the 329 PD spun my arm completely around… several times", followed by, "Same here and my other arm was spinning too!!..!"
No one should be surprised that a 44 mag revolver, any 44 mag revolver, has… enthusiastic recoil. In the world of big bore revolvers, the lightweight Model 329 PD would not rank as being prohibitive or even exceptional, but "stout" might be a realistic adjective to apply. I am not a big guy, but I managed to shoot a decent amount of rounds remaining more impressed with the revolvers performance than being preoccupied with its recoil.
Adaptable
For the initial range outing, not knowing what to expect in terms of rumored wrath of God recoil, I installed the soft supplied grip, slipped on my shooting gloves, strapped on my crash helmet, and made my way to the shooting bench. Music blared, the crowd of spectators parted to either side as I advanced, my ear muffs, ear plugs and shooting glasses on the shooting bench, awaiting my arrival. Yeah… not really.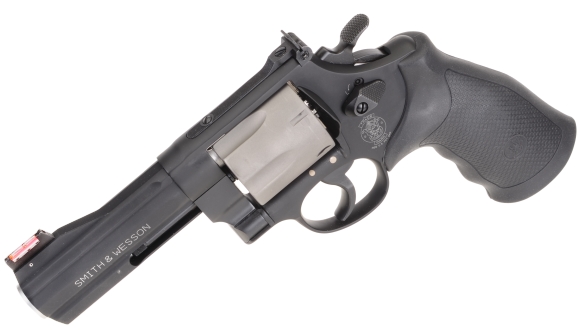 Folks who shoot a 357 Magnum have the option of also shooting 38 Special ammo for long sessions of target practice. Aficionados of the 44 Magnum have the lower power ammunition  alternative of the soft shooting 44 Special, which broadens the revolver's useful applications. The SAAMI MAP pressure for the 44 Magnum is 36,000 psi and 15,500 psi for the 44 Special.
As a trail gun, or for taking larger game, the S&W Model 329 PD can be loaded with 44 Magnum ammunition for capability significantly beyond a 357 Magnum. For hunting smaller game and for general self defense, 44 Special ammunition can be loaded and the Model 329 PD becomes a much softer shooting revolver.
Because the 44 Special case is 0.125″ shorter than the 44 Magnum, some handloaders prefer to soft load the 44 Magnum to protect chamber surfaces that would be exposed if shooting the shorter case ammunition. More theoretical as Smith & Wesson does not approve the use of handloads in their firearms that have not been pressure tested to SAAMI standards. A caveat typical of the firearms industry.
Factory ammunition
Brand

Type

Weight




Grains

Rated




FPS

Recorded




FPS

Hornady Critical Defense FTX

44 Special

165

900

978

Federal Champion SWC HP

44 Special

200

900

828

Federal Power Shok JHP

44 Magnum

180

1460

1383

Federal Fusion JSP

44 Magnum

240

1290

1150
Chronograph readings? To resurrect a cliche I was glad to see retire, it is what it is and this is. Keep in mind that ratings are typically established using the SAAMI standard barrel length for the individual cartridge and revolver ammunition is typically tested with a vented barrel to simulate the presence of a cylinder gap.
Test barrels are 5.763″ for the 44 Magnum and 5.638 for the 44 Special, which includes the respective cartridge chamber. The active barrel length beyond the chamber, for both cartridges, is 4.00″ which is the same as the subject Model 329 PD. The variance between rated and actual are typical for the brands in similar firearms.
But could I hit anything with the S&W Model 329 PD?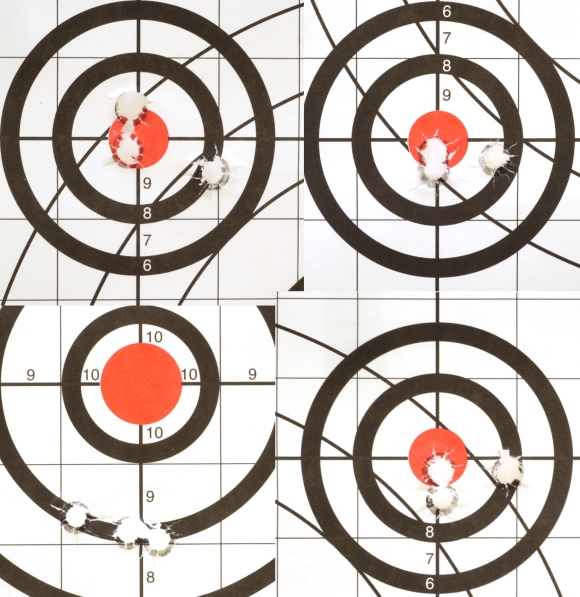 From the bench, mechanically rested, 50′: TL 1.5″ Hornady 44 Special, TR 1.1″ Federal 44 Special, BL 1.1″ Fed 180 grain 44 Mag, BR 1.0″ Fed 240 grain 44 Mag.  Human shooting, two hand hold at the same distance; three hits on an 8″ target… mechanical accuracy potential, versus random human behind the wheel. Yes, I could do better with my 40 oz 357 Mag, but then I have been shooting that revolver for a very long time, and a better big bore handgunner could have done much better with the Model 329 PD.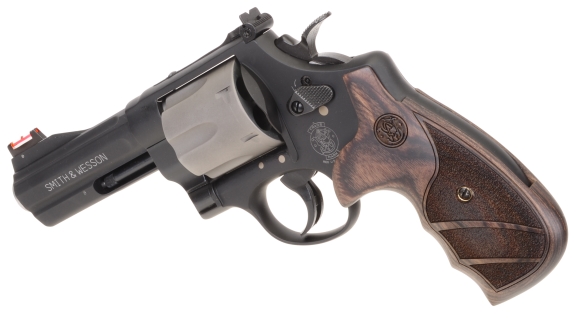 Where does that leave us?
The Smith & Wesson Model 329 PD has all of the attributes that would be useful for someone camping, hunting, fishing, or living and working in rural and remote areas. It could provide personal protection and it could put food on the table. Selection over another firearm of the same caliber would be based on the quality of the Smith & Wesson product and its very light weight which makes it an easy carry.
Is recoil pronounced? Sure. If a person feels maxed out with a the 357 Mag, all steel revolver, the Model 329 PD would not be a good choice, but then neither would most 44 Magnum revolvers. However, a person who is comfortable with big bore, performance cartridges… 44 Magnum, pumped up 45 Colt, 454 Casull, 475 Linebaugh, etc, the Model 329 PD would be a reasonable choice.Even so, in many instances, the Model 329 PD could provide adequate service loaded with 44 Special ammo, which would certainly mitigate recoil for more mundane applications.
Alternatives to the Model 329 PD? Smith & Wesson manufactures five 44 magnum product types, available on small and large frame, lightweight and standard weight, and in thirteen different barrel lengths so it is pretty easy to match shooter and shooter application with an appropriate configuration.
What would I change? Well, since you asked, and I only have to imagine and not actually to do anything. The changes would be aesthetic only, and mostly suited to an old guy who likes a conservative look in firearms. I would DLC black finish the titanium cylinder and stainless steel barrel, and match anodize the Scandium frame. I would eliminate the electron diagram for Scandium and change any white markings to laser etch black background color. Yes, a Johnny Cash Edition.