06/07/2021
The Hawkeye Predator is a long range hunting rifle. Offered in 22-250 Rem, 223 Rem, 204 Ruger, and 6.5mm Creedmoor, everything from small to medium size varmints, through large game like elk and moose can be accommodated, depending on caliber selected. Between hunting outings, it also makes a heck of a target rifle with more than enough mechanical accuracy to challenged a shooter's marksmanship skills.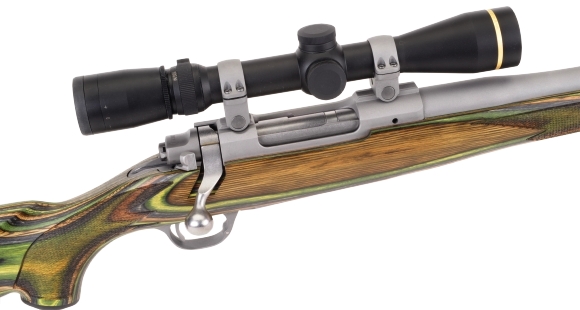 Ruger Hawkeye Predator
Manufacturer
Sturm, Ruger & Co. Inc.
Manufactured
Newport, NH
Model #
47108
Type
Bolt Action
Caliber
6.5 Creedmoor

Capacity
4+1
Barrel Length

24″
Rifling
1:8″ RH 6 Groove

Weight
8.1 Lbs
Overall Length
44″
Stock
Green Mountain Laminate

Barreled Action
Matte Stainless

Length of Pull
13.50″
Sights
Clean
Scope Mount

Ruger Proprietary

Safety
Three Position

MSRP
$1139
What makes the Predator so unique is that it is totally devoid of trendy, superfluous nonsense. It is not a rifle that has been warped, bent, stretched, shortened or in any other way tortured to pretend it to be something it is not. No thirty round magazine parked under it, no bag cuts under the buttstock to optimize use from a shooting bench, no muzzle devices, no bull barrel…. no bull.
In fact, the only deviation from what might be called sporter class standards is the Hawkeye Predator's 24″ medium profile barrel and adjustable target grade trigger. Standard sporters typically give the 6.5 Creedmoor a 22″ and a barrel contour one weight lighter. The result is an 8 lb Predator, rather than a 7 lb standard sporter.
In a world where weight matters obsessively to some, I figure it is easier to skip the second helping at dinner, shake a pound loose and hunt with a rifle with a bit more reach.
But it isn't a modern sporting rifle…
Typically, the AR-15 is defined as a modern sporting rifle, which is curious as the firearm type was designed in 1956, sixty five years ago. I am not sure how something qualified for social security gets to carry the "modern" banner. Additionally, the availability of semi auto and fully auto rifles with at least the same rate of fire have existed since 1777.
The Belton Flintlock sequentially discharged eight lead balls in three, five or eight second bursts. Benjamin Franklin lobbied George Washington to make a purchase of the Belton's firearm, Washington agreed, but an acceptable contract could not be penned. An early example of early pork spending, Presidential swamp draining and attempted price gouging by a government contractor.
Transactional analysis between myself and the group therapy conducted in the Real Guns Facebook comments section, I would state that my preference for a bolt action rifle, over a modern sporting rifle, is rooted in pragmatism. I have concluded that out of the box AR-15s not as accurate, not as reliable or as powerful as similar size and weight bolt action rifles. How does that make you feel?
Hawkeye, but no Chingachook
The Ruger M77 MK I was introduced as the company's first bolt action centerfire rifle in 1968. The next generation was introduced in 1993 as the M77 MK II. The change brought a three position safety, a newly design floorplate latch and a blade type ejector as well as a non-adjustable trigger. In 2006, the Hawkeye designation appeared on centerfire rifles, along with a slimmed down stock and non-adjustable L6 trigger. The Ruger Hawkeye Predator version was introduced in January of 2009 with a two stage adjustable target trigger.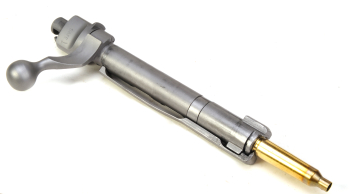 The Ruger Hawkeye Predator, with its full length, non rotating extractor is a controlled round feed design.Controlled round feed is an alternative to push feed found in rifles such as the Remington 700, Weatherby Mark V and Savage 110.
When a cartridge is picked up from the internal magazine, the round's rim is guided into and secured against the flat bolt face by the extractor claw and the slot in the top bolt lug. Regardless the position or angle of the rifle, the rounds position and travel are always… controlled. Driven by the bolt, push feed actions float the cartridge from magazine to chamber and have some reliance on gravity and firearm position and angle to feed reliably.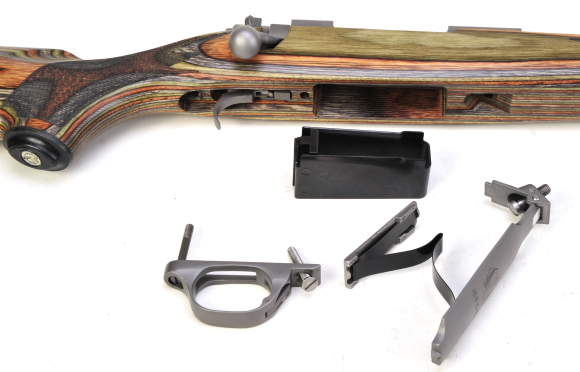 The Ruger Predator has a stainless steel hinged floorplate to facilitate unloading a full magazine. The magazine box has an aft spacer to bring the nose of each cartridge to the proximity of the feed ramp while still allowing maximum cartridge length loads. The floor plate release is embedded in the front of trigger guard; handy but still protected. Inside or out, the Ruger utilizes high quality castings and machined parts. No plastic to be found.
I have no problems with high capacity magazines, as it is always important to match personal preference with application and situation. Within the context of hunting, high capacity firearms work well for varmint hunting, long range hunting of medium size game in an open setting. They may also fit some types of big and dangerous game where not getting a critical hit after a few shots, and being left with an empty magazine, could be more than embarrassing.
My personal preference is a lesser capacity and a hinged floorplate because it fits my hunting style. I do still, stalk and post hunt, but I am a very conservative shooter and never shoot at running game or at ranges beyond a sure kill. All of my kills have been one shot with the exception of two, two shot kills and one mystery encounter. A hinged floorplate yields a flat bottom rifle and no interference with a hand or arm. They are also easy to unload at the end of the day without cycling an action.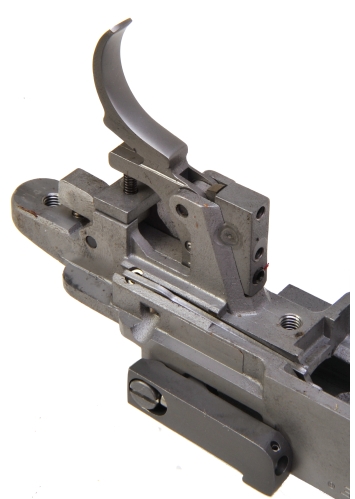 The Predator comes with a really slick, fully adjustable, short take up two stage trigger. A departure from what has been historically Ruger non-adjustable triggers. Ruger's description: "Two stage, light, crisp, with no overtravel" is solidly appropriate. The subject rifle's trigger had a measured two pound pull. Adjustment, while easy, requires separating the rifle's barreled action from its stock.
Ruger lists the barrel as a medium contour barrel, as opposed to a heavy contour target or varmint rifle barrel. It measures 0.650″ in diameter at the muzzle.
The rifle's 1:8″ rifling twist suits the 6.5 Creedmoor, a round that does well with heavy for bore 0.264″ bullets and the latest crop of long for weight leadless bullets. The Ruger also stabilizes lighter weight bullets, delivering excellent accuracy.

The laminated hardwood stock makes for a very stable barreled action / stock sandwich. The barrel floats in the stock's barrel channel for uninhibited barrel harmonics.
The 6.5 Creedmoor
Product names often are established to create transference; the emotions associated with something in past memory, hopefully positive, carried over to something new, prior to acquiring any actual direct experience. A common example of this is when you meet someone for the first time and feel as though you've known them for a long time. Frequently this happens because the new acquaintance shares traits in common with a person you know, or had known, well.
Creedmoor was a great name for Hornady, the designer of the cartridge, to reference. It was derived from the name of the rifle range opened by the National Rifle Association in 1873 on New York's Long Island and the range was host to the famous American – Irish long range rifle competition held in 1874. The term "Creedmoor" also defines a type of rifle used for Creedmoor type, long range competition. The history of the Creed's Moor range, its use for national Guard marksmanship training and how Colonel Henry Shaw arrived at the Creed's Moor name, is an interesting look into post Civil war America.
There is a tendency for most 6.5mm cartridge articles to qualify them as not mainstream. This may have been true at some point in history, but not today, and the 6.5 Creedmoor probably led the way to 6.5mm popularity. What initiated the 6.5 Creedmoor's rise to fame is quite different than what provided the inertia for it to quickly become such a popular cartridge.
The 6.5 Creedmoor was created as a technical solution to a mechanical problem for long range rifle competition. The 260 Remington was very successful in those applications. However, in order to meet overall cartridge length standards and fit within action and magazine length restrictions, case powder capacity is diminished when seating long and heavy match bullets.
Hornady's solution, the developer of the 6.5 Creedmoor cartridge, was to shorten and neck down the 308 Winchester case, reduce the body taper and sharpen the shoulders. In doing so, at a 2.800″ maximum overall cartridge length, long, heavy bullets extend further outside the case, rather than get pushed further into the case as they would with the 260 Remington.
Massaging case taper and shoulder angle kept 6.5 Creedmoor overflow capacity loss to 5%, when compared to the 260 Rem. This 5% loss, and the gain from seating long bullets further out of the case net out to approximately half to one grain of recovered capacity.
Yes, I do know that parent case for the 6.5 Creedmoor is typically noted as the 30 TC. However, the 30 TC is based on the 308 Winchester, as is the 260 Rem, and the "parent" designation belongs with the original cartridge. I guess 30 TC sounds more… Mysterious? Exotic? Not ammunition brand affiliated?
The Creedmoor's popularity booster shot came in the form of 1,000 yard competition rifle designs that were/are relative inexpensive and produce exceptional accuracy. That reputation for accuracy, justifiably or not, carried over into more mundane hunting and recreational target rifles and the buying stampede began… and persists.
Live fire

Two types of factory ammunition were used with the Ruger Hawkeye Predator when evaluating performance, Hornady 120 grain Match and Federal 140 grain Fusion hunting ammunition.
The Hornady, rated at 2,910 fps MV, clocked 2,904 fps from the Predator. Best 100 yard group measured 0.4″, largest group size measured 0.7″.
The Federal ammo, rated at rated at 2,750 fps MV produced 2,761 fps MV from the Predator. Best group size measures 0.5″, largest group measured 0.9″.
Rifle Personality
Recoil for the combination was moderate, as was muzzle rise and report. The Ruger was comfortable to shoot and it took no time at all to settle in shooting. The action cycled smoothly, requiring minimal effort. Shooting from the bench, standing and prone, the Hawkeye was easy to make stable with a simple shooting sling.
Rifle Aesthetics… It's complicated
Aesthetically, I would not have picked the Green Mountain stock laminate as a standalone component if I were… stock shopping. However, as part of this rifle configuration with its matte stainless barreled action I like it… a lot. The stock isn't boring, it is stable, it is durable, and it makes for good camo from spring through fall.
Everything on the rifle, metal or organic, is cleanly finished and slick in operation, from bolt throw to hinged floorplate ammo dumping. The scope mounting is solid and a scope will stay put as installed.
The longer, medium profile barrel contributed to the rifle's 8 lb weight, but I hauled this one around for some days and it did not feel excessive in the least. It is a very nice rifle and a good combination for hunting anything I could think of in New England.