01/17/2021
While Winchester has been manufacturing bolt action rifles since the Winchester Hotchkiss in the late 1800's. The Winchester Model 54, introduced in 1925, was the first mass produced civilian bolt action rifle. While I am an old guy… a birthday or two shy of carbon dating old, the only Winchester bolt action rifles that have passed through my hands over my life time have all been various Model 70s.
During my lifetime, the Winchester firearm brand has been under the control of four different corporate entities. The Model 70 has gone from mechanical art, to not so much art, and back to mechanical art again. The action has been control feed or push feed, but always one form of Model 70 or another. Times have changed, Winchester has changed and new generations of Winchester were and are inevitable.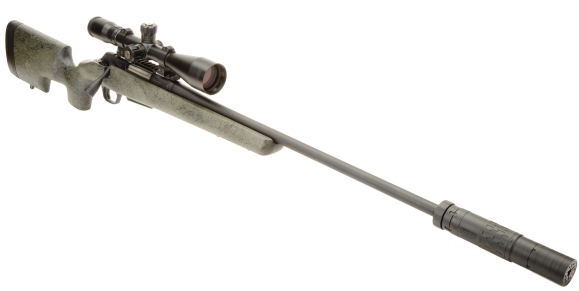 Winchester XPR Renegade Long Range SR


Manufactured
Viana, Portugal
Item #

535732255

Type
Bolt Action – Short

Caliber
300 WSM

Mag Capacity
3 Round Detachable

Barrel Length
24″  5/8″-24 Threaded Muzzle

Rifling
1:10″
Weight – Actual
8 Lbs 8 Oz
Overall Length
44″
Stock
Grayboe Renegade Composite
Hardware Finish

Perma-Cote Matte Black

Length of Pull
13 1/4″
Drop at comb
3/4″
Drop at heel
3/4"
Sights
Clean
Scope
Drilled and Tapped
Trigger – M.O.A.
Adjustable 3.5 Lbs Nominal
Safety
Thumb 2 Position
MSRP
$1,069.99
Available in: 243 Win, 6.5 Creedmoor, 7mm-08 Rem, 308 Win, 270 WSM, 300 WSM, 6.5 PRC
The Winchester XPR Renegade Long Range SR is an evolution for the XPR rifle introduced in 2015. The XPR has always been an accurate rifle, but a heavy dose of personal Model 70 bias had prevented me from seeing it as something other than a lower cost Winchester rifle undermining tradition, both Winchester's and mine.
I would guess that Winchester customers felt the same way in 1936 when the Winchester Model 70 came along as a replacement for the earlier Model 54.The difference today is that the XPR is produced alongside the Model 70, both refined firearms, but with the XPR offering a lower price tag for comparable models.
What makes this XPR long range?
A long range firearm reflects  a combination of mechanical accuracy and shooter accommodations. In the case of the Winchester XPR product line, mechanical accuracy is achieved through the combination of quality design, quality materials and quality manufacturing process.Yes, that is a lot of quality. Shooter accommodations, both application suitability and aesthetic preference, are packaged in twenty different models of XPR. The XPR Renegade Long Range SR is one model within this product line up, tailored to the long range shooter.
A purpose made stock
The Grayboe Renegade stock is designed for shooting from rifle rested or prone positions typical of long range shooting. The comb is high to support a noggin positioned to look down a scope's optical centerline. The palm swell, near vertical pistol grip provides stability of hold and offers maximum leverage and control for a trigger squeeze. The low cut neck allows the thumb to be an active participant in the hold. The undercut buttstock allows a shooter's free hand to micro adjust and steady elevation and duplicating the function of a bench shooter's use of a bunny bag and hand squeeze.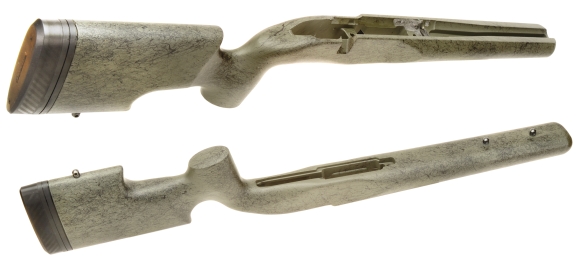 The wide, shallow beavertail forearm is an ideal support surface when shooting from prone and it provides a stable surface when shooting from a rest, backpack or similar. The two swivel studs accommodate both shooting sling and bipod. The Inflex recoil pad deflects recoil motion away from the face and comes with additional spacers to adjust length of pull.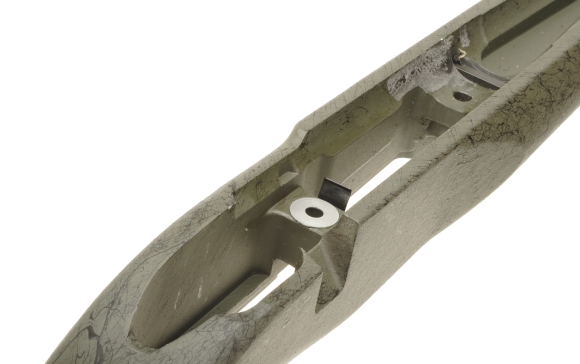 The stock provides aluminum pillar bedding for the action and an integrated recoil lug locks into the XPR action, preventing longitudinal movement and the barrel free floats. The Grayboe stock is a fiber filled, solid epoxy composite, but still scale checks at only 3 lbs 8 oz. There is no foam core or aluminum frame. Subsequently, the stock can be modified to accept things like an adjustable comb, flush cups for QD sling mounts. The barrel channel can be modified to suit a change in barrel contour or to glass bed. The stock works as is, but some folks like to tune to an individual preference.
Details matter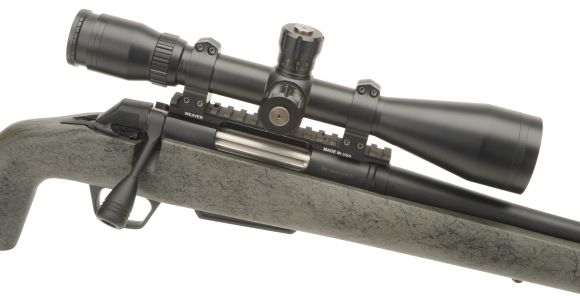 Long range rifles tend to have large and relatively heavy optics. Under recoil, a rifle moves back quickly, but the scope wants to remain where it is. In that millisecond before the scope accepts it is going along for the ride, the scope mount, rings and a collective of fasteners are place under a good deal of stress. The XPR receiver is tapped for large 8-40 size fasteners rather than the more common 6-48 fasteners. The Winchester ejection port is open top, however, a Picatinny rail to allow flexible scope positioning did not interfere with single round feeding or ejecting fat WSM cartridges.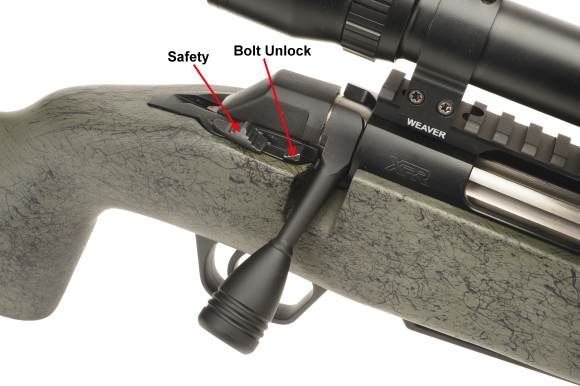 Controls are convenient, beginning with the slide safety and bolt unlock, which parallel the bolt shroud. The two position safety indirectly blocks trigger movement and locks the bolt closed when the safety is engaged. The bolt release allows the bolt to be open to clear the rifle's chamber with the safety engaged. The oversize bolt knob is handy; no fishing for a tucked in bolt handle/knob that is made for hiking through brush. However, the bolt knob is screwed in place and can be changed.
The Winchester M.O.A. trigger is a good one for precision shooting, which coincides with long range shooting. A third lever, an actuator, provides component geometry that doubles mechanical advantage of the trigger piece , shortens travel to half the distance of a conventional trigger and preloads the trigger components. The result is no pretravel, no creep and no overtravel. Pull is preset at the factory to 3.5 lbs, however, there is an adjustment range of 3 to 5 lbs. Two set screws at the front of the trigger housing set trigger pull and overtravel.
The bolt, like the receiver, is machined from bar stock and through hardened. When surface hardening was state of the art, a little use would wear through and friction was handled by base metal. The three lobe design results in a brief 60° lift, the full diameter body adds to the bolt's rigidity and flutes prevents binding gunk build up in heavy use. The slick, corrosion resistant coating is nickel Teflon. Again, details, but the bolt can be disassembled without special tools…. that I have a tool box full of. The sliding extractor grips firmly and reliably. The ejector plops empties out without launching them into the next county.

A little better view of the stock contours from the bottom side.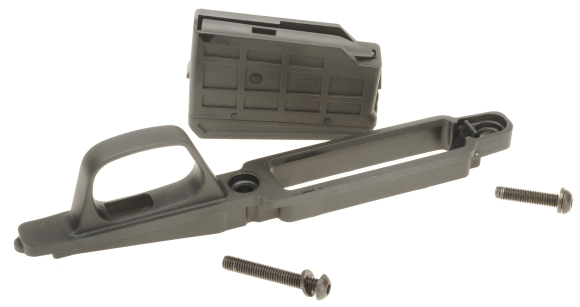 I have given up changing trigger guards and floorplates and looking for metal magazines. I believe expensive, forged steel and deeply blued replacement pieces they have gone the way of tin toys, narrow whitewalls and maple trimmed rosewood forends and grip caps.,,, and bubble skirts on 1949 Mercury coupes… and the word "coupes". The trigger guard and magazine are polymer, will not rust and will no doubt feed more reliably than metal pieces over the long haul. The magazine stacks cartridges straight up and down and serves them up from the center. The magazine holds 3 WSM rounds and magazines can be preloaded and stowed in jacket pockets… or shirt pockets… pants pockets work also.
Winchester XPR Renegade Long Range SR barrels, XPR barrels, are fashioned from chromoly steel, button rifled and thermally stress relieved for consistent accuracy over a wide temperature range. The XPR is secured to the receiver with a barrel nut. While the approach lacks the thrill of precision lathe operation and contribution to factory floor din, it is an easy way to achieve spot on headspace with skilled assemblers, a headspace gauge and a couple of hand tools. Yet another contribution to the XPR inherent accuracy.
The 24″ barrel has a sporter contour, rather than a boat anchor weight some manufacturers insist on hanging on anything listed as "long range". The barrel, like the receiver and bolt handle are finished in Perma-Cote; high abrasion and corrosion resistance and non glare. The barrel has a target crown and 5/8-24 threads to accommodate a variety of muzzle devices. In this case a SilencerCo Omega 36M modular silencer.
Why a silencer?
The silencer was invented to curb firearm report, at a time when population density was increasing. The initial ads showed family members target shooting at a backyard picnic where noise was minimized with the use of a silencer. Organized crime gave silencers a bad name, as they did for just about everything else they touched and Hollywood, as only Hollywood could or would, sensationalized the topic while ignoring a silencer's primary use and benefit.
I use them all of the time these days. My ears love them, my distant neighbors love them and active area hunters love them. Only actors, politicians and the uninformed see the drama in their use. In this case, the Omega 36M went from 338 Lapua Magnum to this 300 WSM application and seriously dampened noise without shedding velocity. The Omega 36M is rated for cartridges from the 22 Hornet to the 338 Lapua Magnum at specified barrel lengths.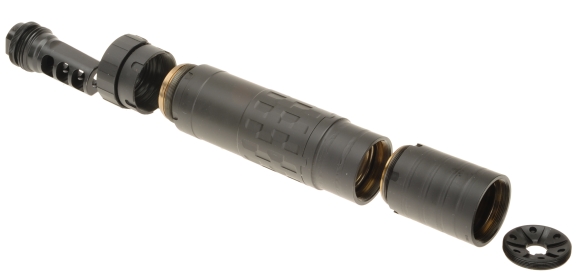 The SilencerCo Omega 36M is covered in detail in Part II and in standalone review, however, it is a great match for the Winchester XPR Renegade Long Range SR. Using SilencerCo's quick attach/ detach ASR (Active Spring Retention) mount system, left to right: ASR Brake, Charlie ASR Mount, Omega 36M rear baffle module, front baffle module, and Charlie end cap.
The 300 WSM
Hard to believe the WSM cartridges are twenty years old. I've spent time with them and found them good cartridges. My favorite is the 270 WSM and the 300 WSM is a close second. For me, it isn't so much that the cartridge is superior to other 300 Magnums, belted and beltless, but rather they seem to show up in exceptional rifles… like the Winchester XPR Renegade Long Range SR and in other rifles more compact than the typical magnum. With a 308 Win length, they can keep pace or exceed the corresponding 30-06 length belted magnums.
Handloads done, waiting for the Maine sunshine to go away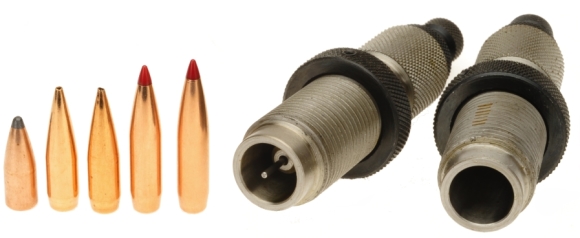 The 300 WSM case length and geometry adapt very well to the most recent VLD and ELD bullet designs, so that is where we will pick up in Part II and conclude with some live fire performance data. In the mean time, there is a snow shovel in the garage with my name on it.