03/01/2021
OK, so it has been snowing every other day for the past couple of weeks. Not large amounts, mostly 2″ to 3″, but spread out enough throughout each day to warrant multiple clean ups. At midpoint in the season, I've concluded that the most important piece of equipment acquired is not the new snow blower, but rather a pair of suspenders.
Men seem to go one of two ways in body form as they grow older. Some become sedentary, grow a cantilevered gut and are destined to waddle until the day they die… which often comes too soon. Others, I have heard, develop health problems related to an undisciplined life, begin to see Jesus in crowds and in their rear view mirror… and once or twice on TV, and make changes.
You have seen the type, they lose weight and exercise, maintain for years and then, one day, they wake up and discover they no longer have a butt. They pull up their pants, have less aft mass to inhibit upward movement and end up with a belt line at their arm pits. Unfortunately, along with their butts, also goes their waistline and hips; nothing to hold their pants up. Life becomes a constant cycle of pulling pants up, walking five steps, pulling pants up again, walking five steps, etc..
Eventually, it becomes almost impossible to walk behind a snow blower without losing control; one hand on the auger clutch, one on the drive clutch and constantly letting go of one or the other to grab a fist full of pants to pull up. Grab too often; loss of snow blower control and an unexpected trip off the driveway and into the woods. Insufficient grabbing; the cold winds of winter chill nether regions, pants trip at the ankles and neighbors begin to sell their homes and move away.
Suspenders. Wonder if they make them for gun belts?
History not related to the movies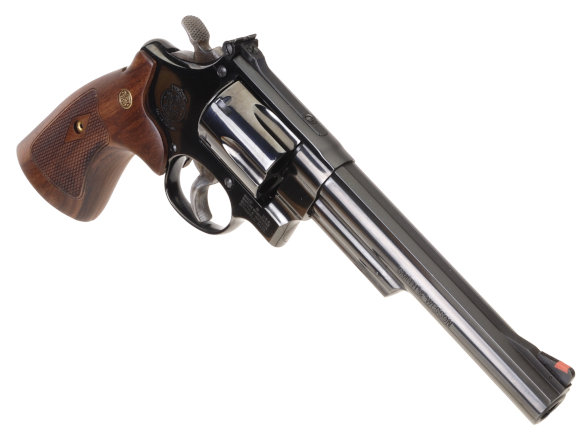 In 1908, driven by competition with Colt and in support of the company's new .44 S&W Special cartridge, Smith & Wesson introduced their first large frame, swing out cylinder, double action revolver as the .44 Hand Ejector. Scaled up from earlier .32 Hand Ejector (1896) and .38 Hand Ejector (1899) models, the N frame .44 Hand Ejector was chambered in: .44 S&W Special, 44 S&W Russian, .44-40 Winchester, .455 Mark II, .38-40 Winchester, .45 S&W Special, .45 Colt, .450 Eley, and .22 Long Rifle rimfire during its production run 1).
The combination of large frame and .44 Special cartridge proved to be exceptionally popular with law enforcement, for use in self defense and for use in bullseye competition, quickly displacing the predecessor .44 Russian.
At the close of 1955, the first official N Frame S&W was introduced, chambered for the then new S&W/Remington collaboration, the .44 Remington Magnum. The new model received the designation NT-430;  N Frame, Target, .430″ bore. In 1957, the NT-430 became the Model 29 as Smith & Wesson began assigning model numbers. Five screw, four screw, triple lock, or not, the Model 29 has subtly evolved, design and configuration, to keep up with the times and applications.
The S&W Model 29 Classic
Smith & Wesson Model 29-10 Classic


Company
S&W
Manufactured
Springfield, MA
SKU #
150145A
Type of Action
Double – Single Action
Caliber
44 Magnum
Capacity
6 Rounds
Barrel Length
6.5″
Construction
Carbon Steel

Finish
Blued – Gloss

Grips
wood
Front Sight
Red Ramp

Rear Sight
Adjustable
Weight of Firearm
47.7 Oz
Trigger Pull – Lbs
5.3 SA / 11.2 DA
Overall Length
11.25″
Overall Height
6.00″
Width
1.71″
Key Lock
Yes
State Approved

All

MSRP

$1,200.00
The current Model 29 Classic shares a good number of features with the original Model 29. The current version is built on the square butt, target N frame with a 4″ or 6½" barrel. The barrel is crush fit rather than pinned. The front sight is pinned, the rear sight is fully adjustable.
The target hammer is 0.500″ wide, however, the trigger is 0.375″ rather than original 0.500″. The current Model 29 Classic side plate is secured with 4 screws.
The Model 29 Classic is a triple lock with its cylinder retained by the center pin at the breech face, at the cylinder locking notches by the cylinder stop and at the ejector rod by a shrouded locking bolt.
The subject Model 29's fluted cylinder measured 1.710″ in length and OD. Cylinder face to breech face checked 1.900″. The SAAMI maximum cartridge overall length for the 44 Remington Magnum is 1.610″.
Outside chamber walls measured 0.080″, however, the bolt notches are over each chamber, rather than between. Adjacent chamber walls checked 0.080″.
The cross radiused top strap measured 0.250″ thick at the peak and 0.660″ wide. The cylinder gap measured 0.007″. No noticeable cylinder rock or end shake.
Yes, a Model 29 Classic can pull off being a presentation case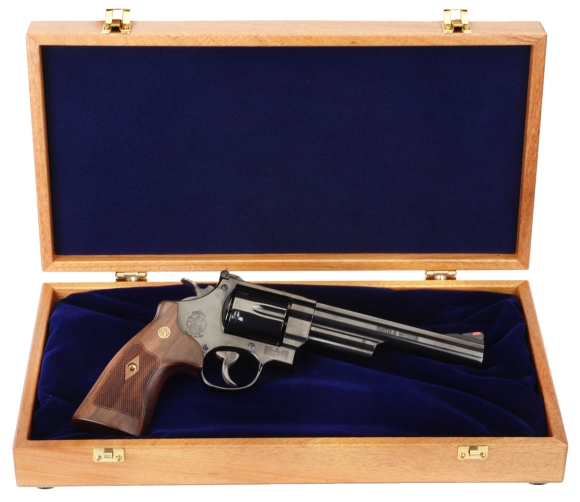 This particular Model 29 Classic configuration ships in a blue poly S&W hard case. However, a very nice velvet lined mahogany presentation case in included. Nice touch and the Model 29 Classic looks at home inside of it… but not for long as it is a shooter's revolver and not meant for static display.
For almost a foot in length, the Model 29 doesn't feel heavy. With a balance point at the crane, it is easy to place target, even a moving target. In the right belt or chest holster, the Model 29 Classic is a easy field carry. In some circumstances, easier than carrying even a carbine rifle as it frees both hands to accomplish other tasks.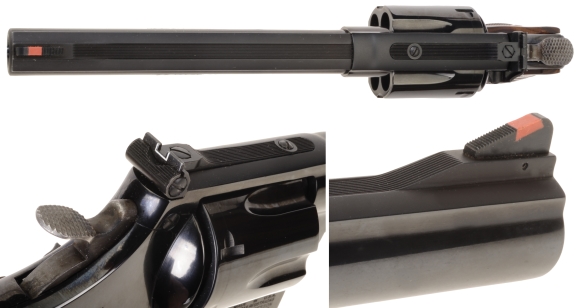 The Model 29 can be set up with a scope or red dot sight, but the metallic sights are more than enough for 50 yards or so for deer size game. The rear sight is adjustable for windage and elevation and the ramped front sight height keeps elevation adjustment below center range. The combination of white outline and red blade make for a clean sight picture.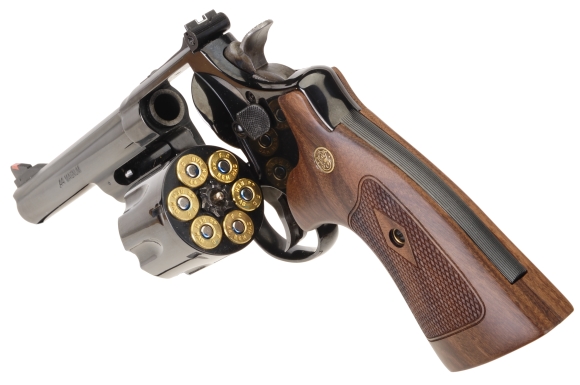 The grips are thinner than previous iterations, however, they are tall and hand filling, they distribute recoil well and they provide good clearance when reloading.
The 44 Magnum – Nearing 65, but you would never know it
I am not going to tell the story of the .44 Remington Magnum. I am very old, so I have heard and retold the story too many times. If you do not know the story, I would urge you to research the information as it reflects a significant component of modern firearm history and the contributions of some very colorful and savvy people. You know, what happened during the 28 years before "Make my day…".
The difference in performance between the Model 29 and the S&W 1908 .44 Hand Ejector revolvers.
Ammunition

Cartridge

Bullet




Type

Bullet




Weight




Grains

Rated




MV FPS

Recorded




MV FPS

Federal Power Shok

44 Magnum

JHP

180

1460

1622

Federal Fusion

44 Magnum

JHP

240

1290

1396

Hornady Critical Defense

44 Special

FTX

165

900

1075

Federal Champion

44 Special

SWC HP

200

870

895
Excuse me stranger. Aren't those cards marked?
Groups are three shot in deference to tight ammunition supplies and because more shots only appease the firearm inexperienced and amateur statisticians who prowl social media. I go to the range before hunting to check out a firearm, verify ammo performance and make sure the sights are properly adjusted; twenty rifle cartridges, twenty rounds of handgun cartridges as applicable. If I am hunting locally, the next shot or two is at game. If I am away, three shots to check zero before heading out, followed by a shot or two at game. So tell me which of the statistically correct five sets of ten round groups apply to a hunt?
Playing cards were used, 2 ½" x 3 ½". $1 for 52. Their small size and interior frame makes for more critical aiming at a distance. Shot at 50′ from a rest, the long sight radius and clean sight picture worked well. The groups, left to right, are in the order of the table, bottom to top. Respectively… 1 ½", 1 ¾", 1 ½", 1 ⅛".
Shooting 44 Special ammo, report, recoil and muzzle rise were similar to shooting 38 Special ammo in a medium frame 357 Magnum revolver. Shooting 44 Magnum loads in the big N frame was clearly more substantial, but not difficult to control or unpleasant.
I thought for sure the narrow grips would eventually get to me, but they did not. I might want to change to a soft grip with a different contour, more to straighten the trigger finger angle than to absorb recoil.
The hammer key lock at no time failed, interfered with operation of the firearm, threatened my masculinity, or attempted to draw me into political debate. I found it to be unobtrusive, aesthetically inoffensive and, with my eyesight, mostly invisible.
What can one, or even two, do with the Model 29 Classic and 44 magnum ammunition?
It is fair to say that elephant and cape buffalo have fallen to 44 magnum revolvers, as have all north American big and dangerous game. In the right experienced hands, with the right ammunition, it happens with some frequency. From my perspective, the combination of Model 29 Classic, handgunner proficiency and good 44 Mag hunting ammunition is a solid selection for any medium to large thin skinned game in North America, including elk and moose, particularly inside fifty yards.
As more routine application, certainly deer, black bear and hogs. The Smith & Wesson Model 29 would also serve well as a general purpose trail gun. Would I select the Model 29 for big bear hunting? No, not at all, but only because I do not have that level of handgun proficiency and I do not have significant experience bear hunting.
In general, the Model 29 and the 44 Magnum cartridge is a line delineation between the general purpose and soft shooting 357 Magnum revolver and the more severe 454 Casull revolver and the 460 S&W and 500 S&W X Frame models. For me, the latter group is too specialized for my routine use.
I admit I like 5 shot, 454 Casull single action guns, but I don't care to shoot them often. Something about a heavy 45 caliber bullet, ahead of a lot of powder and 65,000 psi of chamber pressure that makes for a raucous shooting environment. The 460 S&W and 500 S&W revolvers, particularly long barrel versions are as good as a magnum rifle, but too much for me in routine application. I'm thinking about a black bear hunt this coming fall and I would bet the Model 29 would make for an interesting hunting trip.
I truly appreciate Smith & Wesson resurrecting some of these classic revolvers and for producing them with so much quality. They are reminders of our history and of how exceptional firearms and cartridge designs can endure.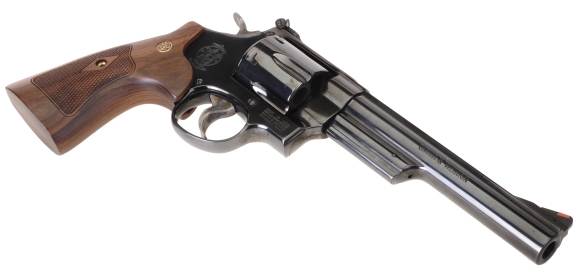 1) Standard Catalog of Smith & Wesson 3rd Edition