02/21/21
My mind set when purchasing firearms has changed quite a bit over the past few years. Where once selection of a firearm system was driven by aesthetic appeal, uniqueness and curiosity, selections are now driven by: product reliability, applicability to self defense and home security, flexibility, and availability of ammunition. No, I've not becomes a cynic, but I have become more pragmatic in my view of the world around me and ever less dependent upon others.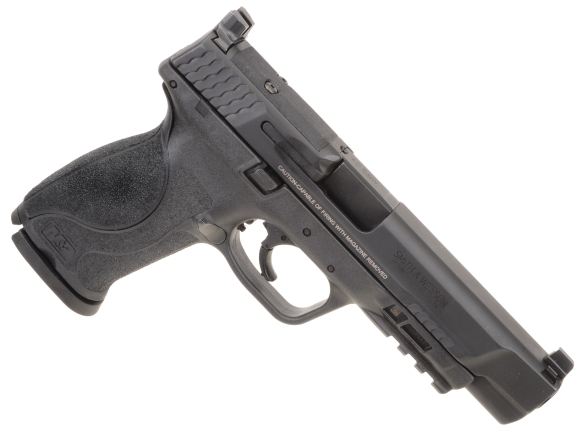 Full size handguns deliver the best ballistic performance and are the simplest to master. They have a long sight radius for more precise sight alignment, they have a full size grip for greater magazine capacity and firearm control and a longer slide's greater weight and reduced reciprocating velocity result in reduced recoil, reduced muzzle rise and reduced slide racking effort. Overall, the M&P 40 2.0 5″ requires less operational effort under stressful conditions and, as an easy shooting pistol, it tends to log more practice time at the range.
S&W Performance Center®
M&P®40 M2.0™ C.O.R.E. Pro Series® 5″ Barrel

SKU

11829

Manufacturer

Smith and Wesson

Point of Origin

Springfield, MA

Type

Striker

Caliber

40 S&W

Magazine Capacity

15

Barrel

5.0″

Rifling

1:10″

Overall Length

8.5″

Overall Height

5.4″

Overall Width

1.20″

Weight

29.4 Oz.

Sight Radius

6.875″

Trigger Pull – Actual

6 Lbs. 1 Oz.

Rear Sight

High White Dot


Front Sight

High White Dot


Barrel Material

SS – Armornite® Finish

Slide Material

Stainless Steel

Slide Finish

Armornite® Finish

Frame Material

Zytel Polymer

Grip

18° with 4 Grip inserts


Manual Safety

No

Magazine Disconnect

No

Loaded Chamber Indicator

Yes, Slide Top

MSRP

$741

Also Available in 9mm Luger and 45 Automatic
The Smith & Wesson Military & Police product line was introduced in 2005, formally presented at Shot 2006. During its production run, the full size M&P has been chambered for the 9mm Luger, 357 SIG, 40 S&W, and 45 Auto. M&P 2.0 was introduced in 2017 and is currently available in 9mm Luger, 40 S&W and 45 Auto, each caliber in multiple configurations.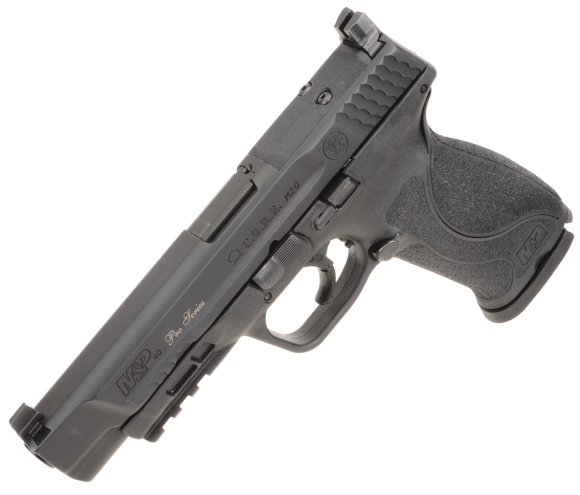 Why the 40 S&W? The 40 S&W has significantly more going for it in terms of bullet weight, bullet mass and kinetic energy than the 9mm Luger. The 40 S&W is a little easier to shoot than the 45 Auto and the 40 S&W has 50% greater magazine capacity than the 45 Auto in comparable size firearms. The 40 S&W is one of the big three in terms of auto loader ammunition supply and popularity, with 117 factory loads from 24 brands. More popular are the 9mm Luger 227 loads from 30 brands and the 45 Auto 129 loads from 28 brands, with the 10mm Auto's 61 loads from 18 brands trailing the pack.
A  kit gun or maybe a systems gun? Maybe both?

A "kit", in general vernacular, is a set of articles or equipment needed for a specific purpose; camping, fishing, hunting, trapping, hiking, and road trips. In my experience, a kit mostly begins with first aid items and sunscreen, then blossoms from there. A firearm of appropriate type is included in all. Especially road trips within Maine, where Constitutional carry is the law, a centerfire handgun is part of the travel kit.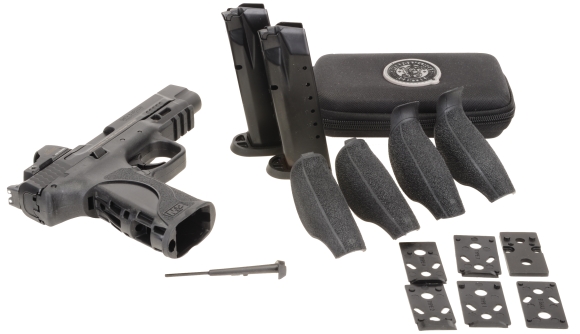 The S&W makes for an excellent kit gun in most of the noted applications. More than just being a reliable, high capacity pistol with a potent cartridge, it is also flexible and adaptable. No, that does not mean it can bend, just that it can be configured with accessories to better suit many applications. In the box are: two 15 round magazines, 4 grip inserts (S,M,M-L,L), 7 optoelectrical sight adapters, a full cleaning kit, and a frame tool… the latter S&W nomenclature.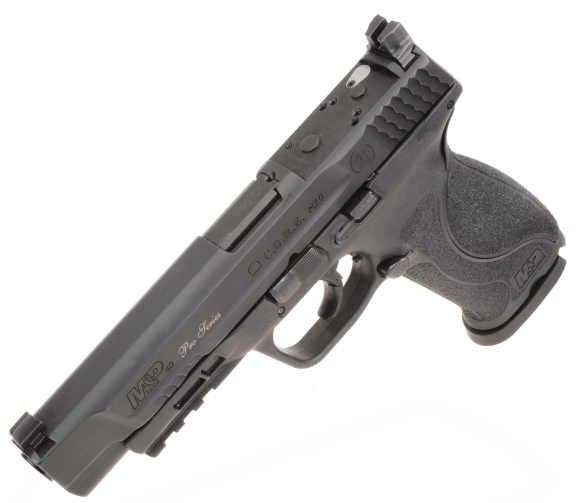 In addition to the accessory rail and adjustable grip fit, the slide is milled to accommodate a variety of optoelectrical sights. The high profile conventional sights permit use even with an open reflex sight installed. With the slide top dust cover removed, the seven adapters included with the pistol will mount most brands of sights.
No, the C.O.R.E. Pro is not shot from the Hollywood B movie position, but if I inset the picture in the vertical position, I would not be able to fill the blank space to the right of it with a meaningful paragraph.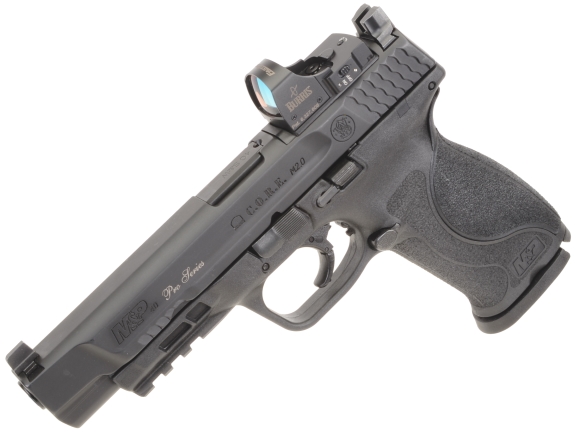 In addition to being a C.O.R.E. pistol, Competition Optics Ready…E, the slide stop is accessible on both sides of the pistol and the magazine released can be switched between left and right side. A cursory chamber check can be made through the port at the barrel tang. The trigger is refined, including audible trigger reset, as a Performance Center standard and the pistol has an adjustable trigger stop to limit overtravel.


Bottom side is clean with accessory rail and contoured, not concave front trigger guard surface.
Inside out…
An extended stainless steel chassis is secured within a Zytel grip frame. The ramped stainless steel barrel, Armornite® finish, sits low in the slide for reduced muzzle rise. Force required for slide actuation is moderate, slide fit is tight, but movement is slick. Disassembly is takedown lever easy with the only tool that might be required contained as part of the grip assembly.
Impressions – Live fire
Not the old elastic band triggered striker. It took a long time for me to enjoy shooting a striker fired pistol, outside of a last resort proposition. Smith and Wesson addressed the trigger issue with the original M&P release. The M&P 2.0 trigger is greatly improved over even the original M&P; significantly lighter pull, crisp, less creep and active pull is approximately 1/8″. Reset is short with tactile and audible cues.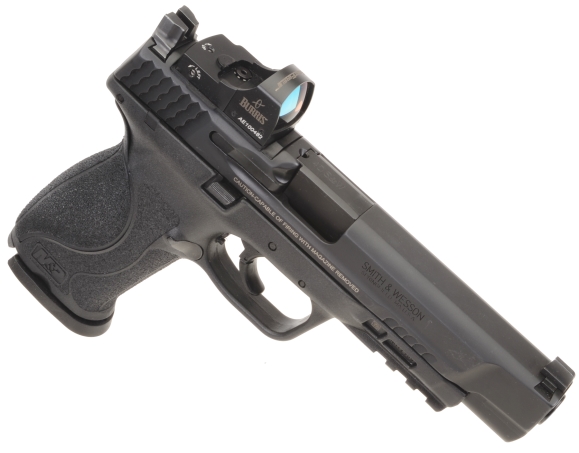 The M&P 2.0 has more aggressive grip texturing, an understatement as the gripping surfaces feel like 60 grit sandpaper… but in a good way. It definitely adds to control of the firearm even under rapid fire where maintaining grip continuity is critical. Most important with this particular model is its hand filling size. Contrary to what might be gleaned from social media, every pistol does not have to be concealed in a shirt pocket and every pistol is not to be judged as to whether one or two fingers hang off of its grip.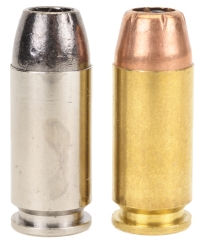 The Smith & Wesson Performance Center M&P40 2.0… catch my breath… C.O.R.E. Pro, was shot with two types of popular ammo, ahead of Part II which includes handloads. Barnes TAC-XPD 140 grain and Remington High Terminal Performance 180 grain.
The Barnes ammo, rated at 1,120 fps MV clocked 1,069. The Remington ammo, rated at 1,050 fps MV checked in at 1013. 25 yard accuracy, 5 shot groups were 2.25″ and 2.1″ respectively, reflex sight in place and shooting from a rest.
Whether grip size, heft, or low bore axis barrel, the M&P40 2.0 exhibited very little muzzle rise, making double tapping on a target relatively easy. I shot using the red dot on the reflex sight, then through the reflex sight utilizing the pistol's metallic sights. The long sight radius made for accurate shot placement. It is a nice shooting pistol.
For folks who do not need to mount optical sights, do not want the 5″ barrel length or for those who feel the 40 S&W recoil is a little too stiff, there are derivative models. Fiber optic sights, 4.25″ barrel length and ported models are available, as are 9mm and 45 Auto chambers. I probably use fiber optic sights most frequently, but I have a growing appreciation for pistols with low profile reflex sights and there are a good number of inexpensive paddle holster that accommodate that configuration.
What next?
Part II, of course. I began by describing essential types of firearms, particularly those that are supported with the widest range of factory ammunition types and companies. Unfortunately, empty shelves and no stock online listings aren't much help. So part II will focus on 40 S&W handloads, cast and jacketed, and potential of recycling spent casings into useful and, hopefully, good performing inventory.