11/08/2020
Finally, summer gear and equipment is stowed, winter gear and equipment is staged. After two light snow flurries, the official start of winter in Maine is a mere formality. Charcoal gray skies, bone chilling temperatures and air heavy with humidity suggests a season of heavy snow lies ahead. It has been a tough year for most Americans. Subsequently, the challenge of severe weather and associated distractions are welcome. Perhaps there is a little of Hemingway's Santiago in all of us.
The intersection of nostalgia and modern art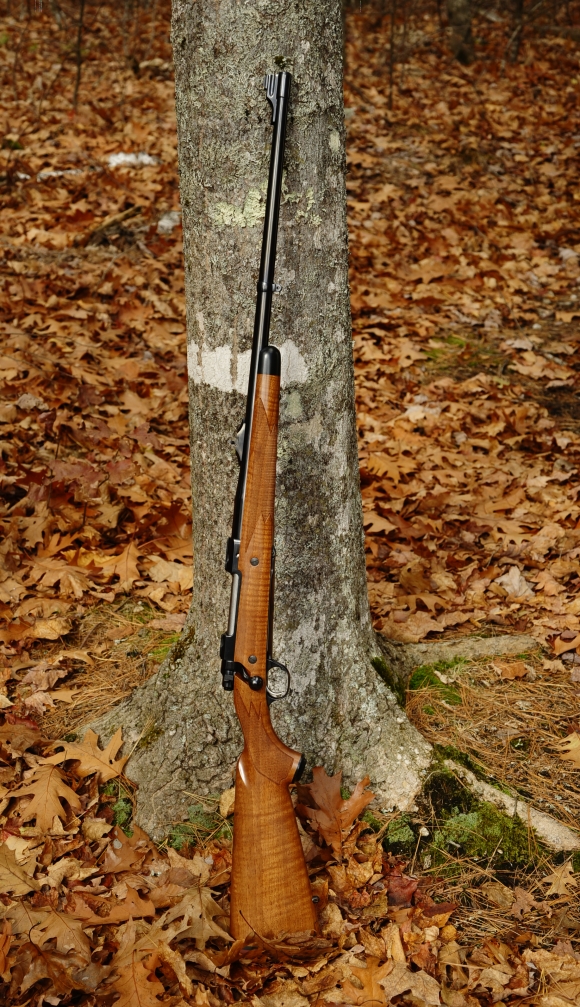 The Ruger Hawkeye African has all of the appearances of a classic express rifle, however, it is made with modern manufacturing technology, processes and materials. Subsequently, it has all of the aesthetic appeal of an early to mid 1900 firearm, but none of the mechanical foibles.This particular dark honey colored American walnut stock is figured with tiger stripe from forend to recoil pad.
The Ruger stock's comb has little drop so as to accommodate either optical or metallic sights. Conservatively checkered surfaces, hand filling rounded contours and ebony caps remain. Precision casting, CNC machining and select heat treating make for a long lasting, tight mechanical assembly. Deep bluing and satin polymer wood finish make for durability that will withstand the test of hard use and severe weather.
Receiving SAAMI homologation in 2014 on a Nosler submission, the 280 Ackley Improved cartridge bears the spirit of P.O. Ackley Improved cartridge with its minimal body taper and 40° shoulders. However, the 280 Ackley Improved has approximately 10% greater capacity than Ackley's original cartridge, the 7mm/06 Ackley Improved. It also has less taper, a longer body and 5,000 psi higher operating pressure. Part II will address cartridge nuance and history. For now, the rifle…

Ruger Hawkeye African Rifle

Manufacturer
Ruger Firearms
Model
57126
Type
Bolt Action
Caliber
280 Ackley Improved

Magazine Capacity
4
Barrel Length
24"
Rifling
1:8.5″ 5 Groove
Weight
7.5 lbs

Overall Length
45.88"
Stock
American Walnut – Ebony Tipped

Hardware
Satin Blued

Length of Pull
13.50″
Drop at comb
3/8″
Drop at heel
3/4″
Sights
Folding Rear – Gold Bead Front
Scope Mounting

Ruger Proprietary

LC6 Trigger Pull
3 lbs. 12 oz. (Actual)

Safety
3 Position Thumb Safety
The Ruger Hawkeye African 280 AI is fitted with a 24″ barrel… coincidentally, the same length as the SAAMI specified test barrel standard used to velocity rate factory ammunition.
Despite the longish barrel, the rifle has excellent balance, which aids when offhand shooting or tracking to a moving target. None of that swinging a softball bat momentum, but enough weight up front to be steadying.
The barrel banded sling mount is a tradition carried over from big bore express rifles. The rifle, when slung, carries low on the shoulder and away from branches. The absence of a sling stud in the forearm is intended to protect the shooter's hand from contact under severe recoil.
The 280 AI is a mild recoil cartridge, not producing the heavy recoil of a 458 Lott, or the retina detaching recoil of a 505 Gibbs. Subsequently, Ruger has been considerate in leaving a mounting point in the forearm for those who would prefer this location for a front sling swivel stud.
I've observed a good deal of social media discussion and impressive calculations regarding the barrel band; non-uniform pressure harmonics and the potentially adverse impact on accuracy.
Perhaps the best way to assess the influence of the barrel band is to step away from the computer, head out to the range and shoot the rifle. This is the fifth or sixth African that has seen extensive range time at Real Guns and they have all demonstrated excellent accuracy. So…
The Ruger scope mounting system is proprietary, however, there are numerous manufacturers producing their style of rings for the application. Typically, the rings packed with each Ruger Hawkeye are used, but I wanted to mount an old favorite Leupold scope with a 50mm objective lens because aging eyes need light more than super high magnification. A pair of Warnes medium height rings gave me a 0.050″ increase in ring saddle height and paper thin clearance under the bell, locating the scope as close to bore centerline as possible.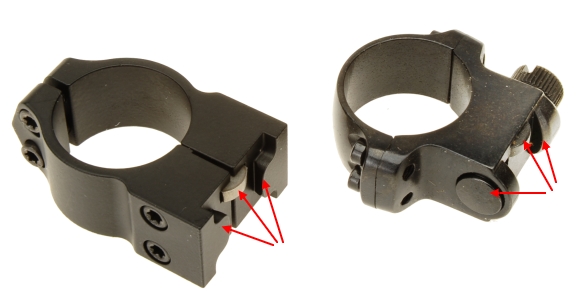 Both the Warne, above left, and Ruger rings lock to the Ruger's receiver at three points, anchoring the rings longitudinally and laterally and keeping the scope aligned and parallel to the rifle's bore.
The figure in this stock is quite striking. It is as though an American Walnut tree was planted close to a curly maple. The forearm is short, quick tapered, but hand filling at the checking. The front screw at the forend can be replaced with a sling swivel stud.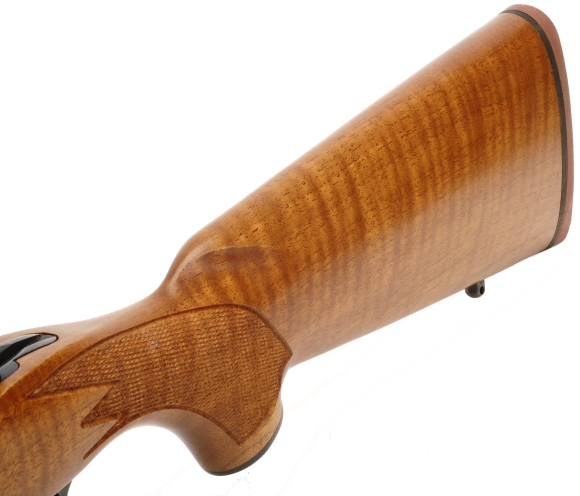 No Monte Carlo stock hump, no cheek piece, just a clean straight comb and sweeping grip makes for a natural shooting position and plenty of support. Ruger uses a thin line recoil pad which may seem a tad thin, but in practice not at all. And the pad does not feel like a giant gum eraser being pulled to the shoulder.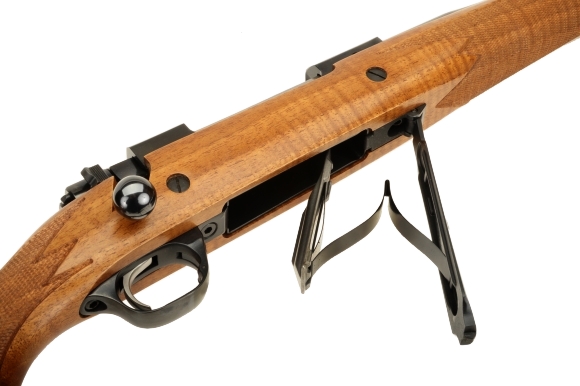 With the flush mounted release in the front of the trigger guard, the Hawkeye's hinged floorplate is a useful feature. Few people go out for a day of hunting and conclude with an empty magazine, even if they have a deer carcass in tow. I have also heard rumors of some reviewers shooting numbered cartridges for data collection, who occasionally get preoccupied and can't remember if they loaded rounds #56, #57 and #58, or #58, #57 and #56. It is a lot easier and safer to release the floorplate, dump the magazine contents, then clear chamber check.

A rear, folding leaf express sight is adjustable for windage and elevation. The ramped front sight is faces with a brass bead. The combination is quite visible against virtually any outdoor target and critical enough in alignment to deliver solid metallic sight performance. Not fragile in the least, adjustment stayed put throughout range days.
Will I find 280 AI ammunition in Froozbut, Alaska?
The 280 AI is an improved cartridge, so standard ammunition, in this case the 280 Remington, can also be safely fired. There are approximately 18 factory loads for the 280 Remington and 12 factory loads for the 280 Ackley Improved, so 30 factory loads that are compatible with the Ruger Hawkeye African 280 AI. The difference between standard and improved 280 ammunition, which is why the Ackley Improved exists. Federal Premium 150 grain ammo  is rated 3,075 fps for the 280 Ackley Improved and 2,890 fps for the same in 280 Remington, or a 185 fps difference.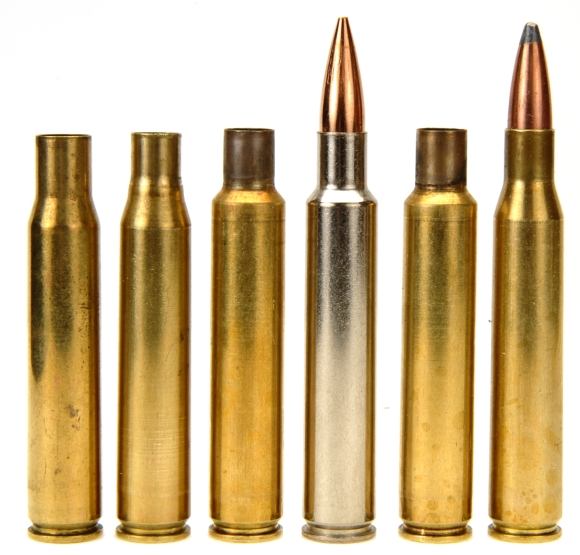 The handloader has a much bigger universe to work within as 280 Ackley brass is available and virtually any 30-06 Springfield derivative case can be made into 280 AI Brass. Left to right – A 30-06 Springfield, followed by a 30-06 Springfield passed through a 280 AI sizer die. A 30-06 Springfield case after being sized in a 280 AI sizer, reloaded and fired in a 280 AI chamber. A factory Federal Premium with 168 grain Berger bullet. Right to left – a 280 Remington cartridge, a 280 Remington fired in the 280 AI chamber.
Untrue truisms…
My working theory is that no cartridge is inherently accurate, so I do not believe that going from 280 Remington to 280 AI will improve a rifle's accuracy. Conversely, I don't think going from 280 AI to 280 Remington will make a rifle less accurate. This is with the qualifier that ammunition is good quality in both cases. Fire forming brass consumes energy as the brass inflates to fill the chamber. Surely that would alter velocity and accuracy.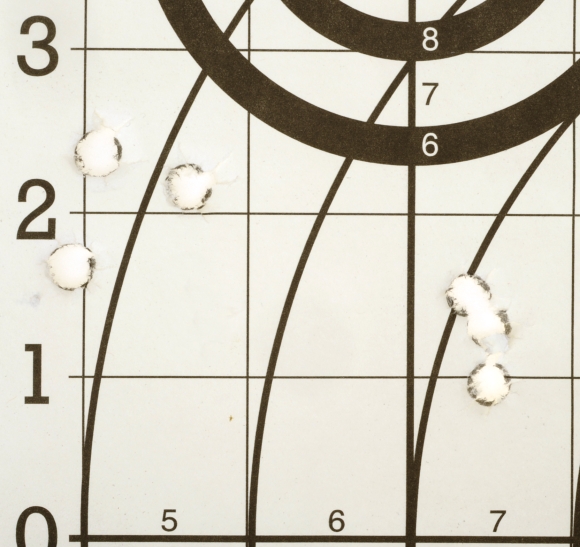 The 7/8″ 100 yard group on the left was shot with Federal Premium 280 AI 168 grain Berger clocked at 2,757 fps. The 1/2″ group on the right was shot with 280 Remington handloads 160 grain Speer clocked at 2,767 fps. Measurement is center to center farthest holes.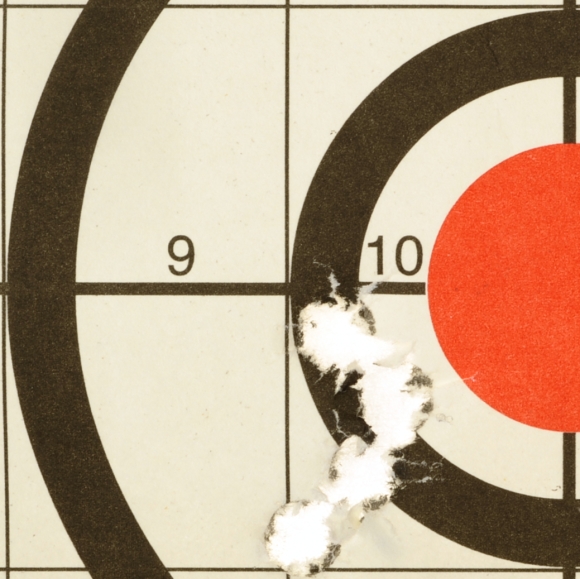 The same box of Federal factory ammunition produced this 5 shot, 100 yard, 3/4″ group. At this point, not enough data points to reach a formal conclusion, but I do not see the 280 Ackley Improved shooter hampered by the use of 280 Remington ammo to a major degree. The plan is to work up enough handloads to verify as yet.
Are we done here? Not exactly…
Today, temperatures have climbed into the 80s, the lawn has remained green beneath all of the dead leaves and the Ruger barked all day without a hiccup. So, we'll take a break, spend a few days at the reloading bench and then a bunch more at the range. If I have the time and inclination, maybe I can get some targets out to 200 yards and see how that goes.
The Ruger Hawkeye African is a traditional hunting rifle. I don't believe it is the best choice for fending off multiple imaginary attackers, or clearing its way through a hoard of zombies, but it is a heck of a rifle for a deer, elk or moose hunt and one that fosters pride of ownership.