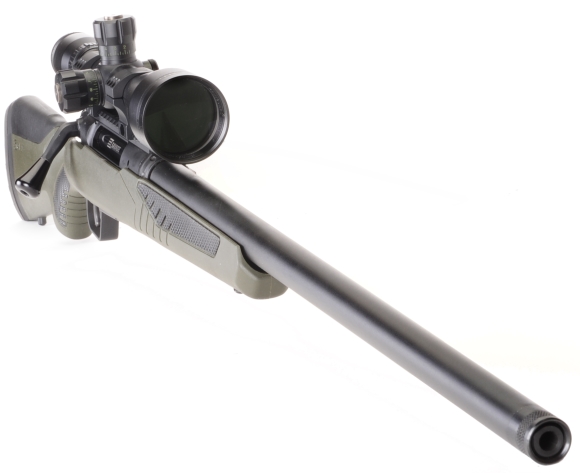 It looks as though Savage Arms, out from under the Vista Outdoor corporate umbrella, has a bright future with innovation and market expansion as the new company's objectives. Savage CEO Al Kasper, who has been with Savage since 1996, would seem to have the best perspective on the company's potential. I would guess that Savage Arms can now move a lot faster, and with a lot more focus as suggested by the new Savage Impulse.
The Savage Impulse
The Impulse is an excellent example of Savage innovation resulting in a good shooter, with good value and with broad application potential. While the straight pull design seems to be drawing all of the headlines, I believe it is but one of many features that combine to make this such a terrific firearm.
Straight pull rifles are not uncommon as a design, although certainly they are not as prevalent in the U.S. market and certainly not as executed by Savage.
Straight pull rifles have appeared on Real Guns® in military form. Most notably in the forms of the K31 Swiss and M95 Mannlicher, both of which have conventional locking lugs and a low mechanical advantage camming action that rotates bolts in and out of battery. Both rifles weigh in at 10+ lbs and neither reasonably converts to sporter configurations.
A civilian straight pull centerfire design has appeared on Real Guns®, the Blaser R8 Jaeger, which utilizes an expanding collet bolt head that locks up within the rifle's barrel extension. A very nicely designed firearm with many positive features… except perhaps its $5,000+price tag.
The Savage Impulse seems to have matched the Blaser R8's strength and performance at approximately 25% of the Blaser's price.
Savage Impulse Hog Hunter

SKU Number

57656

Manufactured

Westfield, MA

Action

 Bolt – Straight Pull

Caliber

300 Winchester Mag

Barrel Length

24″ Medium Contour

Muzzle Device Threads

5/8-24

Barrel Material

Carbon Steel

Twist Rate

1:10″

Barrel Finish

Matte Black

Receiver Material

Aluminum

Receiver Finish

Matte Black

Magazine Capacity

3 Rounds

Stock

Synthetic

Length Of Pull

13.75″ – Adjustable

Overall Length

44.25″ As Shipped

Weight

9.1 lbs

MSRP

$1,379.00
A basic walk through
I am aware of nine non-US manufacturers making straight pull, or linear pull centerfire rifles. None are generally available in the U.S. and all suffer at least the same price problem as the Blaser, if not a great problem. Most are expanding collet bolt head lock up designs, or traditional rotating multi lug designs, with the exception… superficially, of the Heym SR-30 multi ball detent design. The Savage Impulse is the sole U.S. straight pull rifle manufacturer that is in wide distribution.
Good news for lefties… for the most part. The Impulse bolt handle fore and aft resting angle  can be adjusted. Additionally, the bolt handle can be left or right side. Combined with the symmetrical buttstock, the Impulse suits right and left handed shooters, however, ejection remains to the right. Once the bolt is locked in the forward position, it can be released and opened by depressing the Quick Bolt Release as indicated below.
The Impulses barrel has a steel extension that fits into the rifle's aluminum receiver. When the bolt is driven home and the bolt handle is locked forward, a plunger inside of the bolt moves forward, forcing the HEXLOCK bearings outward and into engagement with the barrel extension. Use of round bearings and hemispherical engagement, along with the rifle's floating bolt head, make for precision alignment to bore centerline and cartridge casehead.
The AccuStock contains a rigid rail that mounts the action and keeps the rifle zeroed. The Savage Impulse has a ambidextrous, two position tang safety. The bolt can be opened with the safety engaged by depressing the Quick Bolt Release. The bolt handles can be adjusted fore and aft to a number of predefined positions and it can be moved to left or right sides. The AccuTrigger has an embedded trigger safety and it is adjustable.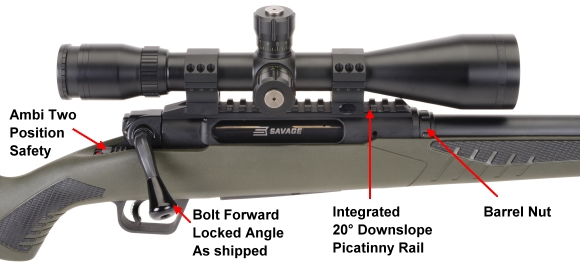 The integral Picatinny rail sits low on the receiver, allowing lower mounting of large objective lens scopes. The rail is is down in the front to accommodate longer range shooting while keeping scopes closer to optical center of adjustment. While the barrel extension is held to the receiver with a four fastener clamp to facilitate ease of disassembly/assembly, a barrel nut controls critical headspace settings.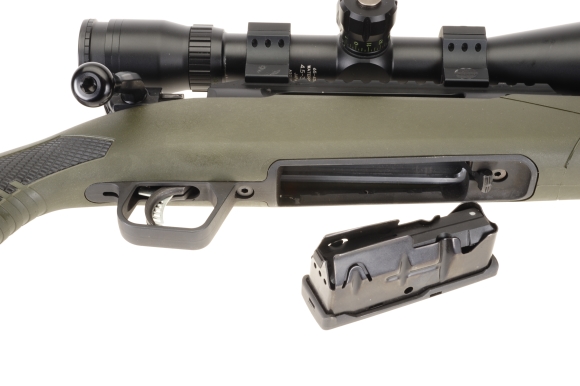 The belted 300 Winchester Magnum version of the Savage Impulse holds 3 rounds in its detachable magazine. All other Hog Hunter models hold hold 4 rounds.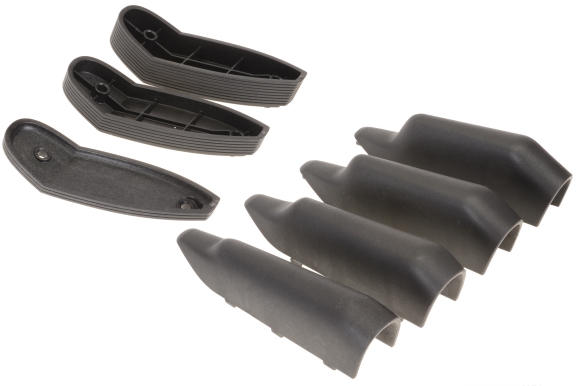 Yes, when I was a young man, we shot fixed configuration firearms and loved getting bashed around by ill fitting stocks. Young people have whined so much that manufacturers how give them adjustable length of pull, with the inclusion of recoil pad spacers. They also give shooters adjustable stock combs to set eye to scope alignment and head support. Yes, I know, very nice. I like to call these pieces padded shoulders and comb overs, being part of the 0.0001 % of the shooters who complain about them.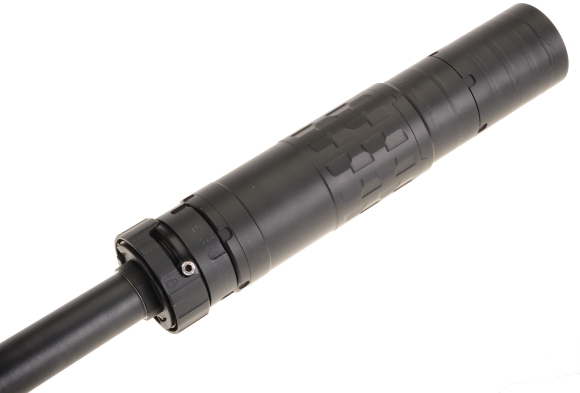 Yes, those threads on the muzzle can be put to good use. In this case, a SilencerCo Omega 36M silencer that did a good job taking the edge off of both report and recoil.
Ah yes, the noise part of it all…
In a world where ammunition makers short supply and raise prices, I do cry… just a little bit, every time I pull a trigger on factory ammo.
Winchester Superformance 180 grain ammo, rated at 3,130 fps clocked 3,162 fps. Remington Express Core-Lokt 150 grain ammo rated at 3,120 fps clocked 3,261 fps. The SAAMI barrel standard length for the 300 Winchester Magnum is 24″, I am currently assembling handloads to well seasoned handload recipes. Yes, that was an attempt at a pun… thank you for noticing, and more information coming.
Overall…
The Impulse Hog Hunter name is curious to me, but only because I think this is a rifle configured for longer distance shooting and on significantly heavier bodied game. Also because I have only hunted hogs close in with open sighted rifles and handguns and the 300 Winchester Mag is a big game round. Great rifle for elk, moose, bear, deer… Could it be used with lighter bullets for coyote at a distance or pronghorn? You bet.
The impulse in this magnum caliber is well behaved. Good recoil pad, good stock geometry and a bit of recoil dampening heft. With the Omega 36M is place and recoil and report substantially dampened, the Impulse was a pleasant big gun to shoot.
Gripping surfaces are appropriately place and not in the least bit slippery. Stock contours gives the Impulse a very natural feel. Trigger pull was crisp, even when not adjusted to lightest pull settings.
I did not spend a lot of time or expend a lot of ammunition shooting groups with factory ammunition, perhaps four sets of three shot groups for each of the two ammo types. Sub MOA performance was routine, some well inside. One Remington ammo group went 3/8″. The silencer did not hamper accuracy in the least, so good groups on or off. I like it. Good hunting rifle.
Is straight pull a "thing". I do not know, but I know it is not gimmicky in this context. It fits right in with the AccuStock and AccuTrigger shooting enhancements.
A variety of straight pull designs have been around for over 100 years and it is very popular in Europe. Because it is fast? Maybe, but usually a second shot is limited to the shooter recovering from recoil in centerfire calibers above pipsqueak. I know it is a pitch to MSR shooters who may not have access to that type of firearm in their part of the country.
Straight pull improves shooting posture and it removes a lot of awkward bolt throwing motions that work against a retained, steady hold. Straight pull, at least this type of design, does a better job of handling breech pressure. In truth, it is a more natural cycling motion than a conventional bolt action. I look forward to more time with the Savage Impulse.