01/03/2021
It has been very cold outside for this time of the year. Temperatures bumped into single digits. For as prepared as we are, this time of year always makes me a little anxious. This will be the first year without a tractor mounted snow blower. The replacement snow blower I wanted would not be available until mid January. Even then, I was not sure if that one would be a direct fit or if some mount fabrication would be required after receipt. So, after a good deal of research, a commercial walk behind was purchased as the best interim solution.
For the past two months, every walk to the end of the driveway to check mail has been a visualization of what it will be like walking behind a snow blower, rather than riding on a tractor. Not counting walkways and bump outs, the driveway is three hundred feet long, twelve feet wide, so it will take two or three round trips to clear. Not normally much of a walk, but in eighteen to twenty four inches of snow, with the temperatures below zero and buffeting winds, while wearing heavy boots and snow gear… We will just have to see how it goes.
Okay. I finished my coffee and yawned enough to wake up, so…
 Being equipped for a new reality
I don't mind society, as long as I do not have to interact with it. This election brought out the worst in people and I do not see 1955 returning anytime soon. If there was one message I gleaned from the fiasco, it is that people are on their own when it comes to personal safety and the safety of those close to them.
The sky is falling! The sky is falling! No. Not at all. The chances of having to muster a defense… no, that word was not intended to be mustard, are slim to none. Still, caught between a 911 recorded message, "All of our lines are busy at this time…" and some clown attempting to burglarized the family home because they believe apprehension and prosecution are remote, is not a great time to consider defensive strategies.
Ammunition shortages, component shortages, support material shortages, and concealed carry considerations have moved my decision making in new and unusual ways, always with the objective of self sufficiency. Before politics and mass hysteria disabled America, I mostly open carried either a Colt 45 Auto Officer's Model or a Ruger GP100 4.2″ 357 Mag. I can do that because, outside of a road trip, or infrequent appointments, I am either home, in the shop, or out wandering around in the surrounding woods.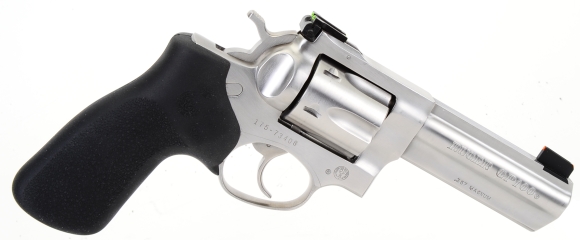 The GP100 is built like a tank as it leaves the factory, so changes are only finesse. The Hogue Monogrip is soft, has less rake than the factory grip and has no finger grooves. Adjustable fiber optic sights replace the factory three dot adjustable sights. The hammer spring is reduced rate and a trigger job was performed; modified engagement angles, micro shims and contact surface polishing. The revolver can be shot single action, but it is tuned for double action and that is how it is shot. If I could have but one handgun for self defense and to provide sustenance , this would be it.
The Colt was purchased factory new and, as received, it would not consecutively cycle more than two rounds. Currently, about the only pieces that are Colt, and those have been modified, are the slide and frame. It is an oldie, but the trigger is slick, the pistol is 100% reliable and it is probably the most natural shooting handgun I own. In a belt holster it is an easy carry, even though it weights just under three pounds loaded and in a leather paddle holster. In the winter I can carry it concealed, but not when wearing a sweatshirt or light jacket in warmer weather. The 45 Automatic provides the same level of self defense, but it is a little light for hunting. It would be my second choice.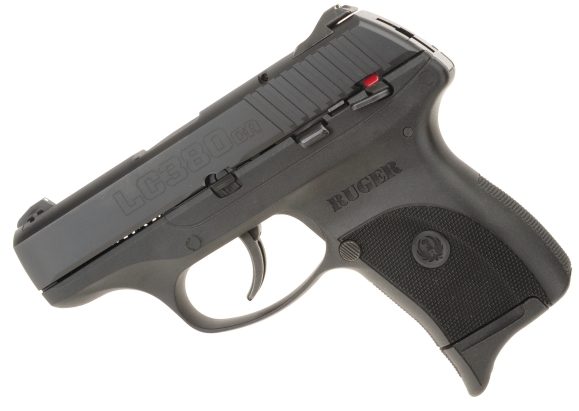 Recent concerns over ammunition supply shortages, future road trips planned and a subsequent need for less conspicuous carry, have extended firearm selection to include the 9mm Luger and 380 Auto. One such pistol is a very compact LC380 with a 9mm Luger conversion kit. My wife prefers the 380 Auto, my preference is the 9mm Luger, but the change over from one cartridge to the other takes less than thirty seconds. A minute and one half if I make the change over during breakfast.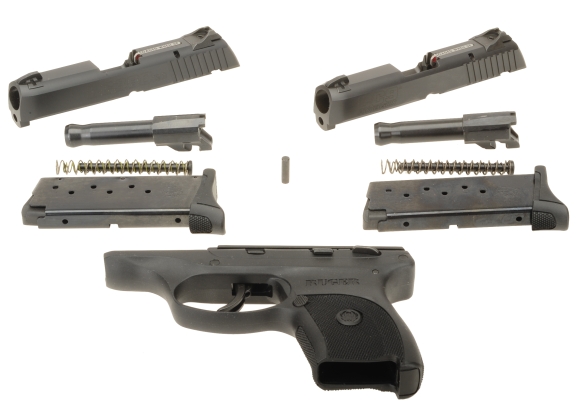 In either configuration, the slide is easy actuating, controls are well places, the grip is large enough to make the pistol controllable for both me and my wife, the sights are good, and the pistol is rock solid reliable. An inside the waistband holster and the thin, slab side pistol disappears from view. Definitely a self defense piece and a compromise made where concealment is a priority. It is not a substitute for either the GP100 or the Officer's Model, it is a supplemental firearm.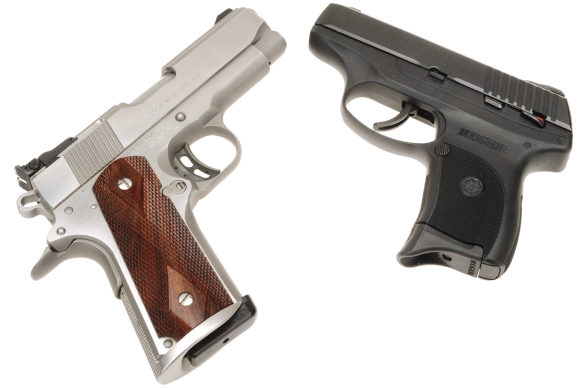 Two auto loaders, two distinct power levels, to distinct concealed carry potentials. There are 132 types of 45 Automatic ammunition, the combined output of 28 brands. There are 237 types of 9mm Luger ammo, the combined supply from 31 brands. If ammunition shortages continued, the 45 Automatic and 9mm Luger represent the best chance to locate, barter for or buy a supply.
A little bit more…
If a compact and highly concealable was not a top priority, or the ability to covert to 380 Automatic was not necessary, An auto loader in 9mm Luger, similar in size and capacity to the 1911 Officer's Model would take the place of the LC380CA.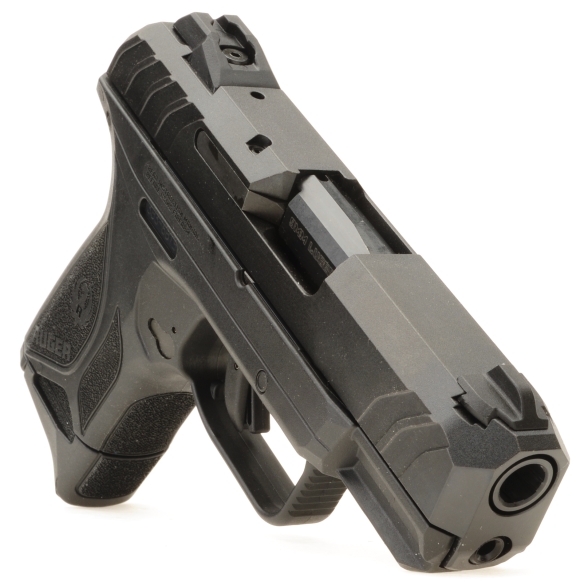 In the case of the Ruger Security-9 Compact, the package is still relatively narrow, 1.02″, the slide is low profile, the barrel length is a longish 3.42″, and the truncated grip makes overall height only 4.35″. But, Joe, I need at least a fifteen round capacity to fend off zombies that often attack in packs. Well, that is probably why there is also a full size Security – 9, but for folks who want a more compact firearm, but may occasionally want greater capacity, Ruger offers fifteen round mags for the Compact.
Okay, step forward and turn to your right. No, your other right…
Ruger Security – 9 Compact




Manufactured

Prescott, AZ

Model

03818

Caliber

9mm Luger

Internal Chassis

Hard Coated Aluminum

Grip Frame


Glass Fiber Filled Nylon

Slide

Alloy Steel – Black Oxide


Type Action

Secure Action


Magazine Capacity

10

Trigger Pull

4 Lbs 9 Oz

Barrel Length


3.42″

Barrel Material


Alloy Steel

Rifling

1:10″ RH

Sights Front – Rear

Fixed – Drift Adjustable


Overall Length

6.52″

Overall Height

4.35″

Thickness

1.02″ at Slide


Weight

21.9 Oz. Empty


Safety

Thumb, Trigger

State Approval CA, MA

No, No

MSRP

$379
The Ruger Security-9 product line has been with us since December of 2017. Introduced with the tag line "Secure, Simple and Affordable", it has proven to be just that while evolving into nine catalogued configurations and ten distributor exclusive models; single stack, double stack, full size and compact.
RUGER describes the Security-9 pistol as a lightweight, compact, Secure Action™, magazine-fed, recoil-operated pistol, chambered for the 9MM Luger.
Its action is a linkless tilting barrel design that fires from a locked breech. A cam located on the barrel directs the lock and unlocked condition and timing of those events.
Cycling extracts and ejects empties, presets the hammer and loads the pistol's chamber with rounds fed from the magazine. Any standard and +P ammunition 9mm Luger ammunition is approved for use in the Security – 9.
Unlike a striker design that often makes 1911 owners laugh out loud, and soda shoot out of their collective noses, when someone suggests a striker has a good trigger… think glue gun, the Security – 9 has an excellent trigger.
The Secure Action is a preset hammer, single strike, double action design. The rearward movement of the slide cocks the hammer to approximately 95% of full travel, trigger pull provides the remaining 5% and compression of the pistol's mainspring before sear release. In short, the cycling slide does the heavy lifting, which makes for a relatively short, crisp trigger pull.
A safety is embedded in the Security – 9's trigger, which is automatically depressed under a trigger finger. Its purpose is to prevent inadvertent discharge of the pistol in the event of being dropped or roughly handled. The trigger safety is not linked to a firing pin blocking plunger embedded in the slide.
If the trigger is moved rearward, without depressing the trigger safety, the safety will come to rest on a metallic stop and prevent trigger travel. When the trigger safety is depressed, it pivots away from the block and allows full trigger travel.
In addition to the trigger based safety, the Ruger Security – 9 also has a manual safety, mounted approximately where a 1911 thumb safety resides.The pistol does not have a magazine detach safety and will function normally without a magazine inserted. In fact, locations of the manual safety, slide stop and magazine release are about where most auto loader shooters have been conditioned to find them.
The square nose trigger guard is formed oversize to accommodate a gloved finger and an overtravel stop is molded inside the trigger guard. The front face of the trigger guard is ribbed to make it a more effective gripping surface. Some folks don't like to incorporate this into a hold, but it works well for me.
Poking around…

People tend to really like, or really not like, the looks of the Security – 9. Ruger covers a lot of ground in design aesthetics across their product lines, each presence appropriate to firearm type and applications. Considering their sales are through the roof, it would seem their intuition is better than most.
I like the Security – 9, particularly when style is a byproduct of function… like the sculptured slide gripping surfaces. They work especially well in cold or wet weather where fine, grooved patterns may be hard to hang onto. I'm pretty sure the team that developed the stealthy, angular Sea Shadow (IX-529) did the appearance work on the Security – 9. No, not factual, just defining through association.

The Security – 9 has a good set of low profile, low snag sights which are appropriate for defensive/concealed carry application. Both are dovetail mounted. The front is fixed, the rear drift windage adjustable. The small port in the barrel tang allows a preliminary visual check for a loaded/unloaded chamber.

The single dot front sight and U outlined rear is a good all around set up. For folks who like something different in sights, ShopRuger has an assortment of outline colors, as well as Tritium Night Sights and HiViz fiber optic. Both back and front strap are treated to no slip stippling.
The Securtiry – 9 has at least a couple of visual cues to the pistol's. In addition to the chamber checking port, the hammer is only visible at the rear of the pistol when the hammer is cocked as in the lower photo.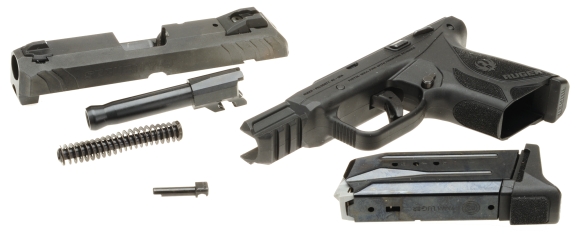 The Ruger Security – 9 is a simple take down; magazine out, chamber check, push out the takedown pin, move the slide forward and off. The barrel and recoil spring are lifted out of the slide. The flat stock recoil spring is captive as part of a guide rod assembly. The system is bushingless. The barrel is ramped.

The polymer grip provides a stable support for the internal chassis, but the hard anodized chassis does all the heavy lifting, mounting all of the fire control components and holding them in precise position and alignment and providing the rails that engage the slide.
Oh, yes, live fire…

Five types of factory ammo were utilized, four defensive types and one practice type. There is a wide range of bullet types and weights for the 9mm Luger. On the light end of the spectrum are 50 grain fragmenting types. At the heavy end of the spectrum are the 158 grain subsonic rounds for suppressed configurations. Here we went with 115 grain and 124 grain jacketed hollow point bullet that expand at 3.4″ barrel velocity without fragmenting.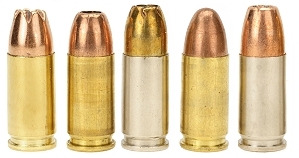 9mm Luger Ammunition
Bullet
Type

Bullet
Weight
Grains
Rated FPS
4″ Barrel

Actual FPS
3.42″Barrel

50′ 5 Shot Group "



IMI Systems

JHP

115

1150

1131

2.6

Remington HTP +P

JHP

115
1255
1046
2.3

Remington Ultimate Defense

BJHP

124
1100
1094
2.4

Remington UMC
FMJ
124
1100

996

2.9

Speer Gold Dot +P

GDHP

124

1220

1103
2.6

Accuracy proved to be more than adequate. Perspective; the accuracy spec for an original Government Model 1911 that went to war was five shots, inside five inches at 25 yards. The Ruger is a defensive pistol that would generally be pressed into service at near half that distance. Velocity loss with a barrel shorter than SAAMI standard length is to be expected. However, velocity is more than adequate under close in defensive circumstances.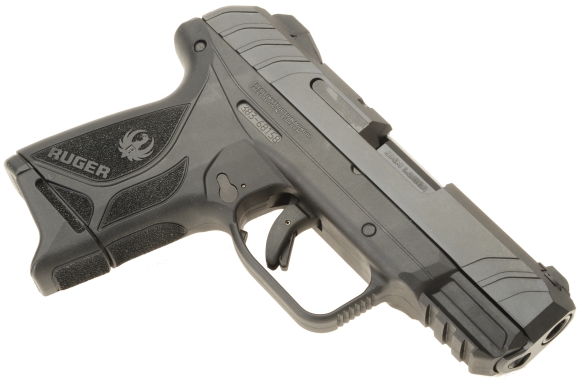 The Ruger did really well during the review period. The finish is durable and easily wipes clean with a cloth. All of the pieces stayed tight and free of premature wear. Sight adjustment remained in place. Trigger pull and feel was constant throughout. No jams, failures to cycle or failure to extract and eject. The Ruger Security – 9 has enough heft to dampen recoil and muzzle jump, which makes for quick follow on shots.
The Ruger Security – 9 is a firearm that provides a good deal of peace of mind. Load it up, carry it, stage it for home defense, and practice, practice, practice and it will be ready to go when needed. Nice pistol.