8/31/2020
Ah yes, the cold is coming; mind numbing, soul sucking, frigid air, and butt deep snow. Yes, I do realize I moved to Maine voluntarily, but that was to flee California socialism, an intrusive government, and associated loss of personal freedom. Which, ironically, is about what Maine has gradually drifted into over the past twenty years. As of late, it seems Maine's primary source of income has been out of state, liberal PAC billionaires, successfully buying up our U.S. House and Senate seats. There is hope for change this year.
In any event, a more real life issue has been the demise of my fourteen year old tractor mounted snow blower that got my wife and I to the main road without fail. Deep snow, wet snow, gale winds blowing snow, the tractor would chug along, effortlessly spewing a forty foot plume a blue whale would envy, from house to street, one hundred yards and knock outs and walkways as easily. Unfortunately, breakage of a literally irreplaceable gear case placed it on the scrap pile out back.
I almost had a replacement tractor mounted blower, twice, but none panned out, either because of availability being mid winter, or because they were too fragile of a product to fit the bill. So the tractor has been relegated to landscaping duty and I went in search of a suitable walk behind. A two week headache of searching, researching, detailed investigation and thorough review of reviews.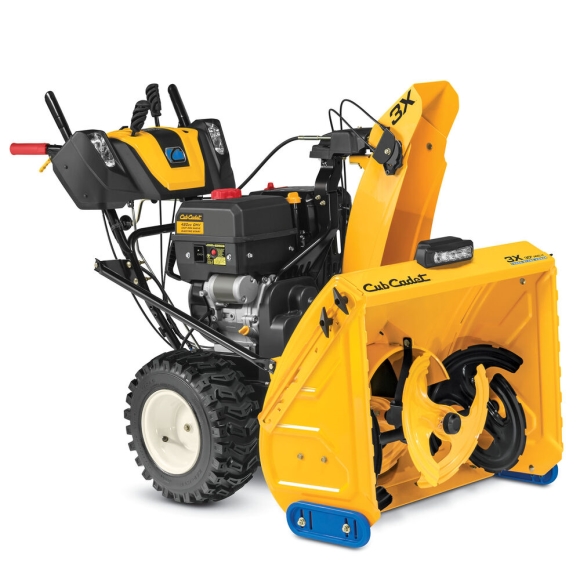 As large as 36″, as small as 28″, I settled on 30″ because it is a four run trip with either a 30″ or a 34″ blower to clear and the 30″ had the same big motor, heavy traction weight, and auger and impeller and accelerator… three stage blower. The auger gear case is steel instead of the aluminum case more typically found. Warranty is 5 years on the gear box and 3 years on the rest. Yes, it is pretty. Yes, I do carry a picture in my wallet, along with pictures of my kids and grandkids.
Not inexpensive initially but, in rural Maine, equipment like this means survival and, hopefully, the cost amortized over the life of the blower, it will prove to be inexpensive. I also do not wait until I am in the midst of a crisis before attempting to avert disaster. It is a lot like firearms. I wouldn't own a "cheap" firearm, because a firearm is just more necessary equipment. So they are chosen wisely, valued for quality that will play out in reliability and longevity.
Smith & Wesson M&P®22 Compact – Threaded Barrel
No, this is not a just released model. Nor is it a derivative model. In production since the end of 2014 / beginning of 2015 the M&P®22 Compact, unlike the German manufactured striker fired S&W M&P22 full size, the Compact is made in U.S.A. and a blow back, hammer fired design.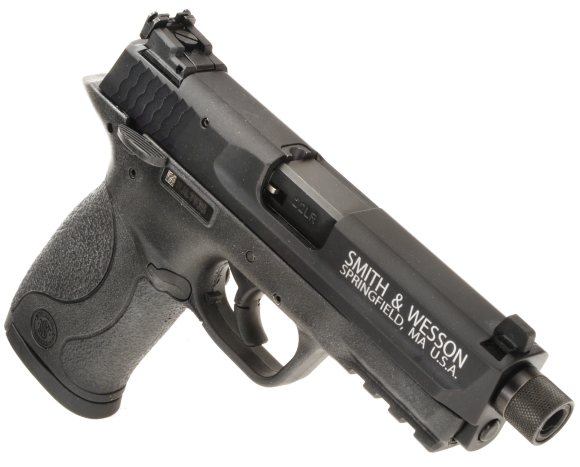 Smith & Wesson defines the M&P 22 Compact's application as "recreational shooting". Plinking, varmint control, small game hunting, firearm safety and operational training? Yes, I can definitely see this pistol in any or all of those roles. Why do I say that? Hmm… let me think about that for a moment.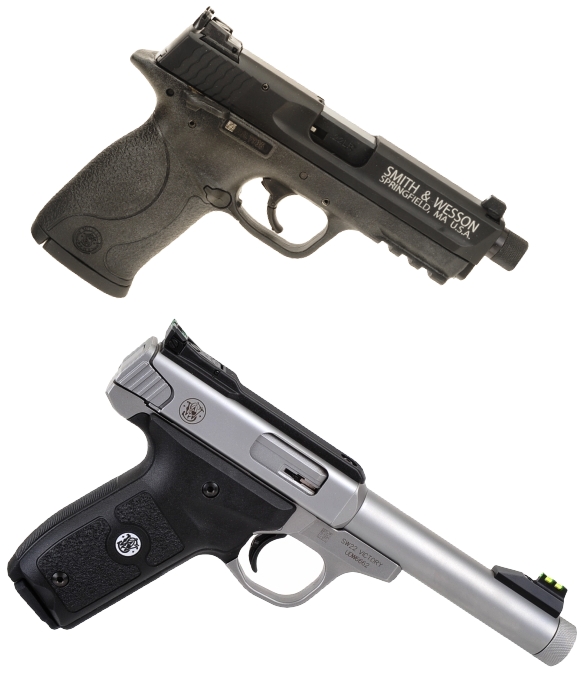 The M&P 22 Compact is actually quite compact within the universe of rimfire pistols that are made to fit and be shot with an adult male hand. Compared to a S&W Victory pistol, that is also suppressor ready, the M&P is just about 2″ shorter at 7.3″ overall length, and that length includes a 1/2″ barrel extension on the M&P that mounts a silencer. Compared to centerfire M&P models, the M&P 22 Compact is scaled down by approximately 15%.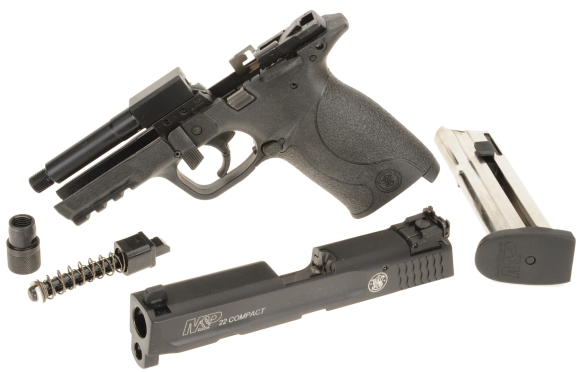 The M&P 22 Compact is an easy field strip; pull mag, check for empty with slide locked open. Then remove the 1/2×28 thread adapter, rotate the take down lever to the down position, pull back and lift the rear of the slide and ease the slide forward and off the frame. The grip frame is poly, the internal frame that mounts the 4130 carbon steel barrel and fire control/safety components is steel, the slide is fashioned from 7076 T651 aluminum. The dual recoil spring is captive.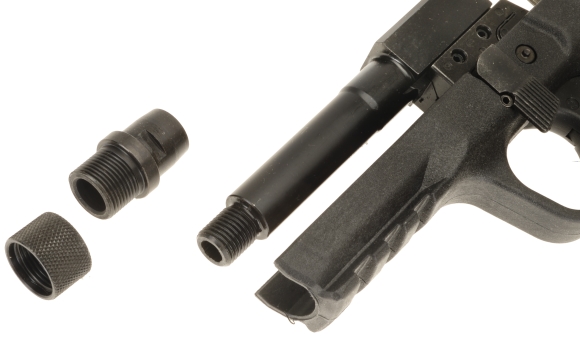 As pictured above, the barrel is stationary and the blow back slide moves to cycle eject and chamber. All M&P 22 Compact pistols have a threaded barrel, 3/8×24,fitted with a flared bushing that assist in consistently centering the slide when moving to battery. This bushing terminates at the face of the slide. The subject model replaces that bushing with bushing and thread adapter, 1/2×28, the standard for rimfire silencers. The step up facing shoulder requires bushing removal for field stripping; a wrench is included and a thread protector is included for use when the pistol is not being shot suppressed.
Top side, thread protector in place. Dovetail mounted front white dot sight and fully adjustable rear sight. The top side port aft of the barrel is a loaded chamber check point and it permits checking for a protruding firing pin.
The Smith and Wesson M&P 22 Compact incorporates numerous safeties, something very welcome in a pistol intended for training, plinking and recreational target shooting. The drop safety connects the trigger to a plunger in the frame along side the hammer. When the trigger is pulled, the plunger is lifted until it lifts a firing pin release embedded in the slide, allowing the firing pin to travel forward. No finger on trigger, no plunger travel, no firing pin release. The intent is to prevent a dropped pistol from accidentally discharging.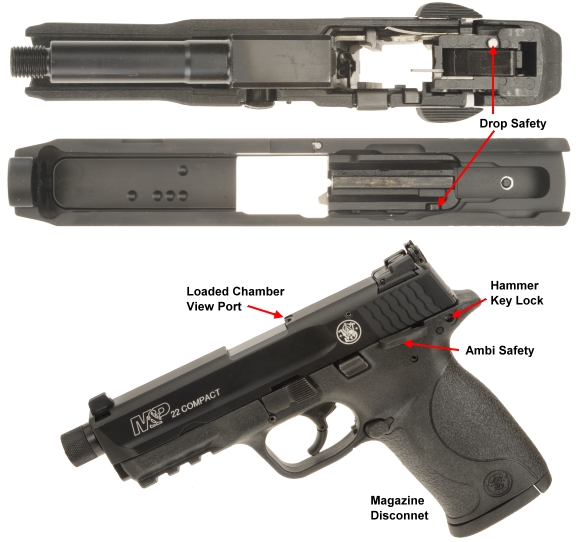 As noted before, a top of slide view port permits checking for a loaded chamber and a protruding firing pin. It is not intended to replace removing a magazine and pulling the slide back to assure an empty chamber as activities require. The ambidextrous safety is thumb actuated to engage or disengage. The hammer key lock prevents unauthorized use of the pistol, as in when it is stowed and not to be at the ready, to prevent any number of accidents or theft from leading to a shooting.

The S&W M&P 22 Compact was shot with and without silencer; easy enough to change back and forth. Use of the silencer did not hamper the pistol's reliability with any ammunition tested and influence on velocity, either way, was negligible. Sights were high enough to easily clear a dedicated rimfire silencer like the AAC unit installed.
Cartridge

Bullet Weight




Grains

MV FPS




24″ BBL Rated

MV FPS


3.6″ BBL
Open


MV FPS




3.6″ BBL


Silencer


50 Foot




5 Shot Group "

Federal Champion

36

1280

954

943

1.8

Rem Thunderbolt

40

1255

730

871

2.2

Rem Golden

40

1255

972

915

1.7

Winchester Super Speed

40

1300

926

962

1.9
Shooting impressions… That was Jay Leno
S&W M&P22 Compact Threaded Barrel


Manufacturer
Smith & Wesson
SKU #

10199

Country of Origin
U.S.A.
Type
Single Action
Operation
Blow-Back Auto Loader
Caliber
22 Long Rifle
Mag Capacity
10
Barrel Length
3.6" 1/2-28 Thread Adapt

Rifling
1:16″
Weight
15.3 Oz.

Overall Length
7.3″
Grips Frame

Poly
Slide
7076 T651 aluminum
Rear Sight
Adjustable Two Dot

Front Sight
One Dot

Trigger Pull
5 Lbs. 14 Oz.
Manual Safeties
Ambi Thumb & Key Lock

MSRP
$409.00
Breaking news, firearms with a 3.6″ barrel do not generate the same velocity as firearms with a 24: SAAMI standard test barrel. If it seems slow, I can only comment that my 45 Automatic bullseye gun love 185 grain SWC handloads with a muzzle velocity of 780 fps.
I found that paper targets and random plinking targets don't require a good deal of pursuit. How about small varmint and game hunting? More than enough power for a timely ending. For suppressed shooting, short pistol barrel velocity is naturally subsonic so no sonic crack, just the mechanical racket component of an autoloader to contend with.
The most endearing characteristic of the M&P 22 Compact was what it did not do, jam or fail to fire. Wandering around in the woodland behind the shop for a few days… at least from 8AM to noon, I got to shoot the Compact a good deal. In the absence of a suitable holster, it fit comfortably in a hooded sweatshirt pocket, ammo and silencer in the other.
With most shooting within ten yards, the pistol consistently hit where aimed, the white dots framed in black stood out against virtually any backdrop.
When the shooting was done, a cloth wipe cleaned it up like new. The S&W M&P 22 Compact shot pretty cleanly even with the silencer in place. A nice 22 LR pistol, made in USA, from the folks at S&W. If I would make one suggestion it would be to skip the large scale contrasting logo and return to the practice of small, conservative black on black markings. But I'm an old guy, so maybe that's just me.