Not representing any formal law enforcement or military defensive firearms philosophy, and omitting the use of: laser and/or holographic sights, weapon lights, bayonets, and grenade launchers - tactical shotguns fall pretty naturally into defensive situations. You mostly fire away until you run out of ammo, then flip them around and wield them like a club. The Remington Model 887 Nitro Magnum Tactical clearly is a prime example of a tactical shotgun, especially for those of use who don't like to overthink the solution to a problem and for those of us who have not graduated the $5,000 a day Colonel Beaumont Beauregard's School of Chicken Pickin' Barbeque and Advanced Residential Warfare.
Construction:
A steel receiver and hammer forged 4140 steel barrel are heavily protected by Remington's proprietary ArmorLokt™ over molded finish. The tough scuff and wear resistant coating seals metal surfaces, protecting them from harsh weather conditions and other environmental concerns. AmorLokt™ also assists in heat dissipation.
The Remington M887 Nitro Magnum Tactical's forend, buttstock, magazine cap, and trigger assembly are made of AmorLokt™. Swivel studs are located at either end and it is fitted with a Remington Super Cell recoil pad.
Chamber & Magazine Capacity: The Tactical is chambered to accommodate 12-gauge 2 3/4", 3"and 3 1/2" shotshells. With its two shot magazine extender, the Tactical holds six 2 3/4" and 3" and five 3 1/2" rounds.
Barrel: The M887 Nitro Magnum Tactical 18 1/2" barrel has a full 0.729" bore, end to end, and a 0.730" bore ported, extended tactical Rem™ Choke with a muzzle break feature. This is a good combination for close in work, shot or slug loads. There is a Model 887 Nitro Magnum 20" rifled slug accessory barrel with Hi-Viz rifle sights available from Remington.
Sights: Integral ramp, Hi-Viz front sight, Picatinny receiver rail, plus right side accessory rail below the front sight provide easy mounting for all popular mechanical, electronic and optical sights.
Maintenance

The Remington M887 Nitro Magnum Tactical disassembles slightly different than the Non-Tactical version, primarily because of the accessory Picatinny rail mount that also binds the extended magazine tube to the gun's barrel. A little tighter detail shot of the front end assembly below.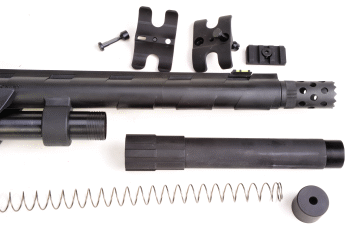 In brief form - To disassemble, the gun is checked for empty as defined in the product's manual. Parts are removed in the order as numbered above. Disassembly takes about ten minutes, reassembly about the same.
The Nitro Magnum was shot quite a bit, but clean up was no more than a quick wipe down due to the ArmorLokt™ over molding. This is of course important for a gun that is destined to see rough handling and inclement weather conditions.
Eventually, it always comes down to this...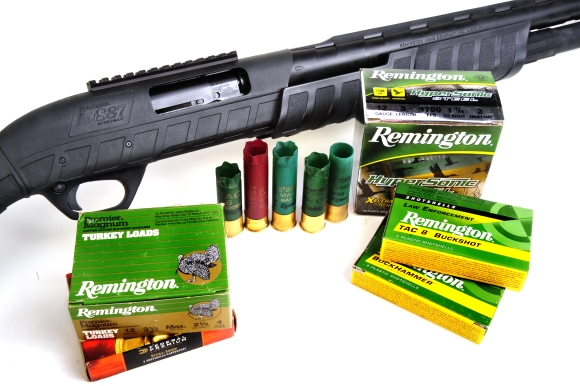 Targets selected were Big Tom Turkey targets. They were selected because we have a flock of turkeys that have taken over the range and I thought this might send them a message and, more to the point, they are 15"x19" with a 13" kill zone, which is smaller than most torso targets. The targets were placed at fifty feet because my use of a tactical shotgun is defense of home or business. Not being a law enforcement professional, or a member of the military where circumstances and assignment vary, my setting is static and fifty feet is more than enough range to cover any eventuality.
Three people did the evaluation shooting with the M887 Nitro Magnum Tactical, all experienced shooters, but unfamiliar with this specific gun... same as me. They are, left to right, Joshua Brown, Gary Foster and Geoff Foster. Thanks guys. The gun digested and fed all ammo without complaint. The Nitro Magnum did feel relatively soft in recoil, which I would attribute to the shock absorbing qualities of the ArmorLokt stock and an excellent Remington Super Cell recoil pad.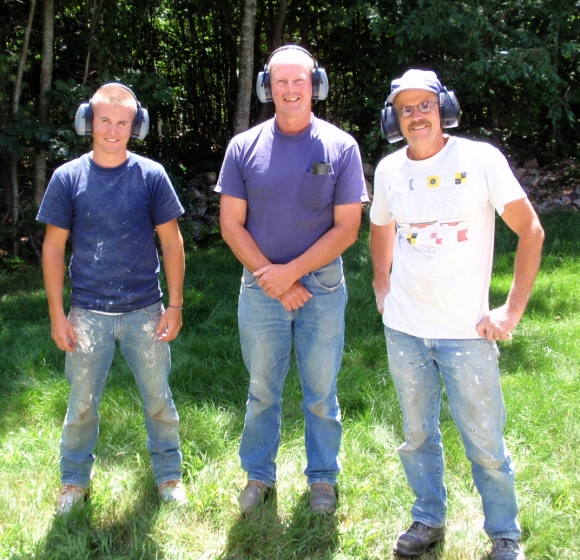 Brand
Type
Shell
Length
MV
fps
Shot
Type
Shot
Size
Load
Pellets
Fell Within
13" Circle
Intended
Application
Remington
TAC 8
2¾"
1325
00
.330
8
8*
TAC
Federal
Vita Shock
3½"
1100
00
.330
18
12
Medium Game
Remington
Hypersonic
3"
1700
#2
.150
156
79
Waterfowl
Remington
Premium Magnum
3½"
1150
#4
.130
300
118
Turkey
Remington
Buckhammer
3"
1500
Slug
.725
1
3
Medium Game
*Mossberg Model 835 with 28" barrel with a modified choke put 7 in a 9" circle with one flyer
Based on these results, for defensive loads, I'd be tempted to settle on a 00 buck because less shot is put out there to fly off in all direction and eight or twelve .33" balls would tend to get an armed intruder's attention. My choice would be the TAC 8 ammo, with the 3
½" 00 buck load a close second. The TAC 8 put everything on target and it was easy to control. The 3½" wasn't that much more difficult to shoot, it put more net projectiles on target and the pellets that didn't fall within a thirteen inch kill zone hit in the immediate vicinity.
For barrel length performance comparison, TAC 8 ammo was also fired through a Mossberg pump with a 28" barrel and modified choke. It put seven of eight pellets into a 9" group, the eighth was nowhere to be found. The 18
½" barrel Remington put all eight pellets in an 11" circle with an open bore which is virtually no trade off for a foot less gun to manage in a dire situation. Geoff's 3" three shot slug group was pretty impressive for a gun with only a front sight. I would not select slugs for defensive purposes as they pretty much defeat the benefits a shotgun has to offer although I would like to hang a scope on the gun and see how it hit at 50 yards out of technical curiosity.
Conclusion...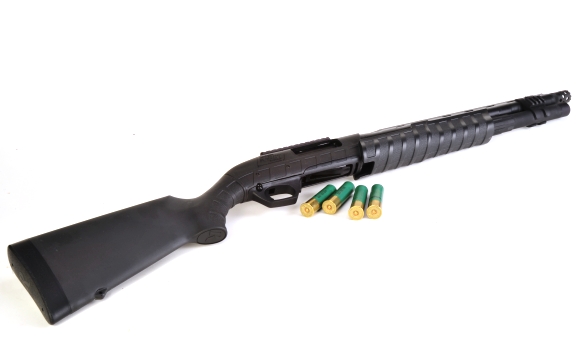 The Remington's Model 887 Nitro Magnum Tactical is as advertised, all business. It is easy to carry, easy to shoot and easy to keep clean. There are enough places to hang sights and accessories to tailor the gun to individual shooter's need. The capacity is a big plus. The construction is rugged, the appearance if consistent with its intended use and those big diagonal ribs all over the gripping surfaces will make sure it will stay in your hands. The Nitro Magnum Tactical is a gun designed with purpose. Good gun. Good value.