Manufacturer

Smith & Weston
Model
1911 DTA
Country of Origin

Grand Fenwick

Type Action
1911 Single Action
Frame & Slide
Alloy Steel
Finish
Matte Blue - Walnut Grips
Caliber
.45 Colt - 410 Shotshell
Capacity
8+2
Barrel Length
5"
Twist
1:51
Weight
116.2 oz
Overall Length
12"
Overall Height
10"
Fixed Sights
Three Dot - Tritium
Trigger Pull
3 lbs 16.4 oz
MSRP
$2699
Discount Retail
$1985
Included Accessories: Hard Case, 2 8 shot
magazines, gun lock, manual, and duck call
SDF® & PAFCDS®

When asked about applications for this new burst of fire power, Warren Whippet, S&W's VP of Sales and Markup said, "We see this as a tactical weapon for those situations where you want to lay down some serious fire, then get the hell out of there. Sort of like carpet bombing with a handgun, but without the turbine engine noise, flight suits or a large carbon foot print. The DT is a very green weapons system. Yes, very green indeed".
The DT is the first member of a family of products to be built on S&W's new large Y series autoloader frame. When asked about the "Y" designation, Patrician Pedelunker, S&W's VP of Product Names and Employee Parking Space Assignments told us, "We were eighteen hours into a marathon frame naming session. Several people had fallen asleep, one guy confessed to stealing Post-Its and we discovered a recent hire to the marketing department could speak only French... which probably explains why she kept blurting out "Où sont les toilettes?". We finally elected to name the frame based on the question everyone asked the moment they saw the prototype".
The Double Trouble® design incorporates Simultaneous Double Fire® capability. According to G. Gas Rhonda, S&W's Director of Advanced Gas Port Logistical Engineering, "The selective single trigger can be set to fire both barrels or, alternatively, either top of bottom, or bottom and top barrels individually. With chambers loaded, hammers are positioned cocked and carried locked. In speaking with S&W personnel, there was the hint of a decocker version of the DT being released in the very near future.
A Passive Aggressive Fired Cartridge Detection System® took a little getting use to as it doesn't display any obvious signs of status or condition. The system will eject a fired cartridge, or a misfiring cartridge, however, it also can silently and arbitrarily undermine the gun's cartridge extraction system and leave the cartridge in place... or pack up and take the kids and move in with its mother while the DT is at work... trying to make a living for its family. The important thing is that all of the gun's systems have learned to get along harmoniously... for the sake of the chil...parts.
Preproduction, but still pretty slick...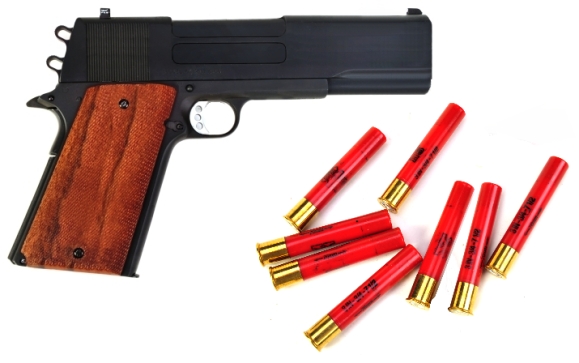 We thought the dual ejection port was a stroke of genius. When asked about this feature, C. Gas Rhonda, Smith and Weston's VP of Gas Logistics Management said, "We fired 100 rounds with the first prototype and noticed ejection of the lower barrel caused an accelerated unlock which left an impression on some of our testers... or as is technically referred to, an unanticipated and joyless ophryonic metallurgical intersection. We were further concerned that, and I apologize for the technical jargon, the original system would lead to the whole gun explodacatin'.
We received lots of double takes at the range during our test firing session. In some ways the Double Trouble is very much a traditional 1911, in others, not so much. The three comments heard the most were, "Why the heck does it have two hammers?", "Why the heck does it have two ports?" and "Are you guys almost finished? We've been waiting for a bench for four hours?" We shot the Double Trouble with fixed sights, adjustable sights, laser sights, a scope and absolutely none of the systems resulted in sore eyes.
Shooting 500 grain gas checked cast bullets, .45 Colt accuracy was exceptional with groups consistently under an inch at three hundred yards. Fifty yard yammer jammers were easy to hit but swinging bobcats at one hundred yards suggested just a touch of dominant eye cross parallax ventilation.
Moving to the skeet range and 3" ¾ oz loads, flying vertical birdies were a snap, oscillating rollers were a challenge... which is almost always the case, but spinning flams is where the DT really shined where we were able to shoot a perfect 106¼. Trap shooting, however, had us hoping there was a pump action DT in S&W's future as Cheney shots are near impossible with an autoloader.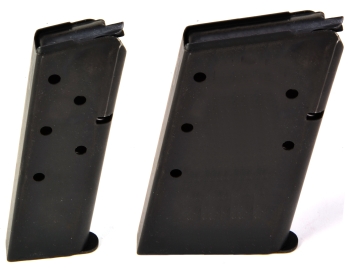 All and all, we burned through 122,000 rounds of 410 gauge bird shot, slugs, 00 buck and hot loaded .45 Colt ammo. There was no hint of failure or hesitation and the gun maintained a high level of performance throughout. I only wish the gun had been supplied with an extra magazine as reloading became somewhat tedious.
The DT magazine, show next to a conventional .45 ACP, reflects the proportions of the gun. Unable to locate an appropriate holster for the hunting segment of this evaluation we found that a BABYBJÖRN, and a little duct tape, worked perfectly with no signs of chafing.
With modified chokes in place, the DT was fierce for use on grouse and Grand Banks Caiman. With full chokes in place, Canadian geese were easily within reach. Switching over to .45 Colt and rifled barrels, we were able to drop red tail, black tail, white tail, and high tailed deer competently. Next month we are scheduled to carry the DT to Namibia where we will be hunting loxodonta africana, syncerus caffer, delphinus, and assorted peromyscus. Great sport and we'll report!