I have to admit, I have been having fun with Mossberg rifles as of late. First it was the Mossberg 464™ Lever Action Rifle, now it's the Mossberg 4x4™ Bolt Action Rifle. None of these are new introductions as much as newly revised products and firearms we have not covered in detail in the past on Real Guns™.
The 4x4 Bolt Action Rifle has been evolving as a product line at Mossberg since January, 2007. In 2011, the product line was further expanded and enhanced with additional configurations and a range of short action, 308 Winchester, length cartridges; 22-250 Remington, 243 Winchester, 7mm-08 Remington and 308 Winchester. This subject rifle is chambered for one of my favorite cartridges -
Mossberg 4x4 Bolt Action Rifle

Manufacturer

Mossberg & Sons, Inc.

Model

27520

Type

Bolt Action

Caliber

270 WSM

Mag Capacity

3 Rounds - Detachable Box

Barrel Length

*24" Fluted Barrel + Brake

Rifling

1:10" 6 Groove RH

Weight

*7 lbs 1 oz.

Overall Length

*46.0"

Stock

Sculptured Black Walnut - Satin

Hardware

Matte Blue - Carbon Steel

Length of Pull

*13.5"

Drop at comb

*0.25"

Drop at heel

*1.0"

Metallic Sights

None - Scope Mounts Included

Trigger

LBA™ Trigger System

Trigger Pull

Adjustable - 2 lbs - 7 lbs

Safety

2 Position Thumb Safety

MSRP

$605

Discount Retail
$475

* Actual weights and measures.
Mossberg offers the 4x4 Bolt Action Rifle in thirteen different chambers, both standard and magnum cartridges. Stocks are available in walnut, laminated birch and synthetic, in classic or sculptured styles. Hardware is carbon steel - matte blued or Marinecote™ finished. Models are offered with and without a pre-mounted 3-9x scope. Customer's really do have a choice; one hundred and six part numbers to define available combinations.
This particular model was selected because it is a combination I like and, after all, isn't that what's really important? Just kidding. Actually, this model was selected because there is a tendency for writers to see a value priced firearm and immediately review it in basic 308 Winchester form, scripted by a press release. The Mossberg 4x4 Bolt Action Rifle is a really interesting and innovative firearm, chambered for a cartridge range that covers everything from woodchucks to brown bear and Mossberg certainly didn't get to a low price by skimping on workmanship or selection of quality materials. The gun honestly piqued by interest so I was glad to have a closer look.
Austrian classic or Danish modern?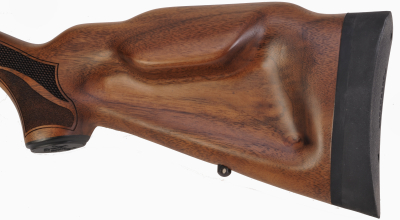 I've seen manufacturers do ergonomic weird, but this is the first time I've seen ergonomic nice. Maybe my view of what looks good has been altered by the number of times I've hung a skeletonized TAC stock on an AR type rifle, but I am willing to accept that a stock needs to be only where face and hands come to rest, with enough structure to support the hardware. Anything more is just fluff and extra weight.
In this case, not only does the Mossberg's stock have graceful lines, but it offers excellent geometry and form for shooting with a scope, and the concave insets makes the sculptured version of the 4x4 weigh a half pound less than the classic version. The pistol grip surfaces are a combination of laser cut checkering and stippling. Very clean aesthetics, good functional panel shape.
The stock's forend design is common to both Classic and Sculptured models, ventilated and, for the most part, barrel floating. The vents are functional. A range session with the .270 WSM typically requires either a cooling device to speed the process or oven mitts converted into shooter's gloves. While I did not time cool down or track temperature gradients, my two hundred and fifty year old hands suggest that cool down is approximately twice as fast as a more traditional forearm arrangement. Checkering is a little light in regard to area covered and located a bit far forward.
The 4x4's receiver rests in the radiused portions of the stock's inletting. The stock is glass bedded at the recoil lug and filled in this models unused aft lug slot. The barrel is under barely contact pressure at the stock's forend. The threads of the factory installed swivel stud are visible. All of the inletting surfaces are cleanly cut and well sealed.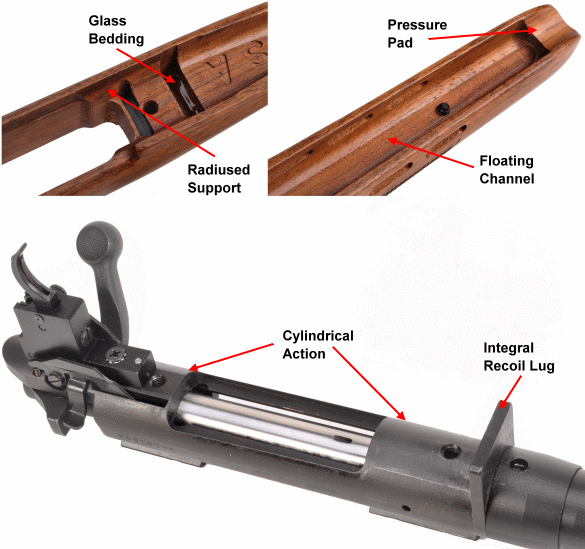 With the exception of the trigger mount pad, the action is cylindrical, the recoil lug is sandwiched between the barrel lock nut and the receiver. Sort of a blend of Savage and Remington, but a unique Mossberg approach.

Bottom metal is fiber filled polymer... and yes, I do know what I just said. As proven by so many European rifles, with a multiple thousand dollar price tags, that claim to be the Texas based disciples of Friedrich Wilhelm Heym, polymer is durable and reliable. Three screws hold the bottom... stuff in place. The front two anchor the action, the aft is a wood screw that has the sole mission of holding down the rear of the trigger guard. The magazine release. just forward of the magazine, cleanly and consistently works. The magazine box is staggered type rather than center feed, which allows it to be removed and loaded, or stuffed full from the top side with the bolt open.
All 4x4 rifles come fitted with a removable muzzle brake. In comparison to three other 270 WSM rifle I own, the Mossberg 4x4 recoil was modest and not in the least bit distracting. For those who wish to remove it to impress their friends and family with their manliness, Mossberg packs a thread protector that, when installed... protects the exposed threads. I did not find the report to be objectionable, but then I wear ear protection whenever I discharge a firearm.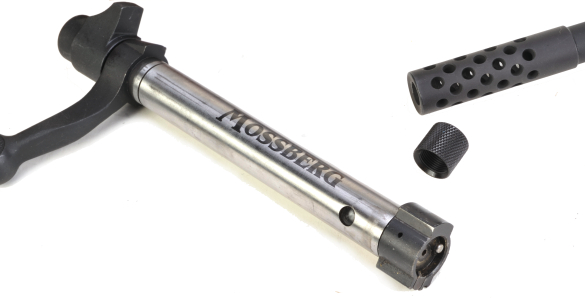 The 4x4 is a two lug, push feed firearm. It has a sort of Sako type extractor with a constant pressure, spring loaded ejector. Bolt rotation is 90°. The action is slick. No hanging at full open, or dragging claw extractor binding as is often the case with Mauser derivative controlled feed actions. The bolt body has a decorative logo which is helpful for owners that might forget what type of rifle they purchased. Yes, I am being sarcastic, and petty, but the brand appears on the magazine, recoil pad and emblazoned in large letter on the barrel. At some point in time, manufacturers have to accept that customer who purchase rifles may not want to be walking billboards.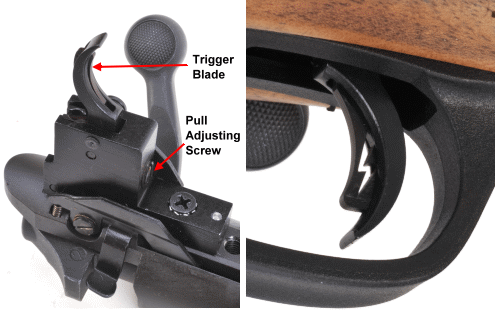 Trigger pull is one screw owner adjustable within a range of two to seven pounds. The trigger blade, the skeletonized piece that projects forward when the striker is cocked, prevents the sear from releasing the striker unless it is fully depressed. An assurance that the gun won't discharge if jarred, even when the trigger is adjusted to the lightest level of pull. The Mossberg 4x4 has an excellent trigger; crisp, no creep, no perceptible overtravel to the point that it contributes significantly to shooting accuracy. Yes, the little die cut lightning bolt is pretty nifty.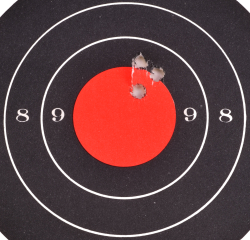 No, I won't try to tell you that the gun shot these types of groups all day long, but this is a 100 yard, 0.55" three shot group; 150 grain Nosler Partition at 3,100 fps. I've invested a lot of time into 270 WSM handloads and it was no problem finding 130, 140 and 150 grain loads that could shoot comfortably inside of an inch. The cartridge is inherently accurate and the Mossberg is a good steward for this round.
I did most of my shooting from a cradle rest. The barrel stayed low on discharge and the trigger, as I noted earlier, was just excellent. Shooting from standing, sitting and kneeing positions was natural. The Mossberg is a good offhand shooter, balancing just under the front receiver ring, and it is fast tracking.
If there is anything that was a little uncomfortable for me it would be the narrow forearm and the checkering pattern that starts 23" from the recoil pad, or about 2" - 3" farther than Winchester or Remington patterns. The result is that I found myself with my left arm too far extended for proper support under the rifle. I just shot with my hand aft of the checkering. This has nothing to do with CG or balance, just placement of the checkering panels on the forearm.
Final words... at least on this topic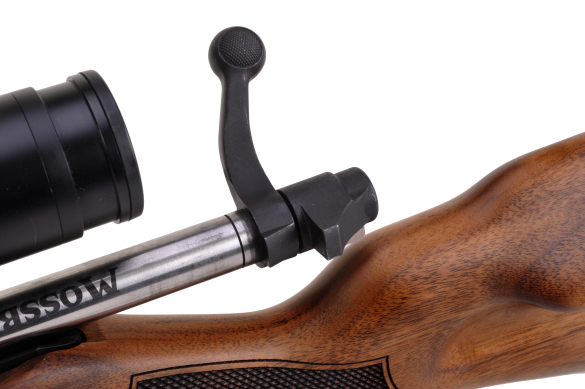 The Mossberg 4x4 Bolt Action Rifle is inexpensive, it is not cheap. The walnut stock is good quality and finish, the metal parts finish is equally as good. I have to say the gun is an attractive system, even though it does not follow my prior ideas of norms and long guns. The trigger and the gun's accuracy are noteworthy and it is a hunting rifle without compromise in any substantial way. Nice gun and one worth looking at first hand.