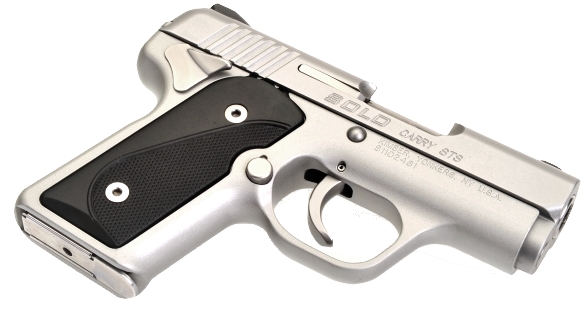 Company
Kimber America
Model
Solo STS
Point of Origin
Yonkers, NY
Caliber
9mm Luger
Action
Preset - SA
Trigger Pull
7 Lbs
Magazine Capacity
6*
Sights
3 Dot - Fixed
Sight Radius
4.4"
Slide
Stainless Steel
Barrel
Stainless Steel
Frame
Aluminum
Grips
Poly
Barrel Length
2.7"
Overall Length
5.5"
Overall Height
3.9"
Overall Width
0.985"
Weight - Empty
17 Ounces
MSRP
$747

*8 shot with finger extension,
#1200038, available separately
In a world of poly framed pocket pistols, the Kimber Solo's presence is welcome. It's smooth, it's slick, it's all metal. In hand, it feels like a small 1911; grip angle, slide actuation and ambidextrous controls. Even the low profile fixed sights are 1911 like. In fact, the only hint that the heart of a striker resides inside is the Solo's trigger.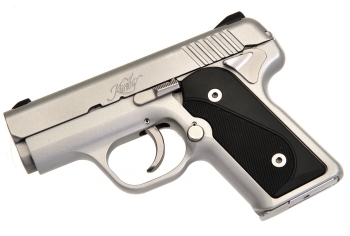 The Solo's thumb safety and magazine release are ambidextrous and the right size and shape for positive actuation and they are rounded to prevent them from getting snagged on clothing or a holster. The slide stop is in easy reach for slide release without shifting grip. The front of the trigger guard is square enough for a steady two hand hold.
CNC crazy... Giant pictures to follow
Whoa, Dude! What's up with the barrel? The Solo has a linkless lock up system, meaning the slide stop pin rides inside of a cam that controls timing of the lock and unlock sequence. Unlike many from the current crop of subcompacts strikers, there is no rectangular locking lug perched atop the chamber end of the barrel. The Solo is more like the CZ 75 SP01 with a captive slide stop pin and radial locking lugs on the barrel and mating surfaces inside the gun's slide.
The slide does not have a fitted barrel bushing, but rather a 0.577" opening to contain the barrel's 0.575" muzzle diameter. The raised portion of the gun's barrel, between locking lugs and muzzle, measures 0.547" and has a leading and trailing taper to help manage barrel position during cycling. The loaded chamber indicator port, far left and through the barrel tang, does as it is named.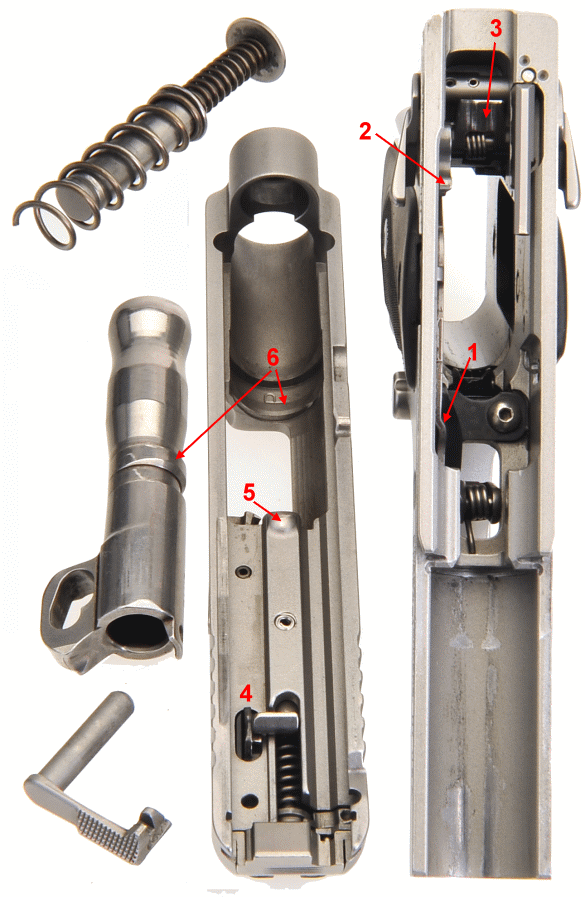 Traditional striker - 1) Trigger bar 2) Striker Safety Lever 3) Sear - no hammer 4) Firing Pin Block. Other points of interest - 5) Strips round fro Magazine 6) Radial locking lugs. No doubt because of the low reciprocating mass, the guide rod is heavily, double sprung. The Solo has a lot of frame rail bearing surface. Much more so than the little metal tabs often see on poly frame strikers.
Context is everything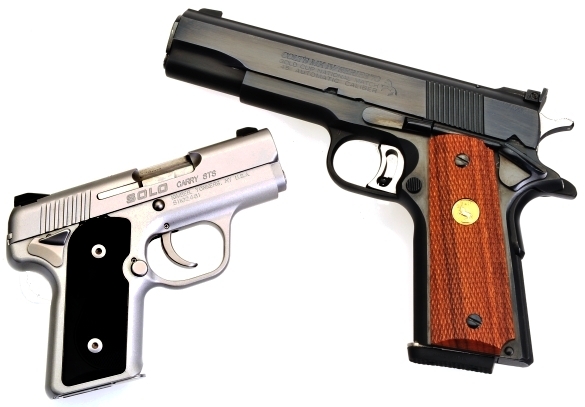 Including an image of a full size 1911, alongside the Kimber Solo, should preclude the need for further explanation of this little gun's purpose in life - to provide highly concealable self defense. Unlike most firearms competing for this market segment, the Solo is smooth... slick even, and with control locations and function reminiscent of a 1911.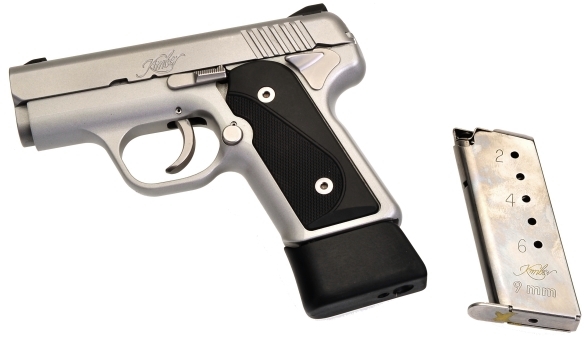 The Kimber Solo is supplied with one six round magazine, however, Kimber also offers an eight round magazine with finger extension, Model No. 1200038A. In six shot configuration the gun is held two fingers on the grip with the pinky curled under the magazine. With the extended magazine, the Solo is an all fingers on the grip proposition. I would carry a Solo with the eight shot magazine... never. See gun's purpose in life described in prior paragraph. I own a number of subcompact 9mm guns, all with an optional extended magazine that basically collects dust. So, in summation, six rounds should be enough for the gun's purpose, Kimber has been considerate in providing greater capacity, quality magazines for individuals who want them.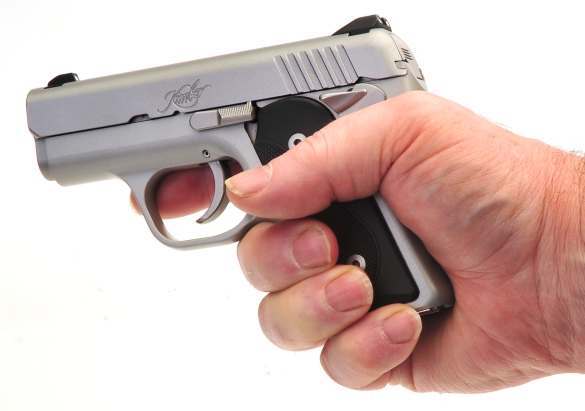 Shooting and ammunition...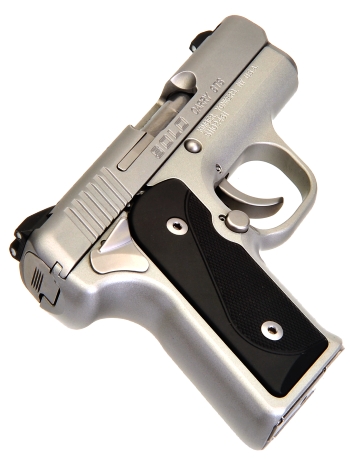 Kimber dedicated five pages of the Solo's manual advising customer to use only premium factory ammunition and to avoid handloads, remanufactured and non-standard ammunition. The Kimber web site recommends three brands and types of ammunition and cautions to use only SAAMI compliant premium ammunition loaded with 124 grain and 147 grain jacketed hollow point bullets. There must be many great stories behind those comments.
For me, with fifty years of handloading experience, a firearm and ammunition manufacturer's FFL and lots of money tied up in assembly and pressure checking equipment, I might take personal exception to some of Kimber's wording. However, based upon the nature and substance of handloading related comments and questions received at Real Guns, I can understand the precautions Kimber is taking. A recent email receive at Real Guns queried the use of .410 shotshells in a 416 Ruger chambered firearm, which the person assumed was not a problem.
All subcompact autoloaders are more sensitive to ammunition selection than full size autoloaders, simply because the management of reciprocating parts becomes more complex as barrel length and slide mass diminish. Ammunition bullet weight and velocity must complement recoil spring rate selections, as well as the mechanical timing of feed and ejection related components. Kimber has identified, for the benefit of its customer, the types of ammunition that assure safe and reliable Solo operation: Federal® Hydra-Shok® JHP, Remington® Golden Saber™ HPJ, Hornady TAP® JHP. All well recognized and all reflective of quality defensive ammunition. Kimber goes on to stipulate any premium ammunition that is SAAMI compliant is approved for use. I would add that it is always good to function and reliability check any ammo that will be used for self defense in any firearm.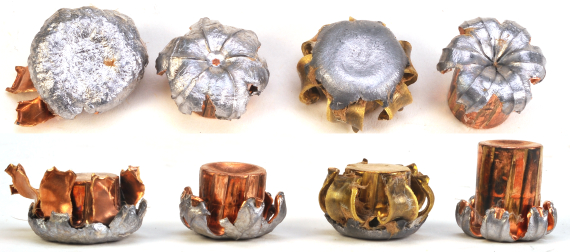 My favorite 9mm Luger defensive ammunition types for short barrel gun applications are: Winchester Personal Protection 115 Grain Jacketed Hollow Point (1048 FPS), Speer Gold Dot 9mm Luger 115 Grain Jacketed Hollow Point (1193 FPS), Remington Golden Saber 9mm Luger 124 Grain Brass Jacketed Hollow Point (1128 FPS), Speer Gold Dot 9mm Luger 147 Grain Jacketed Hollow Point (927 FPS). The photo above is of bullets that were fired at approximately the same velocity generated with the Solo and recovered from wet box testing.
Last and lasting impressions...
A notable quality of the Kimber Solo; no jams, failures to feed, ejection jams, or failure to fire malfunctions were experienced with any of this ammo. That is not a minor point for a subcompact 9mm with hollow point ammunition.
The Kimber Solo is a well-made subcompact with none of the warts or oddities frequently associated with sub size nines. The gun has good grips, good sights and it is accurate. The latter not anticipated because the gun is a little bit of a handful with its 17 ounce weight and performance hollow points. All of the ammo noted shot 1" to 1.5" five shot groups at 7 yards, 21 feet, which is the range I would think is most applicable. And, yes, my nails do need to be clipped.
There are other features of the Solo that may not seem as important, but are if you like to practice and target shoot a lot to maintain proficiency. The KimPro II finish is attractive, durable and powder and brass residue wipe off with a dry cloth. The mini 1911 feel is welcome. Thumbing the safety and dropping a magazine are intuitive and the feel of controls are positive and smooth.
Are there any issues? Sure. I am not a striker system fan. I guess I have been spoiled by years of 70 Series type triggers, so when I pull a trigger, that's the feel my finger expects. The Solo pull is not very heavy, the factory 7 pound nominal is a realistic number, but it is long and it feels like what it is doing, compressing and then releasing a firing pin drive spring. Still, as strikers go, it is a very good trigger and the first in my experience where required pressure is uniform. Once the initial slack is taken up, there is none of the typical striker rollercoaster ride with peaks and valleys within the pull.
As a second point, the Kimber is a premium brand with precisely finished parts and quality material. While the MSRP is $747, some folks have been waiting ten months to get their hands on one and some dealers are charging as much as $200 above retail. The problem with nice things; people rush to buy them. I suspect, over time, demand will settle down and prices will drop a bit closer to either side of MSRP, but I wouldn't wait for the Solo to go on sale. It's just too nice of a gun on all counts.
For further details on the Solo and other Kimber products, stop by Kimber America.