Rossi lever action rifles are popular with SASS competitors where they have earned a solid reputation for quality, reliability and affordability. Rossi is also a popular brand with woodland hunters where moderate shooting distances and rugged terrain make lightweight and compact firearms something to be appreciated. Both groups enjoy the look of an historical firearm, combined with the strength and precision of modern materials and manufacturing processes.
Rossi lever action rifles fall into two broad categories, long and short cartridge. Rossi's Rio Grand products are chambered for the 30-30 WCF, 410 shotshell and .45-70 Gov't cartridges. Rossi R92 products are chambered for the 357 S&W Magnum, 44-40 WCF, 44 Remington Magnum, 45 Colt, and 454 Casull cartridges.
The R92 Carbine
Origin
Brazil

Manufacturer

Forjas Taurus S.A.

Model

R92-57008

Type

Lever Action

Caliber

45 Colt

Mag Capacity

8

Barrel Length

16"

Rifling

1:30"

Nominal Weight

4.8 lbs

Overall Length

33"

Stock

Brazilian Walnut

Hardware

BluedSteel

Length of Pull

13"

Drop at comb

1.50"

Drop at heel

2.25"

Sights R - F

Semi-Buckhorn - Post

Scope

D&T for Scout Mount

Trigger Pull

4 lbs. 6 oz.

Safety

Rotating Thumb Safety

MSRP

$559
These stubby lever guns have always appealed to me, particularly with a 16" barrel and chambered for the 45 Colt cartridge. Both Marlin and Winchester no longer produce rifles in this configuration, however, Rossi offers three 45 Colt guns within their R92 product line: stainless, blued, blued with enlarged lever loop.
Appearance wise, the bluing is dark and uniform; satin on the barrel and magazine tube and gloss on the receiver. There are no plastic or aluminum pieces. The stock is made of Brazilian walnut, stained in a reddish tone. Overall, the rifle has a period correct appearance, wood to metal fit is very good.
While the Rossi R92 is not drilled and tapped for a receiver mounted scope, it is drilled and tapped to accommodate a barrel scout scope mount. Required is the surrender of the R92's rear sight and the use of Rossi accessory scope mount base kit, PN Part Number: P801, an inexpensive $14 part. For the most part, because of typical applications and the ballistic performance of the 45 Colt cartridge, metallic sights would be sufficient.
As a Winchester 1892 replica, this is a SAAMI original spec rifle
The Sporting Arms and Ammunition Manufacturers' Institute sets the published maximum average pressure for the 45 Colt at 14,000 PSI with piezo transducer equipment and 9,500 with the copper unit method. Rossi specifically states that only SAAMI standard factory ammunition is to be used in their firearms and that the use of non-standard ammunition or reloaded ammunition voids the firearm's warranty. So Federal, Hornady, Remington, and Winchester "yes", Buffalo Bore and similar high pressure ammunition, "No". Basically, the same ammunition that can be fired in a Colt Single Action Army or New Model Ruger Vaquero is fine for use in the Rossi R92, but not high pressure ammo that exceeds SAAMI standard and is popularly mislabeled "45 Colt +P".
For SASS competitors, working within standard pressure ratings is not an issue as historical performance is closer to their objective for event shooting. Standard pressure cartridges are also not an issue for hunters of medium size game as Hornady's 45 Colt 225 grain FTX®LEVERevolution® ammunition can bump muzzle velocity by as much as 250 fps over standard 45 Colt loads without exceeding the SAAMI pressure spec. In all fairness to Rossi, If more power is needed, Rossi offers a 16" barrel gun in 44 Remington Magnum and with a 20" barrel chambered for the 454 Casull.
The company behind the firearm
The Rossi R92 retail box is marked with three company names - Rossi, Taurus and BrazTech, which led me to a little "Who's on first" research. In short form, Rossi rifles are manufactured for Rossi in the Forjas Taurus S.A. ISO 9001 facility in São Leopoldo, Brazil. Taurus manufactures and sells Rossi handguns under license from Rossi. BrazTech International L.C., Hialeah, FL is the exclusive North American importer of all Rossi firearms.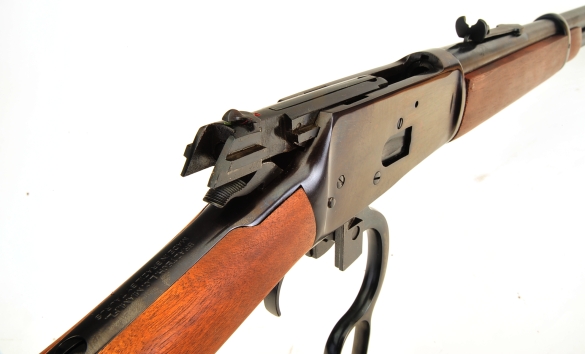 In short form, Rossi firearms are produced and supported by a company with 4,700 employees, net revenues of approximately $250 million and servicing 15% of what Taurus defines as a $2.6 Billion firearms market*. This suggests that the company can stand squarely behind product warranties and that the company is large enough to invest in state of the art manufacturing capital equipment. A close inspection of the investment cast, MIM and machined parts of the R92 indicates the investment is being put to good use.
I know, shut up and shoot already...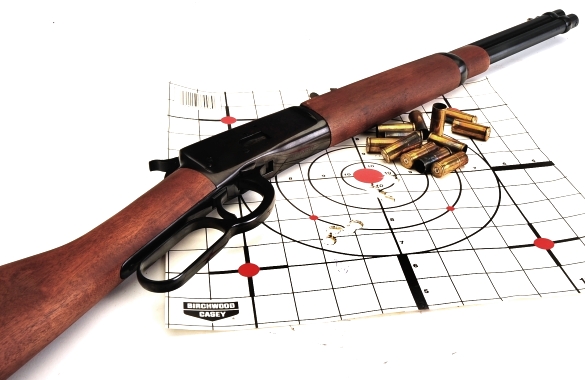 The Rossi R92 was tested with two types of ammo, 185 grain jacked hollow point that clocked 1409 fps and and 240 Grain jacketed hollow point that clocked 1043 fps.
The carbine loaded easily and cycled cleanly. A variety of bullet types and lengths were cycled through the gun's magazine, from flat nose cast to round nose jacketed, and all cycled through the feed and eject mechanisms without a hitch. Ejection was positive; head high, away from the face and to the right. No getting bopped in the head with casings.
Recoil with loads tested was very mild, which made the steel butt plate solid in hold and perfectly comfortable throughout the shooting session. Report was mild. I'd chalk that up to the large bore and low muzzle pressure. The barrel remained vertical on discharge, so staying on target and tracking was easy. Shooting off hand, or from a rest with pressure on the forearm or under the magazine tube, had no effect on point of impact.
The semi-buckhorn sights, at fifty yards, were very good. The small brass bead on a narrow post and small rear sight aperture didn't obscure the target. Adequate sight radius made for for fast alignment.
I bottomed the rear sight's elevation insert which put 240 grain bullets approximately 1" high and centered. 185 grain bullets were 2.5" low and approximately 1.5" left. The front sight is drift adjustable as is the rear sight, but they were close enough as received for the work I was doing. Good factory sight regulation.
At fifty yards, the 240 grain loads shot 1.2" 5 shot groups. The 185 grain shot 1.0". I am not a great metallic sight shooter and this was my first experience with this rifle, so I am sure there is greater accuracy in the gun that would come with a little more experience and perhaps a little more time and effort put into the selection of ammunition.
Conclusion...
Direct experience with the Rossi R92, inspection and live fire, left me with a favorable impression in regard to function and accuracy. The gun shoots every bit as good as a Winchester Trapper or Marlin 1894. The Rossi has the old New haven, CT manufactured Winchesters beaten on aesthetics, however, the Marlin at nearly twice the price hold the edge in the fit and finish departments. Friends who compete at an accomplished level in SASS events speak highly of the Rossi and use them without hesitation. There are two areas where improvement would add a good deal of value to the Rossi R92.
The Brazilian walnut looks good, but it is a bit on the soft side and susceptible to surface scratching. Shooting on a hot day with my face perspiring against the stock, some of the finish transferred from the stock to my face... where it seemed to take a much better hold. My SASS friends tell me that continued use of the Rossi gives them a seasoned, authentic Western look and handling marks are not of a concern. Still, experience tells me there is a polymer finish out there that would produce the look of an oil finish, but add a lot more durability.
The second issue is the 45 Colt ammunition restriction; use only standard pressure factory ammo and no handloads or the warranty is void. The pressure restriction excludes approximately 60% of the current factory 45 Colt ammunition from use. Cowboy Action standard pressure 250 grain ammo produces 760 fps of muzzle velocity and 323 ft/lbs of muzzle energy. Buffalo Bore 260 grain +P ammo produces 1,450 fps of muzzle velocity and 1,214 ft/lbs of muzzle energy. The former qualifies the rifle for shooting events and small game and pest hunting, the later would qualify the Rossi R92 as a bona fide deer rifle. The no handloading warranty requirement puts a damper on SASS use, as SASS shooters are very active and handloading is an economic necessity.
It would seem that if Rossi could produce this gun in 44 Remington Magnum with a 36,000 PSI SAAMI spec and 65,000 PSI SAAMI spec 454 Casull, they should be able to cover higher pressure 45 Colt loads loads that fall into the 30,000 PSI range. However, the culprit may not be Rossi as much as the absence of a SAAMI or CIP homogulated 45 Colt +P pressure specification and Rossi's unwillingness to certify their firearm for use with undefined ammunition. Companies such as Buffalo Bore are a bit disingenuous when they label ammunition +P where no SAAMI +P designation exists.
Generally speaking, the Rossi R92 45 Colt is a nifty little gun and fun to shoot and a value as a replica rifle and SASS event hardware. It is compact, accurate and fun to shoot. For further details on the R92 and other models, stop by Rossi and check them out.
*Taurus Investor Relations Statement 2010 ** Winchester, an American Legend by R.L. Wilson