The term "express", according to British gun maker W.W. Greener in his 1881 book "The Gun and its Development", originated with muzzle loaders, muzzle loaders that held a large powder charge and pushed a light weight projectile to long ranges. Originally referred to in 1855 as a Cape rifles, named after the South African plains region, Greener senior produced 40 and 52 caliber rifles that were sighted to 1,200 yards and beyond.
In 1856, Purdey built two similar rifles for members of British nobility and named that model firearm "Express Train", which led to "Express Rifle" becoming the standard connotation for flat shooting, long range rifles. By 1868, the British government had identified the Express Rifle as a Seventh Class of firearm that required government Definitive Proof certification as a rifle intended to be fired with a larger than ordinary charge of powder.
Greener gave credit to the American Kentucky rifle as the origin of the Express Rifle concept; back woodsmen needed extended point blank range for hunting and small projectiles to conserve on a scarce lead supply. John Taylor's 1948 book, "African Rifles and Cartridges" reaffirms the same Purdey credit, but omits the Kentucky rifle reference.
You might wonder how rifles chambered for the big .577 and .600 Nitro Express cartridges, with 700+ grain bullets and 2,000+ fps muzzle velocity, could be assigned the high velocity flat shooting Express moniker. It's a relative name assignment. The Nitro Express cartridges replaced 2 and 4 bore black powder firearms that propelled half and quarter pound lead balls to barely over 1,200 fps. Black powder rifle that used a charge of 550 grains of black powder. Black powder rifles that dislocated shoulders, detached retinas on a routine basis and were accurate only to a few yards1. By comparison, the .577 N.E. and 600 N.E. were virtual varmint rounds.
The Winchester Model 70 Safari Express
The 375 H&H chamber was available with the initial introduction of the Winchester Model 70 in 1936 and has been included in Winchester's line up ever since. Sometimes in the standard Winchester Model 70, sometimes as more specialized models wearing names like Safari Express, the African or the Custom African Safari. The 1956 African launched the then new 458 Winchester Magnum. There have been many variations of these models chambered for the: 375 H&H Mag, 416 Rem, 458 Win Mag, 470 Capstick, 458 Lott, 375 Rem UM, 416 Rigby, 404 Jeffery, and 338 Win Mag. No doubt the largest selections follows the cyclical nature of America's infatuation with these powerful firearms.
Winchester Model 70 Safari Express

Manufactured

South Carolina

Item#

535116161

Type

Bolt Action

Caliber

375 Holland & Holland

Capacity

3+1

Barrel Length

24"

Rifling

1:12 RH

Weight

9 Lbs 0 Oz

Overall Length

44 3/4"

Stock

Grade I Walnut

Hardware

Blued Steel - Top & Bottom

Length of Pull

13 3/4"

Drop at comb

1/2"

Drop at heel*

1/2 "

Sights

Express Rear - Ramped Front

Scope

Drilled and Tapped

Trigger Pull

4 Lbs. 7 Oz. Adjustable

Safety

Wing Three Position

U.S. MSRP

$1,419.99

-
The latest version of the Winchester Safari Express was reintroduced in January of 2010. It is available chambered for one of three cartridges: .375 H&H, 416 Remington and 458 Winchester magnums. Anyone of them has more than enough power to convincingly drop the largest animals on the planet with selection driven by personal preference and regulatory constraints.
Cartridge
Bullet
Grains
Case
Capacity
Grains
Overall
Length
Muzzle
Velocity
Muzzle
Energy
.375 H&H
260
95
3.600
2900
4857
.375 H&H
350
95
3.600
2450
4667
.416 Remington
400
103
3.600
2400
5115
458 Winchester
500
90
3.340
2140
5084
Of the three cartridges noted, the 375 Holland & Holland is the most flexible. With bullet weights from 235 grain to 350 grains in soft point, match boat tail and dangerous game solids, the 375 H&H adapts well to hunting everything from elk to elephant and, as illustrated below, it is flat shooting and hits convincingly at longer ranges.
260 Grain Double Tap 287 Yard Point Blank on max 3" ordinate

Yards
0
50
100
150
200
250
300
350
400
Velocity - fps
2900
2801
2703
2608
2515
2424
2335
2248
2162
Energy - ft.-lbs.
4854
4528
4218
3927
3651
3391
3146
2916
2699
Momentum - lbs-sec
3.34
3.22
3.11
3.00
2.89
2.79
2.69
2.59
2.49
Path - in.
-1.5
1.1
2.6
3.0
2.0
-0.3
-4.1
-9.5
-16.6
A bit more hardware detail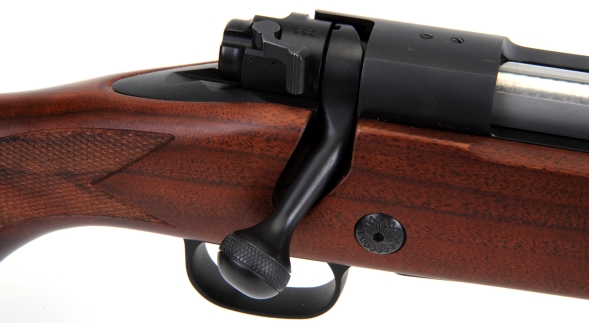 The Model 70 Safari Express has a three position wing safety; full back for locked firing pin and bolt, mid back, firing pin locked but bolt free to cycle, full forward to fire. It is a well positioned safety, within thumb control. It's positions are positive and distinctly tactile. The knurled bolt handle is decorative and enhances function. The filigreed cross bolt fasteners and jeweled bolt may not improve function, but they do enhance pride of ownership.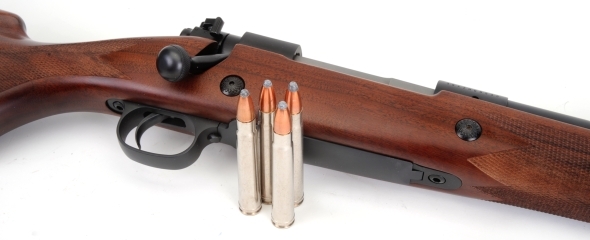 The Safari Express is an all steel hardware firearm, including substantial bottom metal. Relatively slender stock lines, the Winchester still has a 3+1 round capacity and hinged floorplate to facilitate easy unloading. Why all of the steel where aluminum often appears? Most folks prefer a little more recoil dampening heft when it comes to a 375 H&H. A 7 pound sporter, loaded with 300 grain would generate 60 ft-lbs of recoil. The 9 lb Safari Express reduces kick to 47 ft-lbs. Because the effects of recoil are exponential, that reduction in recoil is significant.
Of course if you want to invest in a little more weight, a nice walnut stock with figure in the buttstock and straight tight grain from the wrist to the tip of the forearm is always a good choice. The Model 70 Safari Express stock has a straight comb with virtually no further drop at the heel. A softly contoured cheek piece protects a shooter's face, as does a wider and taller than average recoil pad.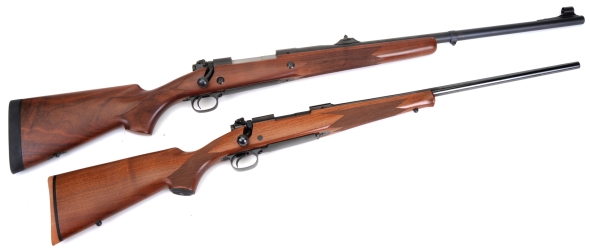 The Safari Express is not small, as seen top compared to the Winchester Model 70 Compact Featherweight above and below. The express rifle's pull is long to get the best arm/shoulder extension for a hard kicker. The firearm is hand filling and the magnum profile barrel puts steadying weight under the front sight. It is a rifle that is comfortable to shoot even from a standing position.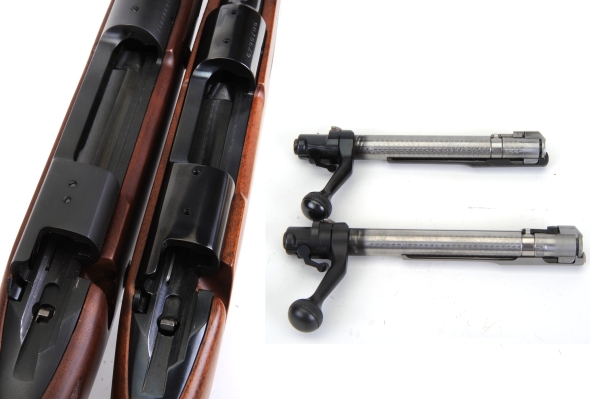 The comparison of the 243 Win bolt to the 375 H&H shows the obvious length difference, but the way that a short action becomes long, at least in part, is more subtle. Notice the short aft receiver ring on the far left, the 375 H&H. It is much shorter, flatter and wider than the 243 Winchester ring.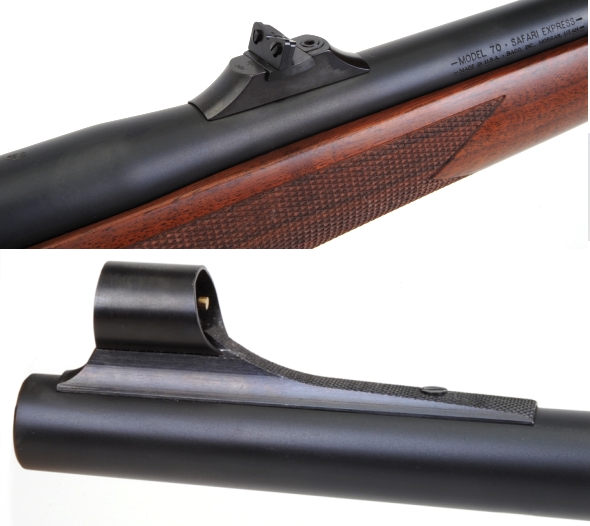 The Safari Express is listed as having express sights. They are not the flip up three leaf variety, but they are steel and reinforced to stay put under recoil and the forward tilt catches light without promoting glare. For me this is a better choice than the old three leaf flip up sights that required file work regulate to a specific load. The Winchester is also drilled and tapped to accommodate a scope or receiver sight mounting.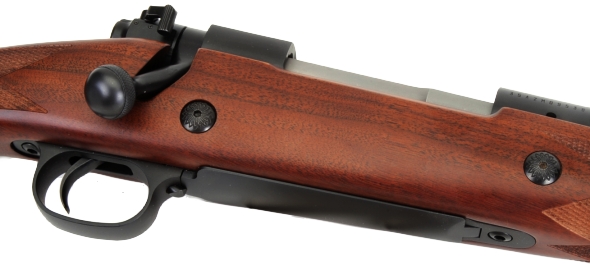 In any position, the Winchester's MOA Trigger System is excellent. The MOA trigger is preloaded, which takes up any part tolerance slack. The trigger's 2:1 mechanical advantage eliminates creep. The trigger leaves the factory, preset for zero overtravel.
The 375 H&H, a proud papa...

The 375 Holland & Holland is the 1912 creation of the Holland and Holland part, the famous old line British gun maker. The 375 H&H is an important cartridge for at least two reasons. The first, it is one of the best balanced heavy hitters in production. Probably why it is celebrating its 101st birthday as an active cartridge. The second, it has spawned more derivative cartridges than any other. It is the parent of every belted cartridge, with the exception of those based on the Weatherby 378 WM case, from 458 Lott to the 244 H&H. I'll go as far as to say if there had been no 375 H&H, there would have been no Weatherby. For as many times as the 375 H&H Magnum based cartridges have been pronounced dead, eventually the heir apparent fades and the belted case's popularity resumes. Overall, they are about as big in case capacity and size as a cartridge can get without a much larger investment in propellant and the need for a much enlarged rifle action.
There are lots of factory loads available for the 375 H&H cartridge and they are sold in just about every part of the world. It is the standard chamber for manufacturers' big guns. The cartridge is easy to reload, many bullets weights and types are available and case life is long. With a maximum pressure of approximately 62,000 PSI, the 375 H&H is unlike many other early British cartridges. As a side note, there is a companion flanged version of the 375 H&H that is intended primarily for use in weaker single shot and double rifles. That version of the 375 is loaded to only 47,000 PSI.
If you can hold it down, you can hit with it...
Bullet
Grains
MV
FPS
ME
Ft-Lbs
Recoil
Ft-Lbs
100 Yd
Group"
Speer
235
2887
4350
41
1.1
Sierra
250
2850
4520
44
1.2
Sierra
270
2691
4343
45
0.8
Swift
300
2517
4221
47
1.1
Woodleigh
350
2274
4020
50
1.2
Federal Factory
300
2611
4542
49
1.0
I know we live in an Internet world where people say they can shoot sub MOA groups with Russian Nagants freshly pulled from a WWII grease filled barrel, but I will assume that people who actually pull triggers on this type of rifle can appreciate its scoped accuracy/consistency as indicated above. Below, a 3 shot, 0.7" 50 yard group, shot off of a rest with the rifle's express sights.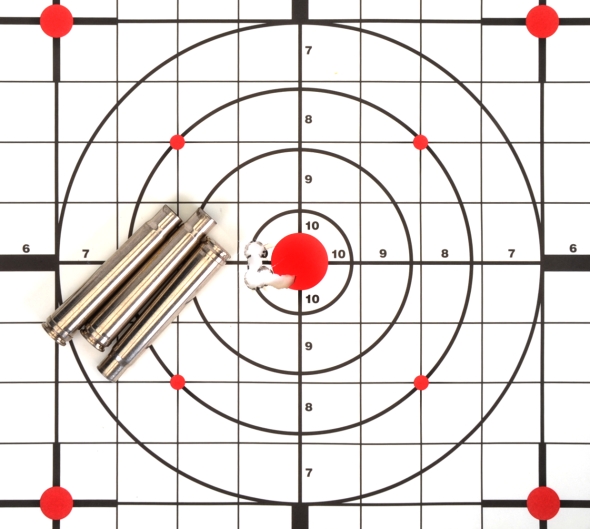 Shooting personality... My nemesis returns
Around 1972, a friend asked me if I would take his 1966 Winchester Model 70 375 H&H to the range and put a few rounds through it. The rifle was part of the equipment he had assembled for what would have been his third or fourth African hunt, unfortunately, he fell into poor health and never made that last trip. I have to say it was a terrible Model 70, from the last few dark years of Olin's Winchester ownership. The rifle had pressed checkering, an exceptionally long pull and a thin. A hard recoil pad capped the rifle's narrow buttstock. With prior positive experience with other 45 and 50 caliber elephant stoppers, that 375 H&H surprised me by beating me black and blue. Not a knock out punch, but a heck of a jab that just kept working me over, no doubt the effect of poor stock design. A far cry from this modern Winchester Safari Express.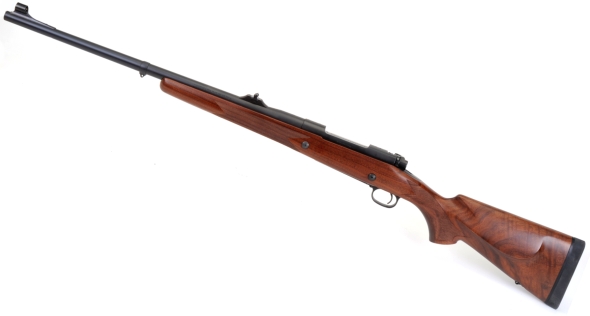 With the current Winchester's improved stock geometry, and a more resilient and wider recoil pad, the rifle exhibited much better shooting manners. Working through a box of factory ammo and a box of handloads was not much of a chore. If there was anything that could improve shooting comfort, it would be the addition of a little cast off. Shooting with a scope, there was no problem. However, when shooting from the bench with metallic sights, the rear sight is low to the receiver line. This puts the shooter's face tight against the comb and the comb tends to thump at the cheekbone a bit. I want to stress this is only when shooting from a bench as there is no similar problem when shooting from a standing position.
The Winchester Model 70 Safari Express reflects all of the quality that is associated with pre '64 Winchester production and then some. The rifle is tight, the material is top quality, as is the quality of assembly. An excellent rifle for someone in need or want of a classic heavy hitter.
1 Dangerous Game Rifles - Wieland