I've been sitting here listening to the Amazon Mellow Folk Music channel… Jim Croce, Nora Jones, Jack Johnson, etc. and one step away from digging out a tie-dye T shirt from a basement trunk. Maybe I need to ratchet up to Thunder On The Mountain before I turn into cosmic jello. I really need to stop leaning back in this chair with my feet on the desk and keyboard in my lap, face slap myself out of this coma and get back to work… and I will… soon… really.
A while back, I made the comment on (in?) social media, that the Ruger Model 77/357 would make an excellent camp carbine, at which point a mob of 308 Winchester owners, who have had nothing meaningful to say for at least a two decades, began shouting and waving signs of protest, claiming the 308 Winchester was the ONLY true camp rifle cartridge. Fortunately, my hearing is terrible, so the solution to the protest was to just look in another direction.
In actuality, I have never seen a manufacturer label anything "camp gun" other than a semi auto rifle shooting cartridges typically chambered in handguns; 9mm Luger and 45 Auto are common. This got me questioning the concept of a camp carbine. Does it not matter where the camp is struck and what the prevalent threats might be? Does the brown bear that is hunted during the day with a 338 Winchester Magnum become smaller and more vulnerable when he invades a campsite?
The only conclusion was that "camp guns" are pretty much centerfire plinkers and a "camp gun" was not what I was talking about. Awkward moment. No longer able to banter about a "camp carbine", some consideration was given as to what the heck I might be thinking about, which turned out to be companion, complimentary utility firearms.Two firearms, of the same caliber, that fit some different and some same circumstances.
A revolver with sufficient power to defend against anything that might be encountered in the Maine woods could be carried on the belt while hiking, fishing or camping in remote areas. A carbine, with a longer barrel, would boost the same cartridge's performance to a high level suitable for deer or black bear hunting. In this case, the revolver is the Ruger GP100 chambered for the 357 magnum, a revolver I carry frequently. The carbine is the Ruger M77/357, another 357 Magnum, that I have had only passing experience with and have not attempted to objectively measure its performance.
What can be gained from a pairing of rifle and handgun? Two minimal overhead, weight and power, firearms sharing common ammunition with enough performance difference to warrant the existence of both. I know, "Blah, blah, blah, blah, blah", does this guy ever stop? My my intention is to lay all of this out with exterior and terminal ballistics recording and reporting and maybe we will all be surprised by the results. For now it is the firearm enthusiasts' Stone of Sisyphus; shredding and recasting ballistic gel, so it can be shot, shredded and recast again.
Rifle – handgun participant specifications
| | | |
| --- | --- | --- |
| Specifications | M77/357 | GP100 |
| Type | Carbine | Revolver |
| Manufactured | USA | USA |
| Model # | 7405 | 1705 |
| Caliber | 357 Mag | 357 Mag |
| Action | Bolt | DA/SA |
| Capacity | 5+1 | 6 |
| Barrel Length | 18.5″ | 4.2″ |
| Twist Rate | 1:16″ | 1:18.75″ |
| Overall Length | 38.5″ | 9.50″ |
| Weight | 5.5 Lbs | 2.5 Lbs |
| MSRP | $999.00 | $829.00 |
Rather than spend time reinventing the wheel, I have covered the GP100 many times and this particular article provides  the most detail pertaining to the GP100. Touching on the Ruger M77/357…

The sight set on the Ruger M77/357 is a good selection for typical applications. The rear sight has a notched slide that is adjustable for elevation; one increment is one inch at 25 yards. Windage adjustments are made by drifting the sight in its dovetail. The rear sight cooperatively folds forward to get out of the way of a scope's objective bell. The sturdy gold bead front sight stands in sharp contrast to most background and the face serrations kill glare.
The Ruger M77/357 has a three position wing safety; forward to fire, mid back for safe with an opening bolt, full back and the thumb piece locks into a slot in the cocking piece placing the safety on and locking the bolt handle.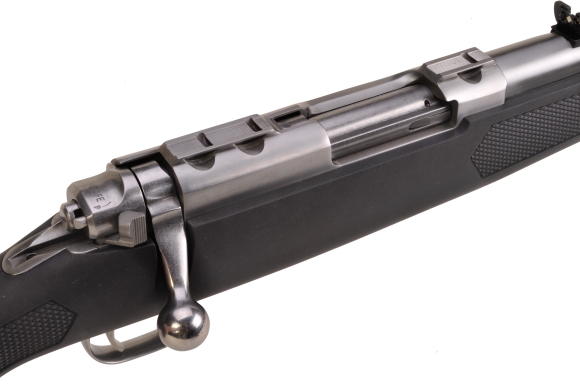 The receive has scalloped surfaces and key slots to accept the supplied Ruger proprietary rings, two aft, one forward to allow for a variety of ring positions.
The action locks up on two opposing lugs denoted by double arrows on the aft receiver ring. The bolt head diameter is 0.903 inches, cross lug measurement. Lug width is 0.313″, bolt rotation to unlock is 90°. The bolt rails forward of the locking lugs guide and locate the breech block assembly within the gun's receiver.  The result is a strong and very slick bolt throw.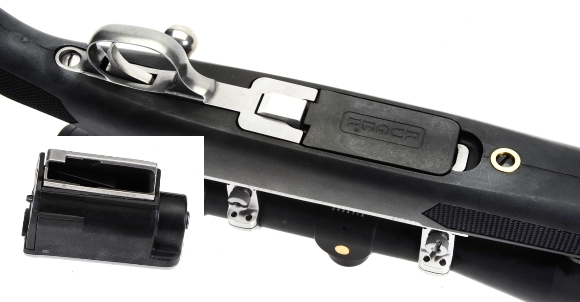 The flush mounted, detachable rotary magazine holds five rounds. They are quick to change and spare magazines can be purchased to allow different types of ammo to be preloaded.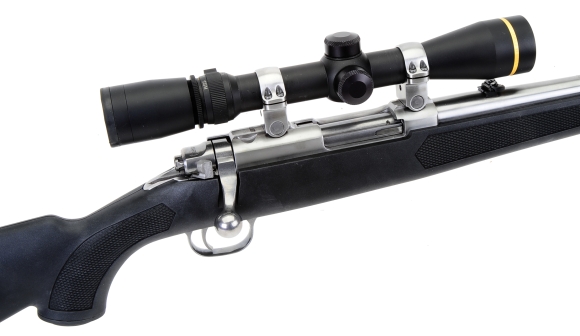 We'll wrap up here and finish prepping for Part II, lots of work to do….