OK, I like double action revolvers. There is always a round in the chamber inline with the barrel and point and squeeze the trigger are pretty easy operating instructions to remember even under the most stressful conditions. When well done, as is the case with this S&W Performance Center Model 19, revolvers are also aesthetically pleasing machinery.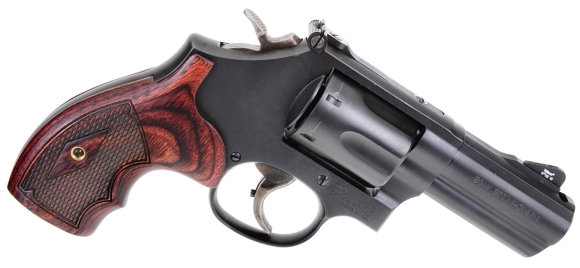 The Model 19 began as the 1955 as the .357 Combat Magnum and went on to receive the Model 19 designation in 1957. Built on a slightly larger than standard target version of the K frame, the six shot Combat Magnum had a 4″ barrel, ramped front sight and micrometer click adjustable rear sight. Cylinder length was as it remains, 1.670″. The original K frame had a square butt target frame, the current version is built on a round butt K Frame. The Performance Center Model 19 Comp Carry is a 2018 model, is a new version of the original Model 19 that has been out of production since approximately 1999.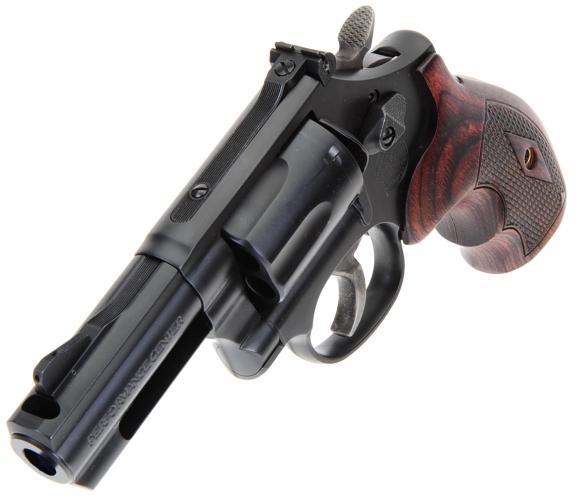 Drone view below – The Performance Center Model 19 Carry Comp vents through a single port located just forward of the front sight. The ramped from sight has a Tritium insert for low light visibility. The top of the carbon steel barrel shroud is ribbed to break reflection and encloses a stainless steel barrel. The body of the micrometer adjustable rear sight is also striated to break reflection. The front of the cylinder is chamfered to ease holstering. The 0.400″ wide hammer is a spade shaped semi-target type. For me its shape or even presence is irrelevant as I tend to shoot double action revolvers, double action. However, for folks who insist on shooting double action revolvers single action, the hammer is broad enough to be comfortable, but not square enough to get hung up on things,

The PowerPort barrel vent is clearly visible just forward of the front sight. My impression, after shooting a significant number of rounds through the Model 19 Comp Carry, is that muzzle flash in front of the sight is not particularly amplified as there in comparison to all of the other muzzle flash that appears within line of sight. Could be because the gases at the muzzle are slowed and cooled by the compensator chamber. Additionally, the PowerPort really tames muzzle rise, making quick but accurate follow on shots more probable.
The new Model 19 has a hammer lock feature that I greatly appreciate. For some, every firearm development since 1955 triggers criticism of no substance and dramatic lament of the good old days… which is curious, as most of the criticism comes from twenty somethings who only recently gave up video games. My firearms that are not in service are stowed in a safe with trigger locks in place and ammunition stowed elsewhere. Any revolver I carry always has a full cylinder and no safety engaged.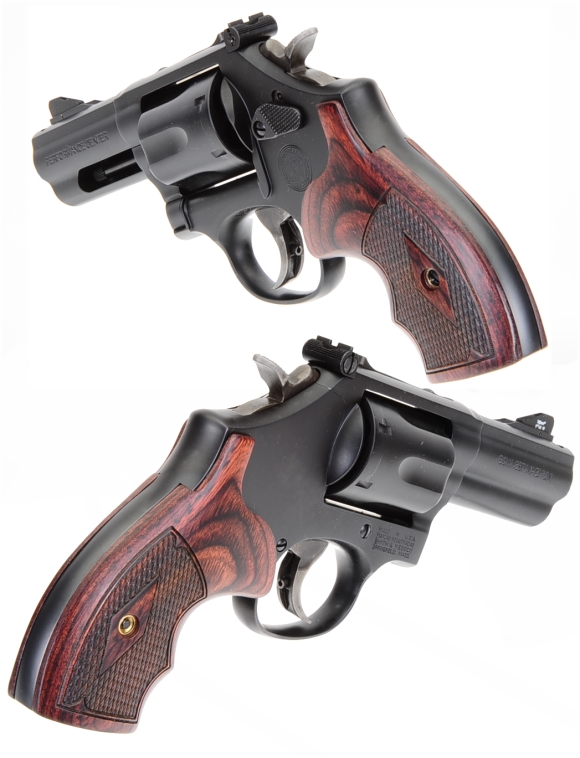 The round butt frame and grips termin

ate at the same point to facilitate a compact revolver form. The result is a two finger grip which takes a bit of getting used to for someone who typically shoots a full size revolver. The hardwood laminate grips fit closely and are very stable. As a result, they hold their fit regardless the temperature or humidity. At 34 ounces, this Model 19 is a bit more than twice the weight at a S&W Model 360 5 shot, aluminum frame lightweight, which is fine by me. The Model 19 provides an extra round and the extra weight makes for better control and a pleasant shooting 357 Magnum.
Setting aside the issue of short grips, as this is the case with any compact concealable revolver, a high grip is very solid and the span at the web and palm of the hand spreads recoil over a wide area. The front and rear sights come up on the same plane without bending the wrist up or down to find the front sight. For a six shot 357 Magnum, the width at its widest point across the cylinder measured 1.445″.
S&W Performance Center Model 19 Comp Carry


Manufactured

Springfield, MA


SKU Number

12039

Type Action

Double / Single

Caliber

357 Magnum / 38 Special


Capacity

6

Material

Carbon Steel – SS Barrel


Grips

Laminated Hardwood


Trigger Pull DA / SA

 11 Lbs 13 Oz / 6 Lbs 11 Oz


Barrel Length

3″

Rifling

 1:18.75″

Rear Sight

Adjustable W/E

Front Sight

Tritium Ramped


Type Safety

Hammer Lock

Overall Length

8.0″

Overall Height

5.0″

Width – Cylinder

1.445″

Weight

34.1 Oz.

MSRP

$1,092
The trigger pull is a little on the hefty side, both double and single action operation, but a smooth pull and an adjustable over travel stop make for accurate shooting. The benefit of a slightly heavy trigger pull in a carry gun is rock solid reliability of ignition.A lighter hammer spring might have reduced trigger pull, but light springs also contribute to unreliable ignition. Not a big deal when punching holed in paper, very big deal in a self defense situation. I think the Performance Center Model 19 Comp Carry struck the correct balance.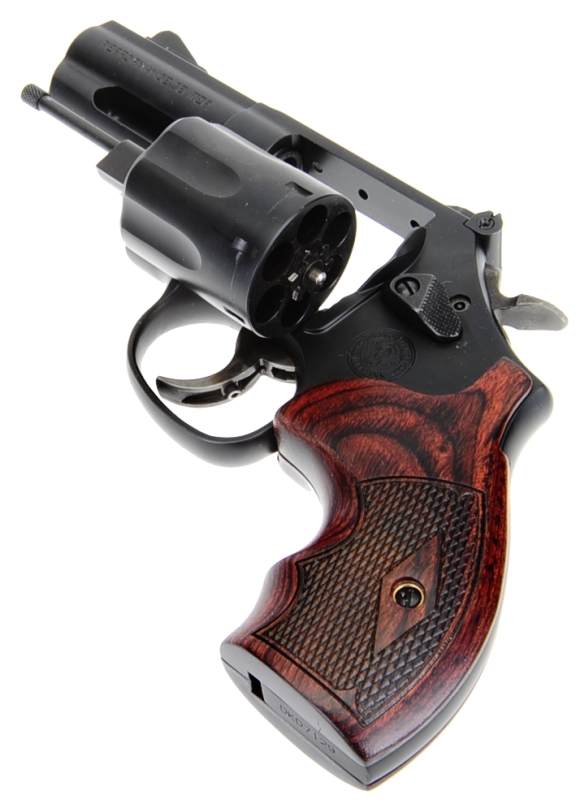 The subject Smith & Wesson Performance Center Model 19 Comp Carry was a tight assembly. A 0.004″ cylinder gap, bore to chamber alignment was right on and there was virtually no cylinder play. The cylinder is held closed at the center pin, cylinder latch and by a frame mounted, spring loaded detent that seats into an opposing indent in the crane.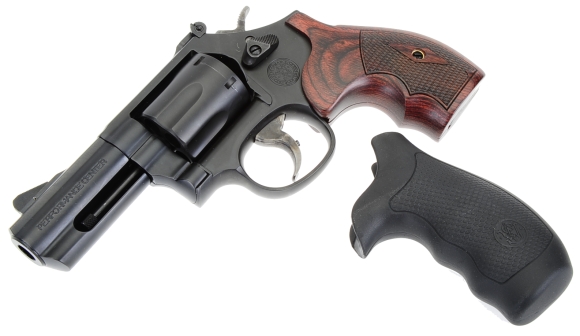 A final accommodation to customers, the Performance Center Model 19 Com & Carry ships with an additional shock absorbing synthetic boot grip. More than the composition of the material, the boot grip is closer to perpendicular to the revolvers bore and it is long enough to park a pinky on the last finger groove for anyone with a medium to large hand.
How does the Model 19 Carry Comp shoot? Right, by squeezing the trigger…
The Factory Rated FPS is only referenced to illustrate that each firearm and each barrel length will generate something other than the factory rating. The most significant difference comes from the variety of barrel test lengths used by the manufacturer, As an example, the Remington High Terminal Performance 189 grain load rating is from an 8 3/8″ vented barrel, while the 125 grain Remington Golden Saber is rated with a 4″ vented barrel. The Hornady test barrel for this Critical Duty ammunition is a vented 8″.
Ammunition
Bullet
Grains
Bullet
Type
F

actory




Rated




FPS

Actual
FPS
50 Foot
3 Shot
Group "
Remington GS
125
BJHP
1220
1121

2.0

Winchester PDX1 Defender
125
JHP
1325
1164

1.7

Hornady Critical Duty
135
FlexLock
1275
1209

1.9

Remington HTP
180
SJHP
1145
1066

2.2
Accuracy, in my opinion, was very good from a 3″ barrel 357 Magnum. Based on many cycles of ballistic gel testing with this ammunition fired from 3″ and shorter barrel 357 Magnum revolvers, the velocity recorded is more than adequate to achieve full or near full expansion. The only ammo of note that generated a good deal of muzzle blast and elevated report from the 3″ barrel was the Winchester product. The others were relatively mild by comparison.
Overall…
Smith and Wesson has done an excellent job in reviving the Model 19 in their Classic Line and in the Performance Center Comp Carry version.They look good, they shoot good and they have an aesthetic appeal that instills pride of ownership. For an enthusiast looking for a good carry revolver, don't be a social media sheeple risk missing out on a good opportunity. Stop by a S&W dealer, or a range where one might be rented, and check it out the S&W Performance Center Model 19 Comp Carry for yourself.