I mostly listen to old songs, or new singers who sing old songs. I think I never recovered from the trauma of Disco, the British Invasion and an overdose of soul. One of my favorite songs is Bob Dylan's "If Not For You" that was release around October of 1970. My wife had gone back to New Jersey with our two children to find us a place for us to live, four months ahead of having our third child and three months before my discharge from the Air Force. My wife has always graciously defined me as the fearless leader within our family, but I think I'd tell her…
If not for you
Babe, I couldn't find the door
Couldn't even see the floor
I'd be sad and blue
If not for you
If not for you
Babe, I'd lay awake all night
Wait for the mornin' light
To shine in through
But it would not be new
If not for you
If not for you
My sky would fall
Rain would gather too
Without your love I'd be nowhere at all
I'd be lost if not for you
And you know it's true
If not for you
My sky would fall
Rain would gather too
Without your love I'd be nowhere at all
Oh! what would I do
If not for you
If not for you
Winter would have no spring
Couldn't hear the robin sing
I just wouldn't have a clue
Anyway it wouldn't ring true
If not for you
Oh yes, firearms…. Sorry

If availability of factory ammunition is an indication of a firearm's usefulness and popularity, the 357 Magnum revolver is well out in front. With one hundred twenty six factory loads for the 38 Special/357 Magnum. Coming in second is the 9mm Luger with one hundred fifteen factory loads, followed by the 45 Automatic in third place with seventy eight factory loads to choose from. Not bad, considering the revolver was pronounced obsolete about three decades ago by autoloader fans and most government agencies.
With appropriate ammunition, the 357 Magnum revolver can provide wilderness safety and security in places where big bear are not a part of the wildlife population, they can provide excellent home and self defense and they make for a pretty solid hog gun for competent hunters. It is much more manageable than a 44 Mag in terms of typical firearm size, heft and recoil. Revolvers chambered for the 357 Magnum come in many sizes and configurations, each with its own personality. The Smith and Wesson Model 19 is an excellent representation of the classic 357 Magnum revolver.
S&W Model 19 Classic



Manufactured
Springfield, MA

SKU Number
12040
Type Action
Double / Single
Caliber
357 Magnum / 38 Special

Capacity
6
Material
Carbon Steel – SS Barrel

Grips
Laminated Hardwood

Trigger Pull DA / SA
 11 Lbs 4 Oz / 5 Lbs 13 Oz

Barrel Length
4.25″
Rifling
 1:18.75″
Rear Sight
Adjustable W/E
Front Sight
Red Insert Ramped

Type Safety
Hammer Lock
Overall Length
9.9″
Overall Height
5.7″
Width – Cylinder
1.448″
Weight
37.2 Oz.
MSRP
$826
The blued steel, wood gripped revolver carries the traditions of a different time and a different place in firearm history, where law enforcement carried wheel guns and civility and factual information reigned supreme. Guns writers of the day were ex law enforcement or combat military, competitive shooters, and/or active hunters who focused on hardware and arrived at conclusions based on observable and measurable performance.
During 1954 Camp Perry competition, then President of Smith & Wesson Carl R. Hellstrom asked U.S. Border Patrol agent Bill Jordan what would he consider an ideal law enforcement officer's handgun. Jordan described the forerunner of the revolver pictured above; K frame revolver, 4″ heavy barrel, ejector shroud, target grips, target sights, and chambered for the 357 Magnum. Jordan was one of my favorite gun writers.
The current Model 19 differs from the original in a number of ways with most of the changes applied to all S&W double action revolvers; the trigger guard screw has been eliminated, the barrel is pinned, the hammer and trigger are MIM parts, and the barrel is no longer one piece but rather a two piece barrel and shroud assembly.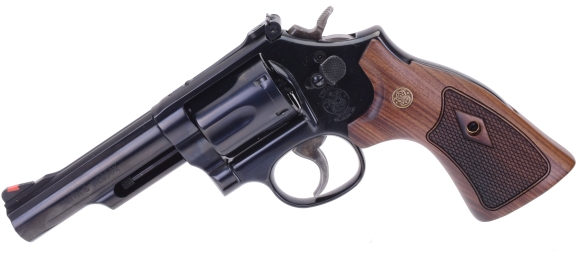 While both the original were/are based on a K Frame that is beefed up in the yoke area, the original was a square butt frame. The current is a round butt type, using the grips to simulate the square butt form. The original had a grooved back and forestrap, the current version is smooth, front and back. The original Model 19 had a cylinder length pf 1.670″. Shortened to 1.620″ in 1985, the current version is like the original with 1.670″ in length.
The original Model 19 had a one piece, ribbed barrel. The current version has a two piece barrel, barrel and ribbed shroud assembly. The original cylinder was 1.670″ long. This was reduced to 1.620″ in 1982, but the current is back to 1.670″. The Model 19 was produced with a 0.400″ target trigger, an 0.265″ service trigger and an 0.312″ smooth combat trigger. The current version has the 0.312″ trigger. I know this for a fact because I have a can seam micrometer that fits inside the trigger guard… that I use maybe twice a year.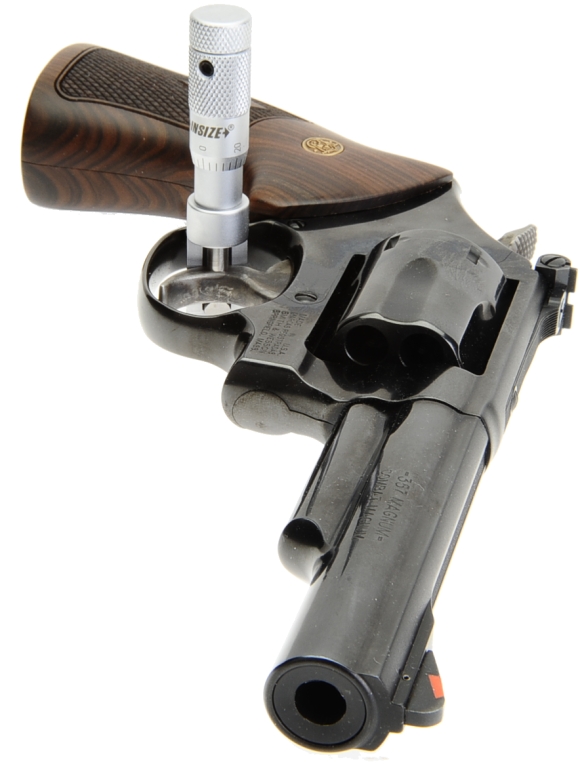 The original Combat Magnum has a plain quick draw ramped front sight, where the current has a red insert and serrated ramp to kill glare. The two piece barrel assembly is more obvious from this view with the chrome moly shroud and blackened stainless steel barrel. The two piece assembly is less costly to produce, one barrel and a variety of shrouds to create multiple configurations, and the front sight is always straight up and down without finicky assembly.

A better view of the barrel rib and sight glare killing serrations and matte finish. The Model 19 was originally available with an 0.375″ semi and 0.500″ full target hammers. The current model hammer is 0.375″.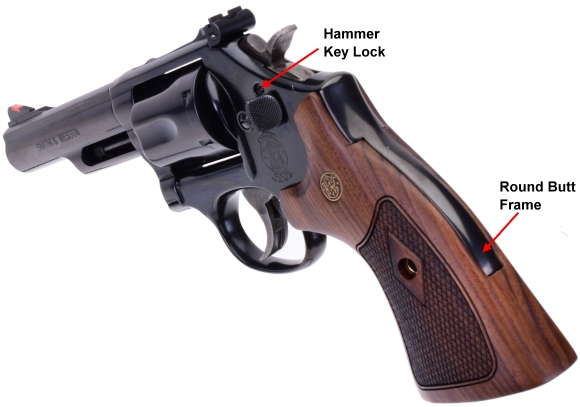 Both early and current versions have micro adjustable rear sights. The new version had a key actuated hammer lock integrated into the frame. The frame terminates as shown, the grip goes on to form the square butt form.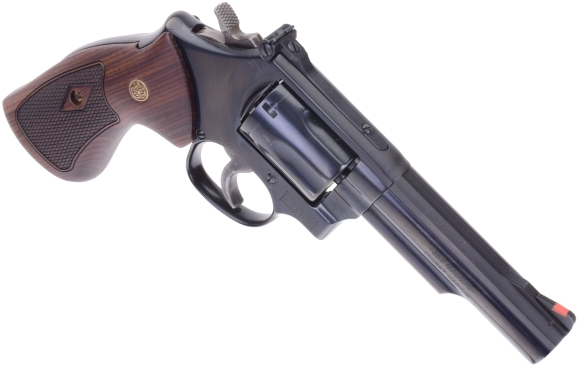 The grip is hand filling, although more narrow than early grips. The revolver, overall is narrow with the cylinder width of 1.457″. The exterior chamber walls are 0.075″; the cylinder notches are over the chambers which reduced this somewhat at the case head end. Adjacent cylinder walls are also 0.075″. The Model 19 is a comfortable belt carry revolver.
I like the 357 Magnum cartridge and associated single and double action revolvers. Therefore, there is usually a good selection of ammo stashed at the shop, like the fourteen different rounds pictured above. Bullet weights from 110 grain to 180 grain, jacketed lead, solid copper, hard cast… it all passed through the Model 19 in multiple rounds without fuss or incidence. The revolvers cylinder gap remained unphased, the cylinder fit an index remained precise, the sights stayed on and in adjustment, and no screws or pieces shot loose. Why am I saying this?
Speculation regarding S&W revolvers and their comparative strength is the basis of lots of social media debate. But then so is everything else where a theory can be proffered without substantiation and the point of origin is typically a guy who believes no good firearms were made since 1952. The Smith and Wesson Model 19 can be shot using 357 Magnum, 30 Special +P or 38 Special ammunition reliably and with longevity. Six shots are more than enough for any real world encounter. If not, there are always speed loaders.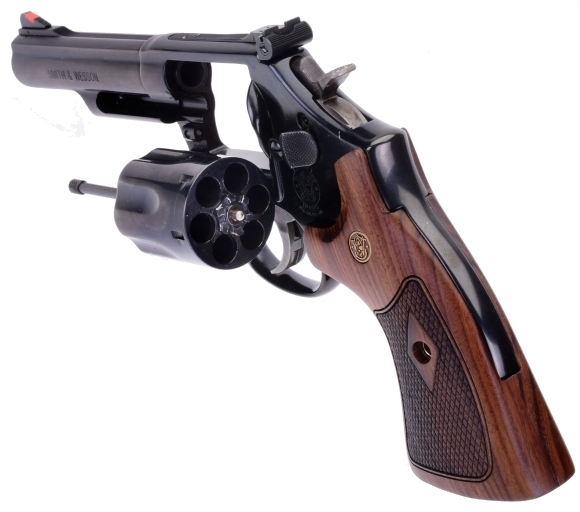 We'll take a short break, round up all of the data that is penciled in on a dozen pieces of scrap paper and come back with the live fire component of the story.
1) History of Smith & Wesson – Jinks. Standard Catalog of Smith & Wesson – Supica and Nahas